Dinant
Dinant
is a relatively small but very picturesque city in the
province of Namur
in
Belgium
. It stretches along the river Meuse against the steep rock face behind on the eastern side, with a thinner strip on the western side against a forest. Its old town is perhaps one the most impressive sights in Wallonia, but the locality is relatively remote. The main sights are all close to each other and not very numerous, while accommodation opportunities are scarce, so Dinant is probably a good option for a nice day trip from larger Belgian cities such as Brussels,
Charleroi
or
Liège
. It also can serve as the starting point for a more thorough exploration of the Ardennes.
Understand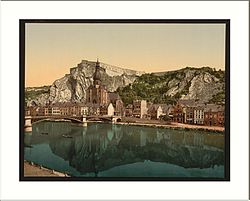 The site where Dinant is now located has been inhabited since neolithic times, and its name stems from Celtic for "divine valley". It grew to become an important city in the Middle Ages, specializing in producing fine objects out of a silvery brass alloy called
dinanderie
after its origin. Later the main industries were leather tanning, manufacturing of playing cards and the famous Dinant biscuits.
All of the time, Dinant found itself on the borders of various warring entities, also often falling in conflict with its metropole
Liège
and neighbour Namur, and was repeatedly pillaged and burnt down. Although at present it looks very much like an authentic old town, it was all but razed by the invading Germans in 1914, after the Battle of Dinant which went on record as one of the more important in the First World War. The city's historic part under the citadel was meticulously rebuilt and retains its pre-war appearance.
Dinant is also the birthplace of Adolphe Sax, the inventor of the saxophone. A street named after him passes in front of Dinant's most recognized landmark, the collegiate church.
Tourist Office
A tourist information office can be found at the
Dinant and the Upper Meuse Tourist Office
phone: +32 82 22 28 70
address: Avenue Cadoux, 8
, only a block or two from the train station and offers free WiFi.
Get in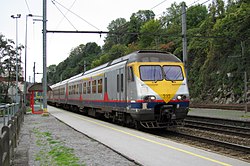 Dinant is not very well connected to major cities in Belgium as it is on a side railway line forking out from the mainline in
Namur
. It is actually easier and quicker to get to Dinant by car, thanks to Belgium's excellent motorway system.
By plane
The closest airports are
Brussels
(
BRU
), Charleroi (CRL) and Liège (LGG). Getting from either of them to Namur by public transport is a bit complicated and will take around 2-2.5 hours.
From Brussels Airport, take the train to Brussels-Nord, and change there for the hourly direct train to Dinant. If you do not want to wait for the next one, you can take a train to Namur (departs every 20 minutes), and change for one of the more frequent Dinant-bound trains there. Either way, getting from Brussels-Nord to Dinant by train takes around 1.5 hours.
From Charleroi Airport, you need to take the bus to Charleroi Sud railway station, then a train to Namur, and then change to one departing for Dinant. Each part of the journey takes around 30 minutes, and both trains depart every half an hour, so you should be able to get from CRL to Dinant in about 2 hours.
From Liège Airport, you need to take the bus 57 to Liège-Guillemins train station (20 mins, bus schedule coordinated with train departures to Brussels or Namur), which runs only a few times a day and not at all on weekends or holidays. From Guillemins, take a train to Namur (44 mins, every half an hour) and change there to the train to Dinant (also every 30 mins, journey takes another half an hour).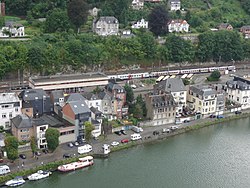 By train
The is conveniently located in the centre of Dinant, about 5 minutes walk to the river, from where you can see the Citadel and the main parts of Dinant. From Brussels, the train to Dinant takes around 1.5h, with the exact time depending on the station in Brussels you choose as your point of departure. Trains to Dinant depart every hour. From other locations in Belgium other than those close by, as well as from abroad, you need to change in either Namur or Brussels.

By car
The A4 motorway (E114) from Brussels to Luxembourg City passes immediately east of Dinant, the drive takes a little over an hour from either capital. Namur is also on the same motorway. From other major cities in Wallonia, take A15 (E42) and turn into A4 at Daussoulx. From destinations elsewhere or farther away, make your way to either of the abovementioned motorways.

Get around
No need to take public transport at all since Dinant is a very small town and the main tourist sites are within walking distance.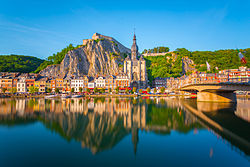 See
Collégiale Notre Dame de DinantThe church dominating the city's riverbank stands in the place where a previous romanesque one was destroyed by rocks falling from the cliff in 1227. The collegiate church took many centuries to be completed, during which the original plan to build two towers was abandoned in favour of the single one with the onion dome we see today. This is why the church's facade is so unusually tall. The interior is even more striking, almost as tall as wide and twice as long, flanked by columns appearing both sleek in comparison to the structure and thick in human scale. The interior is kept in the simple gothic style characteristic for the Meuse region - this is thanks to the restoration work in the nienteenth century to bring stylistic uniformity to the interior. After the church's destruction in the First World War, the church was rebuilt verbatim to how it looked like before the war.

phone: +32 82 22 36 70

address: Place Reine Astrid 3

On a cliff, more than 100 meters above the River Meuse, it offers spectacular views of the town and countryside. A fortification may have stood on this spot as long ago as the fourth century, and the Bishop Prince of Liège certainly ordered the construction of a fortress on this spot in 1051, but the present structure dates to the early 19th century. It is reached from the town either by cable car or by the 408 steps cut into the hillside. The citadel plays host to a small Arms Museum and several interesting art pieces that reveal the glorious past of this Meuse town.

Grotte la Merveilleuse

phone: +32 82 22 22 10

address: Route de Philippeville 142

This cave was discovered in 1904 and is one of the most beautiful ones in Belgium. There are small waterfalls inside the cave. A visit to the beautiful caves is highly recommended. They are easy to visit.

Rocher BayardThe forty meters tall rock needle at the Meuse riverbank according to the local legend been separated from the main rock mass by the strike of the hoof by Bayard, the magical horse carrying the four sons of Duke Ayman on the run from Charlemagne. The reality, however, is more prosaic - the separation happened in the times of Louis the XIV in order to build the road along the Meuse still in place today.

Le triomphe de la lumièreDesigned by Antoine Wertz and originally meant to be put atop the rock of Dinant, the statue weilding a sword and a torch is said to have inspired Frederick Auguste Bartholdi when he created the Statue of Liberty in New York City.

phone: +32 82 22 23 77

address: Place de l'Abbaye 1

Located in the neighbourhood of Leffe north of the Citadel, the abbey has been inhabited since 1152 and features a splendid organ.

phone: +32 82 22 91 91

address: 23 Charreau des Capucines

Leffe is a popular beer in Belgium and it originated in Dinant. The former abbey beer unfortunately is no longer made in Dinant, but in this museum you can learn all about the origins of the beer, the life of the monks and the actual Leffe, followed by a Leffe tasting.

address: Chemin de la Citadelle

Finished in 1923, 1 104 French soldiers are buried here who died during battles in the Dinant region between 15 and 23 August 1914. On the right side of the cemetery, behind the French flag, there are 30 tombs of British, New Zealand and French soldiers who died during the Second World War.
Do
phone: +32 82 21 39 39

address: Rue Grande 37, entrance through Rue En Rhée

phone: +32 82 69 84 84

address: Boulevard des Souverains 6

Game machines, roulette tables and blackjack. Bar and restaurant with French dishes. Free parking on Place d'Armes.

Taverne-bowling du Plateau

phone: +32 82 22 28 34

address: Chemin de la Citadelle 15

American bowling with 4 tracks accessible for everyone aged older than 5. Small restaurant but the food here receives mixed opinions.

phone: +32 82 67 74 11

address: Charreau des Capucins 28

Wellness centre with warm baths, saunas, lounge, terrace and garden. Free private parking space.
Buy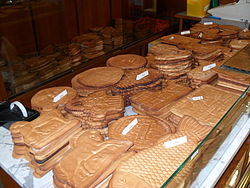 Couque de Dinant
, a type of very hard biscuits, is the local speciality, typically eaten with coffee or hot chocolate.
Eat
There are several nice restaurants along the river, some with lovely views. Next to the departure points of boat tours, there is a Match supermarket. For a cheap lunch, buy some groceries and enjoy a picnic by the riverside!
Hoa Sen

phone: +32 82 64 68 81

address: 49 Rue Grande

This Thai/Vietnamese restaurant is a local favourite, so make a reservation if you're looking to eat here during a weekend, or come early. It opens at 18.30h.

phone: +32 82 22 22 49

address: Rue Alexandre Daoust 49

A cosy Italian restaurant with a nice outdoor terrace along the riverside. It's a small place with friendly owners and good value food.
Sleep
The city of Dinant has only three proper hotels and one hostel, but if you are enticed to stay longer by the irresistible charm of the location, there are plentiful (yet pricey!) apartments and houses to rent in and around the city.
phone: +32 82 21 15 00

address: 16 Rempart d'Albeau

If the city's best-ranking hotel is an Ibis, it speaks volumes about the local accommodation opportunities. That said, this Ibis stands out with its location on the riverbank, quite close the citadel, and its restaurant has a terrace overlooking the Meuse. The building is quite nice on the outside as well. Inside it is a fairly standard, if quite a bit worn, ibis with the usual features, or lack thereof.

phone: +32 82 611600

address: Rue Fetis 112

The enthusiastic owner of this place, Vincent, goes up and beyond to make his guests feel at home. A little out of town, but rooms are large and clean and the food is good. Breakfast is good value at an extra €6 per person.

phone: +32 82667302

address: 1 Rue de Gendron

Simple but pleasant, clean rooms, close to the train station. The hotel has a small pool and outside of weekends and school holidays, the third night is free of charge.
Connect
There is free WiFi in the tourism office.

Stay safe
Being the relaxed small town it is, Dinant does not pose any major danger to travellers.

Go next
Namur — You probably have to go through this city on your way to Dinant. This provincial capital is worth some time as well.