Dinosaur National Monument
Dinosaur National Monument
is a
United States National Monument
spanning from
Northwestern Colorado
into
Northeastern Utah
.
Understand
The monument was created in 1915 to protect an extensive deposit of fossilized dinosaur skeletons as well as pictographs dating back 10,000 years. The monument is divided into two districts, the Canyon Area on the east side and the Dinosaur Quarry on the west side. Each district has its own visitor center. Pets are allowed inside the monument but must be on a leash no longer than 6 ft (1.8 m). Pets are not allowed inside any buildings or on any hiking trails.

History

Dinosaur National Monument's cultural history dates back 10,000 years. The Yampa and Green Rivers have provided water for survival in an arid country. Indian rock art in the form of petroglyphs and pictographs provide evidence that many people have come before modern travellers. The Fremont Indians lived in the canyons in Dinosaur National Monument 800 - 1,200 years ago. Following the Fremont were the Ute and Shoshone, who are still live in the area. Early settlers left their mark on the landscape with their homesteads. Those who had access to the rivers and a constant flow of water survived, while others dried up with drought and moved away. Now, many of the remains of homesteads are found alongside the Indian art work of the past.
The park's value as a site for dinosaur remains was established when paleontologist Earl Douglass first came to Utah looking for mammal fossils. He returned in 1909 and discovered an immense deposit of dinosaur bones, now protected at Dinosaur National Monument. Although made famous by dinosaurs, Douglass died preferring his beloved mammal fossils over dinosaurs.

Landscape

This part of Utah and Colorado is rocky-desert, with sinuous canyons deep-cut by rivers.

Flora and fauna
Climate

Dinosaur's climate is semiarid with temperatures averaging between 0°F (-17°C) to 30°F (-1°C) in January and 50°F (10°C) to 100°F (38°C) in July. Elevations within the park vary between 4700 and 9000 feet. Winter snow makes roads at higher elevations impassable while only light to moderate snow is found at lower elevations. Summer thunderstorms often cause heavy downpours and localized flooding, but may fail to dampen parched soils less than a mile away.

Get in
By road
Both districts of the Monument are accessed via U.S. Highway 40. From
Salt Lake City
, take I-80 east to US 40 east, about 4 1/4 hours and 185 mi (297 km). From
Provo
, take US 189 north to US 40 east, about 4 hours and 166 mi (267 km). From
Denver
, take I-70 west, to SR 9 north, then to US 40 west, about 5 hours and 285 mi (459 km).
Fees and permits
Fees are charged from Memorial Day Weekend through Labor Day. All permits are valid for seven days.
Private passenger vehicle - $10
Motorcycle - $5 for single rider, $10 for double rider
Hiker/bicyclist - $5
Get around

Harpers Corner Road is closed from mid-December to approximately Easter due to snow at the higher elevations.
All dirt roads in the park are clay based and impassable when wet, even with four-wheel drive vehicles. These roads are Echo Park Road, Yampa Bench Road, Island Park Road and the road into Gates of Lodore. These roads are not maintained in the winter and can be impassable due to snow. The use of chains on wet clay roads renders the roads all but impassable for those who follow. Waiting for several hours will allow the roads to dry, leaving them in drivable condition for all visitors.

See
Dinosaur Quarry district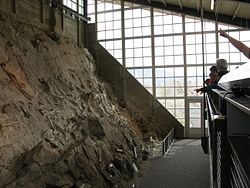 Dinosaur Quarry Visitor Center

phone: +1 435 781-7700

address: Highway 149 north of Jensen

The Dinosaur Quarry district contains rich deposits of fossilized dinosaurs skeletons, most of which are under the protective covering of the Permanent Quarry Visitor Center.
Canyon Area district
Canyon Area Visitor Center

phone: +1 970 374-3000

address: 4545 Highway 40, Dinosaur, UT

The Canyon Area is a region of deep, twisting canyons. Petroglyphs can be seen here but the district contains no dinosaur fossils.
Do
Hiking
Each district has numerous trails of varying length and difficulty.
River rafting
The Green and Yampa Rivers pass through the monument, offering Class III and Class IV rapids. Unless you are an experienced river rafter, do no attempt without a professional guide.
Private boats - $15 application fee, plus $20 for a one-day permit or $185 for a multi-day permit.

Commercial guide tripsSee the Dinosaur NM website for a current list of authorized commercial guides.
Eat
There are no restaurants within Dinosaur National Monument. However, several picnic areas provide a relaxing atmosphere with a view. Picnic areas are located:
Near the Split Mountain boat ramp along the Tour of the Tilted Rocks self-guided auto tour near the Temporary Visitor Center.
At the Josie Bassett Morris homestead at the end of the Tour of the Tilted Rocks self-guided auto tour near the Temporary Visitor Center.
At Plug Hat Butte along the Harpers Corner Auto Tour road in the Canyon Area of the park.
At the Canyon Overlook along the Harpers Corner Auto Tour road in the Canyon Area of the park.
At the Harpers Corner Trailhead along the Harpers Corner Auto Tour road in the Canyon Area of the park.
Nearby communities offer a variety of dining options.
Sleep
Lodging
There is no lodging within Dinosaur National Monument. However, the nearby communities of
Vernal
,
Dinosaur
and
Rangely
have lodging. Obtaining lodging in the area can be difficult; it is recommended that you reserve lodging ahead of time if you plan on staying in the area overnight.
Camping
Dinosaur Quarry district
address: 5 mi (8 km) east of the Temporary Visitor Center

Open from mid-April to mid-October. 88 tent or RV spaces (no hookups). Drinking water and flush toilets are available but there are no showers.

Split Mountain Group Campground

phone: +1 435 781-7759

address: At the Split Mountain boat ramp

Open from mid-April to mid-October. 4 group sites, up to 20 people per site. Flush toilets and drinking water are available but there are no showers. Reservations are required. In the off-season, general camping is allowed without reservation for no charge; However, there is only a vault toilet available and there is no water.

address: Near Green River boat ramp

4 tent sites, no water, vault toilet. The road to the campground is a dirt road and is impassible when wet.
Canyon Area district
phone: +1 435 781-7759

address: Near confluence of Green and Yampa Rivers

22 tent sites, one being handicapped-accessible. One group site, up to 20 people. Running water (from mid-April to Sept.), vault toilets, no showers. High-clearance vehicles are required to access the campground, the last 13 mi (21 km) are on a dirt road. Reservations are not required except for the group site (call for reservation)

address: Near Lodore boat ramp on the Green River

17 tent or RV sites, no hookups. Running water (from mid-April to Sept.), vault toilets, no showers.

address: Near boat ramp at the head of Yampa Canyon

7 tent sites. Running water (from mid-April to Oct.), vault toilets, no showers.
Backcountry
Most of Dinosaur National Monument's 210,000 acres is proposed wilderness. With proper planning, a backcountry trip at Dinosaur can be a wonderful experience of solitude and serenity. Wilderness camping is allowed with a free permit that can be obtained at the visitor center or by phone (+1 435 781-7700 or +1 970 374-3000).
The park's backcountry rules are that you must have a permit and adhere to the following restrictions:
Campsite must be at least one mile from developed areas, like the Dinosaur Quarry and boat ramps.
Campsite must be at least 1/4 mile from roads.
Campsite must be at least 1/4 mile from hiking trails.
Campsite must be at least 300 feet from water.
Campsite must be at least 1/4 mile from cultural sites.
Campsite must be at least 1/8 mile from the Green or Yampa rivers. (River campsites are closed to backpackers during the high-use river-running season, which is the second Monday in May until the second Friday in September.)
There is one designated backcountry camping area within the park which must be reserved in advance:
phone: +1 435 781-7700

address: Confluence of Jones Hole Creek and Ely Creek, along the Jones Hole hiking trail

2 sites that accommodate up to 8 people at each. Water from creek, vault toilet, pack trash out. Reservation required.
Stay safe
Vehicle

Keep your vehicle's gas tank above half-full. Distances can be deceptively long between services. Watch for wildlife on monument and nearby roads. Wildlife can be abundant along roads during all seasons. Please observe speed limits and be aware of wildlife in the road corridor. Four wheel drive may not be enough on some monument roads. Many park roads are clay-surfaced (unpaved), and become impassable when wet no matter what kind of vehicle you have. Get weather and road condition reports before traversing park roads.

Weather

Dinosaur is a land of extremes; please dress appropriately for the season. Summer temperatures can soar over 100°F (38°C); winter temperatures can drop well below 0°F (-18°C). Summer nighttime temperatures can be cool. Dress appropriately, including proper shoes and headwear, use sunscreen. Dressing in non-cotton layers allows you to add and remove clothing as needed while not retaining moisture that can lead to hypothermia.
Always carry and drink plenty of water. Extreme temperatures, high elevation, and an arid landscape can lead to rapid water loss. Many locations may not have water readily accessible and may require backpackers and hikers to carry fresh water. All water gathered in the monument must be treated before consumption.

Trails

Watch your step. Trails are often rocky and uneven, and other hazards may be present. Slow down, enjoy the scenery, and watch your step.
Carry food with you. At higher elevations your body must work harder than at lower elevations; more work means more calories burned. The monument ranges from 4700 feet to over 9000 feet in elevation. Salty foods can replace electrolytes lost through sweating. Eating helps your body use water efficiently.
Afternoon thunderstorms during summer are common, and lighting can strike from miles away. During summer thunderstorms avoid high, bare rock surfaces to prevent being struck by lightning. If caught outside find the lowest point possible that is not near a tree or other tall object, and make yourself small. Also be aware of flash flooding in canyons; a storm miles away can send a wall of water raging down a canyon, flooding it within minutes, emptying just as fast.

Wildlife

Most wildlife is more scared of you than you are of them. You might, however, surprise or startle wildlife or accidentally make an animal feel threatened. Watch where you walk; if you do come across wildlife, give it plenty of space and an escape route. Small children and pets may be particularly vulnerable – keep your group together at all times. Be wary of animals that are being aggressive.
Snakes are an important and beneficial part of the ecosystem. Most snakes found in the monument are non-poisonous, but two are poisonous: the midget faded rattlesnake, and prairie rattlesnake. Snakes, like all wildlife in the monument, should be observed and enjoyed from a safe distance.
Plants can bite, too. Many plants, including cactus, greasewood, Russian thistle, and others can scratch, stick, or otherwise be dangerous. Watch where you put your hands and feet.

Go next