Disney
The Walt Disney Company
operates several theme park resorts around the world. It is one of the largest corporations in mass media and entertainment. While most people associate the name "Disney" with animated cartoons, the company owns a vast range of fiction material in all kinds of media, including Pixar, Star Wars, and Marvel. It also owns the American Broadcasting Company (ABC) and sportscaster ESPN.
Theme park resorts
The Walt Disney Company has twelve theme parks at six resorts spread across the globes. The original, in California, is compact and surrounded by the city of Anaheim; the resort in Tokyo is similarly situated. Paris, Hong Kong, and the newest resort in Shanghai all offer more space to breathe and a more inclusive "Disney experience" while still being close enough to their respective city to to escape to other sights via train connections. The largest Disney resort, in Orlando, Florida, takes up an area larger than the island of Manhattan, and offers a fully immersive experience where the outside world can be forgotten for the length of the vacation. Each resort offers Disney-owned hotels on the property, ranging from the two hotels of the Shanghai resort to a whopping 20 in Orlando.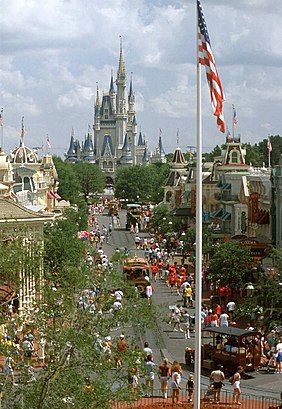 Disneyland Park — The iconic first park, with its six famed sections including Adventureland, Tomorrowland, and Fantasyland. Opened in 1955.
Disney California Adventure — Park themed to different regions of California, as well as Pixar movies. Opened in 2001.
Downtown Disney — Entertainment and dining complex that connects the two theme parks.
Walt Disney World — The massive, flagship four-park resort destination, just outside Orlando, Florida.
Tokyo Disneyland — The first Disney park outside the U.S. shares a similar design to the Magic Kingdom park. Opened in 1983.
Tokyo DisneySea — A wholly different Disney park unlike any other on the planet, a hotel straddles the entrance and a large volcano sits at the center. Opened in 2001.
Hong Kong Disneyland — A smaller Disney park in Hong Kong, constant expansions have made it worth visiting. Opened in 2005
Shanghai Disney Resort — The newest Disney park, in Pudong, Shanghai, China, is large and home to many interesting rides. Opened in 2016.
Disneyland Park — The first European park, it is a combination of both the original Disneyland and the Magic Kingdom. Opened in 1992.
Walt Disney Studios Paris — A small, struggling park set to begin a massive reimagining and expansion in 2018. Opened in 2002.
Other experiences
At sea
Vacation Club hotels
Real locations associated with Disney films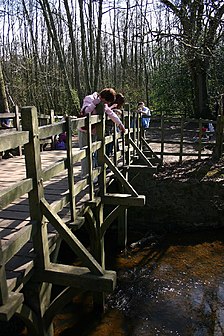 See also
Walt Disney Family Museum, San Francisco, California – A museum owned and operated by the Disney family, not The Walt Disney Company.