Disney Cruise Line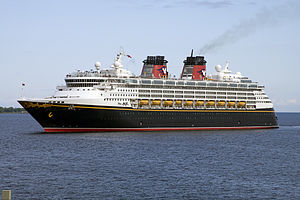 Bringing Disney-style entertainment and theatrics to the high seas,
Disney Cruise Line
(
DCL
) is an American cruise line owned and operated by the Walt Disney Company. Not surprisingly, the four majestic ships in the line appeal the most to families with children, but teens and adults also enjoy spending several days at sea with the Disney characters. Disney cruisers also have exclusive use of
Castaway Cay
, a private island in the
Bahamas
.
The line's fleet cruise the Bahamas and Caribbean out of
Port Canaveral
and
Miami
in
Florida
, and
Galveston
in
Texas
, as well as seasonally to Alaska from
Vancouver
.
Walt Disney World
is only an hour away from Port Canaveral, and combining a cruise with a trip to the World is becoming more and more common. The "Land and Sea" vacation packages also come to
Disneyland
when a ship is assigned to the Port of
Los Angeles
.
Understand
The Disney Cruise Line fleet is small compared to the other major lines, but Disney has placed their focus on quality over quantity. They've taken the design principles and customer service standards that make a Disney theme park such a memorable experience and adapted them to fit the cruising industry. On a Disney ship, you'll find multiple swimming pools, a Broadway-style theater, a full-service spa, world-class cuisine, happening night-spots, supervised areas just for kids, and more activities than you can shake your mouse ears at.
A Disney cruise isn't just for families with kids; while children are a major part of the line's customer base, they have taken great pains to entertain adults traveling solo (as well as parents who just want a break). Teens have their own spaces, too, where they can hang out with their peers instead of being sentenced to watch little siblings or to tag along with their parents.
Babies under six months of age are not allowed on the ships.
History
In retrospect, it's a little surprising it took Disney so long to get into the cruising business. The industry seems a perfect fit for Disney's brand of entertainment, but it took a while to come to fruition.
Disney had partnered with Premier Cruise Line to provide ship-based components of combined vacation itineraries starting in the 1980s. Although Disney sold the vacation packages and provided some costumed characters for the cruises, eventually the company decided that they could create a better experience—and keep more money in-house—by establishing their own cruise line.
In 1995, Disney commissioned their first two ships, the
Disney Magic
and the
Disney Wonder
. They're sister ships, nearly identical, both designed from the keel up to present an ocean-going version of their theme parks and hotels, one where the operational areas of the ship are kept carefully hidden from guest view. The
Magic
was completed in 1998, with the
Wonder
following a year later; both ships ported at Port Canaveral, where a dedicated Disney Cruise Line terminal opened in 1997.
Also part of the Cruise Line is Castaway Cay, a 1000-acre (4 km 2 ) island in the Bahamas once known as Gorda Cay. Disney had purchased the island in the mid-1980s (part of the 1984 film
Splash
was filmed there), and it turned out to be a perfect spot for large cruise ships. After making an existing natural harbor even deeper (and using the excavated sand to expand the beaches), Castaway Cay was born and incorporated into the new ships' itineraries.
After a almost decade of successful cruising, including occasional trips to the US west coast and to Europe, Disney announced plans to add two ships to the fleet. The
Disney Dream
and the
Disney Fantasy
would be about 40% larger than the
Magic
and the
Wonder
, with unique features including an enclosed overhead water coaster called the "AquaDuck". The
Dream
launched in January 2011, cruising from Port Canaveral. To make room for the
Dream
, the
Disney Wonder
moved to a new home at the Port of Los Angeles, from where it will sail to Mexico (with summertime cruises from Vancouver to Alaska). The Disney
Fantasy
was launched in 2012 and provides cruises to the Eastern and Western Caribbean.
The Disney
Magic
starts cruises in the
Mediterranean
from
Barcelona
.
Get on board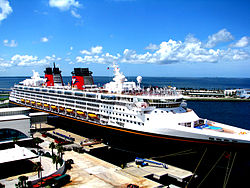 All Disney cruises are international. That means you will need your passport, and you will have to pass through Canadian or US Customs upon your return, even if you never left the ship. Take that into account when planning how to pack and what kind of souvenirs you buy.
If you don't have a passport yet, don't waste time; DCL requests that you provide them your passport number at least 75 days before your cruise! Also, while a U.S. passport card is convenient, you might want to bring your normal passport as well. While it's highly unlikely, should anything go wrong and you have to fly home instead of remaining on the ship,
airlines don't accept passport cards
.
Check-in typically begins at 10AM (10:30AM in Port Canaveral); embarkation begins at 1PM, and all passengers must be on board by 4PM (3:45PM in Los Angeles).
By bus
Whether your cruise departs from Port Canveral or from Los Angeles, Disney Cruise Line has motorcoaches that will take you from the airport or the theme park resort to the cruise terminal. In Florida, that's
Orlando International Airport
(MCO) and the
Walt Disney World Resort
; in California, you'll be coming from
Los Angeles International Airport
(LAX) and the
Disneyland Resort
; and in British Columbia, your only choice is
Vancouver International Airport
(YVR).
At the airport, just look for the blue-uniformed DCL cast members in the main airport terminal; at your Disney resort, ask about catching the bus at the front desk when you check in. Transportation is $35 one-way, or $69 round trip. The trip is about an hour (less in Vancouver), but you'll have a video to watch and the company of your fellow cruisers.
You also may have the luxury of not needing to keep track of your luggage. If you're flying from within the United States to either Orlando International or Los Angeles International, and you're going straight from the airport to the seaport, you can tag your luggage at your departure airport and not have to worry about it again until it arrives in your stateroom aboard the ship. This service is not available at Vancouver International; you'll need to claim your bags and then get them to the DCL bus. Of course, if you're flying internationally to
any
of the airports, you'll have to go through Customs with your luggage before handing it off to DCL.
You can, of course, also catch a bus back to the parks or the airport. You'll need to move your own luggage through Customs after debarkation, though.
By car
Port Canaveral
The Disney Cruise Line Terminal is among the "A" Cruise Terminals, at 9155 Charles M. Rowland Drive in Port Canaveral. No matter where you're coming from, you're going to want to get onto State Route 528, the Martin Andersen Beachline Expressway (though locals may still call it "The Bee Line"). Fortunately, that's not hard; the highway runs right along the north side of the airport. Route 528 can also be reached via I-4 (exit 72), Florida's Turnpike (exit 254), and I-95 (exit 205).
The Beachline is a toll road, with three toll plazas along its length. The total toll will be $3.25 from I-4 or the turnpike, $2.50 from the airport, or free from I-95. However you get on the Beachline, take it east across the state almost to the Atlantic Ocean; you'll cross the Intracoastal Waterway,
Merritt Island
, and the Banana River. Take the exit for Route 401 North, then just follow the signs.
Disney Cruise Line has its own secured parking lot and garage at Port Canaveral. It is $15 per day per vehicle, including the day you return. So to calculate your parking fee, take the number of nights for your cruise, add 1, then multiply by $15. For example: A three-night cruise to the Bahamas carries a parking fee of $60, while a seven-night cruise to the Virgin Islands carries a parking fee of $120. A limited number of preferred parking spots close to the terminal entrance are also available for $25 per day.
When you enter the parking lot gate, you are given a ticket, which you do not need to leave in your vehicle. What you do with the ticket during the cruise is up to you. You can leave it in the vehicle if you wish (the lot and garage have 24-hour security with cameras), or take it with you on the ship (you can put it in the complimentary stateroom safe; see below). You pay the fee when you leave the lot after your cruise; they take cash, Visa or MasterCard. Parking fees cannot be charged to your room.
Los Angeles
The World Cruise Center is at 600 North Harbor Boulevard (be careful: this is
not
the same road that forms Disneyland's eastern boundary) in San Pedro. Get on I-110 (via I-405 if you're coming from the airport) and take it south to Exit 1A; follow the signs for Harbor Boulevard, but go through the intersection and take your next right.
From Disneyland, take I-5 (it bounds Disneyland's northeast corner) north to Exit 113C to CA-91 west. Then, take Exit 12A to I-710 south, and finally take Exit 1C to reach Harbor Boulevard.
Vancouver
Canada Place is on the northern edge of Vancouver on the Burrard Inlet. You'll want to get on Provincial Route 99 and head north, across the Granville Bridge into the Central Business District. Hop over to Howe Street and take it all the way to the Bay, then follow the signs for the terminal.
Get around
The Magic and Wonder are each 964 feet long, 106 feet wide, and have 10 full-length decks. The Dream and Fantasy are each 1,115 feet long, 125 feet wide, and have 12 full-length decks. Each ship has three banks of elevators, positioned forward, middeck and aft. Each bank of elevators is flanked by a set of stairs as well. All ships have a three-story-tall atrium bottoming out at the third deck, around the middeck bank of elevators, where embarkation and debarkation at the beginning and end of the cruise takes place. Embarkation and debarkation at ports of call and Castaway Cay occurs at the first deck, usually around the aft bank of elevators.
As there are 10 or more decks each the length of three football fields, be prepared to do a lot of walking.
State room numbers are the deck number, followed by a three-digit number. Staterooms x000 through x499 (where x is the deck number) are on the port side of the ship, while staterooms x500 through x999 are on the starboard side of the ship.

Castaway Cay
At Castaway Cay, there is a tram service that has two different lines. One line goes from the harbor to Pelican Point, with a stop in between at Scuttle's Cove. The other line goes from Pelican Point to Serenity Bay, and requires a transfer between trams at Pelican Point.
Bicycles can be rented near the Pelican Point tram stop for US$6 per hour to get around the island. There is also a marked 5-km running course for all ages.

See and do
This section covers things you can do on-board each ship or at Castaway Cay. For information on ports of call, head to their respective pages. Examples:
Nassau
,
U.S. Virgin Islands
,
Jamaica
,
Cozumel
.
Buy
The shops on-board and at Castaway Cay are duty-free. A seminar is available, usually during the first day of the cruise, that will explain the ins and outs of shopping on a Disney Cruise. While it applies especially to the ports of call, its Customs restrictions apply to on-board shopping as well.
All shopping on-board and at Castaway Cay requires your room key or Key to the World card, with expenses charged to your room account. Most shops in Nassau take American currency, as the Bahamian dollar is pegged to the American dollar. Just make sure you get your change in American currency; Bahamian coins come in some rather exotic denominations, and of course are not legal tender in the United States.

Eat
Formal dining
Each ship has three formal dining rooms where dinner is served in two shifts. Each dining room has a different theme, and a different cuisine for dinner. At least one night on each cruise recommends formal attire. At least one dining room on each ship also serves breakfast each day.
Formal dining is part of the cruise package for all guests. You only need to tip your waiters. The regular menus at the formal dining rooms provide normal and vegetarian options. Children's menus, and menus for people with special diets (like gluten-free or diabetic) are also available upon request.

Animator's Palate
One of the formal dining rooms in each of the four ships is the Animator's Palate, which celebrates the animation history of Walt Disney Animation Studios and Pixar. The main cuisine at this dining room is "Pacific Rim", though Dream and Fantasy mix in some American fare. It only serves dinner on all four ships.
The Magic and Wonder feature a rich multimedia experience saluting the history of Disney and Pixar animation. The Dream and Fantasy, however, feature a higher-tech interactive show, where characters interact with dining guests. There are two shows: "Animation Magic", starring Sorcerer Mickey from Fantasia; and "Undersea Magic", starring Crush from Finding Nemo.

Parrot Cay
Parrot Cay is a dining room found on the Magic and Wonder with a "Caribbean Island Grill House" theme. Serving all three meals each day, it features a lush, tropical setting.

Lumiere's
Lumiere's is a French and American dining room exclusive to the Magic that serves all three meals. Themed on Beauty and the Beast, it has a formal setting with a touch of art deco.

Triton's
Triton's has the same French and American cuisine as Lumiere's, but on the Wonder. It also serves all three meals. Themed on The Little Mermaid, with similar art deco setting motifs.

Enchanted Garden
Enchanted Garden is a dining room on both the Dream and Fantasy with a Continental cuisine, serving all three meals. It has a design reminiscent of rural France.

Royal Palace/Royal Court
Royal Palace (on Dream) or Royal Court (on Fantasy) is a dining room with a French and Continental cuisine, also serving all three meals. Having a more formal design on the ship, the motif is reminiscent of the ballroom scene in Cinderella, and salutes all the Disney Princesses, from Snow White to Princess Tiana.

Adult Exclusive dining
Each ship has one or two Adult Exclusive restaurants where adults can sample a more exclusive fare than is available anywhere else on the ship. Dining at AE restaurants require advance reservations, and a $20 charge per diner. All are open for brunch and dinner. Formal attire is a requirement.

Palo
Palo is an Adult Exclusive restaurant available on all four Disney ships. The cuisine is Northern Italian, and the restaurant has a Venetian motif.

Remy
Remy is an Adult Exclusive restaurant available on the Dream and Fantasy. Themed on Ratatouille, it features French cuisine and decor for a romantic experience.

Other dining
Other dining options are available throughout the day, and most food is free except in the Adult Exclusive restaurants, movie theatres and coffee shops on each ship. Each ship has a casual dining restaurant, and a buffet area.
Room service is also available in all staterooms for an extra charge. A menu is provided in each stateroom.

Drink
Self-serve fountain drinks and carbonated drinks are free, as are non-alcoholic drinks served at the main dining rooms. Drinks available at a show, movie theater or bar area will cost money. There is also a coffee shop on each ship.
Alcoholic beverages are available for an extra charge, with wine choices available at the main dining rooms. Bars and lounges are available on each ship serving alcoholic beverages, including mixed drinks. Bars and lounges do not serve food. However, a small free buffet of hors d'oeuvres may be made available during sporting events at one designated lounge on-ship. That lounge is "Diversions" on Magic and Wonder, "687" on Dream, and "O'Gills Pub" on Fantasy.
You are allowed to bring alcohol on-board in your luggage, but there are some restrictions. Each passenger can bring up to two bottles of wine or sparkling wine, or six 12-ounce cans/bottles of beer, as long as it's in carry-on luggage. Any other types of alcohol, any alcohol in your checked luggage, and any alcohol in excess of these limits will be confiscated and stored until the end of your cruise. There is a $25 corkage fee at the shipboard restaurants for any wine bottles you bring with you.

Sleep
Each ship has several classes of staterooms, with interior staterooms generally costing less than oceanview staterooms. A limited number of suites and balcony staterooms are also available.

Connect
Each cruise ship has IP telephones and wireless Wave Phones in every stateroom. Each stateroom gets the use of two Wave Phones for free, and can get more for an extra charge. Contact between staterooms and Wave Phones is complimentary. Wave Phones can be used anywhere on the ship, as well as on Castaway Cay. They will not work at other ports of call, however. So if you're going ashore in Nassau, for instance, leave your Wave Phones in your stateroom.
When you board, you might want to put together your Wave Phones and exchange Wave Phone numbers between adults and responsible children in your party. Your Wave Phone numbers are your stateroom number, followed by either 1 or 2. For example, Stateroom 2046 would get Wave Phone numbers 2046-1 and 2046-2. Stateroom 10545 would get Wave Phone numbers 10545-1 and 10545-2.
Due to the limitations of being out at sea, it is very expensive to run internet connections. Wi-Fi and cellular connections are available, but both are very costly. If you turn your cellphone on while at sea, you will receive a text message warning you exactly how much data and calling will cost you. It would be best to simply turn your cellphone off when you depart your home port, and leave it in your safe. You can use your Wave Phones to communicate.

Stay safe
Muster drill
Regulations require every cruise to begin with a "muster drill". At approximately 4PM before the ship departs, the ship will sound its foghorn with the distress signal: seven blasts, followed by a longer eighth blast. Once that occurs, head to your muster station. Your room key has a single letter on it, which corresponds to your muster station. All the muster stations are on the fourth deck.
All staterooms carry life preserver jackets. You do not need to bring them to the muster drill, but cast members will demonstrate how to use them during the muster drill. When you arrive at your muster station, present your room key to be checked in, and await further instructions.
Each ship has a number of rigid lifeboats, and even more inflatable lifeboats. They are required to have enough lifeboats for all passengers and crew. The rigid lifeboats are stowed above the fourth deck.

Other notes
Disney Cruise Line takes sanitation very seriously. You will be required to use antiseptic wipes on your hands before entering any area where food is handled.

Cope
This is a ship: if you get motion sickness, you will likely get seasick while aboard. If you think this could happen to you, bring along some Dramamine in your carry-on, and take it a few hours before the cruise begins. Even if it doesn't feel like the ship is moving, your body will know, and it could ruin your trip. The shops on the ship will carry some for sale, but for a "Disney price", so it's best to bring your own - your doctor could also prescribe it for you in the form of behind-the-ear sticky tabs, which may also be cheaper depending on your insurance.
Do your research before choosing not only the destinations but the time of year you travel: hurricane season is a very real threat to vacations in the Bahamas. Try to avoid travel during the late summer to late fall; stormy seas or heavy rains on an island will deprive you of experiencing the sights - and there are no refunds if a storm hits and you get stranded at a port for a few days.
When planning a cruise vacation, give yourself at least an extra day at the end as a buffer (in case of weather or other travel issues).
If going on the trip with children, don't neglect any set schedules - bedtimes, meal times, naps - trying to work around keeping them happy will make for a happier family vacation.