Diu
Diu Island
is located south of
Gujarat
,
India
, and is connected to the mainland by bridges and a ferry.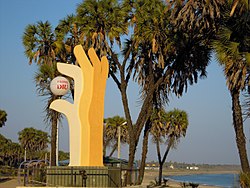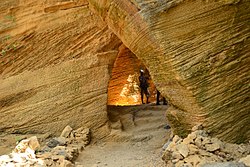 Understand
Diu was a Portuguese colony from 1539 to 1961, when the Indian government used military action to retake all the Portuguese enclaves. Apart from Diu, also
Daman
, Goa, Dadra and Nagar Haveli were "captured" in this conflict. This area used to be a part of a larger union territory of Goa, Daman and Diu before Goa became a state by itself. Union territory of Daman and Diu is still administrated from Delhi.
Diu has fine but not so spectacular beaches, Diu town, some villages and all in all very relaxed atmosphere compared to most of India. Diu is not anything like Goa for example and those expecting to find a similar place on a smaller scale might be disappointed.
Talk
Gujarati, Hindi and English are mostly understood and spoken. Some older residents might still speak Portuguese.

Get in
By train
Diu lacks a railway station. The nearest junction is at Veraval, 90 km from Diu. A direct train connects Verval to Ahmedabad. The nearest railway station from Diu is Una, which is 12 km from Diu.
By plane
By bus
State-run buses as well as some private companies serve Diu from
Ahmedabad
. Trips take around ten hours and both regular and nocturnal sleeper buses exist.
A 20+ hour trip by bus from/or to
Mumbai
is also possible.
Get around

Autorickshaws, rent a bike or a scooter.

See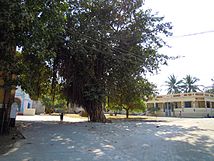 The old Portuguese churches and fort, local Hindu temples, the old Portuguese architecture in the town, beaches and sea shore.
Diu Fort

Diu JailIt is in the middle of the jetty near the main city of Diu, which was in use since the Portuguese times. A sight to see during the night.

Diu Museum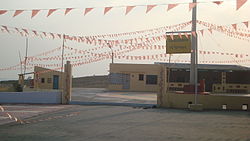 Gangeshwar Mahadev temple

Naida Caves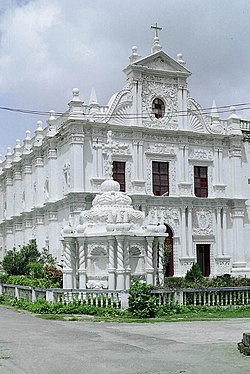 St. Paul's Church

Sea Shell MuseumA must visit at Sea shell museum near by airport, you will surprise to see the shells around the world. ticket is just 10/- but worth to pay.

Zampa GatewayThe main entrance to Diu City
Do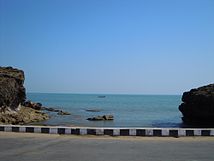 Relax, go sightseeing, explore the island with a motorbike, work on your tan on a beach.
Drive/Ride/CycleStart by visiting the fort (which is located near the island jail). Proceed a few meters in the direction of the jetty, turn left to visit St. Paul's church and Diu museum (a sign post will indicate the left turn). From here, you might want to criss-cross your way through narrow alleys with Portuguese architecture-influenced houses to reach the Diu government hospital (formerly St. Francis of Assis, founded in 1593). Travel further down the road to reach Jalandar beach. A breathtaking view lies stretched on your left, as you get to Gangeshwar Mahadev temple. Now weave through Fudam to get to Malala. The road connects to Bunder road. Turn left and travel about 4 km to reach Nagoa beach. You can turn around and stay on Bunder road to return to the city which is about 8 km away. Or you can back-track your steps and relive the experience.
The city has many beaches which one may choose as per their tastes.
Jalandhar BeachA very quiet,least crowded and isolated beach, apt for bathing and sun-bathing. No commercial establishments are insight at the beach, so you might want to carry something, just in case you go hungry!

Nagoa BeachMost commercial beach, complete with water-sports and lined with restaurants offering variety of seafood.
Eat

Fresh seafood, Gujarati food, and standard North and South Indian food are available.
Mostly you will get the Non-veg Food over here, but if you are Pure Vegetarian don't get tense, there are some Pure Vegetarian hotel near by Tourism office.

Drink

Alcohol is legal in Diu, unlike in neighbouring Gujarat, so a lot of people come to Diu especially for drinking. Indian and foreign beer and spirits are widely available.

Sleep
Cheap accommodation as well as some mid range hotels are abundant and are mostly located in Diu town. Resorts and the like can be found for example near Nagoa Beach.
phone: +91 9824230908, +91 9810919918, +91 9904561718

address: Ghoghla Beach Diu

resort on a beach, lots of greenery

phone: +91 9824294048

address: Nagoa Beach Diu

chic boutique budget hotel, probably the best stay and food in Diu
Stay safe

Wear a helmet (if you manage to rent one) when riding a motorbike or scooter.

Go next
If you have come by road this far than it becomes imperative that you would be looking for few more destinations. Some of them you can plan on your way to Diu and few of them while returning.
Veraval - Popular for Somnath Jyotirlinga Temple.
Gir Forest National Park - Only place on earth to have Asiatic Lions.
Tulsishyam - Drive through forest and Hot water spring.
Blackbuck National Park - Grassland which has blackbucks and birds.
Porbandar - Birthplace of Mahatma Gandhi. Also has a wast wetland which attracts lot of migratory birds in winter.
Lothal — Well planned Harappan (Indus) Civilization Port.
Palitana Temple — on Shatrunjaya holy mountain with marble temples and breath-taking views.