Diving in the Philippines
This article is intended to provide the already qualified Scuba diver with information which will help to plan dives in the waters of the
Philippines
, whether as a local resident or a visitor. Information is provided without prejudice, and is not guaranteed accurate or complete. Use it at your own risk.
Understand
With 7107 islands, 18,000 kilometers of shoreline and 27,000 sq. kilometers of coral reefs, the
Philippines
lies in the coral triangle which is one of the most bio-diverse marine regions on Earth. The Philippine seas are home to over 450 species of hard corals, and more than 500 fish families, which include 2000-2500 fish species.
There is a wide variety of dive site types, including reefs, wrecks and underwater caves.
The geographic location predisposes the Philippines to typhoons for four months in a year, but the topography and structure of the archipelago give make many of the sites accessible throughout the year.
English is spoken in most parts of the country
General topography
Climate, weather and sea conditions
Marine ecology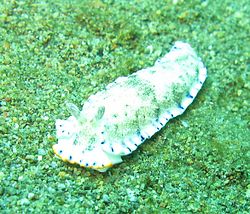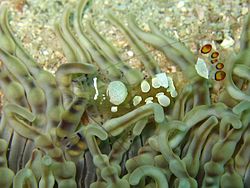 Tropical Indo-Pacific — The region with highest biodiversity, and possibly also the largest extent. Very large numbers of different species can be found in this huge region, but they are also widespread, and similar species will be found in adjoining regions.
Equipment
Get help
Emergency services
Police

Ambulance serviceCebu City - Emergency Rescue Unit foundation: Dial 161 from any landline within Cebu City.

Sea rescue

Cebu City Recompression chamber

phone: +63 32 233 9942

In case of Decompression sickness call (032)233 9942 or Lt. Col Mislang on 0916-929-6045 or Assistant Ton Ton 0919-517-5900 to be sure the chamber is open and functioning. The chamber is connected with DAN but you need to pay cash upon arrival otherwise the personnel most likely won't start the treatment.

DAN hotline
Get service
Learn
Buy
Rent
Do
Freediving-Philippines
Scuba Tech Philippines
Fix
Service details
address: Moalboal, Cebu

Freediving Courses and Outdoor Adventures

address: Dive boat based in Subic Bay Freeport Zone

PADI, SSI, BSAC and DSAT TecRec training courses, Daily scuba diving trips to the wrecks and reefs of Subic Bay. These trips can be tailored to divers requirements at any level, Accommodation can be booked at any hotel inside SFZ, with pick-up/drop-off included
Stay safe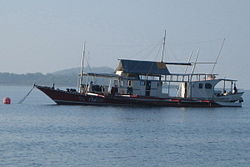 See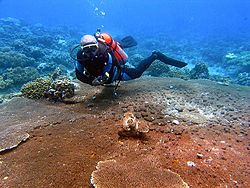 Dive sites include:
Outstanding corals and reef life with high diversity of small marine creatures.



Mainit Point

Understand

Position: — Cazador Point, the southernmost point of the Calumpan Peninsula

Depth: — 5 to 35 meters (16 to 115 feet)




Get in

Boat dive

See

Marine life: — Marine life is plentiful and varied due to the currents. Fish life includes Moorish idols, barracuda, sharks, pufferfish, snappers, surgeonfish, wrasses, angelfish, and jacks. A small cave at 6m is occasionally graced by resting whitetip sharks and a submerged pinnacle at 21m offers a good vantage point from which to see pelagics when the current is running.




Stay safe

Hazards: — No site-specific hazards reported

Skills: — Intermediate

Equipment: — No special equipment recommended




Beatriz Rock

Understand

Position: — North of Sombrero Island at the northern end of Maricaban Strait.

Depth: — 14-27 meters (45-90 feet)




Get in

Boat dive

See

Marine life and features: — A series of drop-offs, with channels in between, from 5m to 27m and a pinnacle rising from 14m to 8m. There are large barrel sponges, gorgonians, black corals, soft corals, stony corals, anemones with nudibranchs and sea stars. Fish include clownfish,triggerfish, snappers, surgeonfish, jacks, anthias, and there are also turtles and octopuses.




Stay safe




Skills: — Intermediate




Understand

Protected diving area for over 20 years. Healthy corals.

Position: — Off the Southeast tip of Negros Island

Depth: — 3-35 meters (10-115 feet)




Get in

Boat dive

See

Marine life and features: — The reef has many large corals and sponges, including table, star and brain corals, barrel sponges and sea whips, and some good-sized clumps of black coral. Anemones with clownfish, and giant clams are common. A prolific fish life can be found in the area: groupers, glasseye snappers, gobies, tangs, wrasses, chromis, damsels, surgeons, squirrelfish, butterflyfish, drums, fusiliers and parrotfish. Blacktip and whitetip sharks are quite common, and a variety of pelagics, including tuna, jacks, barracuda, wahoos and mackerel, may visit the usually clear water.




Stay safe

Hazards: — No site-specific hazards recorded

Skills: — Intermediate

Equipment: — No special equipment recommended




Apo reef

Understand

A 340 meter-wide dual-lagoon system divided by a narrow channel that runs west to east.

Position: — South China Sea, west of Mindoro Island

Depth: — 2 to more than 40 meters (7 to more than 130 feet)




Get in

Boat dive

See

Marine life and Features: — This is an area where more than 380 species of fish are known to reside, an excellent area to view several species of large pelagics. Among the species of fish that can be found in the Apo Reef area are various sharks (including whitetip, blacktip, hammerhead and whale sharks), stingrays, mantas, jacks and snappers, tuna, wahoos, Spanish mackerel, Napoleon wrasses, surgeons, bumphead parrotfish, triggerfish, lionfish, pufferfish, soldierfish, and many others. Researchers have identified almost 500 different species of corals in the area. There are three wrecks in the area — an old steamer in shallow water at the northern end, and two steel-hulled fishing boats, one in 10m on the southwest portion of the southern reef, the other on the west side of the same reef.




Stay safe

Hazards: — No site-specific hazards reported

Skills: — Intermediate

Equipment: — No special equipment recommended





Times Square

Understand

Due to its location Times Square is a rather remote dive. Despite the fact that this site is not dived often, it remains one of the most beautiful sites with pristine undisturbed reefs. Abundant marine life.

Position: — 12° 53' 42.61" N, 122° 4' 50.75" E

Depth: — 35m

Altitude: — Sea level




Conditions: — This site can be visited 12 months a year.

Get in

Boat dive — This site can be reached in 3 to 4 hours from Romblon Town or Lonos, Romblon.

See

Marine life: — A dive spot rich in swarm fish like fusiliers and surgeonfishes. Great coral formations, nudibranchs, moray eels and other sea life.

Photography: — Great photo opportunity.




Stay safe

Hazards: — No site-specific hazards reported

Skills: — No special skills recommended. Good for snorkelling

Equipment: — No special equipment recommended




Balicasag Island

Understand

Depth: — Surface to more than 40 meters (130 feet)




Get in

Boat dive —

See

Marine life and Features: — The steep coral covered slopes and walls of these protected waters contain schools of barracudas and jacks, banner and butterfly fishes, batfish, smaller nudibranchs and flatworms, and numerous varieties of anemones with their resident clownfishes.




Stay safe

Hazards: — No site-specific hazards reported

Skills: — Intermediate

Equipment: — No special equipment recommended




Understand

Suitable for the more experienced diver. This dive site is noted for sightings of Hammerhead Sharks in the deeper waters off the island's northwest point.

Position: — Off the Northwest coast of Bohol

Depth: — 4 to more than 40 meters (13 to more than 130 feet)




Get in

Boat dive —

See

Marine life and Features: — The reef off the point has many cracks, overhangs and coral gardens on it. It drops off to a ledge at 30 meters, and then drops again to much deeper water. The reef features gorgonians and large barrel sponges. Whip corals, sponges and crinoids festoon the walls. Whitetip and grey sharks are frequently seen, and barracuda, jacks, mackerel and tuna are some of the pelagics that visit the area. Common reef inhabitants are butterflyfish, Napoleon wrasses, triggerfish, fusiliers, snappers, Moorish idols and sweetlips.




Stay safe

Hazards: — No site-specific hazards recorded

Skills: — Intermediate

Equipment: — No special equipment recommended




A popular place in the Philippines to become certified. Quality beginner diving as well as a few good intermediate dive sites.




A small town on the southwest coast of Cebu Island with many dive schools, some good diving and snorkeling nearby, and boat trips to other dive sites. One of the most popular places in the country for beginning divers to get basic training, typically the PADI Open Water certificate.


Pescador Island (Moalboal)

Understand

Position: — West of Panagsama Beach

Depth: — Surface - 40 meters+ (130 feet+)




Get in

Boat dive

See

Marine life and Features: — Sloping reefs with corals, gorgonians, and fan corals, a drop off and sponge-covered walls with lots of cracks and crevices to explore, and overhangs to swim through. Fish life includes large tunas, napoleon wrasses, whitetip and hammerhead sharks.




Stay safe

Hazards: — No site-specific hazards reported

Skills: — Suitable for novice divers

Equipment: — No special equipment recommended




Sunken Island (Moalboal)

Understand

Position: — Southwest of Badian Point

Depth: — 25 to more than 40 meters (82 to more than 130 feet)




Get in

Boat dive —

See

Marine life: —




Stay safe

Hazards: — No site-specific hazards reported

Skills: — Advanced

Equipment: — No special equipment recommended




Dona Marilyn Wreck (Malapascua)

Understand

The Dona Marilyn was a passenger ship that went down in a typhoon over 20 years ago.

Position: — South of Masbate, close to Manocmanoc Islands

Depth: — 20-32 meters (65-105 feet)




Get in

Boat dive —

See

Marine life and Features: — the wreck is covered by a profusion of dendronephtya and black coral bushes that cover most of the ship.




Stay safe

Hazards: — No site-specific hazards reported

Skills: — Advanced

Equipment: — No special equipment recommended




Gato Island (Malapascua)

Understand

Position: — North of Cebu Island

Depth: — 5 - 25 meters (16-82 feet)




Get in

Boat dive

See

Marine life and Features: —




Stay safe




Skills: — Intermediate


Cagdanao is an island in the province of Palawan, 29 kilometers east of the town of Taytay in northern Palawan.
The island surrounded by a coral reef, with shallow coral gardens and deep drop-offs on the north side. Access to the island is usually a 40 minute ride on a speedboat from Palawan.
Popular for snorkeling and scuba diving
This is one of the best-known sites on Earth for wreck diving. In September 1944 American planes attacked a flotilla of Japanese supply ships at anchor in Coron Bay and around nearby Busuanga Island, and sank many of them in relatively shallow (20-60m) water in the bay.


Tae Maru (Concepcion Wreck)

Understand

The Tae Maru is a 168 meter-long oil tanker that has a smashed bow and lies at 26m, listing slightly to port.




Position: — Southwest of Concepcion

Depth: — 10-26 meters (33-85 feet)




Get in

Boat dive

See

Marine life and Features: — The strong currents encourage the wreck's coral and sponge growth, which includes a profusion of healthy cabbage corals, a variety of sponges, and hard and soft corals. Marine life includes barracuda, sweetlips, groupers, batfish, lionfish, surgeons, several varieties of wrasses, tangs, snappers and solidierfish.




Stay safe

Hazards: — Strong currents, Wreck overhead environment

Skills: — Advanced

Equipment: — Appropriate equipment should be used if wreck penetration is intended. If you do not know exactly what this means, don't try it


El Nido is a marine reserve, a dugong stronghold in the Philippines, and an excellent destination for snorkelers and beginner divers with impressive coral reefs and walls.


Miniloc Island

Understand

Miniloc Island offers two sites: South Miniloc and Twin Rocks, both are relatively calm and sheltered year-round.

Position: — Southwest of Bacuit Bay

Depth: — 13 to 21 meters (42 to70 feet)




Get in

Boat dive —

See

Marine life and Features: — South Miniloc features lettuce corals and sponges, and it has a large colony of blue eels. Other notable marine life in the area: squid, cuttlefish, jacks, barracuda, angelfish and parrotfish. Twin Rocks, which is north of Miniloc, offers lots of sea whips, table and other hard corals, as well as sponges and a good variety of tunicates. There are also angelfish and stingrays plying the area.




Stay safe

Hazards: — No site-specific hazards reported

Skills: — Suitable for novice divers

Equipment: — No special equipment recommended


This town and nearby beach areas (Sabang and White Beach) are the main tourist region on Mindoro Island. Much of the diving and a lot of the nightlife are in Sabang.


Hole in the Wall

Understand

Once past the hole, several coral heads provide shelter from currents that are often present.

Position: — Off Escarceo Point

Depth: — 9 - 18 meters (30-60 feet)

Topography: — This is a hole on a coral covered underwater ridge at 14 meters which divers can swim through.




Get in

Boat dive

See

Marine life and Features: — Huge trevallies, emperor fish and batfish usually gather in shoals overhead and ride the moving water like a ferris wheel.




Stay safe

Hazards: — This site is known for its sometimes ferocious currents and riptides, whirlpools and eddies.

Skills: — Novice




Canyons

Understand

Position: — Off Escarceo Point

Depth: — 12-40 meters (40-130 feet)




Get in

Boat dive

See

Marine life and Features: — A series of three canyons whose sides are completely covered by pink dendronepthya and whip corals. Residents include spotted, oblique, striped and oriental sweetlips. Giant trevallies and batfish hide among seafans and barrel sponges, large schools of snappers, blue-finned trevallies and emperor fish.




Stay safe




Skills: — Advanced





Agnay Sanctuary

Understand

Here you will find beautiful coral decorated reefs teeming with marine life.

Position: — 12° 32' 53.09" N, 122° 15' 2.94" E

Depth: —




Conditions: — Agnay Sanctuary is situated in a protected bay area, making this dive easy to handle. Calm sea conditions and much to see and explore.

Get in

See

Marine life: — A good place to see eagle rays and frogfishes.




Stay safe

Hazards: — No site-specific hazards reported

Skills: — No special skills recommended

Equipment: — No special equipment recommended




Agpanabat Sanctuary

Understand

This dive site consists of various beautiful coral formations with lots of small fish life such as clownfish, scorpionfish, boxfish and others

Position: — 12° 28' 51.32" N, 122° 17' 0.05" E

Depth: — 35m

Altitude: &mdash Sea level




Conditions: —

Get in

Boat dive —

See

Marine life: —




Stay safe

Hazards: — No site-specific hazards reported

Skills: — No special skills recommended

Equipment: — No special equipment recommended




Agpanabat Caves & Canyons

Understand

Start your dive in shallow waters and gradually slope to a maximum depth of 25 meters to where you will find several swim throughs, caves and reef sections to explore. These underwater structures are teeming with marine life.

Position: — 12° 28' 41.37" N, 122° 17' 0.2" E

Depth: — 35m

Altitude: — Sea level




Conditions: —

Get in

Boat dive —

See

Marine life: —




Stay safe

Hazards: — No site-specific hazards reported

Skills: — No special skills recommended

Equipment: — No special equipment recommended




Alad Sanctuary Garden

Understand

The reef is covered in various soft corals and provides a beautiful and exciting scuba dive. There is some amazing marine life here like puffers, groupers, lobsters, cuttlefish and ribbon eels are just a few.

Position: — 12° 37' 14.68" N 122° 14' 14.54" E

Depth: —

Altitude: — Sea level




Conditions: — This site can be visited 12 months a year.

Get in

Boat dive — This site can be reached in 20 to 30 minutes from Romblon Town or Lonos, Romblon.

See

Marine life: — Includes Soft corals, puffers, groupers, lobsters, cuttlefish and ribbon eels.

Photography: — A great place for underwater photography.




Stay safe

Hazards: — No site-specific hazards reported

Skills: — No special skills recommended

Equipment: — No special equipment recommended




Alad Sanctuary Slope

Understand

The fish sanctuary of Alad is well known for its endless soft coral fields, barrel sponges and abundant marine life. A true diver's paradise! This underwater landscape is teeming with marine life and enveloped in dense coral formations.

Position: — 12° 37' 10.16" N 122° 14' 15.09" E

Depth: — maximum 40m

Altitude: Sea level




Conditions: —

Get in

Boat dive —

See

Marine life: — Barrel sponges, Soft corals.

Photography: — Ideal for macro photography

Suggested Routes: — Start your dive in shallow waters and gradually slope to a maximum depth of 35 meters.

Stay safe

Hazards: — No site-specific hazards reported

Skills: — No special skills recommended. This site also provides great snorkeling opportunity.

Equipment: — No special equipment recommended




Alad South

Understand

This site contains a sandy area with some really interesting sea life and is full of colorful mixed coral species and many reef fish. Alad South hosts a large field of garden eels, too.

Position: — 12° 36' 48.81" N 122° 15' 26.5" E

Depth: —

Altitude: — Sea level




Conditions: — This site can be visited 12 months a year.

Get in

Boat dive — This site can be reached in 20 to 30 minutes from Romblon Town or Lonos, Romblon.

See

Marine life: — Garden eels




Stay safe

Hazards: — No site-specific hazards reported

Skills: — No special skills recommended

Equipment: — No special equipment recommended




Bangug Island

Understand

Bangug Island is a small reef system running parallel to the island and ending in a maximum depth of 20 meters. In the sea grass fields and under the blocks there is a lot to discover.

Position: — 12° 34' 7.14" N 122° 14' 16.28" E

Depth: — 20m

Altitude: — Sea level




Conditions: — This site can be visited 12 months a year

Get in

Boat dive — This site can be reached in 15 to 20 minutes from Romblon Town or Lonos, Romblon.

See




Suggested Routes: — Start your dive in a depth of 2 meters and gradually make your way to the sandy bottom.

Stay safe

Hazards: — No site-specific hazards reported

Skills: — Suitable for all level divers.

Equipment: — No special equipment recommended




Blue Hole of Tablas (Tablas Island)

Understand

Position: — 12° 39' 36.53" N, 122° 9' 21.12" E

Depth: — 40m

Altitude: — Sea level

Topography: — This site consists of a chimney within the reef which leads to a cave at 27 meters

Conditions: — This site can be visited 12 months a year.

Get in

Boat dive — This site can be reached in 45 to 60 minutes from Romblon Town or Lonos, Romblon.




See

Marine life: — You might find sharks resting in the cave. There are some amazing coral features and some small marine life which takes refuge among the corals. You might see some interesting fish like stonefish and humpback Scorpionfish.




Stay safe

Hazards: — No site-specific hazards reported

Skills: — No special skills recommended. Qualification appropriate to the depth is recommended

Equipment: — No special equipment recommended




Bonbon Beach

Understand

Very spectacular and very colorful dive with lots to see. Starting in shallow water of 3 meters, Bonbon gradually slopes down to a depth of 25 meters to where you can explore this beautiful reef with a mixture of hard and soft coral displays and teeming marine life.

Position: — 12° 34' 28.97" N 122° 14' 46.8" E

Depth: — 3 to 25m. Maximum 35m

Altitude: — Sea level




Conditions: — This site can be visited 12 months a year.

Get in

Boat dive — This site can be reached in 15 to 20 minutes from Romblon Town or Lonos, Romblon.

See

Marine life: — Reef with hard and soft corals

Photography: — Great site for macro photography.




Stay safe

Hazards: — No site specific hazards reported

Skills: — This site also provides great snorkeling opportunity.

Equipment: — No special equipment recommended




Bonbon Sea Grass Valley

Understand

This dive consists of a series of large rock boulders set in a sea grass plain. Bonbon Sea grass Valley is well known for its great underwater ambience.

Position: — 12° 34' 24.18" N 122° 14' 33.43" E

Depth: — 20m

Altitude: — Sea level

Topography: — Large rock boulders on a flattish bottom

Conditions: — This site can be visited 12 months a year.

Get in

Boat dive — This site can be reached in 15 to 20 minutes from Romblon Town or Lonos, Romblon.

See

Marine life: — This is a good place to find hidden smaller animals

Photography: — Provides great photo opportunity.




Stay safe

Hazards: — No site-specific hazards reported

Skills: — Suitable for all level divers.

Equipment: — No special equipment recommended




Carmen's Cliff (Tablas Island)

Understand

This site is located next to a huge rock in the ocean. You can see numerous species of marine life between the diverse coral communities at a vertical wall. Beside swarm fish you can find sharks, mantas and eagle rays.

Position: — 12° 37' 46.79" N, 122° 9' 55.11" E

Depth: — 40m

Altitude: — Sea level

Topography: — Vertical wall

Conditions: — This site can be visited 12 months a year

Get in

Boat dive — This site can be reached in 30 to 45 minutes from Romblon Town or Lonos, Romblon.

See

Marine life: —




Stay safe

Hazards: — No site-specific hazards reported

Skills: — No special skills recommended

Equipment: — No special equipment recommended




Channel of Alad

Understand

Position: — 12° 36' 25.37" N 122° 15' 10.9" E

Depth: —

Altitude: — Sea level

Topography: — This dive consists of sandy bottom with coral formations.

Conditions: — There are often strong currents present which make this perfect for a drift dive. This site can be visited 12 months a year

Get in

Drift dive — This site can be reached in 20 to 30 minutes from Romblon Town or Lonos, Romblon.

See

Marine life: — Marine life here includes lots of lobsters and moray eels.




Stay safe

Hazards: — No site-specific hazards reported

Skills: — No special skills recommended

Equipment: — No special equipment recommended




Coral Garden East

Understand

This beautiful site contains different coral formations with some really interesting sea life.

Position: — 12° 39' 7.81" N, 122° 13' 52.57" E

Depth: — 35m

Altitude: Sea level




Conditions: — This site can be visited 12 months a year.

Get in

Boat dive — This site can be reached in 30 to 40 minutes from Romblon Town or Lonos, Romblon.

See

Marine life: — This is a good place to find hidden smaller animals like the ghost pipefish, special shrimps, nudibranchs and scorpion fishes. With enough luck you find sea snakes, turtles and frogfishes.

Photography: — This site is good for and attracts macro photographers.




Stay safe

Hazards: — No site-specific hazards reported

Skills: — No special skills recommended

Equipment: — No special equipment recommended




Coral Garden West

Understand

As the name suggests, this site was named for the beautiful anemone and coral formations outlining this spectacular reef system. Dropping to a depth of only 30 meters into calm waters.

Position: — 12° 39' 12.14" N, 122° 13' 48.94" E

Depth: — 35m

Altitude: — Sea level




Conditions: — This site can be visited 12 months a year.

Get in

Boat dive — This site can be reached in 30 to 40 minutes from Romblon Town or Lonos, Romblon.

See

Marine life: — Anemones and coral formations




Stay safe

Hazards: — No site-specific hazards reported

Skills: — No special skills recommended. Qualifications appropriate for the depth are recommended

Equipment: — No special equipment recommended




Understand

This large reef contains some interesting features including some outcrops and shelves. The minimum depth of the reef is around 5 meters and slopes down to some interesting coral features. There are Lobsters, Sweetlips, turtles and more. Beside swarm fish you can find sharks, mantas and eagle rays, too.

Position: — 12° 14' 38.95" N, 122° 37' 3.18" E

Depth: — 45m

Altitude: — Sea level

Conditions: — This site can be visited 12 months a year.

Get in

Boat/Shore dive — This site can be reached in 4 to 5 hours from Romblon Town or Lonos, Romblon.

See

Marine life: —




Stay safe

Hazards: — No site-specific hazards reported

Skills: — No special skills recommended

Equipment: — No special equipment recommended




Giant Clam Sanctuary

Understand

Located in a protected bay next to Tiamban Beach, this dive site consists of a sandy bottom with lots of giant clams. This spot can be visit 12 months a year.

Position: — 12° 33' 55.53" N 122° 14' 57.38" E

Depth: — 25m

Altitude: — Sea level

Topography: — Sandy bottom




Get in

Boat dive — This spot can be reached in 10 to 15 minutes from Romblon Town or Lonos, Romblon.

See

Marine life: — Giant clams




Hazards: — No site-specific hazards reported

Skills: — No special skills required

Equipment: — No special equipment recommended




Guindauahan Island (Tablas Island)

Understand

An exciting large reef with various interesting formations and an outstanding display of corals and marine life


Position: —

Depth: —




Conditions: — This site can be visited 12 months a year.

Get in

Boat dive — This site can be reached in 80 to 90 minutes from Romblon Town or Lonos, Romblon.

See

Marine life: — includes turtles, rays, eels, Scorpionfish and more.

Photography: — Outstanding bottom topography makes for great photo opportunity.




Stay safe

Hazards: — No site-specific hazards reported

Skills: — No special skills recommended

Equipment: — No special equipment recommended




Logbon Coral Canyon

Understand

An outstanding display of corals and marine life whilst you are diving through valleys and above colorful slopes. Very topographical and scenic dive

Position: — 12° 34' 59.35" N 122° 14' 42.62" E

Depth: — up to 40m

Altitude: Sea level




Conditions: — This site can be visited 12 months a year

Get in

Boat dive — This site can be reached in 15 to 20 minutes from Romblon Town or Lonos, Romblon.

See

Marine life: — Corals

Photography: — Good photo opportunities.




Stay safe

Hazards: — No site-specific hazards reported

Skills: — No special skills recommended. Suitable for snorkeling

Equipment: — No special equipment recommended




Naguso's Wall

Understand

A spectacular wall with colorful sponge and coral display. A large school fusilier fishes dwell in this area, and there are often frog- and stonefish, too. After diving on the wall you go around a corner and come to a beautiful coral field.

Position: — 12° 39' 21.07" N 122° 13' 46.08" E

Depth: — up to 40m

Altitude: — Sea level

Topography: — Wall dive

Conditions: — This site can be visited 12 months a year.

Get in

Boat dive — This site can be reached in 30 to 40 minutes from Romblon Town or Lonos, Romblon.

See

Marine life: — Fusiliers, sponges, corals.




Stay safe

Hazards: — No site-specific hazards reported

Skills: — No special skills recommended

Equipment: — No special equipment recommended




Origon Rocks (Tablas Island)

Understand

A true diver's paradise! Situated in a depth of 10 to 25 meters and surrounded by clean sand, you will find a spectacular reef covered in table, tube and soft corals, teeming with marine life. Outstanding bottom topography makes for great photo opportunity.

Position: — 12° 40' 49.21" N, 122° 7' 29.65" E

Depth: — 10 to 25m

Altitude: — Sea level




Conditions: — This spot can be visit 12 months a year.

Get in

Boat dive — This site can be reached in 50 to 70 minutes from Romblon Town or Lonos, Romblon.

See

Marine life: —




Stay safe

Hazards: — No site-specific hazards reported

Skills: — No special skills recommended

Equipment: — No special equipment recommended




Peter's Pinnacles (Tablas Island)

Understand

Position: — 12° 39' 55.82" N, 122° 8' 40.33" E

Depth: — Minimum depth of 15 meters and a maximum depth of 50 meters

Altitude: — Sea level

Topography: — This site consists of three large pinnacles

Conditions: — This site can be visited 12 months a year.

Get in

Boat dive — This spot can be reached in 50 to 70 minutes from Romblon Town or Lonos, Romblon.

See

Marine life: — Here you might spot Eagle Rays, Mantas, sharks and possibly Whale Sharks.




Stay safe

Hazards: — No site-specific hazards reported

Skills: — Qualification appropriate to the depth is recommended

Equipment: — No special equipment recommended




Phil's Fan Coral Collection

Understand

One of the deeper dives on Romblon. Here you will slope down to a maximum depth of 35 meters to where you will find a formation with lots of spectacular big Gorgonias. Beautiful dive with abundant marine and coral life.

Position: — 12° 34' 28.59" N 122° 14' 35.21" E

Depth: — Maximum 35m

Altitude: — Sea level




Conditions: — This site can be visited 12 months a year.

Get in

Boat dive — This spot can be reached in 15 to 20 minutes from Romblon Town or Lonos, Romblon.

See

Marine life: — Big Gorgonians




Stay safe

Hazards: — No site-specific hazards reported

Skills: — Recommended for intermediate and advanced level divers only.

Equipment: — No special equipment recommanded




Salvo Beach (Three P's house reef)

Understand

Salvo Beach is a shallow shore dive situated a few meters from the Three P Holiday & Dive Resort. With a maximum depth of 20 meters, excellent visibility, low currents, interesting underwater landscapes and abundant marine life like different moray eel species. This spot can be visited 12 months a year.

Position: — 12° 33' 19.84" N, 122° 14' 56.8" E

Depth: — 20m




Conditions: — Salvo Beach is also considered to be a great night dive and is ideal for dive training and beginner diving.

Altitude: — Sea level

Get in

This site has beach access from The Three P Holiday & Dive Resort (Salvar Beach). From Romblon Town it can be reached in 10 to 15 minutes.

See

Marine life: — Moray eels




Stay safe

Hazards: — no site-specific hazards reported

Skills: — Suitable for all level divers

Equipment: — no special equipment recommended




San Pedro Cliff

Understand

This dive site provides an exciting dive and also attracts some interesting marine life, various reef fish, rays and turtles. This spot can be visited 12 months a year.

Position: — 12° 31' 43.69" N, 122° 14' 56.07" E

Depth: — 40m

Topography: — An area of steep vertical walls and boulders.

Conditions: — There are often some currents present which make this perfect for a drift dive.

Altitude: Sea level

Get in

Boat dive — This spot can be reached in 15 minutes from Lonos, Romblon or 25 minutes from Romblon Town.

See

Marine life: — San Pedro Cliff hosts a large field of garden eels and is good for and attracts macro photographers.




Stay safe

Hazards: — No site specific hazards reported




Equipment: — No special equipment recommended




San Pedro Sanctuary

Understand

Well known and famous for the large amounts of inhabiting turtles to be seen here. This also happens to be the biggest attraction to this site.

Position: — 12° 31' 58.77" N, 122° 14' 59.77" E

Depth: — 40m




Conditions: — This spot can be visited 12 months a year.

Altitude: — Sea level

Get in

Boat dive — This spot can be reached in 10 minutes from Lonos, Romblon or 20 minutes from Romblon Town.

See

Marine life: — The reef here boasts some of the best coral formations and marine life to be seen in Romblon Island. Whale Sharks were spotted here, too.




Stay safe

Hazards: — No site-specific hazards reported

Skills: — Suitable for all level divers.

Equipment: — No special equipment recommended




Sasaigang Point

Understand

Situated on the tip of Logbon Island a small rocky island just off the coast of Romblon. This dive starts in a depth of 3 meters and gently drops to a depth of 15 meters where you will find some of the most prolific corals.

Position: — 12° 36' 11.12" N 122° 15' 2.09" E

Depth: — 3 to 15m

Altitude: Sea level




Conditions: — This site can be visited 12 months a year

Get in

Boat dive — This site can be reached in 20 to 30 minutes from Romblon Town or Lonos, Romblon.

See

Marine life: — Prolific corals

Photography: — Good for photography




Stay safe

Hazards: — No site-specific hazards reported

Skills: — Suitable for beginners.

Equipment: — No special equipment recommended>




Sunken Island (CSI)

Understand

As the name tells this is basically a beautiful submerged island covered in corals. Whilst diving around the island you can find many different fish species, nudibranchs and cuttlefish.

Position: — 12° 38' 57.56" N 122° 14' 7.71" E

Depth: — Starting at 10 meters sloping down to 30 meters.

Altitude: — Sea level




Conditions: — This site can be visited 12 months a year.

Get in

Boat dive — This spot can be reached in 30 to 40 minutes from Romblon Town or Lonos, Romblon.

See

Marine life: — Various fish, nudibranchs and cuttlefish

Photography: — This site provides great photo opportunity.




Stay safe

Hazards: — No site-specific hazards reported

Skills: — No special skills recommended

Equipment: — No special equipment recommended




Telsie's Garden

Understand

Telsie's Garden is a muck site right in front of the village Agpanabat. This site includes a rich sandy slope with scattered coral and some rubble areas. This is an excellent muck site with many different species of cephalopods, nudibranchs and different fish species.

Position: — 12° 29' 14.67" N, 122° 16' 17.02" E

Depth: — 30m

Altitude: — Sea level




Conditions: — This site can be visited 12 months a year.

Get in

Boat dive — This spot can be reached in 40 to 50 minutes from Romblon Town or Lonos, Romblon.

See

Marine life: — many different species of cephalopods, nudibranchs and fish




Stay safe

Hazards: — No site-specific hazards reported

Skills: — No special skills recommended

Equipment: — No special equipment recommended




Turtles' Feeding Place

Understand

Turtles' Feeding Place contains coral formations in a depth between 5 and 25 meters. This spot can be visited 12 months a year.

Position: — 12° 32' 10.57" N, 122° 15' 33.22" E

Depth: — 35m

Altitude: Sea level


Conditions: — Normally with a mild current and good visibility.

Get in

Boat dive — This spot can be reached in 10 minutes from Lonos, Romblon or 20 minutes from Romblon Town.

See

Marine life: — Turtles can also be spotted here, with many shoals of fusiliers buzzing around.




Stay safe

Hazards: — No site-specific hazards recorded




Equipment: — No special equipment recommended





Oryoky Maru (The Hell Ship)

Understand

This wreck is notorious for its bloody history. Sunk in a US air attack during World War II, it was subsequently discovered that more than 1,600 American prisoners of war were onboard, all of whom perished in the attack.

Position: — 400 meters (1/4 mile) from Alava Pier

Depth: — 15 to 20 meters (50 to 65 feet)




Get in

Boat dive

See

Marine life and Features: — Not much is left to suggest that this used to be a Japanese passenger vessel, but this is now home to a variety of fish, including a resident shoal of barracuda, butterflyfish, sweetlips, fusiliers, angelfish, triggerfish and many others. Soft corals and some hard corals, sponges and hydroids cover much of the remaining tangled superstructure.




Stay safe




Skills: — Advanced




Tubbataha reef (Palawan)

A UNESCO World Heritage Site


Tubbataha North

Understand

Position: — 180km (110 miles) Southeast of Puerto Princesa City, Palawan

Depth: — Surface to more than 40m (130 feet)

Topography: — The diving off the north shore of the islet is over a fissured, coral-covered sandy slope,




Get in

Boat dive — Live-aboard

See

Marine life and Features: — At several spots around Tubbataha's North Islet, several species of large pelagics can be encountered: manta rays, sharks, tunas, snappers, Moorish idols, groupers, surgeons, soldierfish, trevallies and jacks. The fissured, coral-covered sandy slope of the north shore is home to shovelnosed rays, stingrays, lobsters hiding amid the large table corals, sea whips and coral bommies. Lots of black coral, tube sponges, gigantic gorgonians, colorful soft corals and barrel sponges grow along the many overhangs and crevices of the gently sloping wall of the islet.




Stay safe

Hazards: — No site-specific hazards reported

Skills: — Intermediate

Equipment: — No special equipment recommended




Verde Island Passage

The Verde Island Passage was identified by noted American Marine Biologist, Dr. Kent Carpenter, as the center of the center of marine biodiversity. This area is reputed to have the most number of species per square meter of coral reef.


Verde Island Wall

Understand

Position: — Southeastern point of Verde Island

Depth: — 5 to more than 25 meters (16 to more than 82 feet)




Get in

Boat dive

See

Marine life and Features: — Whitetips and other sharks, occasional mantas, eagle rays, tuna and jacks, rainbow runners, wahoos and Spanish mackerel are among the pelagics that can be seen along this wall. Other marine life that can be seen throughout the area are Napoleaon wrasses, parrotfish, unicornfish, soldierfish, surgeons, batfish, tangs, gobies, sweetlips and emperors. The wall is festooned in an array of colorful corals.




Stay safe

Hazards: — No site-specific hazards have been reported

Skills: — Intermediate

Equipment: — No special equipment recommended