Diyarbakır
Diyarbakır
(
Kurdish
and
Zaza
:
Amed
; Turkified form of
Diyarbekir
is also common in colloquial Kurdish) is the largest city in
Southeastern Anatolia
, on the banks of Tigris (
Dicle
), one of the greatest rivers of
Middle East
, and considered by many to be the capital of the
Kurdish
people.
Understand
Earliest references to the place come from Assyrian records, which mention it as the capital of the Aramean kingdom of Bit-Zamani (ca. 1300 BC). The
Romans
conquered the city and named it
Amida
, after the earlier Assyrian name Amid. During the Roman rule, the city walls were built, per the command of the Roman emperor Constantius II. After the Romans, came the Persians, and after them the Muslim Arabs. It was the leader of the Arab Bekr tribe, Bekr Bin Vail, who named the city Diyar Bakr, meaning "the country of Bakr", i.e. Arabs.
After a few centuries, Diyarbakır came under the
Ottoman Empire
and earned the status of the capital of a large province.
Get in
By plane
Turkish Airlines
offers daily domestic
flights
from
Istanbul
(IST) and
Ankara
to Diyarbakir (
DIY
).
By rail
There is one overnight train from the capital
Ankara
, the
Guney Kurtalan Express
, running five days per week. The train continues eastwards to
Batman
and the terminus
Kurtalan
, near
Siirt
. Journey time from
Ankara
is just over 20 hours and the train arrives early morning. Main stops along the route are
Kayseri
,
Sivas
, and
Malatya
. The train carries both couchettes, sleeping cars and a dining car. Additionally, there is an twice-daily regional train from
Batman
. National operator
TCDD
sells tickets online.
With the construction of high-speed lines over the coming years, journey times are expected to decrease somewhat.
Diyarbakır railway station

address: İstasyon Cd
By bus
Many local
bus
companies offer services from cities all over Turkey, including, among others,
Erzurum
(6 hours, bargainable down to 35 TL from the standard fare of 50 TL), and
Mardin
(
dolmuş
-type service, 2 hours, 9 TL—make sure you have your change back if you have no exact amount). The main bus station (
otogar
) is about 10 km away from city centre, along the highway to Urfa.
When traveling from Diyarbakir to west by bus be prepared for several ID check ups at military checkpoints.
See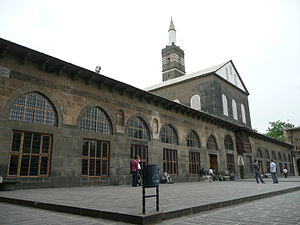 The
old city
containing many mosques and churches, is a little run down but enclosed in magnificent walls. The
city walls
are very old and certainly worth a walk around. Some of towers are restored by the municipality and are easy to reach from the center of the old city. One such is
Kechi Burcu
, which offers a nice view of Tigris river below the city, and a great look over the city walls—a teahouse offering traditional tea is nearby as well. However, be careful while walking on the walls and do not enter into all of the towers which looks fancy enough, as some of them are home to junkies.
The old city is like a village in the middle of the city with village mentality; goose running around, women having cay in front of their houses and kids shouting to foreigners the few English words they know.
However, walking around in the city center is unique and totally different from other Turkish cities. You'll see people as they live their everyday Kurdish life. If you are lucky, you may even get invited for a tea by a friendly shop owner.
To avoid problems, dress modestly. There is extensive development outside including a pleasant park. It's called
Gazi Kösk
and it contains many teahouses and traditional bed-like constructions, where you sink into cushions and drink tea while overlooking the Dicle river below.
The Diyarbakir fortress has been inscribed on the
UNESCO World Heritage List
.
Great Mosque of Diyarbakır

address: Gazi Cd

The oldest mosque in Anatolia, built in the 11th century by Malikh Shah,the Emir of the Seljuk Turks.

Kervanseray

address: Gazi Cd

Old caravanserai, now used as a place for cafes, bookstores, and souvenir shops.

Meryem Ana Kilisesi

address: Ana Sokak 26, Suriçi

A Syrian Orthodox church founded in 3rd century. If you are lucky, the priest will sing you a fragment of the Bible in Aramaic.

Surp Giragos Armenian churchThe largest Armenian church in the Middle East, this edifice was restored by municipality. The first inauguration for a long time was held in October 2011 and has since started to serve the local Armenian community.
Do
You can go for a walk on the old city wall. Get onto it at the northern gate and walk anticlockwise to Mardin Gate. Great views of the surrounding area and the city and it's free. Single tourists might be conspicuous, however, and should beware of pickpockets. The walls serve as home to drug addicts, criminals and poor children - don't wander alone.
Many tourists only visit the old part of Diyarbakir, but don't miss the new and modern New City. Around Ofis district you find a lot of nice bars and cafès filled with lots of students and young couples. Some bars have live music; ask some locals on the street for suggestions. Don't worry about security issues as this part of the city is filled with policemen.

Buy
In the old city you will find many people manufacturing metal tools by hand - sickles, hammers, and other, mostly agricultural implements.
You can also find cheap (around 25 TL) traditional Kurdish trousers, the kind that older men wear every day. Enjoy tea and bargaining sessions with some friendly Bazaar shopkeepers.

Eat
Grilled lamb liver,
ciğer kebabı
, is a famous part of Diyarbakır cuisine.
Ekşili etli dolma
,
meftune
,
içli köfte
are some other "must taste"s.
Hasan Pasha Hani, Best place to get breakfast in Diyarbakir, located in an old caravanserai. Breakfast consists of your entire table being covered in many small dishes of tasty foods. Expensive by local standards but still very affordable, and delicious.
Buket Lahmacun, One of the most popular and tastiest places in Diyarbakir to try lahmacun (lahmajun), thin crispy dough covered in meat and spices. Is very tasty and quite cheap. Comes with many salads.
Dağ Kapı Ciğercisi, a restaurant popular with locals for its grilled liver on a skewer. The restaurant is in an old house and is very big.
A mixture of wheat grain, chick-peas, and yoghurt called
mehir
is purported to be very good for the stomach and is said to help healing
stomach problems
.
Diyarbakır is very famous for its desserts.
Kadayıf
,
künefe
are the two main types of desserts. They are acquired tastes, though, as they are very sweet and contain huge amounts of sugar.
Saim Usta
is perhaps the best place to have
kadayıf
in town, while for
künefe
, you should check out
Levent Usta
.
Drink
There are many tea gardens in Ofis and along the basalt city walls, where you can meet locals. People in Diyarbakir are very open towards foreigners and you'll have a hard time paying for your own tea.
Mahya Kahve Evi

address: Dicle sokak 2a

This coffeehouse (a mahya is a message spelled out by lights strung between minarets) has over 70 varieties of coffee and a nice interior. The owners and customers are very friendly and easygoing.

Tigris Cafe Nargile Salonu

phone: +90 412 228 28 84

address: Camii Sk. (now apparently called Sanat Sokak) Cüneyt Bey Apt Altı 16/B

Apart from nargilas, you can drink there delicious menengiç kahvesi, which is a very sweet milk based drink, a local speciality. The Tigris also has European style toilets available if you should be desperate.

Hasan Paşa Hanı

address: Kıbrıs Cd

Besides coffee and tea, you can have an extremely rich breakfast and/or brunch here in the 500-year-old inn's nice atmosphere.

address: Sanat Sokağı

Coffee, tea, menengiç coffee, hot wine.
Sleep
In summer check that your hotel has aircon since Diyarbakir can become very hot!
There are quite some budget-midrange hotels on Suleyman Caddesi, close to the wall or at Inönü Caddesi. Check around for good prices.
Hotel Surkent

phone: +90 412 228 1014

address: Hz. Suleyman Cd, 19

Small but clean rooms and toilets, very colourful (pink walls!) Air-conditioning, heating, small fridge, comfortable beds, hot shower, western toilets, flat-screen TV. Some of the staff speaks English. If you are a foreigner a self-styled tour-guide called Omar might appear and offer his services. He didn't seem to knowledgeable about the sights, but he wasn't too pushy trying to sell his 60 TL tour. He answered other local questions though and his English was rather decent. There is a laundry service for 5 TL/2 kg which was fast but returned the laundry still wet.

Hotel Kent

address: Hz. Suleyman Cd

Looks a bit more rundown than the Surkent, but has Aircon as well.

Hotel Sürmeli

address: Hz. Suleyman 19

Two stars, lobby was clean and bright, reception spoke some English.

Aslan Hotel

address: Kıbrıs Cd

Budget-friendly hotel.

Hotel EkinThe hotel is very clean, good views from the breakfast lounge at the top. The windows are good and have to be due to the traffic noise and frequent honking of municipal buses in front of the hotel. It's easy to get into the newer part of the city. The best locations for nighttime cafes etc is called Ofis. This area is about 20 minutes walking distance from the hotel and safe at night. Go to the big junction to the right of the hotel and cross over to the other side of the city walls.

GAP OtelTV, fridge, and 24-hr hot water is provided. The place looks nice, but it's down a narrow and dirty dead-end street. Limited amounts of tea offered by the friendly owner.

Hotel Birkent

phone: +90 (0412) 228 71 31

address: İnönü Caddesi Nr. 26

Nice, clean and central hotel with a very helpful staff.
Stay safe
Diyarbakır is rough. At first glance, it seems not to be a very welcoming city, but the opposite is true. However, life in this city is hard for many people. It is not advisable at all to walk alone during the night time, especially in the old quarter. Taking some precautions during the visit is advisable, just common sense. Don't hang around in dark areas; try not to look like the typical tourist, etc.
While walking around the old city, you will see many children playing with toy guns, and, this could sound a little extreme, but they might try shooting you with plastic guns—be careful. Children can also be very annoying here, shouting "Money! Money!" at you and following you around. Not advised to give them money since that reveals the location of your purse and will probably not stop them. Just try to ignore them or try saying "Ayyip!" (shame).
The main shopping road, Gazi Caddesi, in the old quarter also houses two pricey hotels (one of them being the "Green Park"), which might lead you to expect that the area is safe. Be warned! The lower end of the street toward the Mardin Kapı, the Mardin Gate, is pretty dark and can be dangerous at night. Do not become prey to pickpockets who seem to hang around there.
The modern part of Diyarbakir is very much safer.
However, Diyarbakir seems to have recovered from the old times and the police are trying their best to provide a high level of security. So don't let the issues mentioned above scare you off, as the city itself is still a jewel among others in eastern Turkey, offering an amazing and unforgettable charm. Tourist crowds are still tending more to Mardin (1h away), so enjoy having the city mostly to yourself.

Go next
Hasankeyf — village to east, downriver on the Tigris, with lots of medieval Islamic architecture and pleasant vistas.
Karacadag, the forerunner of domesticated wheat originated in the mountains of Karacadag. Cultivation of wheat in the area dates back to approximately 8,800 BCE. Today Karacadag is home to seasonal nomads. Explore the ancient villages populated by Turkmen and Kurdish tribes.
See where the first animals in the world were domesticated as mankind started settled farming at Çayönü around 40 km north-west of Diyarbakir. The site is hugely important for neolithic research and dates from 7200 to 6600 BC.