Djenné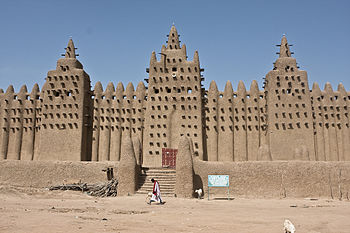 Djenné
is a city in
Mali
, famous for its mosque, which is the biggest mudbrick building in the world. As of 1987, the city had a population of 12,000. Djenné has been recognized as a
UNESCO World Heritage Site
. UNESCO says on its website that "Djenné became a market centre and an important link in the trans-Saharan gold trade."
Get in

The best day to find transport to Djenné is Monday - market day - when many minibuses and bush taxis make their way to the town. Otherwise you may need to take transport to the Djenné junction on the main Bamako-Mopti road, and wait for further transport to Djenné.

Get around

For traveling short distances walking may be the best method as it allows you to appreciate the scenery and look at the mud based architecture in the city.
When the river is high, you can take a pinasse to nearby Fula villages.

See
The Great MosqueThis is the main tourist attraction in the city. It is what made the city a UNESCO heritage site.
Do
MarketOn Monday, the Grand Market assembles and quite a incredible spectacle it is too!
Eat
Le CampementThe menu du jour here is 4000CFA - but it is mediocre.
Sleep
Le CampementThe rooms here are decent enough and well-priced at 10000CFA.

Hotel Djenne

address: Doteme Tolo

This is a newly built hotel that includes a restaurant

phone: +223 7933 1526

Owned by a Swedish expat, this "malian boutique" mud brick hotel is richly decorated with traditional textiles from the local Bogolan tradition. Has an on-site restaurant and also organizes excursions.
Go next
On Tuesday morning there is a minibus to
Bamako
leaving at around 7:30 (7500CFA). (It may operate other mornings, too - check.)
Otherwise, for westbound destinations you can get a minibus headed for
Sevare
and get off at the junction with the main road (2500CFA), where frequent buses run to
Sissako
and
Bamako
.