Djibouti (city)
Djibouti
(جيبوتي) is the capital city of
Djibouti
and has a population of around 400,000.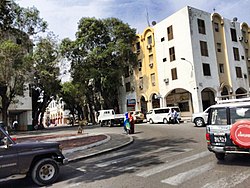 Understand
The city was founded in 1888 and was designated the capital of French Somaliland three years later. The city has some beaches along its eastern shore. Today it's mostly notable for its harbor, which accounts for much of the local economic activity.

Get in
By plane
Djibouti–Ambouli International AirportThere are regular flights by Air France (to Paris-CDG), Ethiopian Airways (Addis Ababa) and Kenya Airways (Nairobi via Addis Ababa) flights. There are also regular flights with Fly Dubai (to UAE-Dubai-DXB terminal 2).
By train
There are passenger trains from
Addis Abeba
via
Dire Dawa
every second day. Journey time for the full trip is about 12 hours. The new trains are comfortable and there is a dining car on board. Tickets are sold at the station and should be bought at least few days beforehand. Additionally, there is an ticket office in central Djibouti.
Get around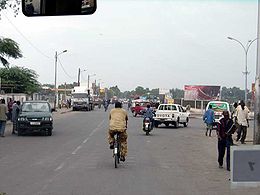 Get around by Green TaxiCabs. Some people will tell you to avoid the taxis with the drivers chewing khat, which is a natural, amphetamine-like stimulant. It gives the local Djiboutians and Somalis something called
Merran
, which is the Somali word for 'energy'.
Taxis cost from 500 Fdj to any amount, depending on distance. For example: Camp Lemonier to the city centre cost 1,500 Fdj. Negotiate and you may get a lower price, but there are better things to do than to argue over 500 Fdj.
See
Beaches on the eastern shore.
Do
Aden Bay Casino

phone: +253-356549

The casino in the Sheraton Hotel has 40 poker machines, black jack, poker and roulette tables.
Eat
phone: +253 21350399

address: Heron

A fusion cuisine restaurant a few hundred metres from the port. On the menu are camel meat, sushi, sashimi, fish, lobster, crab, best steaks in Djibouti, beers and mojitos. Nice atmosphere with outdoor and indoor setting.

phone: +25321350299

address: Ambouli

A seafood restaurant. Excellent location, walking distance from Camp Lemonier and not far from airport and BA188. Nice outdoor and indoor settings. On the menu are live crabs, lobsters, fresh fish, clams and other food from the Red Sea. The fish is cooked in a traditional Yemenite clay oven on acacia wood. Website http://www.lamerrougedj.com. Email at lamerrougedj.com. 'phone +253 21340005.
Drink
Club HermesUnderground club, low key. Good security at the door. 1,000 Fdj per beer.

Sham'sDecent DJ, small dance floor. 1,000 Fdj/beer and 1,500 Fdj for mixed drinks.

Club MenelikInside the Menelik Hotel, security is good here. Drinks are 1,000 Fdj/beer & 1,500 Fdj/mixed drink. The music ranges widely, but often times consists of 1990s to current hip-hop & R&B.

La GaletteAn underground club. 1,000 Fdj for beer, 1,500 Fdj for mixed drinks and 1,000 Fdj for sheesha (hookah).

La OasisNice place with a second, smaller bar upstairs.

Le MariesNice place with a dancefloor in the front alongside a bar. In the back are some couches for sitting and smoking Sheesha smoking (1,000 Fdj to participate).

Golden Club1,000 Fdj for a beer, pool for 500 Fdj and a dancefloor. Sheesha for 1,000 Fdj
Sleep
Stay safe
For taxis, make sure you go with someone who knows the city; otherwise, you will pay way more than needed. Agree the cost in advance, and only enter the taxi once agreed