Dodoma
Located in
Central Tanzania
,
Dodoma
is the political capital of
Tanzania
.
Understand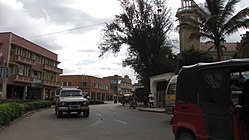 In 1973, Dodoma was designated as the new political capital of Tanzania. New parliament buildings were erected and plans were drafted to shift all government ministry offices to Dodoma by the early 1980s. However, due to limited water supplies, other environmental factors and cost, this proved difficult and the plan was all but forgotten for several decades. However under the presidency of John Magufuli, the government move has been stepped up. Most ministries have now moved to Dodoma (or are in the process of moving) and most government meetings now take place there. Embassies as well as UN agencies remain in
Dar es Salaam
.
Get in
Bus
Train
Dodoma is on the Central Railway Line which goes from Dar es Salaam to Mwanza or Kigoma. If you are in a hurry the better choice is by bus for Dodoma to
Mwanza
. If the train service is running and you are heading west to
Kigoma
the train is better, especially in the rainy season.
the train departs Dodoma on Friday and Monday at 6:40PM and you get to Dar the next day at 8:50AM.
the train departs Dodoma on Wednesday and Saturday at 8:10AM and you get to Mwanza the next day at 7:25AM.
A high-speed rail link is being constructed between Dar es Salaam, Morogoro and Dodoma and the first section (Dar-Morogoro) is due to open in 2020.
Air
Commercial flights between Dar es Salaam and Dodoma are available with the national carrier Air Tanzania, with Precision Air, and (at a higher price) with Auric Air. Flights can book up quickly so it is advised to buy tickets online in advance.
Mission Aviation Fellowships' (MAF) small planes fly throughout the country; they have a regular shuttle between Dodoma and Arusha every Monday and also fly regularly to Nairobi and Mbeya. It is also possible to join other flights; for more information see their website and subscribe to their Joiner List.

Get around
There are many minibuses (dala dala) in Dodoma and getting around is easy. Taxis are plentiful too and Bolt (formerly Taxify) now operates in the city. There are three bus stations: city, at a place called Jamatini; medium distance, at the Saba Saba bus stand, to moderate-distance places such as Mpwapwa and Mvumi. Long-distance busses leave from the main stand near the Parliament buildings. Some companies, e.g. Scandinavia, maintain their own bus stands.
Another way to get around is by bike. There are several places in town which sell or rent (TSh 5,000/day) bikes.

See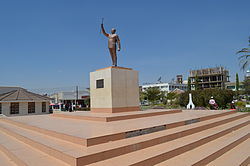 D
Bunge la TanzaniaThe earthquake-proof Parliament buildings are a must, although access may be restricted. The building may only be photographed with permission from Dar es Salaam, so consider photography to be forbidden. To get permission to visit, write a letter to: Katibu wa Bunge, S.L.P 941, Dodoma; or to Katibu wa Bunge, S.L.P 9133, Dar Es Salaam

Ismaili Mosque
Do
Lion RockHike the Lion Rock (also called Simba Hill) in the north of the city to have a nice view of the surroundings. However, do it in a group of at least 4 people as there have been reports of muggings.

ExcursionsOn request, Dodoma Travel Cafe offers trekking and excursions.

Swimming PoolThere are two places with a swimming pool: the New Dodoma Hotel (TSh 4,000 for non-guests), and Climax Club, near the prison, where you can buy food, watch TV, and spend the day.

GymThe New Dodoma hotel also has a gym, 7AM-9AM and 5PM-7PM, closed Sundays, TSh 7,000 for non-guests. However the gym equipment is largely in poor condition. Another gym can be found next to the visitors entrance of the National Assembly and is in somewhat better condition.
Buy
Shabibi SupermarketSmall supermarket on the second floor of the Shabibi gas station.

Yashna's SupermarketThe biggest shop in the centre (that does not mean much) with pasta, canned vegetables, chocolates, biscuits, frozen cheese, ground coffee and some cosmetics.

Two Sisters

address: Hatibu Avenue

Cheese, dark bread rolls (sometimes), homemade delicious yoghurt, frozen foods, canned goods, pasta, wine,chocolates, candies, crisps, Indian snacks and very friendly owners.
Banks and ATMs
Barclays BankHas a Mastercard/Visa ATM.
Eat
Chef Asili
provides Tanzanian food as well as European options such as steaks and pizzas. Prices are reasonable and the restaurant is popular with government officials and MPs. No alcohol and serves food only after sunset during Ramadan.
New Dodoma Hotel
has excellent European, Tanzanian, and Asian food. There is also a Chinese restaurant of excellent quality (the owners are Chinese). Meals begin around TSh 3000 at the snack bar and go up to TSh 12,000. Drinks are unreasonably expensive, at TSh 2,000 for a Kilimanjaro domestic beer.
VETA
has good food, when they eventually bring it to you, but choice can be limited unless you are there during Parliament sessions. Prices are reasonable.
Nam Hotel
also has excellent food, at reasonable prices. It's on the other side of the airfield.
Aladin's Cave
Market Street near Victory Bookshop, good milk shakes, home made ice cream, yoghurt, pizza and burgers. Opening hours 9:30AM-1PM and 3PM-6PM.
Roses's Cafe
next to Cana Lodge, good and cheap Indian food (from TSh 2,000, Thali TSh 5,000), popular with expats, M-Sa 8AM-4PM and 6PM-10PM.
Leone l'Africano
Area C north of the airfield, great original Italian pizza and pasta in very atmospheric setting, playground for kids. midget golf. Closed on Mondays. Once in the two weeks at Wednesday there is movie night (see: http://www.dodomacineclub.info )
There are two great places for ordering traditional grilled pork (kiti moto). One is down the road from VETA at the highway junction. A kilo of meat with kachumbari salad will cost about TSh 2500. The other is on the other side of the air field at Jacana Park. Prices comparable. If you are fond of animals, hold your ears when they slaughter the pig.
There are also more atmospheric places, fresh and tasty on the Uhindini Road, across from Victory Bookshop, at reasonable prices.
Acacia Bar and Restaurant

phone: +255 718 667 676

address: PO Box 1521

Acacia Bar and Restaurant is located at Twiga Hotel in Miyuji - 7½ km from Dodoma town. The restaurant serves local cuisine such as chips mayai and nyama choma as well as wonderful dishes of lamb, beef, fish, chicken, pork and many others.
Drink

NK Disco operates on Friday nights and is popular with the younger set. A nice place to have a quiet drink and watch TV is at VETA.
Dodoma Wine and Cheese Hut is a charming outdoor wine bar offering Dodoma made wine by the glass or by the bottle, as well as cheese plates and pizzas.

Sleep
For those on a budget
CCT hostel
, near the roundabout has clean double rooms, self-contained toilet, for TSh 6000. Breakfast is included, but very basic. They do make an excellent omelet. Upscale is the
Nam Hotel
, across the airfield. Clean doubles, satellite TV, and good food for TSh 18,000.
A bit up market is
VETA
, out near the Parliament. In fact MPs often stay there. Clean doubles (TSh 24,000) and singles (TSh 12,000) self contained, and a very nice TV bar, where you can rub elbows with important people. Food takes a long time, so order early.
The
New Dodoma Hotel
is across the street from the railway station. At the higher end of Dodoma's hotels but could do with some maintenance. Prices start around USD 80 per night and the hotel serves excellent food. They have a pool.
There are numerous guest houses of varying quality; Shukrani is nice but noisy (TSh 6,000) as it is right near a mosque, where you will be awoken by the morning call to prayer. There are also a rapidly growing number of smaller hotels, so shopping around is becoming increasingly possible.
Twiga Hotel

phone: +255 718 667 676

A 14-room hotel surrounded by 5 acres of lush gardens. Spacious rooms with DSTV TV, air conditioning, fine furniture created by Quantum Workshop, bathtubs and bathrooms in every room. Full bar and restaurant. Secure parking and 24-hour security. Wireless Internet available in rooms and around the six private garden spots.

Kilondoma Inn

phone: +255 745-477399

address: off Ndovu Road

Double room with own bathroom.

Kenya Lodge

phone: +255 764-5386541

address: Seventh Street

Fan single/double rooms with own bathroom.

Yarabi Salama

address: CDA Street

Double with outside bathroom.
Go next