Dogubeyazit
Dogubeyazit
is a town in
Eastern Anatolia
,
Turkey
.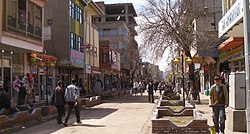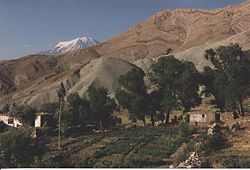 Understand
When going towards east to
Iran
, this is the last Turkish town you'll come across.
Get in
Coaches running
Trabzon
-
Van
line don't pass Dogubeyazit, the closest town to Dogubeyazit on that route would be
Agri
. From where it's possible to get on a minibus to Dogubeyazit for 15 TL/person.
Bus stationMain bus station used for distant destinations, like a 24-hr coach from Istanbul. Minibuses to Ishak Pasa Palace also depart from here.

Minibuses to IğdırFrom Kars, there is no direct bus. First you have to take a minibus to Iğdır (6 TL) and transfer there to another minibus (15 TL) (from the same place you have been dropped). Road between Igdir and Dogubeyazit passes by Mt. Ararat, offering fine views.

Minibuses to Iranian borderIranian border (Gurbulak) is 35 km from town.
It can be difficult to leave after about 14:00 as most buses depart in the morning.
Get around
You can walk to most places in this fairly small city of about 70,000 inhabitants.

See
Beyazit mosque

The ancient Armenian cemetery.
Further afield
Ishak Pasa SarayiThis ancient fortress, castle and mosque is stunningly beautiful, and is a must see when in Dougbeyazit. Try to go on a dry, sunny day.
For a taxi from the town center, expect to pay approximately 10-15 TL one way. Worth considering asking the taxi driver to wait at the
There is a dolmus service to the Palace; but hitch-hiking was quicker both going up and coming down so no idea about the price.
Alternatively, it's a very stiff walk all the way up (or down); in summer it may be dangerous.
Eski BeyazitOld town probably built during Urartu times at 800 BC. It has the tomb of Ahmedi Xani, the famous Kurdish poet and philosopher, and also the ruins of the Urartian castle and a mosque.
Mount AraratOne of the best views of the mountain are from Dogubeyazit city itself.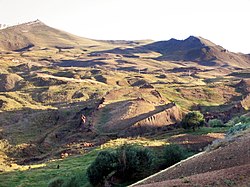 Durupınar siteThis area is famous for the rock formation assumed to be the remains of Noah's Ark.

Balık GölüA lake in a lava bed

The Ice Cave

Meteor crater
Do
Climb Mount Ararat (5,137 metres/16,854 ft), on the border of Turkey and Iran, supposedly where Noah's Ark landed. Guides and vehicles are available in Dogubeyazit. The climb is long, but there is a fairly easy route from the south in late summer for climbers who are familiar with the use of axe and crampons. Snow covers the last 400 m (¼ mile) year-round. There are two possible campsites on the mountain, and the glacier begins around 4,800 m (15,750 ft). International climbers need a climbing permit that can be obtained through the Turkish embassies or, the easier option is to let your guide's company do it. Expect the authorities to process your permit application in two months. You also need a licensed guide to accompany you on the trek. People most often attempt to climb upp to the summit and return to Dogubayazit in 4 days. However, you may need more time to acclimatise, so it can be wise to add an extra day.
You may also want to climb other mountains in the region, such as Mt Suphan, as part of your acclimatisation.
Some local experienced guides that you can contact ahead of time are erkan sedef erkanararat@hotmail.com
mobile:+90 542 732 2454
Eat
Try to get a rare Abdigor Kofte. It is a fist size meatball on the pilaf but it difficult to find because not many people know how to cook it. This dish cannot be found anywhere else. It is a local delicacy that can be found only in Dogubayazit.
The Yöresel Yemek Evi (formerly Doguş Restaurant) is not bad, but is overpriced and often crammed with tour groups.
Drink
Cafe shop on Kermelsi Rd. in the center of Dogubeyazit
Pure fruit juice shop, makes nice pure juice! Istanplak Avenue in eastern Dogubeyazit
Sleep
Hotels are numerous. Not all places provide air conditioning.
phone: +90 472 312-49-88

address: Belediye Cad. No:24

This hotel not so expensive and it was remodeled with new owners. It is very clean.

Hotel Erzurum

address: İ. Beşikçi Caddesi

This hotel has clean rooms with shared bathrooms.

Hotel Grand Derya

phone: +90 472 312-75-31

address: Abdullah Baydar Caddesi 203

This three-star hotel is run down, but has air-conditionıng.

Hotel Isfahan

phone: +90 472 312 4363

address: Emniyet Cad. No:26

This hotel has spacious although quite basic rooms and a somewhat worn lobby area. Friendly stuff, good breakfast, adequate price-value ratio. Some rooms come with balcony. WiFi.

phone: +90 472 312-72-32

address: Çiftepınar Mah. Büyük Ağrı Cad. No:55

It has an impressive lobby area but a bit shabby rooms. The rooftop restaurant has views of Ararat. Free WiFi

phone: +90 472 312-42-25

address: Ağrı Caddesi 105

Carpet floor rooms with en-suite bathrooms, TV. Next door to convenience store, very close to bus stops. Staff were helpful, spoke some English.

phone: +90 472 312-01-95

address: Büyük Ağrı Caddesi 124

Hotel Tahran is inexpensive and very basic hotel with surprisingly clean but small bathrooms. They also provide depository service for unnecessary stuff when doing a trip across the border to Iran or up to Ararat. Manager speaks very good English and is very helpful about all things local. Laundry service is 3 TL per kilo and very quick (can give laundry in the late evening and get it back semi-dry in the morning). Good breakfast with some view. Occasional problems with Internet.

Hotel Urartu

phone: +90 472 312-72-95

address: Abdullah Baydar Caddesi

Urartu is reasonable with friendly staff.

Hotel Yayla Palas

phone: +90 472 312-78-61

Hotel Yayla Palas — anything but a palace. 20TL single - 70s decor, cleanish rooms with sink, relatively clean (though smelly) shared bathrooms, perfect for budget travellers. On the main pedestrian shopping street.

Butic Ertur Hotel

address: Gurbulak Cevreyolu uzeri, Dogubayazit Otogar Karsisi

Smallish but clean rooms. Good reviews