Doha
Once little more than a minuscule pearl fishing village,
Doha
,
Qatar's
capital and largest city, has emerged to become one of the pearls of the
Middle East
. It is one of the most rapidly-developing cities on the
Persian Gulf
, akin to the development seen in nearby
Dubai
and
Abu Dhabi
, and is aiming to become a centre of international trade and travel.
Understand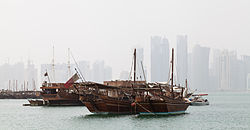 For most of its history Doha was a poor fishing village dependent on pearl diving, and was regarded as a sleepy backwater until as recently as the early 1990s. Following the accession of Sheikh Hamad bin Khalifa Al Thani as Emir in 1995, however, Qatar quickly began to modernize, and Doha is now taking huge strides to catch up with other nearby Gulf cities, especially in preparation for its hosting of the FIFA World Cup in 2022. The city is very much a work-in-progress, with a rapidly growing skyline and new buildings sprouting up almost like mushrooms.
For most visitors, Doha is synonymous with Qatar, as the vast majority of the country's population resides in the capital city. Doha has an astonishingly diverse population – just 13% of residents are native Qataris. Although Arabic is Qatar's official language, English is by default the
lingua franca
, as the majority of the city's expats do not speak Arabic, including most shopkeepers and service providers, and most Qataris speak English to communicate with the numerous migrant workers who work for them. Doha is also now one of the fastest-growing cities in the world, as workers continue to pour in to help build the developing economy.
Doha is fairly liberal by the standards of the Islamic world, though less so than most Western countries. Alcohol is legal for non-Muslims, and non-Muslim women are not required to wear the hijab, though dressing in very skimpy outfits is still illegal. That said, Qatar is an absolute monarchy, so criticising the Emir is a crime. Homosexuality is also a crime that carries the death penalty (though not actively enforced), so gay visitors should try to be as discreet as possible.
If you've visited before, be assured that Doha today is not the same as it was just a couple of years ago, and will be very different again in a few years time.
Read
Mohanalakshmi Rajakumar, From Dunes to Dior. Written by a resident Indian-American, this is a collection of insightful essays about life as an expatriate in Doha.
Mohanalakshmi Rajakumar, Love Comes Later. Set in Doha and London, this novel examines Qatari culture and how young Qataris are now challenging the status quo. The book is not available in Qatar as it has been banned by the Qatari Ministry of Culture.
Get in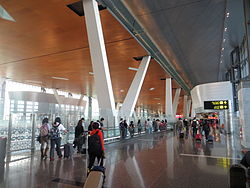 By plane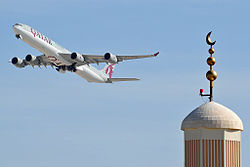 Compared to
Dubai
, the home of Qatar Airways' arch-rival Emirates, Doha is served by much fewer other carriers. The major European airlines usually provide a single connection to Doha from their main hubs (e.g. Lufthansa from
Frankfurt
, KLM from
Amsterdam
), but minor ones do not. Pretty much all airlines of the Middle East,
Turkey
included (but not
Israel
), provide connections to Doha. Relatively few Asian airlines do so, however, with the exception of a relatively good choice of connections to
India
and
Pakistan
.
Qatar Airways is a member of the
Oneworld alliance
(which includes e.g.
British Airways
), and an increasing number of their connections are also on offer as codeshare flights by Oneworld members.
If you're arriving from outside of the Persian Gulf region, probably the most economical way to visit is to use Qatar as an intermediate stopover en route to another destination. Prices of tickets originating in or terminating in Doha are artificially high because of limited competition, while prices for transit tickets are very competitive, as Qatar Airways continues working to build Doha as a global transit hub.
Due to a diplomatic embargo, there are no direct flights between Qatar and Saudi Arabia, UAE, and Bahrain.
Public Wi-Fi is provided free of charge throughout the airport.
By car
Doha is the heart of all activity in the country, so most travellers will start off in the city. All highways and roads throughout Qatar will most likely connect to Doha, so look out for the signs.
Qatar's only land border is with Saudi Arabia in the south. However, this is rarely an option, as obtaining permits to drive through Saudi Arabia can be extremely difficult. The
Qatar
article provides more information. Early plans are underway to connect Qatar using bridges with both
Bahrain
in the north-east and the
United Arab Emirates
in the south-east.
Get around
By metro
The
Doha Metro
, which opened in May 2019, is the third rapid transit system in the Gulf, representing a new wave of such projects in the region. The southern segment of the north-south Red Line from Al Qassar to Al Wakra is open. Extensions to the line, a spur to serve the airport, and two more lines (Green and Gold) are under construction, with a fourth line (Blue) planned. Like the Dubai Metro, there are premium cars with better seating and higher prices. A one-way trip costs 2 QR (10 QR for VIP) and a day pass costs 6 QR (30 QR for VIP). There are free
"metrolink"
feeder bus services for "last-mile" connectivity to areas not served by the Metro (see the link for schedules and routes). In addition, there is also a free (with Metro trip) ride-sharing service called
"metroexpress"
, but it only serves two stations and requires registration and a separate account.
By bus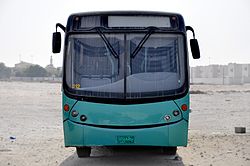 address: Al Ghanim (main bus station)

The public bus system is operated by the government-owned Mowasalat, which runs a wide network of routes catering for most of Doha, along with adjacent and surrounding towns. Fares within the city cost between QR 3-9 and are payable with exact change, or with a Karwa Smartcard , available for purchase at the bus station. For visitors, the route maps can be cryptic, with fairly infrequent service on some routes; additionally buses are frequently behind schedule. There are dedicated sections at the front of buses for women and families; however, in practice, some routes, particularly those to and from industrial areas, are used predominantly by male labourers and best avoided by women travellers. Timetables are online, some available to download; route maps are available only at the main bus station.

Shuttle bus

phone: +974 4458 8888 (Mowasalat)

In order to ease ever-increasing traffic congestion, Mowasalat operates a free shuttle bus service, servicing passengers with two routes in the West Bay (downtown) area; plans are underway to offer more routes. A route map (Arabic and English) is available for download. Friday service is 'family only', i.e. solo men are not permitted.
By tour bus
phone: +974 4442 2444, +974 5534 2964 (mobile)

offers a hop-on, hop-off tourist bus service, with stops at various locations between the Marriott Hotel and the Pearl-Qatar. Buses arrive at each stop every 20 minutes. Tickets are QR 180 (adult), QR 90 (children) and valid for 24 hours; bookings can be made on-line at its website, also via telephone and email. Alternatively, the manager/dispatcher is happy to take your call on her mobile and this will prevent you waiting on hold or even getting a busy signal. The energetic young crew of Pinoy, Bangladeshi and Sri Lankan expats might not seem like the most organized bunch, but they try really hard to make things right, and they never stop smiling. There is shuttle service available from the airport to the first stop of the tour, which requires 30 minutes advance notice to arrange. If you're doing this on your last day in Doha, they will even arrange to pick you up at one of the main stops along the route and transfer you back to the airport for a not-unreasonable QR 50.
By taxi
Other than buses, the only alternative to not renting a vehicle is taxis. There are two taxi services, also operated by
Mowasalat
:
Karwa
and
Al Million
. "Limousine" taxis are available, which are unmarked, much more expensive (often two to four times the cost of Karwas) and may not carry a meter. If you feel sure about the fare, you can negotiate it up front, but it is advisable to insist on a meter.
Because of increasing complaints regarding taxis, some precautions should be taken. For nearly all journeys within Doha the tariff should be set to '1', and for journeys at night or outside of Doha it should be set to '0'. Airport taxis have a single tariff, which begins at QR 25. Reports of tampered meters are on the rise (look for black tape or paper), as are reports of drivers locking the doors or refusing to open the trunk without extra payment. If the driver refuses to use the meter, the ride should be free, but you may have trouble exercising this right. If you have problems, you can call the police at 999, at which point the driver will suddenly be very cooperative.
The demand for taxis far exceeds the supply and waiting times may vary greatly. During morning business hours, companies usually require 24 hours notice if you need a taxi; however in practice, even this is unreliable as the scheduled taxi often doesn't show up. At other times, it may take upwards of 90 minutes for an on-call taxi to arrive, and hailing one may be impossible in many places. The only places where you are guaranteed to find a taxi (normal or limousine) are at major malls, the airport and international hotels. The acute shortage has led to a thriving market for unlicensed, or unofficial, taxi services, most with a steady clientele. For visitors, the best way to find a reliable driver is to ask around – many residents, particularly expats, hire such drivers regularly and will happily share contact information.
Occasionally, you may find a local driver will stop and offer to give you a ride if he or she sees you looking lost on the side of the road. It is customary to offer some money at the end, though sometimes they will refuse to take it. If a driver slows down and flashes their headlights, they are usually signalling they're willing to give you a lift; beckon them over with a wave in response. However, hitchhiking always has its risks, and it is not an advisable practice for solo women.
By car
Several car rental agencies are found in and around Doha International Airport. The rental desks are not that easy to find and the signs to them are poor. They are on the lower floor in the car park area. The popular agencies include
Hertz
,
Avis
and
Budget
. These rental agencies offer seasonal discounts and it is advisable to check their websites before booking. If you're looking to rent a car, it is best to reserve in advance, to ensure a good price and minimise wait times. As of late 2013, visitors can drive a rental car for six months with an international driving licence. However, the laws regarding driving licences change almost yearly; visitors are advised to verify this information before arrival.
Driving in Qatar is on the right hand side of the road, with similar traffic rules to elsewhere in the world. However, because Doha residents come from all corners of the globe, driving styles vary wildly. Also, road rage is becoming more of a problem.
Expansion of the road network has not kept up with the explosive population growth, so drivers will encounter frequent traffic jams as well as numerous diversions due to road construction. With the addition of new roads, and the renaming of old roads, even the latest available road maps may be out-of-date. This also applies to satellite imagery, which can be outdated, even when it is only a few months old. So do not rely on Google Earth, Openstreetmap or your TomTom.
See
Museums
Considering Doha is attempting to become something of a regional cultural hub, the state of its museums is somewhat shambolic. Many museums are under seemingly never-ending refurbishment, the opening hours are not particularly tourist friendly, websites lack practical information such as opening times and location, and many museums require you to phone in advance for a special appointment (which can make the solo visitor feel somewhat uncomfortable as the curator opens up just for one person).
The National Museum, Museum of Islamic Art, and Museum of Modern Art have a single three-day ticket for QAR85. Alternatively you can visit just one of them for QAR50.
phone: +974 4422 4444

address: Next to Doha Port, on the Corniche

Doha's flagship museum. Housed in a building designed by I.M. Pei, the museum hosts artefacts from Muslim dynasties all over Asia, Africa and Europe. Also present are items from the Al-Thani dynasty, as well as art from all parts of the Middle East. Gloriously air conditioned, there is also a cafe and gift shop. The permanent exhibition is on the 2nd and 3rd floors, with temporary exhibitions on the ground floor. Free wi-fi in the museum building, dress appropriately. An hourly shuttle service provides free transportation between MIA and Mathaf W-Su 11AM-5PM; driving time between the two museums is 25-35 minutes.

Mathaf: Arab Museum of Modern Art

phone: +974 4402 8855

address: Al Luqta St, Education City

A specially designed building housing a collection of modern art from the Arab world, based on a personal collection amassed by Sheikh Hamad bin Khalifa Al Thani. The museum also hosts occasional exhibits featuring internationally-recognized contemporary artists. An hourly shuttle service provides free transportation between MIA and Mathaf W Th Sa Su 11AM-5PM, F 3PM-8PM, no shuttle M Tu; driving time between the two museums is 25-45 minutes.

address: End of Al Muthaf St

Opened in early 2019. The original museum was housed in an early 20th-century palace; its extension, now under construction, was designed by French architect Jean Nouvel and inspired by the desert sand rose. The extension and original palace can both still be viewed from the outside.

phone: +974 4436 7711

address: Off Al Muthaf St

The Orientalist Collection of the State of Qatar is one of the most significant collections ever assembled in the world. The approximate 700 paintings, water colours, drawings and prints, acquired over the last twenty years, trace Orientalism back to the early 18th century. The museum closes sporadically and it may be difficult to get an appointment.

phone: +974 4409 1077

address: off of Lusail St

Established in 2010, this small museum exhibits stamps from 22 Arab countries.

Sheikh Faisal bin Qassim Museum: West Bay Branch

phone: +974 4422-3899

address: City Tower, 6th Floor, Omar Al Mukhtar St

An extension of the Sheikh Faisal bin Qassim Museum in Al Shahaniyah, this branch displays a number of carpets from various Middle Eastern countries, as well as furniture and domestic objects from Qatar and the Gulf region. It is eventually planned to make the collection accessible without appointment.

phone: +974 4402 0555

address: Virginia Commonwealth University in Qatar, Al Luqta Street, Education City, Doha, Qatar

VCUQatar have a small gallery, with exhibitions which change every few months, in their campus on Education City, which is open to everyone (sign in at reception). Because of the ongoing building works at Education City, it's a nightmare to get from Mathaf to here, but when the trams are running it should be an easy side-trip from there!

Msheireb MuseumsA collection of four historic "houses" in the new downtown district of Msheireb: Mohammed bin Jassim House, Company House, Bin Jelmood House and Radwani House.

Firestation Artist in Residence

phone: +974 4422-4222,

address: Mohammed Bin Thani St

Has an art supply store and cafe on site.
Cultural heritage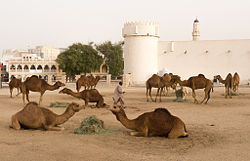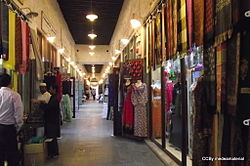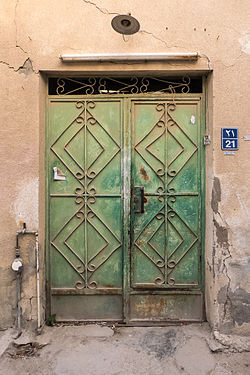 Al Koot Fort

address: Jassim Bin Mohammed St

Built in 1880 during the Ottoman period, this big white fort is in what is now the parking lot of Souq Waqif. At the time it was built, however, the fort was on the outskirts of the city. It was used as an ethnographic museum, the building is undergoing renovations and is closed, although it is still a popular place to take photos.

Fanar Qatar Islamic Cultural Center

phone: +974 4425 0169

address: Abdullah Bin Jassim St

Easily spotted from the Corniche with its distinctive spiral minaret, the center aims to educate non-Muslims about Islam by offering free Arabic classes as well as art and calligraphy exhibits. The center conducts bi-weekly tours of local mosques followed by a traditional dinner (abayas provided for women, registration required), and also hosts weekly coffee mornings with presentations on Qatari culture and lifestyle (registration required).

Clock TowerNext to the Grand Mosque, this old clock tower features Arabic numerals on its face. The tower is also on a hill, and as such offers some wonderful views of the Corniche.

Windtower House

address: Grand Hamad St & Ali bin Abdulla St

One of the last traditional windtowers in Qatar. Windtowers were used in the days before air conditioning, functioning by sucking cool air into a house. The house is not open to the public, but can be viewed from the outside.

Souq WaqifSouq Waqif is the renovated Arabic market quarter, where one can easily wander around the maze-like corridors for hours. The souq is organized more or less by what is sold. There is a section of spice shops, another of textiles, and even a quarter with falcons for sale. Stables with Arabian horses are not far from the falcons, and camels are kept near Al Koot Fort and the parking lot. Also look for places to buy souvenirs, sit down to smoke a Sheesha, or enjoy food at one of the restaurants bordering it. Traditionally-dressed Qatari police occasionally patrol the souq area, in the morning mounted on camels and in the evening on horseback. The souq was completely rebuilt several years ago on the site of an older souq, and therefore can feel somewhat artificial; however it is a very popular place for locals, particularly on weekends.

phone: +974 33197482, +974 33192305

address: barge docked off the Corniche, next to the Sheraton

A small museum with photographs and artifacts illustrating the historic development of Doha from small fishing town to modern city. The exhibit is sponsored by developer of the Msheireb project near Souq Waqif.

Heritage LibraryOver 51,000 books in Arabic and other languages on Qatar and the Middle East, together with 600 antique maps, 2,000 manuscripts and 6,000 original photographs, form the Arabian and Islamic Heritage Library in Qatar, another initiative of HH Sheikha Mozah Bint Nasser Al Missned through Qatar Foundation. It is one of the largest research centres in the Middle East, and is based on a collection started by Sheikh Hassan Bin Mohamed Al Thani in 1979. Tours of the collections are offered twice on Sunday and Tuesdays, at 10AM and 11:30AM, no appointments required.

Qatar National LibraryOpened in April 2018, the building was designed by renowned Dutch architect Rem Koolhaas.

Virginia Commonwealth University Gallery

phone: +974 4402 0555

address: Al Luqta St, Education City

The gallery at the VCU-Q campus in Education City regularly hosts visiting exhibitions and the work of faculty members and students. On those occasions, the gallery is open to the general public. The collection includes Arab manuscripts, a foreign language section dating back to the 15th century, and 20th century books about art and politics.

Heritage VillageIts buildings are modeled on a traditional Qatari village. Visitors can expect to see weaving, pearl trading, and a dhow (traditional boat). The village is open only for Ramadan, Eid, and special cultural festivals.

Al NajadaFor a glimpse of some older Qatari architecture, it can be worthwhile to wander around some of the older neighborhoods surrounding Souq Waqif, particularly the small neighborhood to the immediate south of the souq. There are still a few notable old villas and mosques which predate the mostly 1970s-era buildings; given the pace of redevelopment in Doha it is unclear how much longer they will survive. Best explored on foot. (As the current inhabitants are exclusively male immigrants, women will feel uncomfortable without a male companion.)

House of Sheikh Abdullah bin Thani Al-Thani

address: Al Luqta St

A traditional Qatari home, remarkable because it has two instead of one 'majlis' (guest reception area). Built in 1935 using traditional materials and techniques, it has been fully restored. The building is not open to the public, but can be viewed from the outside.
Other sights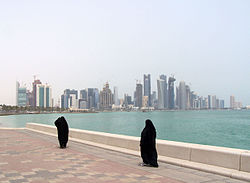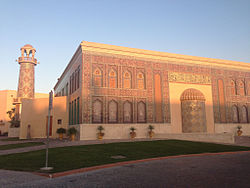 CornicheThe visual highlight of Doha is Al-Corniche, a long seaside promenade that curves around Doha Bay and affords pretty views of Palm Tree Island and the city's skyscrapers. In the afternoons you will see plenty of locals strolling, often trying to get out of the way of the odd crazy Western ex-pat on rollerblades. It's also a good place for jogging. Cycling is prohibited. If you're looking to have the scenery all to yourself, go on a Friday morning.
Highlights along the Corniche (from east to west) include an informal morning fish market, the MIA (Museum of Islamic Art), the 'Water Pots' fountain, the giant Oyster and Pearl sculpture, the Dhow Harbour (with traditional wooden dhows), and a giant 'Orry' statue (the mascot for the 2006 Asian Games).
Rumeila Park

address: The Corniche

Formerly known as Al-Bidda Park, this is opposite the Corniche with an outdoor theatre, art gallery, water features, children's play area and skateboard/rollerblading half-pipe. There are several shops, a cafeteria and public toilets.
phone: +974 4408 0000

address: off of Lusail St

This building complex is designed to resemble a traditional Qatari village, and includes a large open-air amphitheater, opera house, drama theater, galleries, as well as a number of (expensive) restaurants featuring international cuisine. The galleries host changing art and photography exhibits, and various festivals are held here throughout the year. There is also a public beach here (entry fee QR 100) which offers watersport activities. Modest beach attire is required, i.e. for women a one-piece suit.
phone: +974 4489 7446, +974 4489 7451, +974 4489 7449

address: Wadi Al Sail West

One of Qatar's claims to fame is the Al Jazeera news network, which broadcasts to hundreds of millions around the world. The studios are not made to be a tourist attraction, although you may be able to contact the office and ask for a tour. A small on-site museum is dedicated to journalists who have died in the field, and has various timelines and displays about the network's history.
Doha Zoo

address: Al Rayyan

The zoo is undergoing major renovation and refurbishment, and is closed.
address: Corniche

This modern park was built on reclaimed land and affords great views of the West Bay skyline. Visitors can rent bicycles or paddleboats, and enjoy coffee or ice cream at a small café. At the end of the promenade is the monumental sculpture '7' by American sculptor Richard Serra. During the winter the MIA Park Bazaar is held on the first Saturday of every month, offering an eclectic mix of food, arts, crafts, books, and souvenirs.
Calligraffiti Murals

address: four underground tunnels on Salwa Rd

In 2013 the French-Tunisian graffiti artist eL Seed was commissioned by the Qatar Museum Authority and the Public Works Authority to paint a series of 52 large-scale murals inspired by Qatari culture. The project required four months to complete and showcases eL Seed's signature style fusing Arabic calligraphy with street art. The murals can be best seen by simply driving through the tunnels.
The Miraculous Journey

address: Sidra Medical and Research Center

A series of 14 monumental bronze sculptures depicting the stages of development of a fetus from gestation to newborn, by British artist Damien Hirst. The sculptures were commissioned by the Qatar Museum Authority, which reportedly paid US$20 million for them. The medical center is a women's hospital.
Do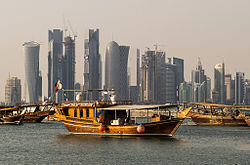 Doha has a reputation for not being the most exciting place on earth; however, should you find yourself here for a longer visit, there is a variety of activities and events. Start off with a tour of the city, which should take you about 2 hours and from there you will have a good idea of what you would like to see.
BeachesThere are well-maintained private beaches in Doha owned by hotels, which permit public access for a fee. Hotels with beaches include the Grand Hyatt, Diplomatic Club, InterContinental, Sheraton, Sharq Village, and the Four Seasons, with fees ranging from QR 180 for weekday passes to annual family memberships. Additionally, the Katara Cultural Village operates Doha's only public beach, with an entry fee of QR 100. On private beaches western swim wear is acceptable, but on public beaches women should dress more modestly (i.e. with long water shorts and t-shirts).

Dhow tourDay or evening dhow cruises can be arranged with any of the dhows docked along the Corniche. Many cruises offer meals and entertainment, and can be booked for large tours or for more informal arrangements.

Doha Film InstituteShowcasing a wide range of international and art films, DFI also hosts two international film festivals, in November and in March. Films are screened at the Museum of Islamic Art and at Katara Cultural Village; tickets can be booked online.

phone: +974 4496 0777

address: West Bay

The only golf club open to the general public.

phone: +974 4450 9357, +974 4469 9114, +974 4469 9358, +974 4469 9113

address: 52nd St

Drag racing is promoted by the Qatari government on an organized racetrack so young drivers do not feel the need for crazy driving on the streets of Doha. For a fee you can race your own car, or you can watch one of the regularly-scheduled professional races.

address: Hyatt Plaza

3500 m² of animal-themed children's attractions, Qatar's most popular indoor theme park.

phone: +974 3311 6249

Entalek Adventures offers guided sea kayaking trips within Doha, or further afield along coastal mangroves and secluded beaches, with opportunites for birdwatching and camping. They also conduct guided snorkeling trips, and can rent out fully-outfitted kayaks (QR 200/day).

Qatar Racing and Equestrian Club

phone: +974 4480 8122

address: Al Rayyan

Horse racing takes place during the winter months, with races scheduled every Thursday beginning at 4PM and lasting until about 9PM. Gambling is prohibited, but attendees can enter free raffles to guess the winning horses, with substantial prizes (including cars). These races are very popular. The Club also hosts an Arabian horse show every March; details are published in the local press.

phone: +974 4442 4577

address: Al Isteqlal Rd

Regatta Sailing Academy offers sailing courses as well as a range of boats for hire, including funboats, dinghies, and two 30-foot yachts.

SheeshaA typical Middle Eastern activity in the afternoons is to find a sheesha cafe and smoke some fruit-flavoured tobacco. One of the best places in Doha is Ras-Naswa at the non-Sheraton end of the Corniche. It's in a picturesque old-style building reminiscent, in colour and texture if not grandeur, of the red Mughal structures in India. Ras-Naswa has a nice outdoor garden and serves decent Middle Eastern food.

phone: +974 4454 6320

address: Al Shaqab

A state of the art horse riding facility and equestrian centre highlighting the importance of the Arabian horse and the detailing the history of equestrianism in the area

Aspire ParkThe largest park in Doha. Lots of grass, trees, playgrounds.
Buy
You can buy pretty much anything you want in Doha, apart from pork products and alcohol (except with a licence or in the major hotels). Shopping is a major leisure pursuit of many Qataris and expats; prices however are somewhat higher than in
Dubai
. As with in most of the Middle East, be prepared to bargain.
Souqs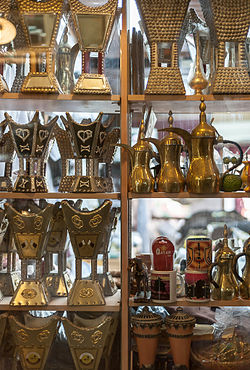 The best shopping experiences are undoubtedly to be had in the various souqs (markets).
Souq Waqif

address: Al Jasra

Also referred to as the Old Souq, this is the best place to pick up souvenirs and rub shoulder with locals. There are good restaurants and sheesha cafes here. There are also falcon shops, and some dealers will allow you to handle and photograph them. Also worth visiting are the horse stables (near the falcon shops) and the camels (near Al Koot Fort).

Gold Souq

address: Ali Bin Abdullah St

The place to buy gold and jewellery. The purity of gold is strictly regulated, so you can be sure of the quality.

Fabric Souq

address: Al Ahmed St

This comprises three different neighboring souqs (Al Ahmed, Al Asiery, and Al Dira). Here you can choose from a selection of exotic fabrics and have clothing designed and tailored to your specifications. For a complete outfit, allow about a week or two for completion.

Omani Souq

address: Bu Hamour

Here you can buy things like spices, incense and woven baskets. Next door is a vegetable market.
Malls
Typically most malls in Doha are open Sa-Th 10AM-10PM. Most will be closed on Friday mornings but will open up during the evening, when they'll be the most crowded. Also, be aware that some malls schedule "Family Days", where single men will be turned away at the door. In practice, however, most Westerners will be allowed in, but brown-skinned persons (particularly South Asians in their native dressing) will be turned away.
address: Conference Centre St

The largest shopping centre in Qatar. In West Bay, the modern part of the city on the northern end of the Corniche, it offers a large and diverse shopping experience, including several jewellery and perfume stores. For entertainment there is a large multiplex cinema, a bowling alley, a children's arcade, as well as an indoor ice skating rink. There are several eating options including two food courts and several sit-down restaurants. By western standards, this mall is quite dated for its age, but remains popular due to its large size and ideal location. Finally, the mall is home to a large Carrefour hypermarket.

Ezdan Mall

address: Al Markhiya St

One of Doha's greatest malls, with 200 tenants and a Carrefour supermarket. Not all shops are open yet.

phone: +974 4407 7201

address: Omar AlMukhtar St

280 shops with mostly luxury goods. The popular bistro 'Jones the Grocer' is also here.

address: Hyatt Plaza Rd

This shopping mall is smaller than others, but as a plus it is always less crowded. There is a good sized food court and a large children's playland called "Jungle Zone."

phone: +974 4433 5555

address: West Bay, Zone 66

Mostly high-end luxury goods, with a Carrefour grocery store.

address: Al Markhiya St

Focuses mostly on clothing, jewellery, and cosmetics. There is also a Carrefour hypermarket for groceries.

address: Najma St and D Ring Rd

Tourists are better off going to any of the aforementioned locations if they wish to purchase store goods.

phone: +974 4422 7400

address: Al Aziziyah

Near the Aspire Centre. The mall is designed to look like Venice in terms of architecture, and is home to many western stores, as well as a large Carrefour. The food court is home to several Western-style fast food restaurants, and several sit-down options. For entertainment, there is a long canal offering gondola rides (15 QR), an ice-skating rink (30 QR), and a cinema with 13 screens and one IMAX screen.
Bookshops
The availability of English-language books in Doha is fairly limited but improving, and there are several shops which offer some current titles as well as regional travel guides. Carrefour, Lulu Hypermarket, and Megamart all sell international magazines and newspapers along with local maps.
phone: +974 4444 0212

address: Salwa Rd

Sells Arabic and English language books, and a good selection of international magazines and newspapers. Also has a Costa coffee bar. There is a second branch near Education City, on Al Rayyan Al Jadeed Rd.

Virgin Megastore

phone: +974 4413 5823

address: Villaggio Mall

Stocks books and magazines in Arabic, English, and French. A second branch in Landmark Mall has a much smaller selection.

WH Smith

address: Ezdan Mall

Doha's largest bookstore.
Eat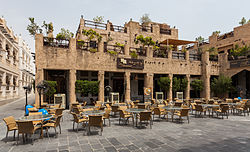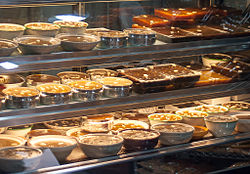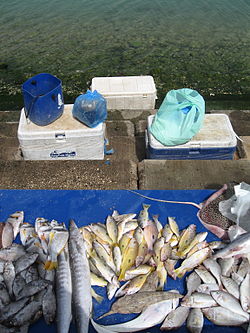 Given the population diversity in Doha, there is a large variety of different types of cuisine, including Indian, Thai, Chinese, Italian, Korean and, of course, typical Middle Eastern food. Since Qatar is a Muslim country, all food is certified halal.
Zomato
is a popular restaurant review site and
Talibat
is a common delivery site.
American
Most major American fast food chains have multiple branches here, including
McDonald's
,
KFC
,
Hardee's
,
Arby's
,
Burger King
,
Subway
, and
Dairy Queen
.
Pizza places include
Pizza Hut
,
Little Caesar's
,
Pizza Inn
, and
Papa John's
. Many of them are in the major shopping centres, and at Ramada Junction (the intersection of C-Ring and Salwa Rds).
There are also a number of more upscale American chains, including
TGI Fridays
(in the Landmark, Villaggio shopping malls, Bin Omran Opposite the Civil Defense and Suheem Bin Hamad Street, Al-Sadd),
Applebee's
,
Chili's
,
Fuddruckers
,
Bennigan's
, and
Ponderosa Steakhouse
.
Ric's Kountry Kitchen

phone: +974 4443 7846

address: Sana Complex, Ras Abu Abboud St

Serves up large classic American breakfasts, and one of the few places in Doha with real bacon and pork sausages.

phone: +974 4488 8310

address: several branches

This is undisputedly the most popular pizza in Doha, surprisingly offered by a well-established and efficient Filipino operation. The barbequed chicken pizza is particularly tasty. Delivery and pick-up available.
Asian
phone: +974 4411 5063 (City Center Mall), +974 4417 5682 (Landmark Mall), +974 4495 3876 (The Pearl-Qatar Porto Arabia)

address: three locations

Offers a number of southeast Asian-style dishes. Their portions are not very large, but the taste makes up for that. Their prawn crackers are particularly good. Delivery available.

Oishi Sushi

phone: +974 442 8989

address: Al Sadd St

Decent sushi, with sushi train. On Monday and Tuesday evenings they offer an all-you-can-eat for QR 135 (reservations recommended).

Royal Bafilyon

phone: +974 7721 9865

address: Salwa Rd

This Cantonese restaurant is a favorite of the Chinese and Singaporean expat communities.

Shanghai Garden

phone: +974 4493 3188

address: City Centre Mall

Favored by local Chinese expats.

phone: +974 6640 7858

address: The Centre, Salwa Rd

Tiny place with two tables, with fantastic Thai food. In nice weather you can eat in the courtyard.

Thai Smile

phone: +976 4431 6466

address: Al Corniche

Casual and delicious Thai street food, with outdoor seating.

Thai Snack

phone: +974 4432 9704

address: Al-Mirqab St

A Doha institution, offers authentic Thai street food for very reasonable prices.

phone: +974 4441 9898

address: Al-Kinana St

This restaurant specialises in Korean barbecue and Japanese cuisine, and is one of the better places in Doha for sushi.
European
Ciao

phone: +974 4468 9100

address: Salwa Rd

Offers thin-crust pizza baked in a traditional oven, along with a good selection of pastas and risottos.

phone: +974 4435 7559

address: Ras Abu Aboud St

Doha's only British café, with full English breakfasts and Yorkshire pudding. Free Wi-Fi; delivery and takeout available.

Lo Spaghetto

phone: +974 4434 1601

address: corner of Al Difaaf and Al Hamdani St

Classic Italian food, prepared by Italian chefs.

Mykonos

phone: +974 4484 4444

address: Al Isteqlal Rd, West Bay

Solid Greek food, outdoor pool-side seating available.
Indian
Doha is home to a large Indian population. As such, the city centre is full of small Indian restaurants, with many other excellent Indian restaurants scattered throughout the city.
Aalishan

phone: +974 4431 5999

address: Ibn Seena St

Recommended for the Friday afternoon buffet.

Al Zarka

phone: +974 4432 0655, +974 5552 7338

address: Al Mahtuf St

Very popular with South Asian workers as well as Qataris. Menu features primarily Indian as well as Arabian dishes.

Anjappar Chettinad

phone: +974 4427 9833

address: Al Khaleej St

Vegetarian, good value for the thali set menu.

Bukhara

phone: +974 4483 3345

address: Khalifa St

Delicious northern Indian cuisine, with especially good fish tandoori and chicken vindaloo.

Chingari

phone: +974 4428 1555

address: Radisson Blu

Expensive and good northern Indian food, with live Indian music on a small stage.

Garden Annapoorna

phone: +974 6668 3856

address: Najma St

It serves great south Indian dishes.

The Garden Village Restaurant Doha

phone: +974 4488 5115

address: Fereej Kulaib St

Recommended for its good ambience and nice Indian village model interior.
Middle Eastern
Al Shami Home Restaurant

phone: +974 4443 3666

address: C-Ring Rd

A Doha institution, featuring traditional Syrian and Lebanese dishes, and sheesha.

Al Hamra

phone: +974 4443 3297

address: Al Rayan Rd

A family restaurant offering Lebanese dishes. Service is a bit slow, good for large groups.

address: Al Corniche

An upscale place with tasty Lebanese dishes and some of the best views in Doha.

Ankara Pastry Restaurant

phone: +974 4487 1861

address: Ahmed Bin Ali St

Good pastries and shwarmas, popular with Turkish expats.

Istanbul Sultan

address: Mesaimeer Rd

Very small place with great schwarmas.

phone: +974 4431 0005

address: Salwa

One of the more expensive Lebanese restaurants. It is rumored that the former Emir has eaten here on occasion.

Shebestan Palace Restaurant

phone: +974 4432 1555

address: Al-Sadd St

Good Persian food.

Turkey Central

phone: +974 4443 2927, +974 4442 3423

address: Al Mirqhab Al Jadeed St

Offers good, cheap Middle Eastern fare. The portions are large (try the mixed grill or shish tawooq) and the appetizers are excellent, particularly the chili labneh. Delivery and take-out available.
For local street food, nothing beats the home-made goodness dished out by the
Pancake Ladies
in Souq Waqif every evening in the square by the car park. The crepe-like mankouche is particularly tasty, filled with your choice of labneh (cheese), za'atar, or the less-traditional Nutella for QR5. Other local specialties feature meat, chicken, and fish, and there are even a couple of vegetarian options.
There are also many good restaurants in Souq Waqif worth trying. Perhaps the best include
Tagine
(Moroccan) and
Le Gourmet
, particularly good for sheesha and a cup of tea. These are not as inexpensive as the Pancake Ladies but are good for ambiance and people watching.
Seafood
Best Fish

phone: +974 4443 8507

address: Al Mirqab Al Jadeed St

Popular with Qataris. Cheap local fish dishes - the grilled hammour with garlic butter is recommended. Take away and home delivery available.

Fish Market

phone: +974 4484 4444

address: Al Isteqlal Rd, West Bay

The best fish in town at upscale prices, much of it local. Reservations recommended, particularly for the Friday brunch.

phone: +974 4408 0710

address: Katara Cultural Village, Bldg 27

A good selection of seafood, with good views. Reservations recommended.
Grocery stores
For self-catering options there are a few hypermarkets as well as a number of smaller neighborhood grocery stores distributed throughout the city.
CarrefourThis French-based chain has three hypermarkets in Doha: in Landmark Mall, Villaggio Mall, and City Center Mall. They also have a smaller grocery store in Lagoona Plaza.

Family Food CentreThree branches on Al Matar St, Al Mirqab Al Jadeed St, and Al Rayyan.

LuLuThis UAE-based chain operates two full hypermarkets: on D-Ring Rd (near the airport) and in Al Gharrafa (across from Landmark Mall). There is also a smaller express store near Education City, and a branch has been opened in Al Messila.

Mega Mart

address: The Centre, Salwa Rd

Very popular with western expats as it imports a lot of products from America and Europe, but can be quite expensive. Also has a Costa Coffee nearby, as well as many smaller shops stocking cards, electronics and perfumes.

phone: +974 4460 4242

address: Salwa Rd
Tipping
Tipping at restaurants is not compulsory, although it has become fairly standard to tip about 10% to the waitstaff. Despite being banned, some restaurants still include a 10% service charge in the bill. Should your bill include a service charge, feel free to strike it from the total and leave a tip on the table instead.
Drink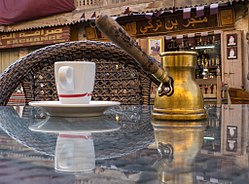 Alcohol
Alcohol is strictly regulated in Qatar, as it is a Muslim country, and for visitors is only available in bars attached to large 5-star international hotels. Bars are required to see identification (i.e. a passport) at the door, although this is rarely enforced. Residents with a special liquor license may purchase alcohol at the QDC (Qatar Distribution Company) on the outskirts of town. Importing alcohol is not permitted – all bags are x-rayed upon arrival and any alcohol will be confiscated and held for you. With a claims receipt you can pick up your bottle again when you leave.
Some of the places favoured by local expats are the
Crystal Lounge
and
Waham Poolside Lounge
(W Doha Hotel),
Sky View Bar
(La Cigale Hotel), the
Belgian Café
(InterContinental at West Bay Lagoon), and
Trader Vic's
(Hilton). The
Irish Harp
(in the basement of the Sheraton near City Center Mall) has frequent live music.
Tea and coffee
Karak is the local specialty, a very sweet concoction made from
tea
and evaporated milk available from stalls everywhere, some of them drive-through (just park your car outside and honk). A particularly popular place is
Chapati & Karak
() at Katara Cultural Village.
Most international
coffee
chains (including the ubiquitous
Starbucks
) are well-represented here, especially in shopping malls.
phone: +974 4421 2001

address: C Ring Rd

This branch of the popular Malaysian café chain offers a good selection of coffee and teas, along with special roti buns.
Sleep
Compared to
Dubai
, which has hundreds of accommodation facilities, Doha does not offer that much variety with less than a hundred hotel properties and some other accommodations. There are quite a few 5-star international chain hotels in Doha and there are scores of new 5-star hotels on the rise, such as the Ritz-Carlton, Four Seasons, and Intercontinental. More modest choices come in shorter supply.
Budget
Doha B - Qatar Youth Hostels Association

phone: +974 4421 7157

address: 17 Al Rayyan St

La Villa Hotel, QAR130 if you book online. Includes breakfast.
Victoria Hotel, QAR135 if you book online. Has a pool and gym.
Mid-range
Splurge
Stay healthy
If you need emergency medical treatment, the government-owned Hamad General Hospital provides A&E (accident and emergency) care to everyone regardless of insurance status, and has the most advanced and best-equipped facility. Other smaller, private hospitals will charge for any emergency services.
999
is the emergency number for ambulance, police, and fire service. You will likely need to give directions or a nearby landmark. Response times in Doha are dependent on traffic, and there have been reports of long waits for ambulances, along with long waits for English-speaking operators. Medical teams however are highly skilled and all fluent in English.
HMC operates A&E departments at the medical centers listed below.
Connect
Pre-paid SIM cards and top-up cards for
Ooredoo
and
Vodafone
can be purchased at mobile phone shops, as well as at Carrefour and Lulu hypermarkets.
Free Wi-Fi is available in Souq Waqif, public parks including the Sheraton Park and Rumaila Park, and along the Corniche. Some coffee shops also offer free connection. Ooredoo HotSpots are scattered throughout Doha, mainly in hotels and cafés.
HotSpot
cards in denominations of QR 30, 50, and 70 are available in any Ooredoo shop.
Currency exchange centres
For especially large denominations or more unusual currencies it is best to call beforehand to ensure the centre has the desired currency and amount on hand.
Embassies
Being the national capital, Doha hosts a large number of embassies. A majority of them are clustered in the West Bay District (especially the Diplomatic Area) and in the adjacent Al Dafna, Onaiza 65 and Onaiza Districts. There are others in other parts of the city as well. Due to an ongoing diplomatic crises over several issues Bahrain, Egypt, Saudi Arabia and United Arab Emirates had suspended diplomatic ties, closed their embassies and recall their respective ambassadors. If corresponding by mail/post use the PO Box address given as mail is only sent to a PO Box instead of a street address. If delivering to a street address with DHL, FedEx, UPS or another private courier be sure to include recipient's phone number so that the delivery driver can call for directions or clarification on the address:
phone: +974 4007-8500

address: 21st Floor, Tornado Tower, Majlis Al Taawon St

Austria

phone: +974 4421 5541, +974 4421 5574

address: Palm Tower B, Level 33, PO Box 12011

Bahrain

phone: +974 4483-9360, +974 4483-9370

address: Al Dafna, Anaizah Street, Section 66, PO Box 24888

phone: +974 4467-1927

address: Bldg No. 153, Street #820, Zone-43; PO Box 2080

phone: +974 4419-9000

address: Tornado Tower, PO Box 24876

Not all consular services are provided by this mission; the nearest regular embassy is in Kuwait.

phone: +974 4493-4203

address: Bldg No. 250, Street #801, Zone-66; PO Box 7200

phone: +974 4020-7000

address: Al Katifia No, 66 Al-Dafna, PO Box 24856

phone: +974 4402 1777, +974 4402 1755 (Emergencies)

address: West Bay, PO Box 2669

phone: +974 4408 2300, +974 5552 6672 (Emergencies)

address: 12, Al Jazira Al Arabiya St, PO Box 3064

Greece

phone: +974 4412-8150, +974 3305-1796 (Emergencies)

address: PO Box 15721

phone: +974 4425-5777

address: Villa No 86 & 90, Street No. 941, Al Eithra Street, Zone 63, Onaiza,

phone: +974 4483-1550, +974 4483-5300, +974 4483-1950

address: Dafneh, Diplomatic Area, PO Box 1633

phone: +974 4421-6730

address: Dafna, West Side, Diplomatic Area, Street 509, # 9, P.O. Box 1526

phone: +974 4484-0888

address: West Bay, Diplomatic Area, PO Box 2208

phone: +974 4483-2202, +974 4483-2203

address: Diplomatic Area, West Bay, P.O. Box 2366

Kuwait

phone: +974 4483-2111

address: West Bay Al Dafna, PO Box 1177

phone: +974 4483-2238, +974 4483-2239

address: West Bay, Diplomatic Area, PO Box 3727

Oman

phone: +974 4493-1514, +974 4493-1910

address: Bldg 18, Area 66, Al-Dafna, Diplomatic Area

Pakistan

phone: +974 4483-2525, +974 4483-2535

address: Plot No. 30, Diplomatic Area, West Bay

phone: +974 4493-0426, +974 4498-6477, +974 4483-2560

address: St. No. 860 Jelaiah Area, Doha

The Overseas Labor Office is at the corner of Al Furat & Al Quosoun St, Zone 66, Onaiza; and

phone: +974 4483-6231, +974 4483-6821

address: Area №66, Street №804, Villa No. 8., New Doha (Qatifiya), PO Box 15404

Saudi Arabia

phone: +974 4483-2030, +974 4483-2713

address: Diplomatic Area, Gulf Arabia, P.O. Box 1255

phone: +974 4412 8082, +974 4412 8083, +974 6673 6152 (Emergencies)

address: New West Bay Area, PO Box 24497

South Africa

phone: +974 4485 7111

address: Stand 801, Saha 570, Plot 5

phone: +974 4483-5886

address: Lusail Street (Al- Isteqlal Aven), West Bay , PO Box 24616

phone: +974 4020-3400

address: Villa 60, Wadi al Humra Street 807, Area 66, Al Dafna, P.O. Box 23745

phone: +974 4495-1300

address: Al Katifiya Zone 66, Al Rabwa Street 310, Diplomatic Area, PO Box 1977

phone: +974 4496 2000

address: Level 16, Gateway Building, 1 Macquarie Place

phone: +974 4483-8880

address: Diplomatic Quarters, West Bay, PO Box 3099

phone: +974 4488-4101, +974 4488-4101 (x 6117 ACS voicemail), +974 4496-6000 (Emergencies)

address: 22nd February St, Al Luqta District, PO Box 2399
News
Go next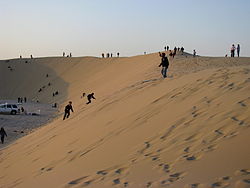 Singing Sand DunesIn the desert 40 km southwest of Doha are the so-called Singing Sand Dunes. This is one of 30 sites in the world with "singing" sand, once attributed to evil djinn. When the humidity is low and the wind blows along the sand, an eerie humming sound can be heard, which can be amplified by running across the sand, or by sledding down it. Large plastic bags (e.g. garbage bags) or large pieces of cardboard work particularly well for this. The dunes are a bit off road and can be tricky to find. Head SW of Doha on Salwa Rd; after about 13 km you will pass a large roundabout; after you come to the Mobil Petrol station make a U-turn and turn right on Messaieed Road. Drive past two roundabouts, then take the next right. Take the left fork at the T-junction, and you will see the dunes on your right. It is possible to make the trip in a 2WD, but a 4WD is better to get close to the bottom of the dunes.
Caves
There are a number of karst caves in Qatar, the most well-known of them a short distance from Doha. All caves have not been fully explored, and it is believed that there is an extensive network of tunnels connecting many of them.
Dhal Al MisfirThe most well-known of Qatar's caves, this 40 m-deep formation contains fibrous, faintly phosphorescent gypsum crystals. There is also a resident flock of cave-dwelling Little Owls (Athene noctua). For safety reasons the site is surrounded by a chainlink fence but the gate is unlocked and visitors may enter freely.

Mudhlem Cave

address: Mukaynis

A 150 m-deep cave not far from the Misfir Sinkhole. The mouth is about 15m wide and there is a pool of brackish water at the bottom, which was once used as a source of drinking water by the local Bedouin. The cave is now a popular geocache site.
Desert safari
If you want to get out of the city, the desert awaits. Whereas you could take your rental car out to the sand dunes, unless you are familiar with the route or GPS, you run the risk of damaging your rental car and getting lost. The alternative is to go through one of Qatar's many licensed tour companies, which can arrange a trip. Additionally, there are a handful of sights outside of Doha which can only be accessed with prior government permission, which a tour company can arrange on your behalf. This will cost you several hundred Qatari riyals, and may require a minimum of four persons to join in the fun. At international hotels, the receptionists can advise you, and hire a driver for you. Otherwise, there are several tour companies that can arrange a trip by phone or via their website.
Beyond sand dune trips, several of these companies can arrange for overnight desert camping, excursions to historical sites, and city tours.
Diving
Other cities
Doha is by far the biggest city in Qatar, but the country's other towns can provide an interesting glimpse of Qatari life outside of the bustle of Doha.
Head west to see the camel races, and then visit the Sheikh Faisal Bin Qassim Al Thani Museum in
Al Shahaniyah
. Drive south to visit the dhow harbor in
Al Wakrah
, and then hit the beach and go dune bashing near
Mesaieed
. Or drive north to see the fortress and prehistoric gravemounds near
Umm Salal Muhammad
, and continue on to kayak through the mangrove forests near
Al Khor
.