Dolisie
Dolisie
is a city in the
Niari Valley
, named after Pierre Savorgnan de Brazza's lieutenant Albert Dolisie. In 1975, it's name was changed to Loubomo, however in 1991, the old name was restored. Dolisie was nicknamed "green gold".
Understand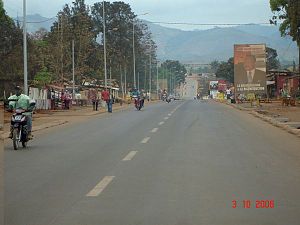 Dolisie is vibrant, though there are only paved roads in the center of the city. The economy revolves mostly around the logging industry, which is mainly run by Chinese and Malaysian companies. The drop in electric output and frequent power cuts have become a fact of life for residents of Dolisie. There are few travellers in the city. Most of the foreigners are in private vehicles, therefore walking on the street or taking public transport will draw a lot of attention from curious locals.
Get in
By plane
Dolisie's Ngot Nzoungou airport can be reached from Brazzaville's Maya Maya airport twice a day or from Pointe-Noire by Air Congo or Trans Air Congo (TAC), +242 811046.

By train
The Congo-Ocean Railway (COR; French: Chemin de fer Congo-Océan, CFCO), built in the 1920s, is the government owned rail authority of the Republic of Congo. It links the Atlantic port of Pointe-Noire with Brazzaville, a distance of 502 kilometres.

By car
From Pointe-Noire, the city can be reached via a dirt road (National Road 1) 140 km in length. The journey will take at least 6 hours long and four wheel drive is necessary. Many roadbloads will be encountered along the way, with police asking for "jus" (a juice), which is basically a bribe. You may want to say that you will buy them one on the way back.

Get around

You may use local taxis. Unlike the green taxis in Brazzaville, or blue taxis in Pointe-Noire, they can identified by their red color. One trip anywhere in town is 700 FCFA (~1.50 USD). However, Dolisie is a relatively small city and most destinations can be reached by foot (take caution at night).

See
L'arbre de Brazza, a giant baobab tree named after Pierre Savorgnan de Brazza, located 8 km from downtown Dolisie towards Pointe-Noire.
Église Saint Paul
Buy
There are a few general stores run by Mauritanians, where you can buy cheap goods and snacks. The local market is worth taking a look, especially for the fresh fruit and vegetables.

Eat
Budget
La Benediction, Open 7:00-16:00
Airport Cafe, Open during flight operation times, serving drinks, cakes and pastries, sandwiches, omelettes, etc.
Patisserie
Café restaurant Le Ménuphar
G4
Mid-range
Le Mess Gaps, +242 520-9985, is the best food in the city. The owner, Gérard Athané, serves up his famous "le missala à la diable", which consists of locally caught freshwater prawns, and various bush meat including antilope, pangolin (scaly anteater) and porcupine.
Kitoko Hotel, Avenue Ciavaldini, +242 557-3666. Fresh prawns, pastas, salads, etc.
Splurge
Drink
Sleep
Budget
Kitoko Hotel, Avenue Ciavaldini, +242 557-3666. This hotel opened in 2000 by José, a very nice Portuguese man. There is a lovely a la carte restaurant and bar on site. The beds are not very comfortable, but most rooms are big and are equipped with hot water, A/C, TV, soap and towels. 18 000 FCFA/room (~40 USD).
Hotel Gabriella, 1 avenue Félix Eboué, +242 233494. This hotel has two locations: the first is situated near the airport and the second can be found in between the train station and central market. The second location has a restaurant on site. 15 000 FCFA/room.
Hotel de la Renaissance, 6 rue Mbinda, +242 527-8501, in front of Sala Ngolo. This hotel is located a walking distance to the airport and has a restaurant on-site. The beds are comfortable but rooms are small. They are all equipped with A/C, TV and hot water. 25 000-35 000 FCFA/room.
Sala Ngolo, near airport, +242 557-7907. Seven well-ventilated rooms at 10 000 FCFA/room, 13 000-15 000 FCFA for a room with a TV and balcony. Internet Cafe on site.
Hotel Bayonne, 34 avenue de l'Indépendance, +242 705-7681. On-site restaurant. 15 000-30 000 FCFA/room.
Mid-range
Résidence Moutsinga. 30 000 FCFA/room.
Grand Hotel
Splurge