Dolores Hidalgo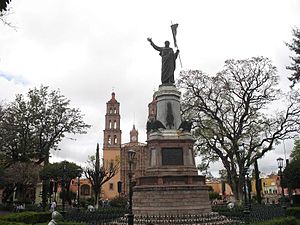 Dolores Hidalgo
is a small colonial town of 60,000 inhabitants in the state of
Guanajuato
in Central Mexico. The full name of this town is Dolores Hidalgo, Cuna de la Independencia Nacional (Cradle of the National Independence).
Understand
The importance of this town lies in the fact that this was the starting point of the fight for Mexican independence from the Spanish empire in 1810, led by priest Miguel Hidalgo y Costilla. The quiet atmosphere in this town makes it really charming and the absence of tourist crowds could make it a highlight in your trip.
phone: +52 412 182 1164

address: Plaza Principal 11, 2nd floor

Provides free sightseeing maps.
Get in
To reach Dolores Hidalgo you should be able to get a bus from
Guanajuato
,
San Miguel de Allende
or
León
all of them are around one hour away. Taking a bus from
Querétaro
is also an option. From
Mexico City
you need to take a bus to any of the before mentioned cities and then to Dolores. The bus station for which includes Primera Plus and Coordinados is on Calle Hidalgo 26, north of the Rio Dolores. The other station for is at Calle Yucatan 13e, on the corner of Calle Yucatan and Chiapas, one block north and one block west from Flecha Amarilla along Calle Tobasco/Chiapas.
Get around
The town is really small, everything is within walking distance.

See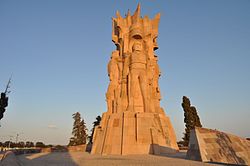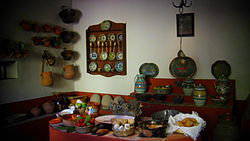 Independence Statue

Plaza PrincipalThe main square, where a statue of Hidalgo overlooks the parish church.

Parish Church of our Lady of Sorrows

phone: +52 418 182 0652

address: Plaza Principal S/N

Museo de La Independencia Antigua Cárcel

phone: +52 418 182 0193 x150

address: Zacatecas, 6

Casa de Visitas

address: Plaza Principal 25

An 18th-century mansion, now is a guest house for VIPs. Ask the guard to let you in and see inside.

Museo Casa de Hidalgo

phone: +52 418 182 0171

address: Calle Morelos 1

This was the place where priest Hidalgo lived. Shortly after the rebellion started, the Spanish arrived to Dolores and burned the original house. Most of the original furniture were lost but a they did a very well done replica of this national hero home. Interesting is a plaque in one of the outside walls dedicated by Emperor Maximilian of Habsburg during the French occupation.
Do
Every night there's a re-creation of the famous cry for freedom at the main square with light and sound effects.

Buy
Dolores is famous for its Talavera Ceramic (pottery) items such as tiles, vases, pots, etc. Experts say is one of the best places to buy this kind of goods.
Next to the parish, there are several stalls selling small cacti, local liquors such as honey liquor or cacti liquor, and other local crafts. Buying from them will make their day.

Eat
Dolores is famous for its exotic ice cream flavors. Try them at the main square, there are two vendors, offering strange flavors such as Mole (chili and chocolate sauce), Beer, Strawberries and Cream, Avocado, etc. Each ice cream or "Nieve" in Spanish is around M$15.
Café La Taberna

phone: +52 418 182 0055

address: Plaza Principal 18, 2nd floor

El Caporal Plaza Principal 5

Carnitas Vicente

phone: +52 418 182 7017

address: Avenida Norte 65

Inexpensive and casual.

El Carruaje Restaurante

phone: +52 418 181 0648

address: Guanajuato 5

Has live music in the evening.

Restaurant Bar Plaza

phone: +52 418 182 0259

address: Plaza Principal 17B
Drink
In Dolores there are clubs and bars that you can go to just ask taxi cab drivers and they would take you anywhere. The most famous are
Gruperrona
and
Cabina de Cesar
.
Sleep
phone: +52 418 182 2560

address: San Luis Potosí 9

phone: +52 418 182 2683

address: Calle Hidalgo 15

Haciendas Las TrancasCenturies-old ex-hacienda. Ten suites with beautiful views of the Sierra Madres, each with Internet, satellite TV, propane fireplace, terrace, private bath. Additional beds and linens can sleep up to 30 people total. Wi-Fi throughout the porches and gardens. The hacienda is huge (approximately 40 rooms). Includes all meals, use of horses, heated pool/Jacuzzi, 17 piece Cybex Gym. Spa services available.
Stay safe
Dolores is a safe place by Mexican standards. Overall, people are nice and willing to help if you need directions.