Donegal Town
Donegal Town
is a town in
County Donegal
,
Ireland
. It has recently been bypassed by the N15 road linking
Sligo
to
Letterkenny
. It is situated on
Donegal Bay
and is at the base of the
Bluestack Mountains
, making it a good base for touring south County Donegal. Donegal Town is charming and picturesque, with a small harbour where the
Eske River
enters Donegal Bay and a pleasant town centre, known as the Diamond.
The Diamond
is a spacious, open pedestrian area surrounded by hotels, shops, pubs, restaurants and coffee houses. It is the fifth largest town in the county.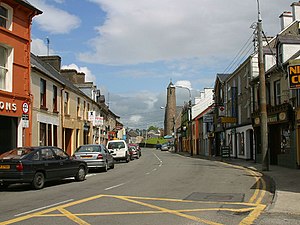 Get in
Bus Éireann's
buses stop at the town center, "The Diamond", outside the Abbey Hotel. They provide direct bus service to
Dublin
,
Derry
,
Sligo
,
Galway
, and connecting service to numerous locations in the country and Northern Ireland. The nearest train station is Sligo which has trains to and from Dublin. There are two regional airports, the closest is Sligo Airport,
Donegal Airport
in the North-West of the county is further away. There is also an airport at
Derry
(Londonderry) which is approx 1 hour drive from Donegal Town.
Get around
Donegal Town is small enough to walk almost everywhere.
Doherty's on Main Street used to rent bicycles and may still do. The "Bike Shop" on Waterloo Place also offers bike hire.
If you need to go further afield, you will need to either use Bus Éireann's buses, use a taxi, use a bike, hitch a lift or hire a car (the nearest car hire is at Sligo Airport), or bike. There is also a local bus service to
Killybegs
,
Glencomcille
,
Ardara
and
Glenties
.
See
Visit the Tourist Office by the quay (near the side entrance to Dom's Pier One). While down there walk down to end of the quay (pier) and visit the "Old Graveyard" which is housed in the ruins of "The Old Abbey" which was a Francisian Friary where the medieval beautifully decorated bible "The Annuals of the Four Masters" was crafted. Donegal Abbey was built in 1474 in this beautiful location at the waters edge of Donegal harbour. The ruins that have survived the centuries are a popular tourist attraction and provide a Gothic backdrop to many a visitor's photographs.
The center of town is dominated by the "Diamond", with "The Monument" in the center. "The Monument" is dedicated to the four authors of "The Annuals of the Four Masters".This interesting obelisk is often the center-point of a few skateboarders. Near the Diamond is the "Old Castle". Donegal Castle is the 15th century seat of the O'Donnell chieftains, and was recently and magnificently restored. It is open to public viewing from March to October and its great hall hosts recitals and other cultural events on winter evenings.
A pleasant walk near the center of town, is the "Bank Walk" (approx 2 miles/3km). To find it, walk down Bridge Street (follow the signs to Mountcharles/Killybegs). After Dunnions Pub, you will cross a bridge and take an immediate left and will see a tree-lined path in front of you. The end of the walk has a bench that is a scenic place to enjoy the view and relax for a few minutes. To return, either retrace your steps back to town or walk back half-way and take the side road that connects to Main Killybegs road.

Do
There is a "Waterbus" from the harbor that gives 1 hour tours on the bay, €10. The Captain, Billy Bustard, provides a great narration for the duration of the trip detailing the history of many of the sites.
Lough Eske is one of Ireland's loveliest lakes. Lying beneath the Blue Stacks, it gives rise to the Eske River, which enters the bay at Donegal harbour. The roads that encircle it are safe to walk, cycle or drive and provide striking views of the lake as it reflects the changing moods of the mountains and sky. Angling for salmon, sea trout and brown trout is available in both Lake and River.
Some of the best angling in the country is available within the locality. Access to the Eske, Eany, Drowes and Finn systems for substantial runs of salmon and sea trout is readily available. Sea angling for numerous species of sought after fish including cod, bluefin, tuna, bass, pollock and plaice is easily accessible from shore in addition to licensed angling boats from
Killybegs
, Teelin and Creevy.
There are two equestrian centres in the area, providing both indoor and outdoor arenas, cross country rides, trekking, pony rides and tuition there. Also, the surrounding countryside and beaches are aptly suited to horse riding.
Murvagh Golf Club is an 18 hole championship links course, situated along the shores of Donegal Bay, just 6 miles outside of Donegal town. Membership costs approximately 350 annually.
Other courses are within easy travelling distance including,
Bundoran
and
Ballybofey
/Stranorlar clubs.
Buy
Money
The town is serviced by four banks, with ATM machines available.
AIB Bank +353 74 972-1016
Bank of Ireland +353 74 972-1079
Ulster Bank +353 74 972-1064
Permanent TSB +353 74 972-1946
Shopping
Donegal Town has superb shopping facilities. There are all types of shops but especially notable are the clothing outlets, with a strong tradition in this trade from the days of hand weaving. The town is home to Magee of Donegal, which offers a large selection of finely tailored clothing.
The town is an important and vibrant retail centre, serving as a catchment of almost five times its population. Two of the major Irish stores are present in the town, namely, Super Valu, in the Donegal Shopping Centre and LIDL. There is a craft village 200 meters out of the town, that includes a wonderful coffee shop. There is a good bookstore, with local publications, located on The Diamond. Donegal's
Hanna's Hats
are world famous and available in the shops here.
There is also the
Mill Court Mews
,
The Diamond Centre
and the
Castle Centre
, all of which accommodate many services and retail outlets.There are many art and crafts shops, which stock indigenous designs from Donegal. The town also has numerous food and hardware stores, clothing shops, health food shop, and a sports shop.
Eat
There are a number of excellent restaurants and pubs within walking distance in town.
Toni's Bistro
which serves the best coffee in town,
The Blueberry
,
The Abbey Hotel
,
The Central Hotel
,
Dom's Pier One
(which has the best views of Donegal Bay), the coffee shop in
Magee's Store
, and "
Chandpur Indian Restaurant/Take-Away
" has great food and a lovely atmosphere. "
La Bella Donna
" is an Italian restaurant on Bridge St,
The Harbor Restaurant
& a Chinese Restaurant both on Quay Street.
phone: +353 74 972-2880

address: The Mullins

A beautiful 4 star hotel just a couple of minutes walk from the town centre with a choice of a casual dinning Cafe Bar or the fine dinning Granary Restaurant

The Olde Castle Bar & Red Hughs Restaurant

phone: +353 74 972-1262

address: Castle Street

The tastiest seafood & steaks available all day

The Krusty Kitchen

phone: +353 74 972-2610

address: Main St Carpark

daytime family restaurant in the heart of donegal!
Take-Away Foods
There are several other takeaways which provide reasonably priced food and all of which are close to the centre of town. For a late night snack or cheaper fare these are open late at the weekends, one on Bridge Street, and another on Quay Street near the Garda (Police) Station. But if you want the best fish'n'chips in town go to "Duffy's" on Upper Main Street, it's closes at 11:30 or 00:00 (take-away only).
Chandpur Indian Restaurant/Take-Away
AbraKebabra
Donegal's Famous Chipper
Four Lanterns
Shamrock Chinese Take-Away
Other Restaurants
If you're looking for fancier fare,
Harvey's Point
by Lough Eske provides a good food & service, with great views of the lake. A recent disputed addition to their group of buildings has somewhat reduced the charm of Harvey's. Further afield is
Coxtown Manor
, between
Laghey
&
Ballintra
villages, which no longer does food but you can still stay in an authentic old Irish Manor. All the food is organic & as locally sourced as possible.
Castle Murray
guesthouse on
Saint John's Point
, between Donegal Town &
Killybegs
, has great food with lovely views. It is in a new modern building, but the food, views, & friendly staff make this a place to savor dinner.
Drink
There are seventeen licensed premises in the town, which cater for all. Traditional music is provided almost every night during the Summer months, with live entertainment at weekends. Cabaret and concerts are held regularly. Other pubs have regular entertainment schedules, including pub quizzes, sporting events and karaoke. There are also two night clubs in the town, with regular discos.
The Reel InnHas traditional Irish Music 7 nights a week - really! The owners play and sing themselves and visiting musicians are welcome to join in. A real "session" house!

The ForgeAn old bar recently remodeled is small, cosy, & friendly.

The Castle BarA traditional bar with a good atmosphere and grand Guinness. It serves Irish Stew, Venison pie and Seafood platters all day.

McCaffery'sA cute old bar, on a cold damp day or night sit at the fire and reach over to the bar for a pint. It is often claimed they have the best Guinness in town, due to the short length of the pipe connecting the keg to the tap.

DunnionsThe folk who ran the Scotsman's have moved to Dunnions and have live music here most nights. Also, a great pint of Guinness and often a load of craic.

The BluestackHas a pool-table in the back room.

The Abbey BarLive music at weekends and during week when busy.

The Coach HouseCellar bar downstairs for live music.
Nightclubs
The
Abbey Hotel
has a disco at weekends that goes on till after 02:00. It is often very, very busy, and attracts bus-loads of revellers from miles around. Be careful of the drunken crowds late in the night, and on the
Diamond
afterwards.
Sleep
Hotels
Guesthouses and 'Bed and Breakfast'
Donegal Town has over 30 'Bed and Breakfast' guesthouses, the details of which can be obtained from the
Donegal Town Tourist Office
at +353 74 9721148.
phone: +353 74 9722288

address: Drumrooske

Arranmore Guest House

phone: +353 74 9721242

phone: +353 74 972-1187

address: Main St
* Guesthouse
phone: +353 74 972-5222
address: Letterkenny Rd
Drumholm House B&B

phone: +353 74 972-3126

St.Martins Guest House

address: Ballyweel

phone: +353 74 972-1773

Detached cottages that sleep 5, available for weekly rental. Prices vary by month.
Hostels
There are two hostels near Donegal Town.
Donegal Town Independent Hostel

phone: +353 74 972-2805

address: Doonan

This hostel is less than 1km from the center of town. It is on the Killybegs road on the right hand side shortly after the roundabout (traffic-circle).

phone: +353 74 973-5564

address: Drimarone

The Blue Stack Hostel is approx 5km from town, it's a pleasant but hilly walk.
Go next
St. John's Point, at 10km away from the town, is one of Ireland's longest headlands. Its grey limestone slabs are home to a multitude of plants, including Marsh Orchids. There is a safe and well-sheltered beach, which is an ideal picnicking area. Sea angling for numerous species of saltwater fish is available from various points on this headland.
Murvagh beach, which is in close proximity to Donegal Town (10 minutes drive), is a long sandy beach surrounded by scenic landscape. The nearby forest provides facilities for picnicking, games (etc.).
Rossnowlagh is a very popular blue flag beach and is located 15 minutes from the town. The beach is very popular with swimmers and surfers and those keen to participate in water sports. A safe clean strand of some 5 miles is available for swimming, surfing, angling, recreation and walking. On the closest Saturday that falls before the 12th July, the seaside resort plays host to a very popular 12th July parade for brethren from the Republic of Ireland. Several thousand Orangemen from both sides of the border flock to the place for a real family day out.
The Wild Atlantic Way passes through Donegal Town, offering scenic views of Ireland's western coast.