Door County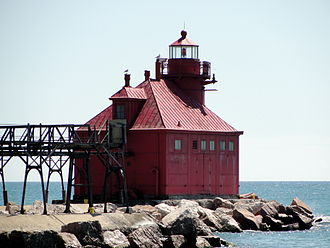 Door County
is a scenic peninsula in the state of
Wisconsin
on a peninsula in Lake Michigan.
Cities
A small dry village on the Bay.
County seat
Other destinations
Kangaroo Lake - Located almost in the center of the peninsula, between the two shores, close to Baileys Harbor.
Understand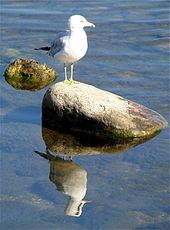 Considered the Cape Cod of the Midwest, Door County is situated on a peninsula on Lake Michigan and is a very popular destination for vacations. The peninsula offers a unique mix of leisure, recreation, and natural beauty. The culture has a rich history of the arts, with more than 80 cultural establishments within the county, including galleries, museums, and theatres. Many offer courses to enjoy while vacationing there. For the nature lovers, Door County offers five state parks, over 300 miles of shoreline, and more than a dozen conservation areas. The ten lighthouses on the peninsula are popular attractions to history and nautical buffs.
address: 1015 Green Bay Rd, Sturgeon Bay

Door County's visitor information centers offer maps, brochures and other information for tourists. The Visitor Center Lobby is open 24 Hours a day, 7 Days a week. The Visitor Center is staffed weekdays from 8:30 to 5:00 and week-ends from 10:00 to 4:00. Winter office hours: M-F 8:30 to 4:30.
Get in
Austin Straubel International Airport (GRB) in Green Bay.
American Eagle
Delta Air Lines
Frontier Airlines
United Express
Cherryland Airport, SUE.
Washington Island Landing Strip, 2P2.
Gibraltar Airport (Landing Strip), 3D2, Ephraim.
Get around

Car is probably the only real practical way of getting around, but biking is great in the state parks and on Washington Island

See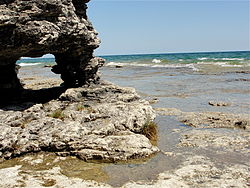 Peninsula State Park The state's third largest state park, Peninsula, like Door County, is itself on a small peninsula jutting into Green Bay. It offers much, including numerous campgrounds, an observation tower, beaches, steep bluffs, an amphitheater, and a golf course. The observation tower has knockout park views. Main entrance is through Fish Creek
Do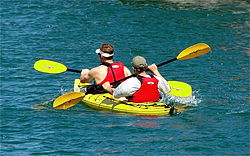 Washington Island is a must-do adventure! Get on the ferry at Northport Pier at the tip of the Door County Peninsula. It's $10 per person, and $24 for a car round trip. It is not necessary to take a car; once on the island, walk just a short distance to Annie's Rentals to rent a moped (get there early before they sell out). They're $90/day, and well worth the splurge! Very easy to ride, even for someone who's never driven a motorcycle - if you can ride a bike, you can ride these. Spending the whole day riding around the island is a very romantic and fun adventure.
Kayaking
Kayak Door County. Seeing Cave Point with a kayak is a real adventure!
Door County Kayak Tours
+1 920 868-1400 at 8442 Hwy 42 Fish Creek, WI 54212 to go on a Tour of Caves, Lighthouses, and Shipwrecks.
Kayak the Nature Conservancy owned Mink River Estuary in Rowley's Bay.
Gravity Trails
+1 920 854-9292
Cave Point Paddle and Pedal
explores Cave Point County Park with guided eco-tours using zodiacs, kayaks and paddle boards.
Biking
Cave Point Paddle and Pedal offer
surrey bike rentals
Parasailing
Stiletto Sailing
Music
Fred and Fuzzy's in Sister Bay on Tuesday nights hosts "The Nicks"
Nick Steingart Project
...Don't miss it, great dancing with the sunset.
Eat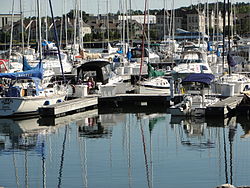 address: Sister Bay, Wisconsin

A Swedish restaurant and a connected gift shop. Tempting are the Swedish pancakes served with lingonberries, waffles piled high with strawberries and whipped cream, Swedish meatballs and Swedish fruit soup. As an added attraction, the restaurant is housed in a building with a Scandinavian-style sod roof. Goats are on the roof from mid morning to late afternoon every day, "cutting the grass" and provide great photo opportunities.

Wilson's DinerA Door County tradition for over a century. A 50s style restaurant and soda fountain.

Shipwrecked BrewpubDoor County's only microbrewery. It also had a restaurant and inn. (It burned down in 2017, with plans to reopen - but possibly not until Summer '19).

Door County ConfectioneryAnother Door County Favorite. Sample some fudge, or purchase from a variety of candies. Several locations, but the original is in Ephraim.
Drink
address: Sister Bay

Coffee shop and cafe with homemade bakery and awesome cookies! Organic coffee and teas and wi-fi. It's definitely a place to catch up with the world while vacationing or watch it drift by sitting outside with a book.

address: 115 Navarino St, Algoma, WI 54201

Take a tour of the winery. Tours and tastings are offered May through October. The winery store is open year-round, seven days a week.
Sleep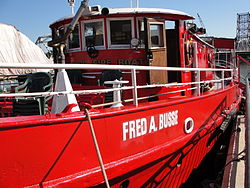 Camping
Door County offers campers a choice of 5 state parks.
Rock Island State Park
Newport State Park
Potawatomi State Park
Whitefish Bay Dunes State Park
Ahnapee State Trail
Stay safe
Bike off of the Highway on the inner roads of the peninsula.

Go next
The city of Green Bay has numerous sightseeing options, like the National Railway Museum and Green Bay Packers Hall of Fame