Dortmund
Dortmund
(Low German: Düörpm; Latin: Tremonia) is a city with a population of about 600,000 in the North Rhine-Westphalia region in Germany. It is in the middle part of the state and is considered to be the administrative, commercial and cultural centre of the Ruhr area with some 5.21 million inhabitants (2017). The city is famous for its beer, football, events and for shopping.
Understand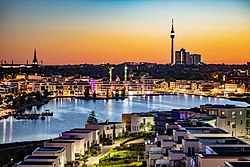 The city pops up first when people think of the
Ruhr
valley, and that's no surprise. It is the largest Ruhr city, the third largest by population after
Cologne
and
Düsseldorf
, and the geographical center of the
North Rhine-Westphalia
state. Worldwide, the city is foremost know for
beer
(pale export/lager beer called Dortmunder) and the famous sports club
Ballspielverein Borussia 09
, Borussia Dortmund or BVB for short. But therein another, altogether gentler, side to this former industrial powerhouse. Modern Dortmund is vibrant and cultural, well-known for excellent shopping, a range of fascinating museums and theaters, one of Germany's most surprising startup scenes (not quite on the same level as Berlin, but ahead of the Rhine-Ruhr area and even Munich), and with half the city given over to parks and gardens, enough green areas to sooth the sense.
And yes, the city is no classy beauty, and rough at first glance, though pretty honest, adorable and cordial at the second.
History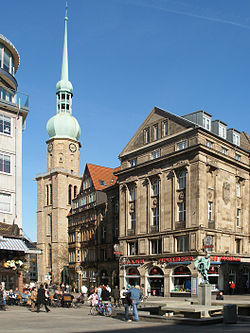 Founded around the year 882, Dortmund became an Imperial Free City. Throughout the 13th and 14th centuries, it was the "chief city" of the Rhine, Westphalia, and of the Netherlandish Circle of the
Hanseatic League
. After the
Thirty Years' War
, the city was destroyed, and decreased in significance until the onset of industrialization; then, it became one of Germany's most important coal, steel and beer centres. Dortmund acquired the nickname
Stahlstadt
(Steel City) in the 19th century, when it became the world center of steel production. Consequently, the city was one of the most heavily bombed cities in Germany during
World War II
. The devastating bombing raids of 12 March 1945, with more than 1,110 aircraft, destroyed 98% of buildings in the inner city center, a record to a single target in this war. Much of what you see in the city center was built in the last 50 years. The region has adapted since the collapse of its steel and coal industries, and shifted to high technology, biomedical technology, micro systems technology and also services.
In November 2017, according to a study by data of German National Statistics Office, the National Employment Agency, Mercer, Handelsblatt, Numbeo and Immowelt, Dortmund was ranked as the seventh most livable city in Germany for expats. In September 2017,
The New York Times
praised the city of Dortmund, which has adapted since the collapse of its century long steel and coal industries and shifted to high technology biomedical technology, micro systems technology and services, as the hidden star of structural change with a good quality of life for employers. According to the 2017 Global Least & Most Stressful Cities Ranking, Dortmund is one of the least stressful cities in the world. It's ranked 27th out of 150 between
Copenhagen
and
Vancouver
and highly ranked in the category Traffic & Public Transport, Gender equality and debt per capital.
When to visit
The best times for Dortmund are late spring to early autumn, its peak season for tourist. The summers tend to be sunny and warm around 25°C (77°F), during the November and December 5°C you can find several Christmas markets in the city, in combination with the festive mood, its a nice time to visit.
Tourist office
Get in
By plane
Dortmund airportHome of several low-cost airlines (easyJet, Wizzair), it serves mainly national and European travellers, with a particularly heavy focus on Eastern Europe. Unusually for a German airport, there is no direct train or tram connection to the airport, but there are shuttle buses between the airport and Dortmund Central Station or Holzwickede Station.
From and to Central Station: A non-stop shuttle-bus can be found opposite the main railway station. The journey lasts 25 - 30 min and costs €6.5 per passenger (6-14 children €2; younger children free). This bus service is not covered by a travelcard.
Via Aplerbeck The 440 bus travels past Aplerbeck where passengers can change to the Stadtbahn U47 which will go to the Hbf via the major Stadtbahn hub, Stadtgarten. The journey is approximately 45 min. Tickets cost €2.50 or a travelcard can be used. This service runs more frequently than the shuttle bus.
From Holzwickede Station: A bus service (€3/passenger), runs regularly about every 15 minutes between 05:00 and 23:00. The trip to the terminal building takes approx. 5 minutes.
By taxi: The trip costs around €25 to the City Centre. Drivers operate on the meter; if they don't, get a different taxi!
Duesseldorf Airport
(
DUS
) can also be used and may be a better option, especially for passengers who prefer major carriers. It is a 45-60 minute drive away from Dortmund. Direct train services also run between Dortmund Central Station and Düsseldorf Airport operated by Deutsche Bahn. Düsseldorf Airport serves a variety of long haul destinations in North America and Asia, as well as short haul services throughout Europe.

By train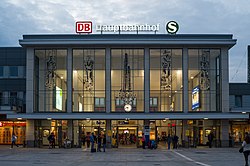 Dortmund central station

address: Königswall 15, 44137

This is a major stop for Deutsche Bahn (German state railway) and has over 600 departing trains on a typical weekday. There are different types of trains such as S-Bahn, Regionalbahn, and Regionalexpress. The station is a terminus for some Thalys trains (usually 3 per day).

Dortmund Hörde Bahnhof

address: Hörder Bahnhofstraße, 44263

This is the second biggest stop in Dortmund and it is classified by Deutsche Bahn as a category 4 station. Trains run hourly, except for the RB 59 (Hellweg-Bahn) service, which runs every 30 minutes on weekdays. There are additional services on weekdays during the peak hour
All tickets will have to be validated before departure. For the trains like Regionalbahn or Regionalexpress there's an orange machine before you go up the stairs to the platform, where you have to stamp your ticket. The Stadtbahn Dortmund (DSW21) tickets for the local Stadtbahn (light rail) and Straßenbahn (tram) service must be validated on the actual trains although you will find stamp boxes at the entrance to the platform as well.
Failure to stamp the ticket in the appropriate machines ("entwerten") will result in either a €40 on-the-spot fine or being brought to a police station by the security where the police will request your I.D. such as your passport for later prosecution. Not being German, not understanding the language or complicated system, or the fact that you have purchased a ticket will not be accepted as excuses: if it is not stamped, it is not valid, and travelling with a non-stamped ticket is considered an offence.


By bus
Dortmund central bus station

address: Steinstraße 54, 44147

This is a major stop for long distance busses.
The bus station "ZOB" is a popular bus station in Dortmund right next to the train station served by Isilines, Eurolines, ALSA, FlixBus, Eurolines Germany, Buscenter, Agat, Eurolines Madeltrans, Est Lorek, Ecolines, Becker Reisen, Eurolines Poland and Polluzha Tours.

By car
Dortmund can be reached using the motorway (Autobahn) A1, A2, A40, A42, A44 and A45, as well as the (Bundesstraßen) B1, B54 and B236.
Those who want to drive in the city center should be aware that it is an "environment zone" similar to that found in many other large German cities. Cars are required to have a sticker declaring the car's pollution category.

Get around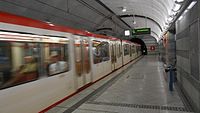 Getting around in Dortmund is easy. The centre of Dortmund is not that big for a city of a half million. It is entirely feasible to walk from one end of the centre.
By public transport
Dortmund is part of the VRR (Verkehrsverbund Rhein-Ruhr) a cooperation of the regional transportation companies, giving easy access to public transportation in the whole Ruhr District in S-Bahn, regional trains, subways and buses.
Dortmund's central station (Dortmund Hauptbahnhof) is the junction of the national railroad system with the city subway system and the regional train system. From here you can easily get transport into the center or any suburb via subway and bus or to the neighbour cities as Bochum, Essen, Düsseldorf, Münster, Köln (Cologne), Wuppertal and the rest of Northrhine-Westphalia and Germany by different regional or national train-lines.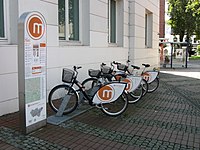 By bicycle
Dortmund has, like
Cologne
,
Berlin
and
Frankfurt
, a
Call A Bike
- System called Metropolradruhr. After you register for an account on-line, it will charge your credit-card a per minute fee. You can pick up or drop off one of the silver-red bikes anywhere in the city. It is also possible to rent a bike at many places; by bike is maybe the best way to go around in the city.
By tourist bus
phone: +49 231 18999 444
address: Königswall, 10
In cooperation with the city's official tourism office Dortmund Bus Touristic operates a hop-on, hop-off bus service which covers. There 12 stops to explore the city in detail: Main Railway Station, Kreuzviertel Area, Port, DASA Exhibition, Dortmund University, Signal Iduna Park Football Stadium, Westfalen Park, Romberg Park, Phoenix Hall, Lake Phoenix, Town Hall/Peace Square, Reinoldi Church/City Centre. The Tour includes a guided commentary in multiple languages.
See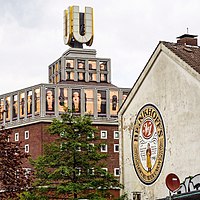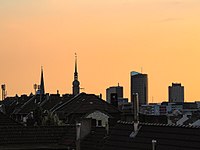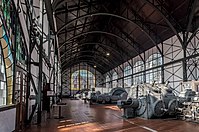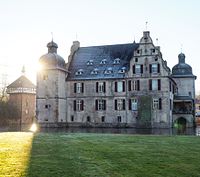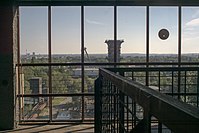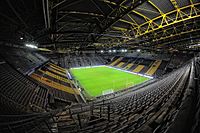 Altes StadthausThe Old Civic Hall, or Altes Stadthaus, a fine Neo-Renaissance structure built in 1899. A notable feature of the building's façade is the large eagle representing the city of Dortmund. Another nearby old building worth seeing is Berswordt Hall, the Town Hall.

phone: +49 231 5024723

The same way a one associates the city Paris with the Eiffel Tower, with London the Big Ben or Cologne with the Dom, the city of Dortmund is associated with the U-Tower. This high-rise former brewery building has been a Dortmund landmark since 1927. It housed the Dortmunder Union Brauerei, which for a short time was the most productive brewery in West Germany. That trademark "U" on the roof was added in 1968 and stands nine metres tall. In 2010, to coincide with the Ruhr becoming European Capital of Culture, the Dortmunder U was turned into a centre of culture and creativity, hosting the Ostwall Museum, exhibition rooms, a restaurant, an art association and a campus for the Dortmund University of Applied Sciences. Throughout the day the grid of panels under the "U" displays the "flying pictures" installation by the cinematic artist Adolf Winkelmann.

Ostwall MuseumDortmund's modern and contemporary art museum was founded in 1948 and moved to the Dortmunder U in 2010. When the museum first opened it displayed the Expressionist and New Objectivity works that the Nazis had deemed "degenerate art", and the museum swelled with the arrival of the Gröppel Collection in 1957. Expressionism is still the soul of the permanent exhibition and there are pieces by artists from both Die Brücke and Der Blaue Reiter, like Emil Nolde, Kandinsky, Kirchner, Franz Marc and August Macke. From later movements there are works by Alberto Giacometti, Otto Dix and Paul Klee, while the graphics collection is fabulous and has pieces by Picasso, Chagall, Joan Miró and Salvador Dalí.

Alter MarktDortmund's marketplace for almost 900 years may have a modern aspect today, but it is still the sociable centre of the city. Up to the Second World War the town hall for the Free and Hanseatic City was located on Alter Markt. In warm weather outdoor bar and cafe seating fills the plaza and turn the square into a giant beer garden, if Borussia Dortmund plays the Alter Markt completely black and yellow. There's a reminder of the square's trading history at the Bläserbrunnen fountain: the horn-player stature sculpted in 1901, and the pool underneath used to be a drinking fountain for livestock.

ReinoldikircheThe Reinoldikirche the main Churche in the city of Dortmund. The Baroque spire of St Reinold's Church rises over Willy-Brandt-Platz at the geographical centre of Dortmund. The building was raised in the 13th century after a fire claimed its predecessor, and it has a Romanesque nave and Gothic chancel. In the middle ages St Reinold's Church was Dortmund's spiritual centre, and was the main parish church up to the Reformation in the 16th century. There's a lot to see inside, like a 14th-century statue of St Reinoldus, a stool on the south side of the choir from 1462 and the magnificent retable on the high altar carved by the Flanders-born Master of Hakendover 1420. Be sure to scale the tower's stairs to the observation platform just beneath the clock.

address: on the Hellweg, opposite the Reinoldikirche

At the eastern end of Westenhellweg, this is the oldest standing church in Dortmund's Innenstadt. The Marienkirche is a blend of Romanesque and Gothic architecture. It's earliest sections were built in the 1100s while the later Gothic elements are from the 14th century. Sadly the Marienkirche was totally destroyed in the Second World War, but not before its medieval art had been removed for safe-keeping: The middle panel of the Beswordtaltar from 1380 has a Gothic painting evoking the Swoon of Mary. The Marienaltar meanwhile was composed by the Dortmund painter Conrad von Soest in 1420, and even though it was cut down in 1720 to fit a new Baroque reredos is still a masterwork of International Gothic art.

phone: +49 231 6961111

address: Grubenweg 5

If you never thought a colliery could be beautiful, wait until you see Zeche Zollern, which has stylish Art Nouveau elements from the turn of the 20th century. The Berlin Jugendstil architect Bruno Möhring designed the central machine building, fronted by a stained glass window with blue and green panels. The colliery closed down in 1969 and since 1981 has been the headquarters for the LWL Industrial Museum, which has eight locations around Wesphalia and Lippe. The exhibition at Zeche Zollern goes into the social and cultural history of the Ruhr industrial region, while the surrounding buildings have been restored and opened up: the machine hall's 100-year-old conveyers, converters and compressors are an exhilarating relic of the steam age. Now it hosts a museum of industrial history, part of the Route der Industriekultur.

phone: +49 231 9311220

address: Emscherallee 11, 44369

An awesome industrial monument in Huckarde district, this is a noteworthy stop on the Ruhr's Industrial Heritage Trail. Guided tours and audio tours are given at this hulking facility that would receive anthracite from local collieries and convert it into coke or coke-oven gas.The construction was begun in the late 1920s and most of it is still standing after being shut down in 1992. Bring a camera, as there are loads of opportunities for dramatic photos, not least in the compressor room where the epic steam-powered gas piston compressors look like they've only just been turned off for the day.

Hohensyburg and Casino

phone: +49 231 77400

address: Hohensyburgstraße 200, 44265

A popular destination in the south of Dortmund is the Ruins of the Syburg (year 1100) Vincke-Tower. They offer a beautiful view over the Ruhr Valley from the Kaiser-Wilhelm Memorial (end of 19th century). Next to the Ruins within the woods is the modern, glass-fronted casino hotel with live music, bars & restaurants. Jackets required for men!

TV Tower

phone: +49 231 5026100

address: Florianstraße 2, 44139

The entrance to Dortmund's television tower called Florian is on the north side of the Westfalenpark. It costs €2.50 to catch the lift to the observation deck, in addition to the €1.50 to enter the park. At just under 220 metres, the Florianturm is the 14th highest structure in Germany and for a brief time after it was completed in 1959 it was the tallest television tower. The elevator whizzes you to the two observation decks at 140 metres in no time at all. There's no orientation board to point out the landmarks far below, but you can use a map on your phone as a substitute. Below the lower deck is a revolving restaurant if you'd like to pause over the view for a while longer.

phone: +49 231 28862060

address: Zur Hunnenboke, 44357

Bodelschwingh, which was constructed upon oak posts, is one of the best-preserved buildings of this kind in the Ruhrgebiet and is, as a medieval moated castle from the 13th century, the biggest and most important moated castle in Dortmund. The castle, which includes a park and access yard, has been in family ownership for more than 700 years and is not open to the public. In the framework of the successful concept of "living and working" the utility buildings grouped around the courtyard have been converted into modern residential and commercial premises by the owner Baron zu Knyphausen. One can visit Schloss Bodelschwingh 'virtually' on the Internet. Interested visitors can thus take a look at the private grounds on photos and find out about the history of the castle.
Remains of city walls and fortifications
Adlerturm

phone: +49 231 5026031

address: Ostwall 51a, 44135

Medieval tower, now a children's museum with interactive exhibits about Dortmund in the Middle Ages.

Steinerner Turm

address: Rheinlanddam

The Steinturm is a protected monument and historic watchtower not far from the Westfalenhallen.
Historical attractions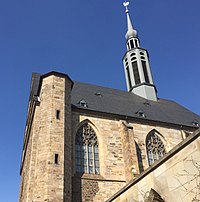 In and around the old medieval wall are some really interesting churches.
address: Schwarze-Brüder-Straße 7, 44137

It was built from 1331 as the abbey church of a Dominican monastery. Consecrated in 1458, it features a late-Gothic high altar by Derick Baegert which shows the oldest depiction of Dortmund.

St. Petri

phone: +49 231 7214173

address: Petrikirchhof 7, 44137

Heilige Dreifaltigkeit

phone: +49 231 813827

address: Flurstraße 8, 44145

Borussia Dortmund was founded here.

St. Franziskus

phone: +49 231 56221812

address: Franziskanerstraße 1, 44143 Dortmund

Beautiful small Catholic Church next to cementary.

Heilig-Kreuz-Kirche

address: Kreuzstraße 61, 44139

This church was one was the best examples for Brick Expressionism.

Liebfrauenkirche

address: Amalienstraße 21A, 44137

This old church is now a place for the respectful and usually public storage of cinerary urns (i.e., urns holding a deceased's cremated remains). Take some time for listening the sound of silence.

St. Nicolai

address: Kreuzstraße 68A, 44139

The imposing St. Nicolai Church is the first and largest Church of the new Objectivity.

Kirche der Heiligen Apostel

address: Luisenstr. 17 44137

Small Orthodox Church
Viertel - City Quarters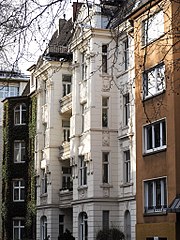 Unlike the Dortmund city centre, much of the inner districts (Viertel) around the old medieval centre escaped damage in the second world war and post war redevelopment. The best bars, pubs and restaurants are around the former ramparts of Dortmund.
Kreuzviertel – It is known for its many bars, clubs, pubs, and cafes, concentrated in the vicinity of Kreuzstraße and Vinkeplatz and create a day and nightlife atmosphere unique from the rest of the city. The city quarter is also popular by local fans and those visiting of Borussia Dortmund as a last resort for drinking a cheep beer in the numerous Pubs around the Signal Iduna Park in the South of the Kreuzviertel. All of these great places are within a short walk of Möllerbrücke Stadtbahn Station.
Kaiserviertel – around the Kaiserstreet. The Moltkestreet also known as the Cherry Blossom Street, became famous after photographers started posting pictures of blooming trees. Every spring, usually in April, the street in the Kaiserstraßen district is booming with pink blossoms and attracts tourists - it has preserved a unique, conservative, upscale feel. Stadtbahn "Ostentor"
Hafenviertel – This district has evolved tremendously in recent years and is now one of the hippest places to live, with pubs, restaurants, art galleries with favorable lease for immigrants, students, and original, working-class Harbour inhabitants, U-Bahn "Schützenstraße" or "Hafen"
Saarlandstraßenviertel – A cosy neighbourhood south of the centre - less vibrant than Kreuzviertel, but with great architecture and really cool Cafes, Pubs and Restaurants along the Saarlandstraße. Stadtbahn "Saarlandstraße
Borsigplatz and Nordmarkt – Borussia Dortmund was founded nearby, north-east of the main railway station.Tram "Borisgplatz"
Unionviertel – Stadtbahn "Unionviertel"
Parks
Rosarium

address: Westfalenpark - An der Buschmühle 3, or -26116

This rosarium has a collection of more than 3000 rose species.

phone: +49 231 50 28581

address: Mergelteichstr. 80

The Dortmund Zoo is in the south of the city center next to the Rombergpark and has an unusually large number of species from South America. The Zoo is engaged in breeding programmes for South American animals like giant anteaters, giant otters and tamanduas, a relative of the anteater. There are more giant otters at Dortmund Zoo than any other zoo in the world, and a whole building is devoted to them. Elsewhere, the three-storey Amazon building has a humid environment allowing rainforest plants to flourish, while its enclosures and glass cases contain giant spiders, primates, birds, reptiles and sloths.

Westfalenpark

phone: +49-231-50-26100

address: An der Buschmühle 3

Under the constant gaze of the Florianturm on the south side of Dortmund, the Westfalenpark is a paid-entry 70-hectare green space with a multitude of little attractions to keep you engaged a whole afternoon. The horticultural areas deserve a detour: The Deutsches Rosarium has 3,000 different rose varieties, but also stages annual events like the electronic Juicy Beats festival in summer and the Lichterfest (Festival of Lights) in winter. Another summer attraction is the chair lift, which opened in 1959 and runs on Sundays between a "Mountain" and "Valley" station 500 m apart. There's also a miniature railway, a bird enclosure with flamingos and a pond where you can hire a rowboat.

Rombergpark

address: Am Rombergpark 49B

At 65 hectares, Dortmund's botanical gardens are among the largest in the world. They are named for the Romberg family whose estate was landscaped as an English park in 1822. The park came into the city's hands in the 1920s, and thousands of perennials, flowering plants, medicinal herbs and trees have been planted. There are four greenhouses, for tropical vegetation, succulents, ferns and a mixture of camellias, lemon trees and jasmine. The older trees from the time of the Romberg estate are some of the tallest in North Rhine-Westphalia. The perennials are worth the trip alone, boxed by yew hedges and arranged according to colour. And the herb garden is just special, planted with more than 400 plant species, producing intoxicating scents in spring and summer.

Fredenbaumpark

phone: +49 231 5024148

address: Lindenhorster Str. 6, 44147

is a wide park (62 hectars) in the North, which is rather important as recreation area, and on which there take place events, flea markets and things like this.

Westpark

address: Rittershausstraße, 44137

The Westpark is the green lung of the Union and Keuzviertel and in the months between May and October a centre of the student urban lifestyle. Latino dances Friday during the summer season are worth recommending

Ostpark

address: Rittershausstraße, 44137

The Ostpark is the green lung of the Kaiserviertel and active cemetery. The interesting thing is the atmosphere between dignified burial, joggers many people that came to Ostpark to play football, take a sunbathing and simply enjoy the day.
Museums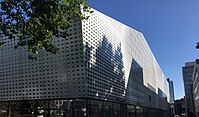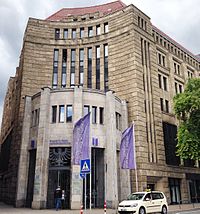 phone: +49 231 22221954

address: Platz der Deutschen Einheit 1, 44137

When it was decided that the profits from Germany's 2006 World Cup would be reinvested in a football museum, North Rhine-Westphalia was the obvious choice for the location. There's a high concentration of well-supported football teams in this part of the country, but Dortmund as the football capital was picked for host city. The museum opened in 2015 and is about domestic German football and the "Mannschaft", the German national team. The World Cup, European Championship and all others important trophies are on show, along with all kinds of memorabilia, interactive exhibits and quizzes. The museum finishes with a small indoor pitch for a friendly kick around and the Boulevard of Stars (footprints of famous player) next to the Königswall.

Museum of Art and Cultural History

phone: +49 231 50-2 55 22

address: Hansastraße 3, 44137

The museum building is an old art deco-style municipal savings bank. Apparently the oldest museum of its kind in the Ruhr district and tells the story of everyday life in Dortmund and the rest of Germany for the past 300 years.

Museum Ostwall im Dortmunder U

phone: +49 231-5023247

address: Leonie-Reygers-Terrasse 2

This museum hosts art objects from the 20th and 21st centuries.

Museum of Natural History

phone: +49 231-5024856

address: Münsterstraße 271

German Cookery Book Museum

address: An der Buschmühle

Steinwache' Memorial and Museum

phone: +49 2 31 50-2 50 02

address: Steinstr. 50

The former police station and Gestapo headquarters just north of the central railway station. Hosts the permanent exhibition 'Resistance and Persecution in Dortmund 1933-45'.

address: Friedrich-Henkel-Weg 1-25

In spite of the somewhat bureaucratic full name (translating to "German exhibition of health and safety protection at the workplace"), the DASA is a very interesting museum dealing with many branches of work with a lot of hands-on activities.

address: Steigerstraße 16, 44137

You cannot come to Dortmund without tasting at least a sip of their beer. Prepare to get thirsty by taking a tour. that consist of learning about history of brewed beer in Dortmund and follow the production of beer itself.
Do
Watch football ie soccer at

phone: +49 231 90 20 6600

address: Strobelallee 50

They play in Bundesliga, the top tier of German football. Their home ground is Signal Iduna Park (Westfalenstadion), capacity 81,359. It's 2 km south of city centre with its own S-bahn station. Stadium tours are available.

address: Lindberghstraße 51, 44369

The Deusenberg (120 m ü.NN) is an old slag heap in the north of Downtown - Huckarde District. Its located right next to the coking plant Hansa and 5 minutes from the port. It is a perfect place for those who want a small hike or bike ride. The a 360-degree view of the surroundings is breathtaking and you can see all attractions.

Salsa Open Airs at Dortmund Westpark

address: Rittershausstraße, 44137

In the Westpark there's a remarkable community that gathers every Friday to partake in them. Some weeks up to 100 people fill the Westpark's temporary dance-floor with passion and contagious joy. From June until the end of September everyone is welcome, regardless of whether you're a professional or a newbie.

phone: +49 231 7002590

address: Hoher Wall 36, 44137

Exceptional location but an absolute must for every beer lover. Old and converted bus stop with charm of "the good old days". The Bergmann brewery is located at Phoenix-West next to the Skywalk.

address: Hörder Burgstraße 11, 44263

Lake Phoenix is one of the largest urban development projects in Germany. On the area of the former blast furnace and steel plant site of ThyssenKrupp newly formed and developed a new recreational area. On a terrain nearly the size of 300 football pitches, modern living, working, restaurants and bars and lifestyle spaces are now being created. The new lake invites for walking, jogging, cycling or skating. The 3.2 km long pedestrian and bicycle paths invite visitors to relax, as well as to sporting activities. One of the highlights is a man-made lake with a surface area of 24 hectares, which is larger than Hamburg's Inner Alster.
Culture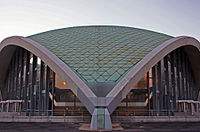 phone: +49 231 5027222

address: Theaterkarree 1-3, 44143

The theater of Dortmund is one of the largest in the entire country. Because of the constantly updated array of concerts, music theatre, drama, ballet and children's and young peoples theatre performances, there is plenty of choice for all ages.

phone: +49 231 226 960

address: Brückstraße, 21, 44143

Dortmund Concert Hall is a well-designed building and a feast for the eyes. It opened its doors in 2002 and ever since world famous artists have been queuing up to give their performances. Here you can listen to all kinds of music, from classical to modern and even jazz.

phone: +49 231 142525

address: Humboldtstraße 45, 44137

Small theater with nice shows
Events
The Christmas Market in Dortmund is one of the most visited Christmas markets in Germany with more than 3½ million visitors of 300 stalls around a gigantic Christmas tree creation that stands 45 m tall. Made up of 1,700 fir trees, its 13,000 lights bathe the Christmas proceedings in a seasonal glow. Dortmund Visitor Centre, Max-von-der-Grün-Platz 5-6.
The Mayday is one of the most highly respected techno parties in the world. Pioneers of underground techno and house music are joined by some big names from across the spectrum, taking the party past a quarter-century of spectacular parties. Having marked its 25th birthday in 2016, Mayday continues to lead the way as its old-school rave atmosphere has expanded to take in a whole new generation of creativity and expression.

Juicy Beats FestivalA summer alternative outdoor festival in Westfalenpark with a total of 14 stages and 50,000 visitors. Public transportation to the site is free with your ticket.

The Salsa Open Airs at Dortmund Westpark in the Westpark is a remarkable community that gathers every Friday in them. Some weeks up to 100 people fill the Westpark's temporary dance-floor with passion and contagious joy. From June until the end of September everyone is welcome, regardless of whether you're a professional or a newbie.
Buy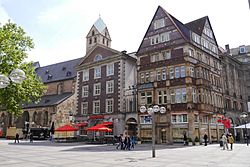 Dortmund is known nationwide as a shopping destination and the shopping center of the entire region. Particular hits with visitors from the nearer surroundings like
Sauerland
,
Nederland
,
Luxembourg
and
Belgium
.
The
Westenhellweg
is a popular shopping destination, and with nearly 13,000 visitors per hour, it is Germany's most frequented shopping street. Together with the
Ostenhellweg
this old trading route runs through Dortmund city centre like a pulsing vein. When Dortmund was still a Hanseatic city, wagons rolled along here laden with salt and silk, because back in the Middle Ages, the only free imperial city in Westphalia was already regarded as an important centre of trade. Today some of the most reputed shops, department stores, and labels have their stores here. It is a pedestrian-only area and is bordered by the Reinoldikirche in the east and U-Tower in the west. The Westenhellweg has one of the highest rents for retail and office space in North Rhine-Westphalia. 85 percent of the shops are retail chains such as H&M, Saturn, Esprit, Zara or NewYorker.
Thier-Galerie
shopping center has 100 stores and chains like Armani, Adidas, Diesel and Hollister.
Three more shopping malls occupy the Thier-Galerie, Galeria Kaufhof and Karstadt as well as large fashion retail clothing stores from Peek & Cloppenburg and C&A. During the month before Christmas, the extended pedestrian-only zone is host to Dortmund Christmas Market, one of the largest and oldest Christmas markets in Germany.
In close proximity to the Dortmund concert hall lies the
Brückstraßenviertel
, a quarter hub especially for young people. The "Rue de Pommes Frites", which is what the Dortmund citizens have called the Brückstraße for a long time, has turned into a modern, young shopping promenade.
For a long time the
Kampstraße
had a shadowy existence as parallel street to the Westenhellweg and Ostenhellweg, but it has now become a grand boulevard which contains specialist stores. Right next to the Kampstraße is the Kleppingstraße, an expensive shopping street with prestigious shops.
Kleppingstraße
is a shopping street with high concentration of gastronomy and expensive, prestigious shops like van Laack, Lindner Fashion, Marc Cain. It is located between the Ostenhellweg and Neutor to Wallring.
Shopping centres
phone: +49 231 9632550

address: Westenhellweg 102 - 105

An upscale'ish shopping centre with a pretence of trend and design.It has it own parking. There is a terasse on top with a café. Otherwise you'll find around 170 different shops.

phone: +49 231 9632550

address: Wulfshofstraße 6-8

Old shopping park, no structure and no unity. Shopes like IKEA, Berlet, Decathlon, ToysRus and Media Markt.

phone: +49 234 5792792

address: Am Einkaufszentrum, 44791 Bochum

A large modern shopping mall in the east of Dortmund between the boundary of the city of Bochum. Many of the shops there can also be found in the downtown Thier-Galerie. The mall is both inside and outside.
Independent fashion
Those who like trendy fashion should visit the Kreuzviertel, especially Schillingstraße and Liebigstraße. Recently the quarter has turned from a residential to a creative district, offering stores like the trendy ones you will find in Berlin. Also the Kaiserviertel (Kaiserstraße) demonstrate that there is a fashion scene beside international fashion houses.
phone: +49 231 9565943

address: Schillingstraße 27A, 44139

phone: +49 231 95091548

address: Liebigstraße 46, 44139
Eat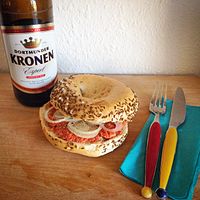 Traditional meals in the region are Pfefferpotthast (kind of Goulash with a lot of beef), Balkenbrij, Heaven and Earth (Himmel und Äd; black pudding with stewed apples mixed with mashed potatoes), Currywurst and Pumpernickel with Griebenschmalz (German lard with crispy pieces of pork skin).In summer the people like to eat a Dortmunder Salzkuchen (Bread buns with caraway fruits, salt, meat and onions). Also a special meal in the winter is Reibekuchen (fried potato pancake served with apple sauce).
A wide range of different kind of fast food can be found on 'Brückstraße', lot of vegetarian food, döner kebab, burgers, pizza and so on. On the weekends your best bet for a late night snack.
Budget
Food Brother

phone: +49 231 95095526

address: Gerberstraße 1, 44137

Excellent burgers.

Kartoffel Lord

address: Gerberstraße 1,44137

Offers tasty soy-burgers, wraps with soy-"meat" and filled potatoes. Many vegan options as well. The sign at the entrance says "vegetarian cuisine" but the menu contains some dishes with seafood (example: "Krabben" means crabs or prawns).

Sabe Mente

phone: +49 231 18579691

address: Freistuhl 3, 44137

Mexican restaurant with a decent chose of dishes and drinks.

Sausalitos

phone: +49 231 1087147

address: Kleppingstraße 20, 44135

Good choice for youngsters who love burger and cocktails.
Mid-range
La Paz

phone: +49 231 1385427

address: Hansastraße 30, 44137

Small tapas restaurant, expensive but delicious choices.

Kyoto

phone: +49 231 5898400

address: Rosental 9, 44135

Sushi bar, everything is fresh, the sushi tastes really good, the staff is very kindly and the prices are okay.

Il Golfo Cantinetta

phone: +49 231 18579691

address: Rosental 10, 44135

One of the best real Italian restaurants in Dortmund on the price/quality ratio. Always high quality and large (to Dortmund) selection of dishes - always fresh meat and fish. Fast and quality!

phone: +49 231 572217

address: Markt 3, 44137

phone: +49 231 143644

address: Hoher Wall 38, 44137

Traditional old-fashioned place next to the U-Tower.

phone: +49 231 525815

address: Markt 6, 44137

Traditional old-fashioned place, with German food. Great beer!

phone: +49 231 5330568

address: Markt 13, 44137

Traditional old-fashioned place, with German food. Great beer!

Namu

phone: +49 231 554816

address: Olpe 14, 44135

Korean restaurant. Good taste and very authentic. Price is reasonable but not cheap.

L'Osteria

phone: +49 231 58445524

address: Friedenspl. 5, 44135 lat=

It is truly a wonderful place for Italian food. Pizza is gigantic, so sharing is suggested, otherwise it is a struggle to finish.

coa Asian Food & Drinks

phone: +49 231 58690888

address: Friedenspl. 7, 44135

Great Asian tapas and drinks.

Ristorante Il Gusto cucina Italiana

phone: +49 231 4968003

address: Ostwall 33, 44135

Cozy authentic Italian restaurant, expensive.

America Diner

phone: +49 231 22396911

address: Ostwall 18, 44135

American diner on point! Big portions, delish burgers and shakes, a jukebox and Betty Boop. Been several times and can only recommend!

Soul Food Manufactory by New Islands

phone: +49 231 5321674

address: Kaiserstraße 24, 44135

Very nice place with tasty food in the trendy Kaiser district. On one wall they have a big screen, so it's nice to watch football there.

Brasserie Lotte

phone: +49 231 22399980

address: Kaiserstraße 15, 44135

Delicious food and amazing coffee.

Fukuoka

phone: +49 231 5495352

address: Kaiserstraße 54, 44135

Sushi with great service and staff.

Hexenkessel

phone: +49 231 5495363

address: Kaiserstraße 92, 44135

The 3 Big B´s in Dortmund - burger, beer and borussia.

Küchen-Wirtschaft Bismarck

phone: +49 231 53400111

address: Bismarckstraße 1, 44135

Cozy small restaurant with a Berlin feeling in the Kaiserviertel.

Ristorante Nuragus

phone: +49 231 5337088

address: Goebenstraße 1, 44135

More than pizza and pasta with a great Italian atmosphere.

Emilio

phone: +49 231 95099166

address: Kaiserstraße 105, 44135

Absolutely lovely, Friendly, efficient staff.
Splurge
Drink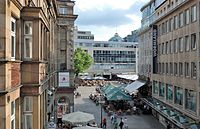 Dortmund had more than 550 years of brewing tradition, some of the oldest breweries in Westphalia are founded around the Old Market in Dortmund. Dortmund is known for its pale lager beer called Dortmunder Export or Dortmunder, it became popular with industrial workers and was responsible for Dortmunder Union becoming Germany's largest brewery and Dortmund having the highest concentration of breweries in Germany. Popular and traditional beer brands are Dortmunder Actien Brauerei, Bergmann Bier, Kronen, Union, Brinkhoff's, Dortmunder Hansa, Hövels, Ritter, Thier and Stifts. Beer as a typical "proletarian" beverage has been connected with the industrial might of Dortmund's past and while the railway enabled sales to faraway lands (the name "Export" is ample testament to this) ultimately consolidation and the decline of heavy industry hit the breweries and today many brands have been abandoned or bought up by large conglomerates.
"Stösschen" is a beer in a small glass "Stösschen" 0.2 litres and can be drunk in about two draughts. The idea of a Stößchen came about in the 19th century when people would have to wait at the level crossing to cross the Nordstadt Railway Line that divided the city centre from the Nordstadt district. A local innkeeper saw the potential of serving quick drinks to people waiting, and a Dortmund tradition began. The Dortmunder Tropfen Schnaps is a type of liqueur that is flavored with herbs or spices and traditionally drunk neat as a digestif.
Bars
The Kreuzviertel in the south of the Downtown with historically architecture, lively pubs and cafes offers a great variety of leisure and free-time activities is a better alternative of Downtown and the trendy neighbourhood in the Ruhr valley. The Kreuzviertel is also popular by local fans and those visiting of Borussia Dortmund as a last resort for drinking a cheep beer in the numerous Pubs around the Signal Iduna Park in the south of the Kreuzviertel.
phone: +49 231 527548

address: Betenstraße 1

One of the best pub for beer lovers.

phone: +49 231 914547

address: Hoher Wall 5

This bar (beer garden) is part of the local Hövels brewery, for those seeking a more authentic local watering hole. The locally brewed beers are on offer, and some great pub grub is served too

phone: +49 231 914547

address: Betenstraße 3, 44137

Live music and football bar, with a huge roofed area.

phone: +49 231 22383439

address: Brüderweg 9

Feels like a classic brown pub. Rock music, but not too loud to still have a conversation.

IRoom

phone: +49 231 1857436

address: Kampstraße 45, 44137

Cocktail bar with a great terrace.

address: Kuckelke 20

Great Australian pub.

address: Landwehrstraße 17

Lütge Eck

address: Lütge Brückstraße 1, 44135

Cult tavern with Ruhr's raspy regional charm.

Klubhaus1249

address: Kleppingstraße 37, 44135

Modern football pub next to the old town hall.

Franziskaner

phone: +49 231 70099022

address: Düsseldorfer Str. 21, 44143

Cozy typical Dortmund Pub

Weingold im Kaiserviertel

address: Düsseldorfer Str. 21, 44143

Wine and Piano Bar
Cafes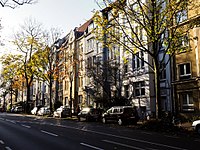 A quick cappuccino or home-made cake in a pleasant atmosphere are things that you find around the old medieval "Wallring"
Kieztörtchen

phone: +4923133037302

address: Essenerstraße.12

Its one of the favorite cafes of the Dortmund locals, which says a lot!

OmaRosa

phone: +4923122388788

address: Chemnitzerstraße. 9

The philosophy of this cafe is that everything that is homemade doesn't only taste better but its also healthier.

Asemann

phone: +492312223308

address: Liebigstraße.24

Bagels. If there has to be one word to describe Cafe Asemann, its just a bagel.

Neues Schwarz

phone: +4923128678960

address: Saarlandstraße.33

The cafe roast and grinds the coffee beans on its own, when you step foot in the Cafe you will be intoxicated by the smell.

Cafe Chokolat

phone: +4923128678960

address: Neuer Graben 74

One of Dortmunds smaller cafes but its praised for its hot chocolate.
Clubs
phone: +49 231 8629030

address: Hansastr.7-11, 44137

One of the best jazz clubs in Germany and repeatedly voted as one of the "100 best places to listen to jazz" by New York Down Beat Magazine.

phone: +49 231 286808910

address: Ritterstraße 20

After the Molotov in Hamburg and the Berghain in Berlin, the FZW (Freizeitzentrum West) in the Union district is one of the three best clubs in Germany. With 307 events in 2015, including concerts, parties, festivals, readings and football public viewings have strengthened the FZW's reputation as an "it club" in the Ruhr region

View

phone: +49 231 8808600

address: Leonie-Reygers-Terrasse, 44137

A expensive Rooftop Club in the U-Tower (65m), perfect night overview.

Daddy Blatzheim

phone: +49 231 22611021

address: An der Buschmühle 100, 44139

Nice location within Westfalenpark, great atmosphere and nice people though.

Moog

phone: +49 231 8808600

address: Leonie-Reygers-Terrasse, 44137

Electro Club in the U-Tower with awesome Beach Club (May-Okt.)

Alter Weinkeller.

phone: +49 2305 9259119

address: Märkische Str. 22

Wine cellar with brick vaults & wall paintings, available for celebrations, meetings & events.

address: Hansastraße 5-7

address: Deutsche Straße 6

address: Bissenkamp 11-13

Hilarious! Lots of beer and young people.

phone: +49 231 13021780

address: Reinoldistraße 2-4, 44135

Great underground club with minimal and electro beats.

phone: +49 231 13021780

address: Helle 9, 44135

Rock, Metal, Heavy Metal, Pop Rock. It's got a reputation for cheap drinks like €1/beer and excellent Fußball ("Kicker"). You'll meet some of the best players there.

Silent Sinners

phone: +49 231 13021780

address: Rittershausstraße 65, 44137

A small student club.

phone: +49 162 5283101

address: Im Spähenfelde 51, 44143

Large discotheque for RnB and Black music fans.

phone: +49 231 149084

address: Westenhellweg 85, 44137

Hiphop, RnB and Black underground club.
Sleep
phone: +49 2 31 477966

address: Silberstraße 37-43

Very pleasant hotel and staff. Extremely nice rooms, and central.

phone: +49 231 90550

address: Königswall, 1

4-star hotel located in the heart of the city. The hotel offers 190 bedrooms and suites, a sauna, fitness area and the ideal location.

phone: +49 231 5898997 0

address: Burgwall 5

Stadthotel Drees4-star city hotel, friendly staff, supernice owners, reasonable prices, near to Westfalenhallen, Westfalenstadion and City

phone: +49 231-91130

address: Lindemannstraße 88, 44137

This 4-star hotel is South of the centre (about 20 minutes walk, or around €8 in a taxi) but very handy (less than 5 minutes walk) for the Westfalenhallen exhibition centre and the football stadium. Directly to the trendy Kreuzviertel!

phone: +49 231-58970

address: Kampstraße 35-37, 44137

This 3-star hotel is in the centre of the city, less than 5 minutes from the main station and a few minutes from the main shopping street.

address: Märkische Straße 73, 44141

This Ibis is south of the centre, around 15 minutes walk away. It is 1 km from the Westfalenhallen and the football stadium.

phone: +49 231 58530

address: Burgwall 3

Clean rooms. Excellent breakfast

phone: +49 231 560500

address: Hoher Wall 38, 44137

Modern, redbrick hotel with a magnificent entrance hall.

phone: +49 231 90210

address: Berswordtstraße 2, 44139

Close to Signal Iduna Park and Kreuzviertel.

Radisson Blue Hotel

phone: +49 231 10860

address: An der Buschmühle 1, 44139

Contemporary hotel. Great location if you are visiting the Westfalstadion - in fact the away team were spending time at the hotel!

Parkhotel Wittekindshof

phone: +49 231 51930

address: Westfalendamm 270

This brick hotel is perfect for drivers.
Stay safe
Dortmund is a safe and welcoming city on the whole. As it is not a big tourist destination it does not suffer from rampant pick-pocketing or mugging issues. Some poorer neighborhoods in the east and south of the city may not look appealing at first, but being slightly careful will suffice;
Football games in Dortmund are known to be some of the friendliest and safest in Europe. Some drunkards might show up but they will not harm you.

Cope
phone: +49 231 577960

address: Goebenstrasse, 14

Italy Consulate General Dortmund

phone: +49 231 564 00 11

address: Klönnestrasse, 99

South Africa Honorary Consulat Dortmund

phone: +49 231 533 06 10

address: Florianstrasse 2

Czech Republic Honorary Consulat Dortmund
Go next