Drenthe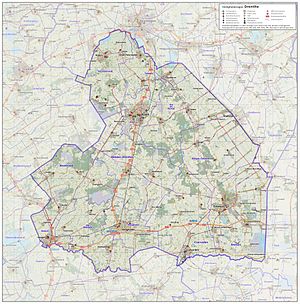 Drenthe
is a province in the northeast of the
Netherlands
. It is bordered by
Overijssel
in the south,
Friesland
in the west,
Groningen
to the north and the German districts of
Emsland
and
Bentheim
in the east. Drenthe is the least populated province of the Netherlands and offers swamps and
hunebedden
(dolmens).
Cities
— capital of Drenthe, once a year the famous TT Assen is staged here
— a village - region is not flat, by Dutch standards, but quite hilly with forests, lakes, and the largest hunnebed of the Netherlands
— old fortified town in the south
— good access point for the Dwingelose heide, a national park
— old village, nowadays its municipality is larger than Assen, famous for its zoo
— old town, serving as a junction of waterways
— old village
— in WWII a large transport camp was outside this village, from which many Jews had been transported, now a museum
— old village in the north of the province, once a year a big animal market is held here
Other destinations
Throughout all of Drenthe, many dolmens (
hunebedden
) can be found. The reason for their creation is speculated, but never the less they are worth having seen.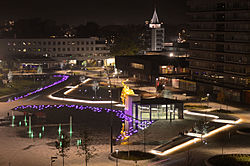 Understand
With a population density of 181.9 citizens per square kilometre, Drenthe is the least dense province. The land is mostly used for agricultural needs, and the only densely populated areas of the province will be found in the semi-industrial cities of
Assen
and
Emmen
.
Talk
Like the rest of the Netherlands, most citizens living in Drenthe speak
Dutch
. Most of the population can understand and speak English and
German
decently. The province also has one of the most known dialects of the country, Drèenths. This dialect isn't spoken in the cities much. Instead you'll find it on the countryside, which Drenthe has plenty of. The dialect is as well-known as it is due to the Nederpop (Dutch pop) band Skik, which between 1997 and 2000 produced songs in Drèents. Their most popular song is
Op Fietse
, which describes a tour of Drenthe by bike.
Get in
By plane
The international
Groningen Airport
(
GRQ
) is actually on the outskirts of Eelde in Drenthe (and not far from Groningen either), and sees limited yet slowly growing number of connections. Bus number 9 takes only 5 minutes to get to the centre of Eelde and the journey costs €1.26. If you go the other direction, to the terminus in De Punt, you can change to a bus 50 to Assen (add extra 30 minutes and €3.31), where you can change to trains and further buses traversing Drenthe.
The Amsterdam Airport Schiphol is one of the world's best-connected hubs, but it is at least 180 km by road from Assen (at least 2 hours drive in normal conditions), or almost 2h30mins by train, with a change of trains required in Amsterdam. Journey cost should not exceed €30. Other airports in the Netherlands or neighbouring Germany are even farther away.

By train
It is easiest to come o Drenthe by train from Utrecht or Groningen. If you want to visit Emmen you can take a bus from Groningen or take a train from Zwolle.

Get around
Within the province, travel by bus is possible. But the best way to explore is by bike. As there are many little nice villages and small places to visit, it is a good idea to go exploring by bike. Cycleways are found throughout the whole province.
As for travel by car, the motorways

,

and

can be found in the province. Other major (regional) roads are the

,

and

.
See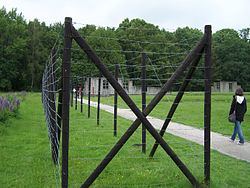 Explore the
Dwingelose Heide
or visit the Netherlands' biggest Hunebed in
Borger
. The
International Wooden Shoe Museum
in
Eelde
, near Groningen, is a museum for clogs, clog-making equipment and machinery. It has the largest collection of wooden footwear in the world.
Borger itself is far from interesting, but in the wider region many people spend holidays there. Many forests are to be found here, with little lakes to swim in. This is not a flat region, by Dutch standards, but quite hilly. Also, a large sheep festival is held every year in Exloo.
Orvelte
is a park with old houses. Very interesting, it gives a glimpse of the countryside in past centuries. It is free to enter the village, but some sights and activities charge €2-5, parking is €4.
Outside the village of
Westerbork
was a large transport camp from which many Jews had been transported. This is now a museum.
Do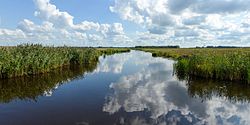 Rent a bike and explore the region. Visit little villages, have a drink. Take in some food in some of the excellent restaurants you will come across. If you are getting too tired, put your bike on the train. If you head to Westerbork, consider an organized bike tour for an extra dose of history.
Go next
There are fine next stops in every direction. Head north to explore the lively student city of
Groningen
, or south to explore the historic towns of the
Eastern Netherlands
. Of course, other destinations in the Netherlands are just a quick ride away, so if you haven't checked out the major tourist destinations of
Amsterdam
and
Delft
, nothing is stopping you from heading out west. If you're looking to cross the border with Germany,
Meppen
is just on the other side and a popular shopping destination.