Druskininkai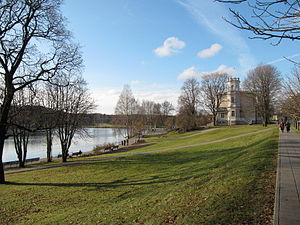 Druskininkai
is a city in
Lithuania
.
Understand
Druskininkai is a town known for its
health spa amenities
. Natural attractions such as mineral water, curing mud, mild climatic conditions, a cosy environment, and various forms of entertainment make it ideal for relaxation.
Druskininkai Tourism and Business Information Centre

phone: +370 313 60800, +370 313 60803

address: Gardino str. 3, LT-66204 Druskininkai

.
Druskininkai Tourism and Business Information Centre

phone: +370 313 51777

address: Čiurlionio str. 65, LT-66204 Druskininkai
For more information, contact the listing above.
Get in
By bus
Regular buses from
Vilnius
and
Kaunas
are the best way of getting here.
Kautra
is a bus company operating from Kaunas. Be aware that these are not the only buses out of Kaunas.
Both Vilnius and Kaunas buses take approximately 2.5 hours and depart every 1-2 hours between 05:30 and 19:00.
See
Forest Museum 'Girios Aidas'

phone: +370 313 53901

address: M. K. Čiurlionio g. 102

The museum was established in 1971. It has expositions of animals and birds. Witches and other legendary characters are hiding in the hollows of oaks, birds are singing and the forest sighs. The following exhibitions are organized: wood art works, jewelry works from amber, black ceramics works, works of folk artists, expositions of photographic masters, ethno-cultural collections.

The Town Museum of Druskininkai

phone: +370 313 51024

address: M. K. Čiurlionio g. 59

Expositions: "A collection donated by the honorary citizen of Druskininkai Petras Viščinis"; "19th century Druskininkai in the artwork of Vasilijus von Rothkirch"; "First doctors of Druskininkai"; "Interwar Druskininkai". The representational villa "Linksma" build in the beginning of 20th century, where the Town Museum is located, is a beautiful architectural monument located on the shores of the Druskonis lake, in the centre of the town. Since 2001, the museum has a permanent exposition, hosts events, shows, chamber music concerts and lectures. During the holiday season, the museum terrace hosts the traditional concerts "Serenades of Druskininkai" ("Druskininkų serenados") and other town events.

Jewish Museum in Memoriam of J. Lipchitz

phone: +370 313 56077

address: Šv. Jokūbo g. 17

It is an exposition about one of the most famous 20th century sculptor J. Lipchitz (1891–1973).

The Memorial Museum of M.K. Čiurlionis

phone: +370 313 52755, +370 313 51131

address: 35 M. K. Ciurlionio St, LT-66164, Druskininkai.

Museum's collection: The museum contains a memorial exhibition illustrating M. K. Ciurlionis' biography and photographs, documents, reproductions of the artist's works, as well as a collection of works dedicated to M. K. Ciurlionis by contemporary artists from different countries. Exposition: Authentic living atmosphere of the artists' family is restored in two little houses of Ciurlioniai family, expositions reflecting painter and composer M. K. Ciurlionis' (1875-1911) creative work, biography and family life is arranged in the other two buildings. Museum keeps contemporary painters' collections of works devoted to M. K. Ciurlionis.

V. K. Jonynas' Gallery

phone: +370 313 55553

address: M. K. Čiurlionio g. 41

The gallery was founded in 1993 m. The gallery exhibits the works of the Lithuanian artist Vytautas Kazimieras Jonynas (1907 – 1997), who worked for a long time in Germany and the USA, his drawings, graphics, paintings and stained-glass projects. Photographs and films show the most valuable interiors of churches and works of monumental architecture created by the artist. The excursions are organized in Lithuanian, English, Russian, Estonian and Finnish.The gallery hosts art exhibitions from the National Museum of M.K. Čiurlionis and private collections. For schoolchildren and kindergarteners art lessons are organised in the gallery which has 15 easels. Also projects with V.K Jonynas art school are organised. The gallery hosts traditional events – chamber music concerts, commemorations, meetings with painters, educational events and lectures on art.

Museum 'Grūto Parkas'

phone: +370 313 55511, +370 31352507

address: Grūtas, LT-4690 Druskininkai

In the shadows of pine and fir trees, Soviet monuments which were dismantled in 1989 are exhibited. This is a heritage of several decades of the Lithuanian monumental art. These idols were forced on the Lithuanian people in tragic Soviet era and reveal the historic truth about the soviet occupation of Lithuania. The exposition aims to show to the people of Lithuania, visiting guests as well as to the future generations, the naked Soviet ideology, which oppressed and violated the spirit of our nation for several decades.
Do
Snow Arena, Nemuno Kelias 2, +370 313 69699 E-mail: snowarena@snowarena.lt. The Snow Arena is an indoor winter sports complex open year round with two indoor alpine ski slopes, a freestyle ski park, and a beginner area for skiing and snowboarding. There is also an outdoor slope open in winter. The Snow Arena is a frequent training site for Lithuanian National Ski Team athletes, club athletes, and many World Cup stars. Ski and snowboard lessons and rental are available, as well as night skiing, fun events like snow kayaking, and lessons for people with physical and mental disabilities. Get to the Snow Arena by car or take the gondola from the Druskininkai city center.
Eat
Sicilija

phone: +370 313 51865

address: Taikos g. 9

phone: +370 31355438

address: M.K.Čiurlionio s. 55

phone: +370 672 98684

address: Šv. Jokūbo g. 11

European cuisine and homemade food; also has a cocktail bar.
Sleep
Druskininkai Health resort

phone: +370 313 60508

address: Vilniaus al. 11

phone: +370 313 53811, +370 313 51454

address: K. Dineikos str. 1

The center has 187 rooms: singles, doubles and suites. 250 chair conference room, restaurant with modern European and traditional Lithuanian cuisine, dietary meals, bar and sizeable indoor concert hall are available in a new 8-floor hotel building. Fitness and relaxation are available in a high standard Health Center (bath complex, swimming pool, fitness&aerobic training, relaxation massages and various procedures).

phone: +370 313 53132

address: V. Kreves Str. 7

Friendship is the name of this spa hotel, founded in 1962. Cultural and welfare facilities: For patients under treatment the individually balanced diet, vegetarian or usual food, if necessary a diet treatment according to the need of nutrients are prescribed in our spa hotel. Every week professional and amateur artistic ensembles give concerts in the red restaurant hall.

phone: +370 313 59090, +370 313 59100

address: Maironio Str. 22

"Dainava" offers spacious and light rooms with all conveniences and television sets for the clients. The health centre "Dainava" specializes in seminars, conferences, and courses of the foreign languages and has special rooms and equipment to manage it.

phone: +370 313 53335,+370 313 51210

address: Taikos str. 10

Due to the special microclimate as well as application of medical mud and mineral waters, disorders of the nervous and cardiovascular, osteo - muscular and intestinal systems, of the respiratory organs and metabolism are successfully treated at the center. Modern physiotherapy facilities combined with efforts of experienced doctors provide a high quality of the balneal and mud therapy; various diets, including vegetarian, are also available. The center is equipped with bedroom block that accords to the European standards.

phone: +370 313 52414, +370 313 51200, +370 313 52833

address: V. Kudirkos str. 45

The physiotherapy clinic, therapy rooms, swimming pool, café - bar, gymnasium, concert and exhibition halls are connected with the main building of the health center by corridors.

Spa hotel Egle

phone: +370 313 60220, +370 31360283

address: Egles str. 1, Druskininkai

The spa-hotel consists of a treatment and rehabilitation center, with mineral water and mud cures, treatment and diagnosis rooms, and a mineral water pump room with Egle mineral water, containing chlorides, sodium, potassium, calcium and magnesium.The six buildings of the spa-hotel provide accommodation for more than 1.000 patients at any one time.

phone: +37069963565

address: Viršurodukis village No 9,Dzūkija National park

Countryside tourism homestead in pine forest and water frond location in the heart of the Dzūkija National Park, full of mushrooms and berries. Great outdoors programmes for families and the extreme lovers. SPA procedures in sauna. Stylish and modern interior and silence of a remote village with only 3 inhabitants. Accommodates only one group of guests up to 18 people per time.