Dryden
Dryden
is Ontario's smallest incorporated city (population 7617), located 140km (90 mi) east of
Kenora
on the
Trans-Canada Highway
in
northern Ontario
.
Understand
Dryden, located on the north shore of Wabigoon Lake, was established in 1895 as the site of an experimental farm and named for a minister of government of the era. At the time, access to the community was primarily by rail. From 1910-2008, the city's primary industry was paper manufacturing; the local population reached a peak of just under 8200 people before the mill closed.
An oversize Maximillian the Moose stands at the centre of town at the visitor's centre.
Dryden and Kenora are the only incorporated Ontario cities to use the Central time zone (GMT-6), due to their location: geographically closer to
Winnipeg
than to southern Ontario.
Get in
Get around
George's Taxi

phone: +1 807 223-6565

Enterprise (+1 807 223-4004) and National (+1 807 223-4477) offer hire cars.
See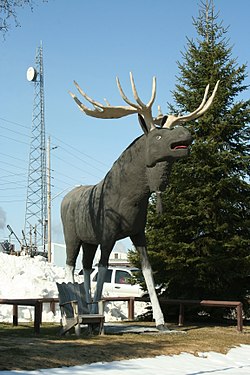 phone: +1 807 223-4671

address: 15 Van Horne Avenue

Museum in historic Hamble House with over ten thousand artefacts, including "Old Copper Culture" cold-hammered tools dating back 4,000 years. History of Dryden and surrounding area, including "The Dryden Buck", an Ontario-record whitetail deer shot by a poacher in 2003.
Do
Aaron Provincial ParkOn east end of Thunder Lake, 26 km (16 mi) east of Dryden on Hwy 11.

phone: +1 807 223-1425

address: 84 Whyte Ave

Indoor pool with waterslide, municipal fitness centre.

phone: +1 807 937-4265

Ski hill, equipment rental and lessons.

phone: +1 807 223-3433

address: 400 Sandy Beach Rd

Nine-hole golf course, banquet facility.
Hunting, fishing and windsurfing are popular locally; in winter, try snowmobiling, ice fishing, dogsledding and skiing.

phone: +1 807 227-2601

address: Blue Lake Road

Hiking trails, camping, interpretive centre.

Sandy Beach Park

address: Sandy Beach Road

Playground, large sand beach, soccer field and baseball diamond, walking trails and picnic area.

Theatre 17Amateur community theatre group.
Events
MoosefestSummer festival, includes Canada Day weekend.

Dryden Winter FestivalMid-February, on long weekend. Activities. Ice fishing derby.
Buy
phone: +1 807 755-5231

address: 20232 Hwy 17W, Minnitaki

Wide selection of woolen garments, 20 km (12 mi) west of Dryden on Trans-Canada Highway.

phone: +1 807 223-3517

address: 564 Government St.

Boats, campers, ATVs, snowmobiles.
Eat
Ho Ho Chinese Restaurant

phone: +1 807 223-2888

address: 64 Van Horne Ave

Asian buffet.

Hong Kong House

phone: +1 807 223-7411

address: 34F Whyte Ave

Asian.

Kupper's Bakery and Restaurant

phone: +1 807 223-2419

address: 5 Earl Ave

Licensed restaurant, bakery and deli.

phone: +1 807 223-8622

address: 205 Duke St

Indian.

Ristorante Pizzeria Italia

phone: +1 807 223-8080

address: 53 Princess St

Italian.
Drink
phone: +1 807 223-2000

address: 349 Government St

Central Saloon

phone: +1 807 223-3735

address: 20 King St

Dated diner-style restaurant with bar.
Sleep
Hotels
Dryden Hotel & Conference Centre

phone: +1 807 223-3201

address: 349 Government St

Best Western Plus with restaurant, conference facilities and indoor pool.

phone: +1 807 223-4320

address: 148 Earl Ave

Riverside hotel in former paper mill building, restaurant on the banks of the Wabigoon River.
There are a and a on the Trans-Canada Highway.


Motels

phone: +1 807 223-5329

address: 700 Government St

Breakfast included, Internet, 32" HDTV with Netflix and Apple TV, fridge/microwave, kitchenettes in some rooms.

Trans Canada Motel & Restaurant

phone: +1 807 223-2251

address: 149 Third St

Sixteen-room motel, homestyle restaurant and catering.




Bed and breakfast

Pilot's Landing Bed & Breakfast

phone: +1 807 223-6928

address: 110 Claybanks Rd.

On Wabigoon Lake near water aerodrome, two rooms with private entrance and en suite bath.




Camps and caravan parks

phone: +1 807 938-6696

address: 222 Bonny Bay Rd

Lodge, cabin camp and cottages on the shores of Wabigoon Lake, 15 km (9 mi) east of Dryden. Fishing/hunting outfitter, boat rental.

phone: +1 807 938-6428

address: 744 Muskie Merk Rd, Wabigoon

Fishing camp 20 km (12 mi) E of Dryden

Spring Water Park

phone: +1 807 937-5454

address: 1266 Hwy 594

Caravan park with restaurant.



Connect
phone: +1 807 223-1475

address: 36 Van Horne Ave