Dubai/Deira
Deira
is the area of
Dubai
north of Dubai Creek and south of the
Sharjah
border. It is the traditional commercial center of Dubai and the Creek and its dhows were the historic mode of transport. Today Deira is split in two parts. There are the old souks (Gold and Spices) near the waterfront, and
Dubai International Airport
covers a major part of the area into the creek inland. Deira suffers a lot from traffic congestion as the bridges to
Bur Dubai
are at full capacity during the rush hour. In hidden backstreets the traditional life still takes place but it is not obvious to the tourist.
Get in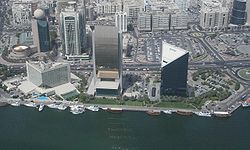 Both Red and Green lines of Dubai Metro connect Deira with
Bur Dubai
.
Deira is connected with Bur Dubai by five crossings over the Creek, namely Al Maktoum Bridge, Floating Bridge, Al Garhoud Bridge, Business Bay Crossing and Al Shindagha Tunnel. All the crossings charge the Salik road toll.
Small ferries called
heritage abra
cross the Creek from
Bur Dubai
. One route is from at the west end of the Textile Souk in Bur Dubai to near the Spice Souk in Deira. The other main route is from in the middle of the Textile Souk to Al Sabkha station, further up the Creek at Al Sabkha Rd in Deira. The trip costs 1 dirham, payable to the driver after the boat has left the station. Abras set off very regularly, and the service is available round-the-clock.
On the inner side of Dubai Creek, a
motorized abra
route was opened from (250m from
Creek
metro station) to Dubai Festival City water transport station, with a more modern style. These
motorised abras is operated by RTA
every
10 to 20 minutes from 7AM to midnight
and costs 2 dirhams per person.
See
Al Ahmadiya School and Heritage House

phone: +971 4 226 0286

address: Al Ahmadiya St, Al Ras

Built in 1912, Al Ahmadiya School was Dubai's first school and has now been nicely restored. It would be a stretch to call the exhibits of old reed pens and diplomas fascinating, but they've tried pretty hard, and if nothing else, the air-con and clean toilets may come in handy. The attached heritage house is a traditional Emirati-style home built in the 1890s.

Deira Clocktower

address: Abu Baker Al Siddiqe Rd 110 crossing Al Maktoum Rd 105

A landmark of Deira and important as a monument built before the independence of UAE.

Dhow Wharfage

address: Baniyas Rd, Rigga Al Buteen community 125

The dhows ply the Arabian Sea and the Indian Ocean, transporting goods between south and south-west Asia and east Africa.

Mamzar Park

phone: +971 50 858 9897

address: 104 Al Khaleej Rd, Al Mamzar community

You can swim at Al Mamzar Beach or stroll in the park. Though less popular than other Dubai parks, it has its share of Dubai's greenery. Monday & Wednesday for ladies only.

Dubai Municipality Museum

phone: +971 4 225 3312

address: Old Baladiya St crossing Al Souk Al Kabeer St, Al Buteen community

address: Festival Bay, Dubai Festival City, Festival Blvd

Plays two different big water, fire and light shows: Stardancer and A Child's Dream. Have several world records.

phone: +971 4 234 2342, +971 55 667 2447

address: 28 St, Al Dhagaya community, P.O. Box 1086

Highlight the contribution of women to UAE's economy, culture and politic for the independence in the 1960s and since. Life of great women and daily life of Emirati people. A exhibit is also dedicated to the famous Emirati female poet Ousha bint Khalifa Suwidi.

address: 106 Naif Rd crossing 9A St, Naif community
Do
Cinecity - Al Ghurair Centre

phone: +971 4 228 9898

address: Al Ghurair City, Al Riqqah St

Previously Grand Cinemas, now Cinecity, is the largest cinema chain in the Middle East. It is a part of Novo Cinemas group. This 8 screen cinema complex including 14 anchor stores has 2 levels.

VOX Deira City Centre

phone: +971 600 599905

address: Deira City Centre

VOX has 11 screens with various types of experiences for movie lovers. The immersive experience of DepthQ 3D technology, fully reclining seats, VIP seats, 20 meter screens and brightest and clearest pictures is their latest addition.

Dubai Creek Golf & Yacht Club

phone: +971 (4) 222 7171

address: Radisson Blu Hotel, Dubai Deira Creek, Bani Yas Rd, 476

This leisure hub is an ideal destination for golfers. It provides wide-ranging set of services, floodlit par-3 course, modern golf academies and driving ranges. Visitors can enjoy a challenging game of golf, hire a private boat to enjoy the calm waters or take a swim.

phone: +971 4 336 8407, +971 4 336 8409

address: Pier 1 in Dhow Wharfage, Baniyas Rd, Rigga Al Buteen community

A 2-hour dhow cruise tour on a "5-star" dhow, along Dubai Creek with commentary in English.
Buy
phone: +971 4 295 1010

address: Banyias Rd, Alittihad Rd, Port Saeed community

By far the most popular mall in Dubai. Debenhams, Virgin Megastore, Zara and other international high street brands. A multiplex cinema, and many restaurants and cafes. Also has a large "Arabian Treasures" souvenir and traditional textiles area. A new extension includes many more high-end boutiques and upmarket mall restaurants. A big Carrefour hypermarket sells just about everything and is nearly always very busy. There is a Sofitel hotel at one end of the centre, where there are bars and restaurants serving alcohol.

phone: +971 4 425 4900 (management), +971 4 425 4999 (security/lost)

address: Dubai Festival City, Festival Blvd, POBox 126027

Has Dubai's only Ikea, since it relocated from City Centre, and a huge Plug-Ins electronic store. Also an ACE Hardware and an amazing mall that has 550 shops.

address: Sheikh Mohammed bin Zayed Rd E311 crossing Al Rebat St, Mirdif community

A large mall with 500+ stores, over 80 restaurants and cafés and plenty of entertainment and recreation sites inside it.
Markets
Gold Souk

address: 106 Sikkat Al Khail Rd, Al Ras community

Not a mall, but a historic market that has been a part of Dubai since the origin of Dubai itself. Located at the mouth of the creek, it dazzles people by selling gold in large quantities and with little visible security. A must visit for shoppers and sightseers. Most of the gold is 22ct quality and quite expensive - although even here the shopkeepers are prepared to bargain - and the craftsmanship can be remarkably detailed. The gold items are sold by weight with a "making charge" added on top to cover the workmanship. It pays therefore, to go shopping armed with the current gold price and a knowledge of the making charges in order to hone the bargaining process. Many outlets are part of chains that also have branches in malls, so are generally reliable.

Spice Souk

address: 34 St, Al Ras community

As above, not a mall, but a historic market that has been a part of Dubai since the origin of Dubai itself. Located at the mouth of the creek, it is not far from the Gold Souk, but has sadly declined a bit in recent years as supermarkets take over the spice trade. If you're actually shopping for spices, odds are you'll get better prices and quality with much less hassle at Carrefour. Both the Spice Souk and the Gold Souq are a rather hot and sweaty experience with limited air-conditioning, so wear appropriately cool, loose clothing if visiting in mid summer. Individual shops are air conditioned. Although regularly visited by tourists, none of the souks are considered a tourist area and as such modest dress should be worn to avoid causing offence or attracting unwanted attention.

Fish Market

address: Al Mina Rd crossing Baniyas Rd, Deira Corniche

A modern covered market where they sell various kind of fish and seafood, as well as fruits, vegetables, dates (and some kitchen utensils).
Another historic market,
Old Textile Souk
, is located in
Bur Dubai
just on the other bank of the creek, reachable
via heritage abra ferries for 1 dirham
.
Traditional Souq

address: Naif community

Souk with air-conditioning, nice decoration and good infrastructure, let say almost a souk almost a mall. 100 shops and 6,100 square-meters. Khalid Huriah Public Restaurant in the middle.
Eat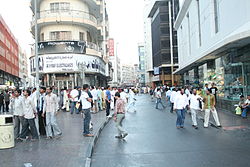 Budget
Yum!

phone: +971 4 222 7171

address: Inter-Continental Hotel

A wonderful noodle bar located at the InterContinental Dubai. Well priced, with excellent food.
Mid-range
Al Dawaar Revolving Restaurant

phone: +971 4 209 1100

address: Hyatt Regency

Serving an assortment of cuisines, the highlight of this beautiful restaurant is that it revolves, giving a nice tour of the city.

phone: +971 4 232 9966

address: Canal Walk, Dubai Festival City Mall

Authentic Emirati cuisine, in the ambience of Dubai recreated from the 1960s.

phone: +971 4 282 4040

address: Le Meridien Dubai

Japanese cuisine. Very high quality and very popular.

phone: +971 4 295 6000

address: Dubai Creek Golf Club

Part of the Creek Golf Clubhouse. The waterfront restaurant right on Dubai Creek is very popular with residents.

Al Bait Alqadeem Restaurant & Cafe

phone: +971 4 225 6111, +971 55 477 8107

address: Al Ahmadiya St crossing 15a St, Al Ras, POBox 30304

Emirati cuisine in a Emirati traditional house.

Floating Restaurants

address: Baniyas Rd, Al Sabkha & Al Rigga & Rigga Al Buteen communities

Tens of dhows propose a diner during a 2-hour cruise on the creek.
Splurge
phone: +971 4 607 7977

address: JW Marriott Hotel

This is the Marriott's signature restaurant. Highly popular with Dubai residents.
Drink
Filli Cafeteria

address: Al Mamzar

Probably the most popular tea spots in town, especially Filli, who serves over 4,000 cups a day. Try the zaffrani chai (milk tea with saffron) or the doodh kadak (strong milk tea).

The Edge Pool & BarSmall bar but wonderful views especially at sunset.

X ClubRussia themed bar
Sleep
Budget
Invisible to the net and the guidebooks, there's several basic cheap places around the souk area, a few streets back from the creek.
phone: +971 4 2988151 (reservation), +971 4 2988161 (reception)

address: 39 Al Nahda Rd

Reception 24/7. Pool, football field, chill-out garden, A/C in the room, small bar fridge. It's located next to a mosque so morning prayers may wake you. Stadium metro station and bus stop just 100 m from hostel, Lulu Hyper Market shopping center and supermarket nearby. Free safety deposit boxes (hang on to your key as they have stiff $200 replacement fee). Clean rooms but unhelpful staff. You can walk there from Terminal 2. When you get out walk straight along 16th St to the end. It takes around 10 min. From terminal 1 or 3 you can take the metro to Union and transfer to Green Line (just take a train on the other side of the platform) to Stadium station (zone 1 fare, 2 AED). A taxi from terminal 1 or 3 costs around 40 AED. It is a branch of the UAE YHA, and only hostel in Dubai; thus booked up weeks ahead. WiFi cost extra 10 AED.

Gulf Pearl Hotel

phone: +971 4 2728333

address: Al Baraha St, Omar al Khattab Rd

Rooms from 158 AED.

phone: +971-4-2276700

address: Sabakha St 115, Deira

Rooms from 300 AED or US$80.

Niawara Guest House

phone: +971 4-2265935

address: Al Ras Street

Probably one of the cheapest place in town

Alkhayam Hotel

phone: +971 (4) 2264211

address: Sikkat Al Khali Street, PO box 88249

free wifi, nice cafe

Qasr Al Seyaha Hotel

phone: +971 4 2255855

address: PO box 21457

Another cheapy in the souk area

phone: +971 4 2262322

address: PO box 8814, Al Ahmadea Rd, Al Ras Area

Galaxy Plaza

phone: +971 4 2257444

address: PO box 32236, Al Ras Street

2 star place, a step up from the
Mid-range
phone: +971 4 295 6666

address: near Clock Tower roundabout

Rooms from US$152.

phone: +971 4 297-0808

address: Al Riqqa St

Rooms start at 350 dhs, including breakfast.
Splurge