Dubai/Jumeirah
Jumeirah
is a mainly residential area of
Dubai
, but also has beaches and loads of hotels, so attracts tourists. It lies south of 2nd of December Street or D 73 Road, formerly Al Dhiyafa Road.
Get in

Jumeirah is connected with the rest of Dubai by the Metro Red Line, the Dubai tram, and a network of roads.

See
phone: +971 4 3017777

This huge sail-shaped hotel completed in 1999 is a symbol of Dubai and its ascent in the world. The self-proclaimed world's first seven-star hotel (actually a five-star deluxe hotel) was the first icon of Dubai and still stands out on the skyline from its location on an artificial island 280 m from the beach. Entry to the hotel is restricted to hotel guests and those with a restaurant reservation. A smart casual dress code applies but is not strictly enforced. Make restaurant reservations in advance.

Burj KhalifaAt 828 m and 160 floors this is the world's tallest structure by a long shot, over 300 m taller than the previous contender in Taipei. The observation deck at the 124th floor is the second highest in the world after the Shanghai World Financial centre. Dominating the Dubai skyline, the tower houses a hotel and a Las Vegas-inspired fountain system. The visitors' entrance is at the lower ground floor of Dubai Mall. Although the tour is called At the Top, it isn't! At 452 m it's just over halfway up the tower itself. Console yourself with the knowledge that most of the rest of the tower consists of service areas and the view below looks suitably ant-like.

address: Dubai Mall

At 270m (900 ft) in length and sporting a jet that shoots water up to 150m (500 ft), it is the world's largest dancing fountain and one with a very enticing display - a definite must-see. It's most easily accessed via the Dubai Mall. There are private entranceways from the Burj Khalifa if you're staying there.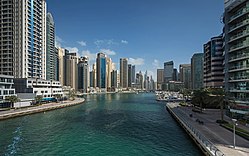 Dubai MarinaThe Dubai Marina is to be the popular nightlife area of Dubai in the future. This multi-billion-dollar development is designed for tourists and water sport. The bars and cafés along the marina are popular gathering points for families and younger people. Most restaurants offer shisha and oriental food but food chains are fast entering too. The "Marina Walk" along the yachts is especially popular on Fridays and Saturdays. Yacht agencies offer services to explore the coastal region and Palm Islands.

Dubai Zoo

phone: +971 4 344 0462, +971 4 349 6444

address: Jumeirah Rd crossing 51 St, Jumeirah community

An outdoor zoo near the beach. Because of the extreme temperatures during summer, there are plans to bring the zoo indoors. It is not worth visiting, because of the small number and variety of animals. Housing conditions are appalling; animals are in cages too small for them to take more than a few steps, and are frustrated and bored.

Jumeirah BeachDubai is known for its great beaches and this one is the best. It's the most popular and busiest beach of the country. Expect to see swimmers in bikinis and ladies in abaya cloaks; this beach truly encapsulates the Westernisation of Dubai culture.

Jumeirah Mosque

address: Jumeirah Rd, Jumeirah 1

The largest mosque in the city, and a wonderful example of Islamic architecture. It was built in the medieval Fatimid tradition with the interior decorated with elaborate Arabic calligraphy. It is one of few mosques in the city open for visits by non-Muslims; the Sheikh Mohammed Centre for Cultural Understanding conducts special tours for non-Muslims to help promote understanding of Islam. Guided tours are available on Tuesday, Thursday, and Sunday beginning at 10:00, followed by a question-and-answer session. The mosque is an especially great place to visit in the evening when it's dramatically illuminated by floodlights.

phone: +971 4 394-6343

address: 17th St (Al Mehemal St), Jumeirah 2

A restored traditional Emirati-style two story building used as a summer residence by Sheikh Rashid bin Saeed Al Maktoum, one of the founders of UAE, and father of the present ruler of Dubai.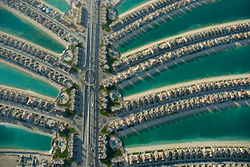 Palm IslandsThe Palm islands are the best symbols of the boom and bust construction cycles in Dubai. The "oldest" Palm called Palm Jumeirah is completed and is host to the gigantic Atlantis Hotel on its top. Several marinas, hotels and condo are along the palm leaves. The development of the other two Palms will depend on the financial situation of the construction business but someday Dubai will have the three largest artificial islands in the world on its coastline.

Al Safa Park

phone: +971 50 858 9894

address: Al Hadiqa Rd, Al Safa community

A beautiful planned park and one of the oldest parks in Dubai. It is a favourite for sports enthusiasts, and many visitors enjoy playing tennis, volleyball, and soccer. Children love playing games in the video arcade, or riding the ferris wheel and bumper cars. The park even has a maze to wander through. Barbeques and picnic areas are available for those who want to make a day of it. It has lakes where you can take a boat ride and a hill that offers panoramic views of this beautiful lush green park and the gigantic Dubai skyline. But as of 2017, infrastructure are old disused and it have construction work.

phone: +971 4 515 5771

address: 2nd December Rd crossing Jumeirah Rd, Jumeirah 1 community

Museum about the construction of the Union of the Emirates, after the withdrawal of British forces. Open in 2017, it features exhibits about the seven fathers, and the constitution. The Union House, where the treaty was signed, can be visited as well as the Guest Palace. It also hosts temporary exhibitions (e.g., philatelic in May 2017).

Dubai Aquarium and Underwater Zoo

phone: +971 4 448 5200

address: Dubai Mall, Doha St, Sheikh Zayed Rd

Giant aquarium, long and high. The visit includes a crossing inside the walk-through water tunnel, behind the scenes, and several other experiences. The Underwater Zoo has 140 fish spices, desert animals, penguins and also hosts "King Krok". Animal feeding hours are indicated in the zoo, and it's also possible to participate to feeding.

address: Emirates Towers, Sheikh Zayed Rd, Trade Center 2 community

Museum to be opened in April 2019

address: 16th St, Jumeirah 2 community

Jumeirah Fishing Harbor

address: Jumeirah Rd crossing 311 Al Urouba Rd, Jumeirah 1 community

A quite place with some nice restaurants.

The Lost Chambers Aquarium and Ambassador Lagoon

address: Atlantis, Cresent Rd East, Palm Jumeirah

An Atlantis-themed aquarium with a lot of fish species and jellyfishes. Don't miss the giant chamber with numerous sharks and rays. Shark feeding 10:15 and 15:45, ray feeding at 09:30 and 15:15. Possibilities to dive or do the "Aqua Trek" in the Ambassador Lagoon.
Do
address: Mall of Emirates, Sheikh Zayed Rd crossing Umm Suqueim Rd, Al Barsha 1

Dubai has a snow skiing centre in the Mall of the Emirates, offering both skiing and snowboarding. The slope is quite large for an indoor area. All equipment is available for hire. Although it is inside, you do not need to bring a jacket because they supply pretty much everything except gloves and a hat which you can buy right there (gloves are included in some packs). It also propose the "Penguin Encounter" activity where you interract and play with pinguins (king and gentoo)

phone: +971 4 348 4444, +971 4 406 8374, +971 4 406 8654

address: Jumeirah Rd, Umm Suqeim 3 community

The perfect place for the entire family to spend a day as well as being a great way to beat the heat and enjoy the day away from the bustle of the city. Located close to the hotels and resorts of Jumeriah Beach, the park has water rides, slides, and a lagoon that is hidden away. You'll enjoy waterfalls, out of the way swimming holes, and a tidal pool.

address: The Palm

Atlantis-themed but Arabian-styled resort on the artificial island of The Palm. Has a huge water park with plenty of thrilling water slides, housed inside a large shopping area with plenty of places to eat and drink.

address: Atlantis, Cresent Rd East, Palm Jumeirah

Aquaventure have a lot of water slides, including the extreme slides: Leap of feath and Poseidon's Revenge. It also includes Dolphin encounter, swimming with dolphins...
Buy
There are so many malls in Dubai it will take days to explore just the biggest ones. One mall stands out in Jumeirah – the Mall of the Emirates, which is the standard setter with even a ski slope.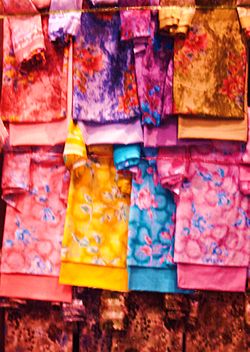 SatwaA small community much resembling a town, its streets are rowed by textile shops notably opposite the Satwa Mosque ending to the opposite of Satwa clinic. Most of the people flock to Satwa for their textiles, you might sometimes catch offers and discounts but if you don't do so try bargaining the price, this is what most locals do, even if you're a tourist convince the salesman to give you a discount, bargain till you get the lowest price available. Not only is Satwa a hub for textile shops; some tailoring shops on the corners are also found if you want a dress made as soon as possible after purchasing the raw materials. Raw silk might also be available in some shops. Because of the row of textile shops, it might be Dubai's version of Little India and Little Manila as many Indians reside in this district as well as Filipinos.

phone: +971 4 436 1020

address: Sheikh Zayed Rd, Dubai Marina

Another mall, with cinema, food court, etc.
La Mer, a large group of restaurants and shops at the beachfront. The whole area is quite pleasant to walk around even if you are not into shopping.
Eat
Budget
phone: +800-74992

address: Sheykh Zayed Rd, Barsha

Traditional & authentic Italian pizza baked in wood fired Italian stone oven, thin & crispy crust.

address: Dubai Mall

Serves breakfast, lunch and light continental and oriental meals. Good service and huge portions to stuff even the hungriest.

Noodle House

phone: +971 4 366 8888

address: Emirates Towers Shopping Blvd, Madinat Jumeirah

Asian food.

phone: +971 4 4508105

address: Dubai Media City, Zee Tower, Next to BBC, Dubai and soon to open in Dubai Mens College

A restaurant by RJS Group. With outdoor seating and a separate shisha area.
Mid-range
phone: +971 4 341 8121

address: Times Square Centre, Ground F, Sheihk Zayed Rd, Al Marabea St, Al Quoz community

Have a delicious contemporary European food in ice lounge at a chilling temperature of . It is first of its kind in the Middle East. From tables to even crockery in which food is served, all made of ice.

phone: +971 4 323-4211

address: Al Barsha

Thai, Singaporean, Malaysian and Indonesian themed food, and the popular house speciality must be the pepper or chili crab. You can eat at the restaurant or order home delivery to most areas of new Dubai.

phone: +971 4 4230766

address: Rimal Sector, The Walk at Jumeirah Beach Residence

A family-run Lebanese restaurant. With outdoor seating and separate shisha area.

Karam Beirut

address: 1st floor, Mall of Emirates, Sheykh Zayed Rd, Al Barsha

Excellent Lebanese food.

phone: +971 4 325 4778

address: Diyafa St, Jumairah-1

Continental.

Toscana

phone: +971 4 3666730

address: Souk Madinat Jumeirah

Italian.
Splurge
Al Mahara

phone: +971 4 301 7600

address: Burj Al Arab

Part of the Burj Al Arab hotel, and as you would expect is also very high quality, especially seafood.

phone: +971 4 888-3828

address: Burj Khalifa

Exclusive fine dining restaurant on Level 122 of Burj Khalifa.

phone: +971 4 323 4333

address: Holiday Inn Dubai - Al Barsha, Sheikh Zayed Road

Continental restaurant.

phone: +971 4 323 4333

address: Holiday Inn Dubai - Al Barsha, Sheikh Zayed Road

Authentic Indian restaurant.

Options, by Sanjeev Kapoor

phone: +971 4 329 3293

address: Sheikh Zayed Rd

Run by famed Indian TV chef Sanjeev Kapoor. Drinks served. Reservations recommended especially on Friday nights.

phone: +971 4 323 4333

address: Holiday Inn Dubai - Al Barsha, Sheikh Zayed Road, Dubai

Authentic Thai restaurant.

phone: +971 4 405 2703

address: Level 1, Shangri-La Hotel, Shk Zayed Rd

Good Chinese food. No smoking
Drink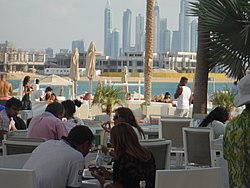 phone: +971 4 366 5866

Jumeirah Beach Hotel Complex. Open air bar with great views of the Burj hotel and the Jumeirah beach hotel all helped by a cool breeze from the ocean. Various DJs but think Ibiza lounge bar and you will not be far off.

phone: +971 4 399 8888

Excellent view above the city.

Buddha BarBranch of the international Asian-themed bar/restaurant.

BarastiBuilt in three levels (each playing its own music), with lounging areas on the beach, lots of young and foreign people come here during the weekend. Very popular with expats.

Nasimi Beach

address: The Atlantis

Great bar/club on the beach in the Palm Jumeirah.
Long's Bar

phone: +971 4 312 2202

address: Sheikh Zayed Rd

The longest bar in the UAE, typical English style with live football, similar to a UK Wetherspoons. Great music and DJs plus food and friendly atmosphere.

Left Bankperfectly situated on the waterfront in one of the most tranquil areas of Dubai. A great food menu leads on to some excellent cocktails and music inside.

phone: +971 4 3194000

Bar and restaurant with great view across Palm Jumeirah (on a clear day!) Popular happy hour with the after work crowd on Thursday from 18:00-20:00.

Skyview BarLive bands (both local and international), reservations are a must.

Vu's BarTry the 51st Floor house cocktail, it's so deliciously strong, also there's a staggering 200 cocktails to choose from.

phone: +971 4 399 0009

address: Dubai Marina, Al Seyahi St

Beach club, a nice place for partying.

phone: +971 4 332 4900

address: Fairmont Hotel Dubai, Sheik Zayed Rd

The essence interior of 400 club is a mix of Gothic and Baroque designs, famous for its vibrant lights and mix music of Arabic, RnB and house. It is always over-crowded during the weekends, especially local faithful crowds.
Sleep
phone: +971 4 436 8888

address: Mohammed Bin Rashid Boulevard, Downtown Dubai

One of the many luxury hotels next to Burj Khalifa with many good fine dining restaurants and bars.

Anantara The Palm Dubai Resort

phone: +971 4 567 8888

address: East Crescent

Houses the only over water villas in the UAE.

phone: +971 4 426-1000

address: Crescent Rd, The Palm

Hotel on the Palm. Connects to mainland by monorail.

phone: +971 4 332-5555

address: Sheikh Zayed Rd

Closest 5-star hotel to the World Trade Centre.

phone: +971 4 440 1400

address: Sidra Tower, Sheikh Zayed Road, PO Box 502306, Media City

Serviced apartments & accommodation in Sidra Tower.

phone: +971 4 429 9999

address: Sheikh Zayed Rd

Hilton Dubai Jumeirah Resort

phone: +971 4399 1111

address: 1 Jumeirah Beach Rd

Resort with a private beach. The hotel is only 10 floors which is dwarfed by nearby high-rises, but the location is lively and the pool/garden area is lush.

phone: +971 4 323 4333

address: Sheikh Zayed Road, Al Barsha 1, P.O.Box 115443, Dubai

310 elegant rooms. a choice of 3 bars, choice of 2 fine dining restaurants and 6-storey high atrium and piano lounge. Gymnasium, roof top pool, massage rooms, sauna and spa.

phone: +971 4 348-0000

Next to Burj al-Arab and run by the same company.
Connect
Dubai Public Librarynear Gold Souk, offers free internet stations and WiFi, which is very hard to find in Dubai.