Dubuque
Dubuque
, founded in 1833, is the oldest city in
Iowa
. A port on the upper
Mississippi River
, it is situated along scenic bluffs facing the river, and has its roots in a mining and trading settlement established in the area by
Quebec
-born entrepreneur Julien Dubuque in 1788. The city's population is 57,686 (2000 Census), and the estimated population of the Dubuque metropolitan area is 93,072.
Understand
Dubuque grew rapidly during the 19th century, due to its lead-mining, lumber-milling, brewing, metal-working, and river-trade-related industries. It was Iowa's largest city for most of the 1800s, and as a result contains many historically significant structures, many of which have been carefully maintained or restored.
Much of the city's character was established by heavy German and Irish immigration from the 1840s to the 1890s, with the Germans tending to settle in the "North End" and the Irish in the "South End." Large Catholic parishes associated with each group were established, and large, impressive 19th-century church buildings remain to this day. The large Catholic presence caused Dubuque to be elevated to the status of a Catholic archdiocese in 1893, and it is still the smallest US city to hold this distinction.
Noteworthy church buildings include St. Raphael Cathedral, St. Mary (with its jewel-like Bavarian stained-glass windows), Sacred Heart, Holy Trinity, Holy Ghost, St. Columbkille, and the Basilica of St. Francis in nearby Dyersville. St. Luke's Methodist Church contains a significant collection of Tiffany-designed stained-glass windows in a striking Romanesque Revival structure.
Dubuque, as a small industrial center, saw its economy falter in the 1980s as industries downsized or relocated. The city has made a concerted effort to attract tourists, with the establishment of historic districts, museums, a greyhound racing park, a casino, a riverside hotel and conference center, and a Smithsonian-affiliated museum devoted to the history and biology of the Mississippi River. In 2009, IBM named Dubuque one of its "Smarter Cities", and planned to move 1,500 jobs into the restored Roshek building downtown.

Get in
By plane
Dubuque Regional AirportAir service is provided by American Eagle, connecting to and from Chicago O'Hare. American Eagle has 3 flights per day to and from the city. To get downtown, stay on U.S. Hwy 61 all the way in (a 15-min trip). There are 2 car rental agencies (Avis and National) with offices in the airport terminal.
By car
Dubuque is connected to most of the surrounding cities by 4-lane highways.
From the north (Twin Cities): Take US Hwy 52 (2-lane)
From the northeast(Madison/Milwaukee): Take US Hwy 151 (4-lane)
East(Rockford/Chicago): Take US Hwy 20 (mostly 4-lane, some 2-lane)
South (Quad Cities): Take U.S. Highway 61 (4-lane)
Southwest (Cedar Rapids): Take US Hwy 151 (4-lane)
West (Waterloo): Take US Hwy 20 (4-lane)
By bus
Dubuque is 183 mi (295 km) west of
Chicago
via I-90 and US 20, 90 mi (145 km) southwest of
Madison
, Wisconsin, via US 151, 70 mi (113 km) north of the
Quad Cities
via US 61, and 189 mi (304 km) northeast of
Des Moines
via US 65, US 30, and US 151.
By train
There is no passenger rail service to Dubuque. The proposed Chicago-Rockford-Dubuque passenger line has been put on hold by the Illinois state government.
Get around
Once in Dubuque, most people travel by car as public transport is limited. There are a handful of major car rental offices in the city.
By bus
The City of Dubuque also operates a public bus system called
The Jule
(formally known as KeyLine Transit). The Jule operates 16 bus routes and a trolley route (in the summer) downtown. The buses generally operate in a east-west orientation, with major transfer stations downtown (W 9th and Main Sts.), midtown (N Grandview and University Aves.), and on the west side (Kennedy Cir./John F. Kennedy Rd.). Most buses operate on 45 min-1-hour long loops.
Bus fares are 50¢-$1. Discount tickets are available for students, elderly, and the handicapped, available at
+1 563
589-4196 or KeyLine office at 2401 Central Ave.
By taxi
#1 Green Cab (563) 495-7777
A1 Taxi (563) 582-1818
Platteville Cab Service (608) 384-5678
Starlight Limousine & Taxi (563) 580-8005
When driving around downtown Dubuque, be on the lookout for one-way streets because they are somewhat poorly marked. Also, take caution as many turn lanes become confusing with lanes simply ending or becoming turn lanes without warning.
See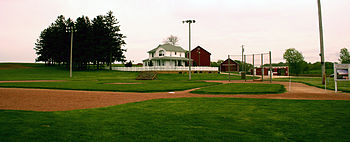 Do
American Lady Yacht CruisesYacht cruises on the Mississippi River, featuring happy hour and sunset dinner cruises. Also arrange wedding and event cruises.

address: 8700 W Chestnut Rd

Galena, IL. South of Dubuque on bluffs overlooking the Mississippi. Nineteen runs and seven-acre terrain park. 450 foot vertical drop. Open during summer months with mountain biking, miniature golf, nature trails, and alpine slide.

Diamond Jo CasinoAt the Port of Dubuque.

Dubuque by CarriageCable Car Square. Carriage tours of downtown Dubuque that include informative history of the city and region. Run from May-October.

Dubuque River RidesSightseeing and dinner cruises on the Mississippi River.

address: 525 S. Main St

Galena, IL; 815.776.9425 Area's supplier of canoe/kayak rentals and organized day and overnight trips on the Mississippi and other area rivers. Also offers scooter and bike trips to Galena-area wineries. Organizes the Fever River Adventure Triathlon each September.

Grand Harbor Resort and WaterparkIowa's first indoor waterpark resort contains 25,000 square feet of Mississippi-themed indoor water activities.

Great River Wine TrailA collection of nine vineyards in the Tri-State area (3 in Iowa, 3 in Illinois, and 3 in Wisconsin), promoted as a weekend destination for regional and international wine lovers. Each winery is located within 50 miles of the Mississippi, and tours are organized between the various locations. Individuals visiting and tasting at each winery turn in bottle stickers from each to receive a free t-shirt commemorating their accomplishment.

Heritage TrailScenic 26-mi (42 km) bike/snowmobile trail from Dubuque to Dyersville, built on old Chicago Great Western railroad bed.

Mississippi Riverwalk Port of Dubuque. A 1/2 mile long walkway along the Mississippi River, running from the Ice Harbor in the south to the Alliant Energy Amphitheater in the north, situated atop Dubuque's flood protection levee. Provides excellent views of both the Mississippi and downtown Dubuque. Includes a pavilion, benches, and numerous informational displays on the history of the Port of Dubuque.

address: 17017 Asbury Rd

Asbury, Ski resort just west of Dubuque, overlooking Driftless Area. Twenty-one trails, 2 terrain parks, and 475 feet of vertical drop. Live music on weekends at the North Lounge.

Swiss Valley Nature Preserve & Center

phone: +1 563 556-6745

address: 13606 Swiss Valley Rd

Peosta, IA; Interpretive center, hiking trails, trout fishing, and 4 miles of cross country skiing spread out over its 476 acres.
Golf
Birchwood Golf Course

phone: +1 608 748-4743

address: 3976 Eagle Point Rd

Kieler, WI; 9-hole course located on the bluffs overlooking the Mississippi, 2 miles north of Dubuque.

Bunker Hill Golf Course

phone: +1 563 589-4261

address: 2200 Bunker Hill Rd

18 holes.

Derby Grange Golf & Recreation

phone: +1 563 556-4653

address: 13079 Derby Grange Rd

9-hole par-3 course, also includes mini-golf course.

Dubuque Golf and Country Club

phone: +1 563 583-9158

address: 1800 Randall Pl

Private club.

Eagle Ridge Resort & Spa

phone: +1 815 777-2444

address: 444 Eagle Ridge Dr

Galena, IL; Four award-winning courses on 68,000 acres.

Lacoma Golf Club

phone: +1 815 747-3874

address: 8080 Timmerman Dr

East Dubuque, IL; 45 holes of golf, including the championship Blue Course.

Meadows Golf Club

phone: +1 563 583-7385

address: 15766 Clover Ln

Asbury, IA; Voted best course in the Tri-State 2003-2008 and given a four-star rating by Golf Digest.

Thunder Hills Country Club

phone: +1 563 556-3363

address: 16682 Thunder Hills Dr

Peosta, IA; Full-service country club.

Timberline Golf Course

phone: +1 563 876-3422

address: 19858 E. Pleasant Grove Rd

Peosta, IA; 18 holes.
Parks
Allison-Henderson Park Five acre park on N. Grandview Ave, includes lighted in-line hockey rink, playround equipment, BBQ grills and a recreation program center.
AY McDonald Park At north end of Kerper Blvd on the Mississippi, includes fishing pier, boat ramp, walk/bike path, and a rentable council ring overlooking the river.
Bergfield Recreation Area Just west of the city, includes fishing pond with two accessible fishing jetties and a 0.78 mile path around the pond.
Eagle Point Park Named one of the most outstanding city parks in the Midwest, featuring 164 acres of blufftop views of Iowa, Illinois, and Wisconsin. Facilities include Riverfront Pavilion, Shiras Memorial Pavilion, Log Cabin Pavilion, six tennis courts, viewing towers, band shell, playground equipment, spray pool, and rock garden/fish pond. In 1930, a WPA grant was used for renovating the park, incorporating Frank Lloyd Wright prairie architecture into its buildings and gardens.
Louis Murphy Park On the south end of Dubuque, with picnic shelters, three tennis courts, horseshoe courts, and playground equipment. Overlooks the southern end of the city and the Mississippi River from its bluff top location.
McAleece Park Recreation Complex On Chaplain Schmitt Island, the complex features three lighted softball diamonds, John Petraikis Field (lighted regulation baseball diamond with seating for 1,700), two soccer fields, a skate park, and a concession stand.
Miller Riverview Park 20-acre park on Chaplain Schmitt Island, next to Mystique Casino, with camping facilities, a walk/bike path, and great views of Mississippi River traffic.
Pet Park A 2.5-acre park next to Bunker Hill Golf Course. Fenced in and separate areas for large and small dogs.
Veterans Memorial Park A 73-acre park on the north side of the city with three softball diamonds, four tennis courts, disc golf course, and a large amount of heavily wooded area.
Wahlert Park A 35-acre park on Pennsylvania Avenue that includes five tennis courts, two softball diamonds, volleyball courts, Flora Park swimming pool, horseshoe courts, and a concession stand.
Events & festivals
America's River Festival Juneat the Port of Dubuque. Featuring local and national bands including Three Dog Night and Blood, Sweat & Tears. Also with Dockdogs, monster truck rides, various food vendors, NASCAR racing simulator, and climbing wall.
Dubuque Renaissance Faire May. Held at Union Park YMCA Camp location on John F. Kennedy Blvd. Hosted by the Dubuque Museum of Art. Featuring jousting, renaissance market, jugglers, musicians, and food vendors.
DubuqueFest Fine Arts Festival Annual all arts festival third full weekend every May in Washington Park and Town Clock Plaza. Dubuque's only fine arts festival. Juried fine art fair, interactive art for all ages, old house tour, live music on 3 stages, music. art. culture. Free. www.dubuquefest.org

Eastern Iowa Wine FestBlack Horse Inn, Sherrill, IA, a few miles north of Dubuque. 3rd annual event featuring wines from the Upper Mississippi region, tastings, food, amateur winemaker's competition, live music, and the "People's Choice Award" for best wine at the fest.

Irish Hooley At Alliant Energy Amphitheater. Featuring live Irish music and dancers, genealogy and travel information, and food and merchandise vendors.

RAGBRAIRAGBRAI (Register's Annual Great Bike Race Across Iowa) is one of the nation's longest-running cross-state bike rides.

Riverfest in Washington Park. A weekend of free family entertainment, including flea market and craft fair, continuous live outdoor music, and children's events.
Taste of Dubuque at the Port of Dubuque. 15th annual event with over two dozen food vendors featuring local cuisine, as well as live music and children's activities.
Tri-States Chili Cook-off at Cable Car Square. A day filled with entertainment, food, and beverage vendors, including the ever-popular chili cook-off contest. All proceeds donated to area charity.
Learn
There are thousands of students who attend colleges in Dubuque. The largest are the city's 3 liberal arts colleges:
Clarke College
,
Loras College
, and the
University of Dubuque
. Collectively, the schools are known as the "Tri Colleges" and enjoy a friendly rivalry with one another. Other students attend the various religious institutions in the city, or
Northeast Iowa Community College
, which has a satellite location downtown.
Buy
Asbury Plaza Corner of Asbury Rd and Northwest Arterial. Outdoor shopping complex in the West End. Home to Kohl's, Sam's Club, Hy-Vee, and Star Cinemas.

phone: +1 563 556-1994

address: 555 Kennedy Rd

Iowa's first enclosed shopping mall. Home to Mindframe Theaters, Dubuque's independent cinema, as well as anchors Sears, Younkers, and JC Penney.
Eat
Breitbach's Country DiningA few miles northwest of Dubuque in Balltown. Iowa's oldest food and drinking establishment (opened in 1852), and has seen the likes of the outlaw Jesse James, Brooke Shields, and George Wendt walk through its doors.

Breitbach's Farmer's Market Food Store has been serving the Dubuque community for 30 years. Michael and Pearl Breitbach (and their five children) have been the Tri-State area's only consistent source of natural and organic foods, including local produce, meat, dairy, and poultry for the last 3 decades. "The Food Store" (as it is commonly referred to) also stocks the freshest herbs and spices, supplements, vitamins and minerals, and informative literature on health food and healthy living. The longest running stall on the Dubuque Farmer's Market, Breitbach's also provides live musical entertainment on Saturday mornings May-October.

phone: +1 563 556-2167

address: 378 Main St

In the historic Old Main district, and specializing in beef, lamb, veal, and poultry. Large wine selection and fantastic desserts.
Drink
Bars and pubs
phone: +1 563-587-8306

address: 1085 Washington St

Craft brewery and brewpub, a restaurant serving beer, burgers, sandwiches, and cocktails.

The Lift

phone: +1 563 584-1702

address: 180 Main St

An Irish-themed bar. Formerly known as the Busted Lift and 180 Main. Live music and gorgeous bar. 20 beers on tap, including every major Irish import.

phone: +1 563 584-1729

address: 342 Main St

Inside the German Bank building. The renovated Silver Dollar Cantina, The Bank hosts live music on the weekends, and has themed international nights - Tuesday is Indian night and Wednesday is German night.

phone: +1 563 582-8600

address: 1630 E. 16th St

Bill themselves as "Dubuque's #1 Hotspot", owing to their Bikini Deck overlooking the Mississippi and cheap happy hour specials. Regularly host bands on the deck during the summer months.

Courtside Sports Bar and Grill

phone: +1 563 583-0574

address: 2095 Holliday Dr

Large sports bar in western Dubuque with 26 TVs, including 3 60" LCDs above the bar as well as a 15 foot projection screen. Hosts rec leagues on its courts, including basketball, volleyball, and dodgeball. Also occasionally hosts live music.

phone: +1 563 513-2587

address: 1700 Central Ave

Upscale bar north of downtown. 36-foot main bar and dancefloor. Dress code enforced on weekends, with DJ Thursday, Friday, & Saturday nights. Regularly schedules organized bar crawls.

Europa Haus Restaurant and Bier Stube

phone: +1 563 588-0361

address: 1301 Rhomberg Ave

Jn Dubuque's old German ward on the northside. A German-themed bar and restaurant with beers such as Spaten on tap.

Frank O'Dowd's Irish Pub & Grill

address: 9853 US Hwy 20

Galena, IL, 15 minutes east of Dubuque, in Galena, is this authentic (built in Ireland, shipped to the U.S.) pub. Hosts Irish dancers regularly. Excellent Irish whiskey (over 50 types) and beer selections. St. Patrick's Day celebrated every day!

Galena Beer Company

phone: +1 815-275-9469

address: 227 N. Main St

Galena, IL; Brewery and pub.

phone: +1 563 587-0200

address: 100 Main St

In an old converted warehouse space at 1st and Main, Lot One has a great selection of beers, including picks from Capital, Flying Dog, Rogue, and Spanish Peaks. Also serves great hamburgers and has a large martini list. Second floor can be rented out for private parties.

phone: +1 563 690-4800

address: 301 Bell St

Inside the Diamond Jo Casino complex. Hosts Dueling Pianos every Thursday, DJs on Fridays, and live bands every Saturday night. Occasionally hosts big-name performers such as Jordin Sparks.

Mojo's Sports Bar

phone: +1 563 690-4815

address: 301 Bell St

Sports bar in the Diamond Jo complex with 18 TVs, including two large screens and their own sports ticker.

phone: +1 608-763-4002 ext 106

address: 209 S. Main St

Potosi, WI, Home to the National Brewery Museum and brewing several of their own beers, the restored Potosi Brewery is a restaurant and pub with original sandstone walls and Cypress wood tables made from old brewery beer vats. Beer garden located outside open during warmer months. On-site brewed beers include Good Old Potosi Beer (light ale), Pure Malt Cave Ale, Snake Hollow India Pale Ale, Holiday Lager Bock, American Porter, Potosi Czech Style Pilsner, and Scotch Ale.

address: 200 Main St

Inside the restored Hotel Julien Dubuque.

phone: +1 563 556-4800

address: 600 Star Brewery Drive

In the old Dubuque Star Brewery building, next to the Mississippi and in the Port of Dubuque. Includes outdoor patio and great views. Good selection of craft beers and martinis.

phone: +1 563 583-6100

address: 600 Star Brewery Drive

In the same building as Star Ultra Lounge. Has a piano bar and outdoor patio. Sells wines crafted at the Stone Cliff vineyards near Dubuque. Also has a tasting room and gift shop on site.
Coffee
Jitterz Coffee & Cafe

phone: +1 563 557-3838

address: 1073 Main Street

Aroma Coffee Bar

phone: +1 563 582-9500

address: 806 Wacker Dr

Cafe Manna Java

phone: +1 563 588-3105

address: 269 Main St

Java Dreams

phone: +1 563 582-2575

address: 1895 University Ave

Monks Kaffe Pub

phone: +1 563 585-0919

address: 373 Bluff St

Naughty Dog Coffee Bar & Deli

phone: +1 563 556-7154

address: 1108 Locust St

One Mean Bean

phone: +1 563 585-1601

address: 2728 Asbury Rd
Sleep
Stay safe
Dubuque is a very safe city with a below-average crime rate. By and large, all areas of the city can be enjoyed day or night without fear of robbery or attack. Visitors are very common to the area, with the high number of tourist attractions and the presence of multiple colleges, and attacks on tourists are rare. The main tourist destinations and hotel locations are well-traveled and safe. However, as with any city of a certain size, there are some pockets of crime.
For emergencies, call: 911
For non-emergencies, call the Dubuque Police Department: +1 563 589-4410.
Stay healthy

Dubuque is home to two major hospitals, and is the region's center for health care. Mercy Medical Center (250 Mercy Dr; +1 563 589-8000) is a 263 bed hospital just west of downtown that was named one of the nation's Top 100 hospitals by Thomson Reuters last year. It also has received Magnet hospital designation by the American Nurses Credentialing Center. It handles 55,000 patient visits annually. Finley Hospital (350 N. Grandview Ave; +1 563 582-1881) has also been named one of America's Top 100 hospitals, and is the Tri-State's leader in cancer care.

Go next
Trips along the
Great River Road
afford an appreciation of the upper Mississippi River valley's natural splendor, as you travel through dairy and corn country, down into tree-lined valleys, along limestone bluffs, all the while getting glimpses of the majestic river. This is not prairie Iowa - there's a great deal of scenic variety and interest. The drive north of Dubuque to McGregor, via Sherrill, Balltown, and North Buena Vista, and the drive south through St. Catherine's, St. Donatus, Bellevue, and Sabula, are especially commendable.
Heading 19 mi (24 km) east on US Hwy 20 to Illinois takes the traveler to
Galena
, the "town that time forgot" and worth at least a day to soak up the atmosphere of a small town that attracts thousands of visitors each year. The historic former lead-mining and commercial center features numerous antique shops and restaurants, and the Ulysses S. Grant Home.