Duisburg
Duisburg
is a German city in the western part of the
Ruhr
area (Ruhrgebiet) in
North Rhine-Westphalia
. It is a metropolitan borough with a population of just under 500,000. With the world's biggest inland harbour and its proximity to Düsseldorf International Airport, Duisburg has become an important venue for commerce and steel production.

Understand
Contemporary Duisburg is a result of numerous incorporations of surrounding towns and smaller cities. It is the twelfth-largest city in Germany and the fifth-largest city in North Rhine-Westphalia.
The core city was founded in the 5th century AD as a marketplace on the Westphalian
Hellweg
trade route, a ford on the river Rhine and the border between the Frankish Empire and the Duchy of Saxons. Around 740 it became one of several royal courts of Francia, it was first mentioned in a chronicle dated 883 AD as one of the Rhenish places conquered by
Normans
. 16th-century cartographer Gerardus Mercator, creator of seminal globes and atlases as well as the Mercator projection still used in modern world maps, lived, worked and taught in Duisburg for forty years.
Since the late 19th century, the city is renowned for its steel industry, being Central Europe's leading site in this sector. All seven blast furnaces in the Ruhr are now located in Duisburg, producing half of the pig iron and a third of the crude steel made in Germany. Coal-mining, on the other hand, has never played the big role it had in other places on the Ruhr. As Germany's heavy industries have lost importance since the mid-20th century (due to the rise of plastics and relocation of production to low-wage countries), Duisburg had to go through a major structural transformation, losing tens of thousands of jobs in the steel mills while creating new ones in the services and logistics sectors.
Duisburg-Ruhrort, on the confluence of rivers Ruhr and Rhine, has long been and still is Europe's biggest inland harbour. It has successfully kept up with the times, replacing its facilities for break bulk and dry bulk cargo in favour of container shipping and modern logistics infrastructure as well as minimising the average laytime of ships from more than a day to only a few hours. Duisburg also aims to be the terminal of a "New
Silk Road
", offering direct freight train links from China.
The University of Duisburg-Essen, with 42,000 students, ranks among the 10 largest German universities.
Get in
By plane
Düsseldorf International AirportTake the SkyTrain people mover to the airport's long-distance train station and board any regional train going northwards - Duisburg Hauptbahnhof is the immediate next station, the trains take under 10 minutes to get there. You can also take the S1 S-Bahn train, with several stops on the way, taking c.a. 20 minutes. The journey is covered by the B-level fare of the local public transportation authority, VBB.

Frankfurt Airport (FRA) is Germany's busiest airport with a wealth of short-haul and intercontinental connections. Direct high-speed trains take you from Frankfurt Airport to Duisburg Hauptbahnhof in c.a. 1.5h, departing frequently in daytime. Tickets can be had for EUR 29 if booked in advance with Deutsche Bahn, passengers of many airlines serving Frankfurt Airport can also take advantage of the Rail&Fly offer.

Dortmund AirportThis airport to the east of Duisburg sees some regular service from several European airlines. To get to Duisburg, take the Airport Express bus (25 mins, EUR 8.50 one way) and change to a Duisburg-bound train at Dortmund Hauptbahnhof. There are multiple trains every hour between both cities, including high-speed ICE and regional RE trains - both take between 30-40 minutes to cover the distance.
Ryanair flies from some European destinations to Niederrhein Airport Weeze (NRN) northwest of Duisburg, near the Dutch border. The only practical way to get from there to Duisburg is by ordering a minibus airport transfer, as there is no direct train connection.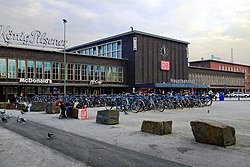 By train
Duisburg Hauptbahnhofis the main junction of regional, nationwide and international railway lines.
Deutsche Bahn
offers hourly ICE
high-speed trains
from Berlin (under 4 hours), Hanover (2:15), Munich (5 hours) and Frankfurt (1:45). Moreover there are two-hourly ICEs from Amsterdam (2 hours), Stuttgart (under 3 hours), as well as intercity trains from Hamburg (3½ hours) and Bremen (2½ hours). Four times a day, the
Thalys
from Paris (4 hours) and Bruxelles (2½ hours) stops in Duisburg.
Moreover there is a wide range of frequently running local trains linking Duisburg with other cities in the Rhine-Ruhr region (
VRR network
), e.g. from Essen in 10–15 minutes, Düsseldorf in 15 minutes, Dortmund in 35–40 minutes.
By car
Duisburg is part of the Ruhr's very dense Autobahn network (located on the junctions of A3, A40, A42 and A59), which is however prone to traffic jams.
By bus
Flixbus
serves Duisburg. Buses are usually comfortable enough but slower than trains if usually cheaper.
Get around
Duisburger Verkehrsgesellschaft AG
(DVG) operates a network of four tram and 32 bus lines. The U79 tram is a joint venture of the Düsseldorf and the Duisburg transport company, linking both cities. Moreover, Duisburg is part of the S-Bahn Rhein-Ruhr network operating urban rail both within the city and linking it with its neighbours Düsseldorf, Oberhausen, Mülheim and Essen. VRR combi-tickets are valid for all means of local transport (rail, tram, bus).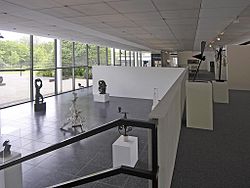 See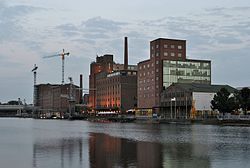 Salvatorkirche

address: Burgplatz

Duisburg's oldest church. A church has existed at this place since the 9th century, then being part of the Frankish royal court. It was rebuilt after burning down in the 13th century, the current Gothic-style building commissioned by the Order of Teutonic Knights being completed in 1415.

Rathaus

address: Burgplatz 19

Located at the exact place of the former royal court, the present Renaissance revival building from 1902 has replaced several predecessor buildings. In front of it stands the 19th-century Mercator well, dedicated to the famous cartographer, one of the greatest Duisburgers of all times.

Old Market archaeological zone

address: Alter Markt

Findings from the earliest stages of Duisburg's history

Museum of Cultural and Local History

address: Johannes-Corputius-Platz 1

Includes also the Mercator Treasury (a collection of globes an maps made by Gerhard Mercator, the inventor of the atlas) and a museum on the city of Königsberg.

German Inland Waterways Museum

phone: +49 203 80889-40

address: Apostelstraße 84

Located in Europe's biggest inland harbour, the museum informs about the history and present of inland navigation, illustrated by several museum ships.

address: Friedrich-Wilhelm-Straße 40/Düsseldorfer Str. 51

Internationally reknowned collection of modern and contemporary art, especially statuary and sculptures.

address: Philosophenweg 55

Centre for modern and contemporary art in a former brick warehouse at the inner harbour.

phone: +49 203 29823340

address: Philosophenweg 23-25

Huge children's museum with a "hands on—hearts on—mind on" concept, primarily designed for children aged four to twelve. There is a mix of fun activities, physical training and (subtle) learning on the history of grain processing in the inner harbour, archeology, building, communication and media. For younger children there is a pirate-themed area.

address: Mülheimer Straße 273

Great collection of primates, dolphinarium and koala bears.

Botanical Garden Kaiserberg

address: Schweizer Straße 24

Botanical Garden Hamborn

address: Fürst-Pückler-Straße 18

address: Emscherstrasse 71

Former ironworks complex which has been transformed to a park. Discover the cultural heritage of the Ruhr area

Tiger & Turtle

address: Heinrich-Hildebrand-Höhe, Angerpark, Duisburg-Angerhausen

Landmark and huge sculpture created during the 2010 Capital of Culture period of the Ruhr. It looks a lot like a rollercoster, but has no carts, instead you may walk on it. Illuminated at night.

DİTİB Merkez Mosque

address: Duisburg-Marxloh, Warbruckstraße 51

Completed in 2008, held in a traditional Ottoman style, with 1200 places one of the largest mosques in Germany. In addition to being a house of worship, it also hosts a centre for encounter as well as a library and archive of Islamic documents.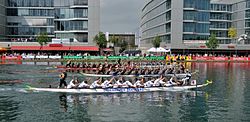 Do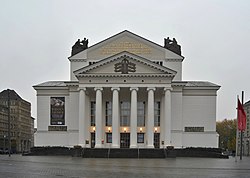 address: "Schifferbörse" pier, Duisburg-Ruhrort, Gustav-Sander-Platz 1

Europe's largest inland harbour.

address: Neckarstraße 1

Duisburg AccentsFestival in March.

Visit the Innenhafen (inner harbour), a formerly industrial plot converted and gentrified, for museums (listed above), restaurants, pubs and bars overlooking the river.
Buy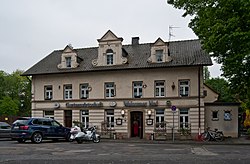 Eat
Poukhoun

phone: +49 203 72999533

address: Heerstraße 256

An inexpensive Laotian restaurant in a residential district that has had enough rave reviews to merit taking reservations.

address: Philosophenweg 17-18

A Mongolian buffet restaurant - and a part of a bustling chain thereof to boot! - is perhaps the last thing you expect in Duisburg, but the terrace overlooking the Innenhafen and simply good food make it a pleasant surprise.
The Innenhafen (inner harbour) also hosts Spanish, Italian, Asian and German restaurants overlooking the river.

address: Friedrich-Wilhelm-Platz 2

An Italian restaurant with a sizeable wine cellar, popular with local businessmen and well-to-do, many of whom grew to be friends with its host, Massimo.
Drink
Duisburg is the home of König Pilsener (KöPi), one of Germany's best-selling mainstream beers. One can buy it in supermarket, kiosks and in almost every restaurant.
Sinalco, a lemonade brand quite known throughout Germany (claiming to be the oldest brand of carbonated soft drinks in Europe) is produced in Duisburg.
There are two small breweries producing their own beer: Webster Brauhaus and Brauhaus Urfels. Both of them have restaurants too.

address: Sternbuschweg 71

Home to over 222 varieties of beer from all over the world.
The Innenhafen (inner harbour) hosts a café, cocktail bar (Mississippi Queen), pubs (choose Diebels im Hafen for Alt, König Pilsener Wirtshaus Duisburg for Pils beer, but don't worry - both serve other drinks and varieties of beer, too), and restaurants overlooking the river.
Sleep
address: Friedenstraße 85

phone: +49 203 300030

address: Landfermannstraße 20
Go next