Duluth
Duluth
is a city of about 87,000 people in northern
Minnesota
. It is one of the most scenic cities in the
Midwest
.
Understand

Duluth has always been a shipping town: first for furs, later for iron ore, timber, and grain. As a shipping and milling town, Duluth once had the highest number of millionaires per capita in the United States. This is still reflected in the large number of mansions in the east end of town. Ocean-going vessels come up the St. Lawrence Seaway into the Great Lakes to Duluth Harbor. Since these "salties" go through the locks, they are smaller than the native "lakers" that stay within the Great Lakes. Ships under many flags, including Nigeria, Greece, and Denmark frequently dock in Duluth to pick up grain and coal for overseas markets. Iron-ore and taconite still go to Indiana, Ohio, and Pennsylvania for processing into steel.
Built largely on a 700-foot hill overlooking Lake Superior, Duluth also has a thriving tourism industry, with antique shops, excellent restaurants, cozy inns, and scenic views of the lake. There is a ski resort inside city limits. Canal Park and Superior Street have the highest concentrations of tourist destinations in the city. The famous Aerial Lift Bridge is on Lake Avenue, next to Canal Park. Particularly proud residents liken the city to
San Francisco
, which also has bridges, hills, a bay, and a thriving tourist business. The renowned Grandma's Marathon is held annually, named after Grandma's Saloon (restaurant) in Canal Park. The University of Minnesota-Duluth and St. Scholastica College are the two largest colleges in the city with over 12,000 students together.
Duluth is the western endpoint of the scenic North Shore Drive, which follows the rugged north coast of Lake Superior nearly 700 miles to
Sault Ste Marie (Ontario)
. Across the bay is
Superior
,
Wisconsin
.
Climate
Set on deep Lake Superior, the largest freshwater lake in the world by surface area, Duluth can be cool or cold anytime of year. The official temperatures are reported from the airport, over the hill, and can be ten or more degrees (Fahrenheit) above the downtown temperatures. Sixties (about 18°C) for a high in August are not uncommon, but it can reach the 80s (about 28°C) just as easily. Bitter windchills can occur in the winter, although air temperatures generally do not go below -20°F (-29°C). Despite this, some people bike to work year-round. The temperatures can also change very rapidly, especially near the lake, a wind switch can be accompanied by a temperature drop of thirty degrees (F) in a couple of minutes.
Visitor information
Visit Duluth operates two visitor information centers:
phone: +1 218 722-4011

address: 21 W Superior St

phone: +1 218 722-6024

address: Harbor Dr
Get in
By car
Duluth is about a 2½-hour drive north of the
Twin Cities
on Interstate 35. A driver entering Duluth on I-35 from the Twin Cities will be rewarded by a spectacular view of Duluth laid bare in the valley and Lake Superior into the horizon. Travelers not familiar with Duluth may be surprised at how elevated the surrounding hills are. The international airport sits at an elevation of 1,427 feet. After long hours of relatively flat scenery, the view is a treat, especially during peak fall colors. The highway then descends at a steep grade just to the east of downtown; Exit 256B is the recommended exit for most downtown attractions.
By plane
Duluth International Airport
(
DLH
). Offering daily non-stop service to Minneapolis/Saint Paul, Detroit and Chicago. In addition service is offered occasionally and sometimes seasonally to Las Vegas, Phoenix and Orlando.
Airlines serving Duluth International Airport:

Allegiant Air
Delta Air Lines
United Airlines
By bus
Duluth is served by Jefferson Lines. The main bus terminal is the at 228 W Michigan St in downtown Duluth; Jefferson Lines also stops at the College of St. Scholastica and the University of Minnesota-Duluth. Skyline shuttle runs 10 times a day between the Minneapolis-St Paul airport and Duluth downtown Radisson hotel.

By boat
Duluth-Superior (WI) is an international seaport, by way of the Great Lakes and the St. Lawrence Seaway, and while the taconite industry has dropped way off from the Iron Range, timber is still shipped by boat. Cruise ships that travel the Great Lakes have recently begun adding Duluth as a stop on their itineraries.

Get around
By car
Driving is probably the best option for getting around Duluth. The city generally does not have any traffic problems, although it can get congested in Canal Park.
The city is built on a rather steep hill, so if you travel around anywhere other than downtown or I-35, make sure your brakes are in good order. It can be slushy in the winter as the road crews typically put down salt first, then plow the roads when traffic is lighter. However, being on the west side of the lake, Duluth doesn't normally receive the large lake-effect snowfalls, is the normal snowstorm.
US Highway 53 crosses from Wisconsin to the south to the Iron Range in the north, and will take you to Miller Hill Mall, on top of the hill on the west side. US Highway 2 runs east-west. Keep in mind that the majority of the city is laid out in a grid based on the Lake Superior shoreline. This is about 45 degrees off of true north, however the residents refer to east/west streets running parallel to the lake, and north/south avenues that are perpendicular to the lake. Lake Avenue is considered to be the dividing line between east and west.
By bus/taxi
If you don't have a car, you could use the public bus and trolley services operated by the
Duluth Transit Authority (DTA)
.
Allied Taxi (+1 218 722-3311) and Yellow Taxi (+1 218 727-1515) offer transportation within the city limits and into Wisconsin as well.
If you're looking for a guided bus tour of the city, visit
The Duluth Experience
(218-464-6337). This local tour company offers a variety of sightseeing bus tours of Duluth including History Tours and their popular Brewery Tours.
By bike
The
Duluth-Superior Metropolitan Interstate Council
has made a
bike map
for the Twin Ports area.
See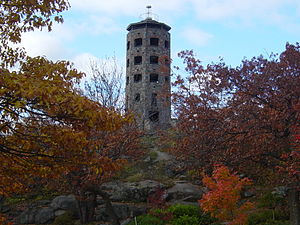 Parks and gardens
address: off of Hank Jensen Dr in Enger Park

An observation tower at the top of the hill in Enger Park that provides panoramic views of Duluth and the Twin Ports area. The park boasts lovely and distinct gardens: shade hostas, over 200 perennials, 4,000 daffodils, and a Japanese garden. It was named after former Mayor Bert Enger, who hailed from Pine City.

Leif Erickson Park

address: 12th Ave E and London Rd

Home to the Duluth Rose Garden and the Leif Erickson Viking Ship, all overlooking Lake Superior.
Museums
Other
Aerial Lift Bridge

address: S Lake Ave at Canal Park

This vertical lift bridge is the signature landmark of Duluth.

phone: +1 218 740-3474

address: 353 Harbor Dr

Hands-on discovery center encourages guests to explore animals and ecosystems found in the Great Lakes and beyond. Visitors experience the geologic forces that shaped Lake Superior, watch as divers feed fish in a massive two-story tank, raise and lower locks on a scale model of the Great Lakes, pilot a virtual ore boat under the Aerial Lift Bridge and pet young sturgeon and freshwater stingrays. Exhibits showcase over 70 species of fish, birds, reptiles, amphibians and mammals providing a unique window into watery worlds.

phone: +1 218 730-4900

address: 7210 Fremont St

You'll find hundreds of animals and exotic species at the Lake Superior Zoo. 10 minutes from Downtown Duluth, the zoo offers year-round recreational opportunities.
Do
Duluth is filled with plenty of activities for people of all ages.
Canal Park
is a tourist district on the lakefront filled with restaurants, cafes, shops and hotels. Some of Canal Park's attractions include a 4.2-mile long lakewalk, a lighthouse pier, the Lake Superior Maritime Visitor Center, the Great Lakes Aquarium, and the William A. Irvin floating ship museum. Those interested in boats will also enjoy watching vessels from around the world enter Duluth's port. Travel the bricked streets in
Downtown Duluth
and enjoy the historic architecture that defines the city. Walk down Bob Dylan Way (Michigan St, Superior St and London Rd) and celebrate the continuing commitment to supporting local art and local artists.
Attractions
Sports & recreation
phone: +1 218 786-990

address: 101 N 35th Ave W

Playing in the Northwoods League, the Huskies have established themselves as perennial contenders by bringing in the best college players from the strongest baseball programs in the country.
phone: +1 218 391-0147

address: 15 Miles of Duluth

Draft Horses Sleigh and wagon rides, learn to harness and drive or just enjoy the ride. Rock Climbing In Duluth and up the shore, climbing for all ages and abilities. Kayaking Private inland lake just north of Duluth or Lake Superior at Two Harbors, Split Rock Lighthouse or the fantastic sea cliffs off Shovel Point or Palisade Head.
phone: +1 218 628-2891

address: 9500 Spirit Mountain Pl

Over 175 skiable acres on 22 runs, a Big Air Terrain Park with Super Pipe, 22 km of cross-country ski trails, and the best snowmaking and grooming equipment available.
Tours
Buy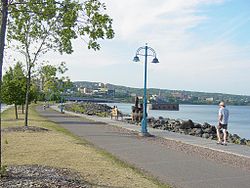 Canal Park
is an excellent place to kick off a shopping trip. Plenty of stores line the streets and are close together and easy to walk between. Other great shops can be found throughout downtown Duluth and scattered throughout local shopping centers.
Canal Park
address: 394 S Lake Ave

Built in 1909 as a warehouse and factory for the DeWitt-Seitz Company, a manufacturer of mattresses. In the 1980s, the building was converted to hold shops and restaurants.

phone: +1 218 722-8799

Known for its unique selection of housewares and gourmet kitchen tools. Carries top brands like Le Creuset, Zyliss, and Chantal, as well as carefully chosen local and imported specialty foods, Colorful home decor accessories, and a full assortment of kitchen gadgets to outfit any kitchen.

Hebzibahs

phone: +1 218 722-5049

This old-fashioned candy shoppe is named for Hepzibah J. Merritt. Fulfill your sweetest dreams with chocolates, fudge, licorice and many imported items.

J Skylark Company

phone: +1 218 722-3794

Toys, games puzzles, kites, stuffed animals, rubber stamps, gifts & keepsakes.

phone: +1 218 722-3746

Northwoods clothing, decor and gifts and souvenirs of Duluth and greater Minnesota.

phone: +1 218 724-7307

Smoked fish, meats and sausages, artisan cheese, unique deli sandwiches, gourmet sundries, gift boxes and catering.

Two & Co.

phone: +1 218 727-2414

Jewelry and hair accessories, body care, clothing for women, children and some for pets. You'll find books, magnets, and household cleaners.

phone: +1 218 722-1707

address: 365 Canal Park Dr

Canoes, clothing & gear. Duluth-made luggage & packs. Unique north woods gifts.

I Love Duluth

phone: +1 218 625-1036

address: 345 Canal Park Dr

Gift, novelty and souvenir store. Filled with fun Duluth and Minnesota novelties.

phone: +1 218 723-7877

address: 361 Canal Park Dr

Siiviis of Sivertson Gallery offering exceptional gifts, jewelry, and artwork from around the globe. Trollbead retailer.

Rocky Mountain Chocolate Factory

phone: +1 218 722-1700

address: 395 S Lake Ave

Watch them make fudge and caramel apples along with other storemade treats. Offers over 40 varieties of gourmet chocolates, gift baskets, party trays and corporate/wedding programs.

phone: +1 218 786-0233

address: 395 S Lake Ave

Unique women's clothing and handmade jewelry, regional fine arts, and Blacklock photography gallery.
Eat
There are plenty of restaurants throughout Duluth. Canal Park is home to restaurants and cafes you wouldn't find anywhere else in the world, plus popular chains such as
Famous Dave's,
Old Chicago,
and
Red Lobster
.
Canal Park
phone: +1 218 723-0075

address: 394 S Lake Ave

Great sandwiches and soup. Delicious homemade bread. Live music and relaxing atmosphere.

phone: +1 218 727-4921

address: 405 S Lake Ave

An upscale but not overly expensive Italian restaurant with great pastas and gnocchi.

phone: +1 218 727-4192

address: 522 S Lake Ave

Good Italian and American food. Probably Duluth's most famous local restaurant.

phone: +1 218 722-2355

address: 394 S Lake Ave

International restaurant serving seafood, sandwiches, and soups. Great outdoor patio during the warm months.

phone: +1 218 727-6117

address: 11 E Buchanan St

American Southwestern flair for food. Loaded with original Tex Mex artifacts and hand-carved ornate pillars. The menu features delicious sizzling fajitas, Southwest salads, cowboy burgers, and other original recipe favorites. The bar is highlighted by a Wall of Tequila and a whole menu full of margarita selections. Full wine, beer, and beverage selections also available.

Taste of Saigon

phone: +1 218 727-1598

address: 394 S Lake Ave

The name of the restaurant would seem to indicate that they serve Vietnamese food, but the majority of the menu appears to be of the Americanized-Chinese variety.
Other restaurants
Drink
phone: +1 218 279-2739

address: 600 E Superior St

Unique microbrewery serving an wide selection of beers, ales, lagers, and other beverages; many brewed on site.

phone: +1 218 740-4747

address: 308 E Superior St

Blackwoods Grill & Bar

phone: +1 218 724-1612

address: 2525 London Rd

Local favorite with excellent two happy hours, 3-6 and 9-12. 22 beers on tap including Midwest brews such as South Shore and Goose Island and eco-friendly (keeping with the city's culture) brews like Fat Tire.

Chalet Lounge

phone: +1 218 722-2457

address: 4833 Miller Trunk Hwy

The only place you can eat, drink, and do your laundry. Great breakfasts and large mugs of beer. If you are traveling and need to do laundry this is the place.
Sleep
Stay safe
Dial 911 for emergencies.

Connect

Duluth, along with the airport and its surrounding towns and suburbs (except Superior) are in the 218 area code.

Cope
Publications
Hospitals
St. Luke's
, 915 E 1st St. For more than 25 years, St. Luke's has provided advanced trauma and emergency care to people in a 17-county region.
St. Mary's Medical Center
, 407 E 3rd St. St. Mary's Medical Center is the largest hospital in northern Minnesota and is nationally recognized for clinical excellence and Top 100 heart care.
Go next
Pine City is just a little over an hour's drive south on I-35. Great small town!
Set off for a camping/canoe trip to the Boundary Waters Canoe Area
Drive up the North Shore of Lake Superior along 'Scenic 61'
Bike the Willard Munger trail (over 100 km / 70 miles between Duluth and Hinckley)
Travel south on I-35 to the Twin Cities metropolitan area
Split Rock Lighthouse (40 miles north). Wonderful lighthouse built around 1910. There were no roads at the time so they hauled all material by boat and lifted it to the top of the cliff.