Dumai
Dumai
is the main port city in
Riau
province on the
Indonesia
island of
Sumatra
.
Typical of such cities, it is quite seedy and there is nothing really much to do once you have arrived except to get out as soon as you can. However, you may well find yourself arriving here as it is a major ferry port with connections to the
Malaysia
cities of
Port Klang
,
Port Dickson
and
Malacca
as well as other Indonesian cities like
Bengkalis
and
Batam
.
Get in
By road
Dumai is well connected by road from
Pekanbaru
and
Medan
. The Trans-Sumatran Highway doesn't directly cross over the city, but goes near the city's edges.
From Pekanbaru, it takes approximately 5 hours to reach Dumai. The primary mode of transport is either buses or "travels" (shared car pool). It costs approximately Rp70,000 per person by "travels" and Rp50,000 by bus. If you book a full car, it is roughly Rp450,000 from Pekanbaru. The roads are not good however.
From Medan, it takes about 10 hours. The cost of travel is approximately Rp200,000-300,000 per person, depending upon the bus.
Makmur/Halmahera, Jl. Sisingamangaraja Km 6, 7 Medan. Large buses (AC or non-AC), runs daily (usually overnight).
The main bus station is inconveniently located. An office for shared taxis to Pekanbaru can be found about 300 m from the northern end of Jalan Sudirman, on the east side.
By plane
By boat
All passenger ferry depart from . Beware not to go in the wrong gate as the terminal gate is just side by side with cargo port gate.
From Malaysia
Ferries operate from the following Malaysian cities:
Indomal Express/Malaysia Express: Contact Doyan Shipping in Port Klang (Tel: +60-3-3167 1058). From Malaysia, RM100 one-way. Journey takes just under 3 hours.
MV Pelita Jaya Express/Sabang Marindo II: by NKH Ferry Services in Port Klang(Tel: +60-3-3166 0122). Daily departures from Dumai at 1300; from Port Klang 1030. From Malaysia RM80/150 one-way/return.
Please note that since the 12th of September 2011, the Port Klang passenger terminal charges a departure tax of RM 20 whether you arrive from Dumai or depart from Port Klang, if you don't have the amount in Malaysian Ringgits you are allowed to pay in Indonesian Rupiah but the rate are quite bad.
The Acob Express (Port Dickson Jetty office Tel: +60-6-6471599) operates daily to/from Port Dickson in Negeri Sembilan. From Malaysia, it is RM85/160 one-way/return. Departs Dumai 1300, Port Dickson 1030.
Indomal Express depart from/to Port Dickson on Monday, Tuesday, Thursday, Friday and Saturday. Dumai to Port Dickson : 11.00 am (local time) & Port Dickson to Dumai : 9.00 am (local time)
Malacca: one ferry daily, operated by Tunas Rupat Follow Me Express (Dumai agent at Jl. Jend. Sudirman No. 423, tel: +62-765-31398/37805, open from 07.00 till 17.00; Malacca Ticketing booth at Jln PM10, Plaza Mahkota Melaka Raya. Tel: +60-6-2816766 or office at +60-6-2832506/2832516). Ferry depart depart at 09.00 local time except Friday depart on 10.30 from Dumai and 08.30 from Malacca. Journey time just under two hours. Tickets from Malacca cost RM110/170 one-way/return (at Dumai, cost Rp 300.000/600.000 one-way/return for adult, children 1-12 yo cost half). On high demand season, they may add more trips daily. You have to check-in 2 hours minimum at ticket counter.
Malacca to Dumai Ferry.. Tickets can be purchased from the Malacca International Ferry Terminal, about a 5-minute walk from the Tourist Information Office near the Clock Tower. When purchasing a ticket, an exit ticket from Indonesia is asked for. If you do not have an exit ticket, they are happy to sell you an open return ferry ticket (195 Malaysian ringgit, as of July 2019). This return ticket is valid for six months. Ferry departure time is 10:00 a.m. The immigration office opens at 09:00. Money can be exchanged at the ticket purchasing counter. You are able to carry your luggage on to the ferry, but larger items will be stored separately. It takes about two hours to sail to Dumai and depending on on the number of passengers, and where you are in the queue, up to an hour to clear immigration. If you want the 60-day visa on arrival, the cost is 500,000 Indonesian Rupiah (July 2019). This process is rather straightforward with no complications.
From other parts of Indonesia
Dumai Express (Tel: +62-765-31820; Office at Jl. Jenderal Sudirman No.425) operates several ferries to/from Batam and Bintan. Most ferries stop by Bengkalis off the coast of Riau, and also Tanjung Balai on Karimun Island.
Batam Jet (Tel: +62-765-35888; Office at Jl. Jenderal Sudirman No.441) has daily ferries to Batam.
In
Batam
, ferries dock at
Sekupang
, next to the international ferry terminal where there are connecting ferries to
Singapore
. In
Bintan
, ferries arrive/depart from
Tanjung Pinang
harbour in the middle of town.
Indonesia's national passenger shipping company Pelni ships call at Dumai, linking it with Sumatran ports like
Medan
and other Indonesian islands like
Java
,
Kalimantan
and
Sulawesi
.
Get around

Nothing much to see if you don't have a transport. The town is quite small where you can walk around in half a day just like Kuah, Langkawi, Malaysia. Grab car as of July 2019 has served the city.
There's public park in Sudirman street called Taman Bukit Gelanggang where we can rent "delman" is a traditional transportation. Unique because it use horse power to move.
And there's a lot of amusement thing that we can rent to use.

See
Chinese Temple, Jalan Kelakap 7 (about 5 minutes walk from bus terminal).
Buddhis Temple
There are 2 buddhist temple in Dumai
1.VIHARA BUDDHA PADMA
Located at Nangka street no 35 AB.
It's a buddhayana temple.
2.Vihara Mudita Maitreya
Located at kamboja street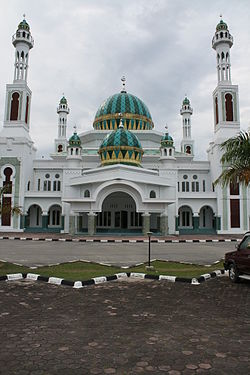 Grand Mosque Almanan, about 15 km from the city center on the way to Pekanbaru.
Do
Dumai is a small city and so does not have the variety of things to do that a larger local may have.
Buy
There is small shopping mall called Ramayana. You can get all the items required for normal consuption is available. Also there is a store named Besta Jaya and Hari Hari.
Hari Hari is better organised for buying the daily needs. For fruit and vegetables there is Pasar which is in day time all seven days in a week. Pasar is the traditional Market for daily fruit and vegetable, fish, other grocessies and cloths.
The prices are very high as compared to any other city of Indonesia. It can be referred as Dollar city of Indonesia. There is no home production in Dumai except palm plantation.
Nothing to Buy as such unless and until required urgently.

Eat
You can taste a lot traditional food in Dumai. Ayam Penyet (Smash Chicken) is a fried chicken with hot/nice traditional chili. You can find sellers in Patimura street, Sei masang, and almost every street in Dumai. Pecel Lele is a fried Fish with traditional chili. You can find a lot of food in Hasanuddin (Ombak) street, especially fresh seafood.
Beware though if you visit here during fasting month of Ramadan, it will be very hard to find food for lunch. Only several fast food chain and Chinese-operated restaurant will open.

Drink
Air akar
is a local drink which you can't find in any other city.
There are several good coffee shops in Dumai
Coffee ToffeeA franchise coffee shop that tastes like Starbucks.

VIENNA COFFEE TEALocated at nangka street, offers a variety of coffee, tea, and dessert.
Sleep
There are two or three nice and new hotels. Once you reach the jetty, do not allow any touts to bother you. Walk fast and get a tricycle (or better, book Grab before going out from terminal) to go to your hotel. Do not tell anybody how long you are going to stay. You can say you came for business meeting with your boss. Your boss is arriving later. You won't be bothered after that. Otherwise the van touts and tricycle touts will try to push prostitutes.
Hotel Cititel

address: Jl. Jendral Sudirman

Hotel City

address: Jl. Jendral Sudirman

Hotel Comforta

address: Jl. Jendral Sudirman

Hotel Grand Zuri

address: Jl. Jendral Sudirman

Neat and clean and located near city center. Limited vegetarian dish is available.

Hotel Komala

address: Jl. Sultan Syarif Kasim
Go next
The local bus station is about 3 km out of Dumai where buses leave for the next most tourist destinations in Sumatra,
Bukittinggi
(ca. 8-9 hrs) or Lake Maninjau.