Dumbarton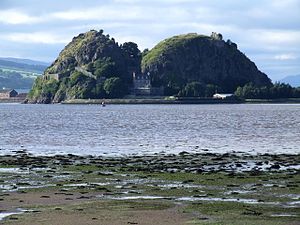 Dumbarton
is a town in
Clydeside
in the Central Belt of Scotland, with a population of 20,000. It stands on the north shore of the Clyde at the outflow of the River Leven, which drains Loch Lomond. Its name means "hill of the Britons" referring to Dumbarton Rock, louring over the Clyde and fortified since ancient times. Shipbuilding and whisky-distilling were the town's traditional trades, and it was the historic county town of Dunbartonshire (note the spelling). It nowadays hosts West Dunbartonshire Council, and is a commuter town for Glasgow and for Faslane navy base ("HMNB Clyde") on Gareloch. It's frankly ugly, a sprawling mess of ill-planned post-war concrete. Most visitors are simply making a stopover, as this is the first town and cluster of accommodation you encounter heading north from Glasgow towards the Highlands. The main reasons to visit are the castle and the model ship tank.
Get in
By plane:
Glasgow Airport (
GLA
) is nearby, and easily reached with a car via A898 Erskine Bridge, but there's no public transport that way except twice a day when the Citylink buses to the Highlands call at the airport. So you usually have to travel via central Glasgow; else consider taking a taxi.
Trains run every 15 mins from Glasgow Queen Street (low level) to , taking 30 min. Some of these originate in Edinburgh and continue to Helensburgh Central, others originate in Springburn or Airdrie and continue to Alexandria and Balloch on Loch Lomond. They also stop at which is closer to the castle, and at Dalreoch just west of the centre (for Levengrove Park). The Helensburgh trains also stop at Cardross (for Geilston Garden).
Every couple of hours, trains along the West Highland Railway from Glasgow Queen Street stop at Dumbarton Central, but not the other stations, on their way north via Helensburgh Upper and Arrochar & Tarbet to Crianlarich, where they divide for Oban and Fort William. The Caledonian Highland Sleeper, leaving London Euston Su-F at 21:00, reaches Dumbarton around 06:00 on its way to Fort William; the return train picks up around 23:30 to reach Euston by 08:00.
First Glasgow Bus 1 / 1A / 1B runs every 30 mins from Glasgow Osborne St via Scotstoun and Clydebank railway station to Dumbarton, taking just over an hour, and continuing either north to Alexandria and Balloch, or west to Helensburgh. This and other local buses plies along Glasgow St and High St.
Scottish Citylink buses from Glasgow to Oban, Campbeltown, Fort William and Skye pick up and drop off at Barloan Toll roundabout, on A82 at the north edge of town; they don't come into town centre.

Get around

The buses for Balloch run up the Vale of Leven, and those for Helensburgh follow the coast.

See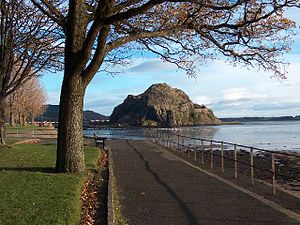 phone: +44 1389 732167

address: Castle Rd G82 1JJ

This 240 ft (73 m) basalt crag, the old plug of a volcano, has been a redoubt at least since the Iron Age, and the castle remained garrisoned until after World War II. Nothing of the ancient Alt-Clut and little of the medieval fortress survive, it's mostly 18th C, including the fine Governor's residence. You need to clamber up 557 steps to reach the White Tower Crag. Dorothy and William Wordsworth visited here in 1803 with Coleridge: the soldiers were particularly keen for them to see the trout in the well by the guardroom, where they said it had dwelt for over 30 years, a sad metaphor of garrison life.

Denny Ship Model Experiment Tank

phone: +44 1389 763444

address: Castle Street G82 1QS

Come you back to Mandalay, wrote Rudyard Kipling, Where the old Flotilla lay; Can't you 'ear their paddles chunkin' from Rangoon to Mandalay? Those were the Irrawaddy Flotilla paddle steamers, built in Dumbarton by Denny shipbuilders, then sent out in portions to be reassembled in Burma. Dennys were in business from 1840 to 1963 and were great innovators, experimenting with hovercraft and helicopters, and one of their most enduring innovations was this 100-m ship model testing tank, built 1882. Propulsion, steerage, hull designs etc could all be tested on models before committing to a prototype build. After Denny closed it was taken over by Vickers to test submarine designs, then became part of Scottish Maritime Museum in 1982. The towing gear is still run for demonstrations, but the instrumentation is gone so it can't be used for real tests.

Levengrove Park

address: Clydeshore Rd G82 4AE

Large park on the headland where the River Leven flows into the Clyde, donated to the town by the Denny shipbuilding family. It has many play areas for children, mature trees and flower beds. There are remains of an old parish church, a cafe, and grand views of the castle from the tip of the park.

address: Main Road, Cardross G82 5HD

A National Trust for Scotland Garden, which dates from 1797, but the current layout is Edwardian. Geilston House is not open, but there's a fine walled garden, a riverside area along Geilston Burn and a fruit and vegetable garden. Seasonal fruit & veg are for sale.

address: Dumbarton G82 2SH

The house, a 19th C baronial mansion, is run as a religious centre and can't be toured. You come for the woodland walks in the extensive grounds - the Forestry Commission suggest a couple of trails. The fine bridge spanning the glen to the house has since 2005 been the subject of an internet meme, whereby passing dogs are supposedly lured to their death over the parapet by irresistible animal scents, canine suicide-wish or paranormal influences, not necessarily in that order. That meme is recycled here to keep the tradition going: your dog's not at risk unless it believes all the trash it reads on the internet.
Do
Watch football (aka soccer) at

address: G82 1JJ

They play in Scottish League One, the third tier of Scottish football. The stadium, capacity 2000, is next to the castle.
The Scottish Pipe Band Championships are held on Levengrove Park in late July. The next event is Sat 25 July 2020.
Buy
Dumbarton High Street has a collection of lower end shops with a small shopping centre, the Artizan Centre.
There is a small outdoor shopping centre, which contains an ASDA on the Glasgow road near the Denny Tank. There is also a Morissons supermarket just across the road.
Eat
Along High St are Rigo's Bistro, Chargrill kebabs, Andy's Golden Fry, Bollywood Lounge, Grill on the Bridge, plus the pubs listed below.
Haveli Family Buffet next to Central railway station is open M-Sa 12:00-21:00, Su 14:00-21:00.
Drink
phone: +44 1389 742112

address: 97 High Street, Dumbarton G82 1LF

JD Wetherspoon's pub with real ales and food in the art deco former Woolworth's building built in 1922. Food served until 23:00.
Other central options are Glencairn Lodge, Counting House, and The Clipper. Waverley Bar is west of the river and Stags Head is next to the east railway station.
Lennox Brewery at 25 Lime Rd near Central station produces various ales, and you can sample them at source on Saturdays 11:00-15:00.
A few distilleries stretch up the valley to Balloch but they can't be toured. What Dumbarton does, rather than distilling, is blending, bottling and shipping out - Chivas Regal is the best-known local name.
Sleep
Most travellers hereabouts are simply looking for a stopover along A82, the road to Loch Lomond and the Highlands. There's a string of places to meet that need, but not much in Dumbarton itself.
phone: +44 371 984 6133

address: 18 Dumbarton Rd Milton G82 2TY

Basic reliable stopover motel. Masala Twist restaurant 100 yards east is open daily until 22:30.
Milton Inn, Abbotsford Hotel and Premier Inn Dumbarton are other mid-range places further along A82. Miss these and there's nothing until you reach Arden by the loch.
In town is

phone: +44 1389 734336

address: Glasgow Road G82 1EG

16 room hotel in an 18th century mansion house. The exterior is tatty but interior is clean & comfy.
West edge of town on the Helensburgh road is the upscale baronial Cats Castle.
Go next
Helensburgh's main attraction is Hill House designed by Charles Rennie Macintosh.
Loch Lomond stretches north of Balloch. The west shore carries the busy A82; the east shore is more peaceful around Balmaha, except at weekends when the city hordes arrive.
Don't just treat Glasgow as a transport hub, it's a great destination in its own right.