Dunagiri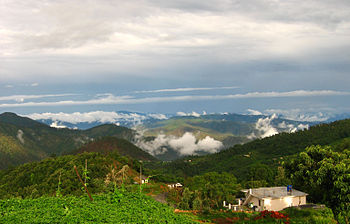 Dunagiri
- also called Drongiri, Dronagiri and Doonagiri - is an area in
Kumaon
, an incredibly beautiful setting within the magnificent Himalayas.
Touching an astounding 2,700 metres, the lush forest setting overlooks stunning snow peaks and a dramatically serene landscape.
Situated 400 km North of Delhi, it takes 10-11 hours to reach Dunagiri from Delhi. 100 km from Nainital, Dunagiri is 43 km from Ranikhet and about 50 km from Kausani. One can travel to Rishikesh/Haridwar from Dunagiri in 6 hours. It takes 6 hours to travel from Dunagiri to Badrinath, to Valley of Flowers National Park or to the revered Hemkund Sahib. Dunagiri is within short driving distance of other popular destinations such as Jim Corbett Park, Almora, Mukteshwar, Bageshwar, Jageshwar, Munsiyari, Chaukori and Patal Bhuvaneshwar - all of these are under 5 hours drive from Dunagiri.
Dunagiri is also intimately associated with
Mahavatar Babaji
and
Kriya Yoga
. It was at Dunagiri in 1861 that Shyamacharan Lahiri, better known as
Lahiri Mahashaya
, was given initiation into Kriya Yoga and the discipline of Kriya Yoga was re-established in the world after having been 'lost' for centuries. This first meeting, spectacular and miraculous, occurred at a cave at Dunagiri. The full account of this meeting is well documented in the famous book "Autobiography of a Yogi" by Swami Yogananda Parahamsa (chapter 34-Materializing a Palace in the Himalayas). The cave at Dunagiri is well marked and is visited by thousands of pilgrims from all over the world.
Get in
Dunagiri
is about 400 km North of Delhi in the Himalayas. It is close to (43 km) from the well known town of
Ranikhet
. One can reach here by road - you can drive, take a bus or a taxi; you can reach here by train - the closest station is Kathgodam which is connected to major Indian cities such as Delhi, Calcutta, Varanasi and Jammu
By car
Driving to Dunagiri from Delhi takes 10 to 11 hours. Take NH-24 out of Delhi, drive through Ghaziabad, Hapur, Garhmukteshwar, Moradabad, Rampur to Bilaspur, Rudrapur, Haldwani and Kathogodam. After Kathgodam is a scenic hill journey that takes you through Bhimtal, Bhowali, Ranikhet, Dwarahat to Dunagiri.
Another route from Moradabad to Dunagiri is via Bazpur, Kaladhungi, Nainital to Bhowali, Ranikhet, Dunagiri is slightly shorter and more scenic, but you need to enquire road conditions before proceeding..
By train
The nearest train station is
Kathgodam
. Drive to Dunagiri takes about four hours (140 km) through very picturesque lakes and hills. On prior notice we can arrange pick-up taxi from Kathgodam train station to Dunagiri Retreat.
Trains from Delhi to Kathgodam (to reach Dunagiri):
Train no. 15013 Ranikhet Express: Daily, leaves Delhi 22:35, arrives 05:45
Train no. 14012 Anand Vihar Kath. AC Exp.: Mon, Wed, Sun, leaves Delhi 06:00, arrives 11:55
Train no. 15035 Uttarakhand Sampark Kranti Express: Daily, leaves Delhi 16:00, arrives 22:40
Trains from Dehradun, Mussoorie, Haridwar, Rishikesh to Kathgodam(to reach Dunagiri):
Train no. 14120 Dehradun Kath. Exp.: Leaves Dehradun 22:50, Haridwar 00:10, arrives 07:10
Trains from Kolkatta, Lucknow to Kathgodam(to reach Dunagiri):
Train no. 13019 Bagh Express: Daily, leaves Howrah 21:45, Lucknow 00:05, arrives 09:30
Trains from Kanpur, Lucknow to Kathgodam(to reach Dunagiri):
Train no. 12209 Kathgodam Garib Rath: Daily, leaves Kanpur 06:15, Lucknow 08:05, arrives 15:05
Trains from Jammu, Jalandhar, Ludhiana to Kathgodam(to reach Dunagiri):
Train no. 12208 Kathg. Garib Rath : Daily, leaves Jammu 23:45, Ludhiana 04:10, arrives 14:35
By plane
The nearest airport is
Pantnagar Airport
(
PGH
).

Get around
The best way to get around within Dunagiri is to walk. Local taxis, although limited in availability, can be hired to travel within the immediate area.
Dunagiri is within short driving distances to Nainital, Ranikhet, Kausani, Baijnath, Bageshwar, Almora, Binsar, Mukteshwar, Munsiyari, Chaukori, Patal Bhuvaneshwar, Joshimath, Badrinath, Valley of Flowers and Hemkund Sahib which makes it suitable for visitors to stay at Dunagiri and visit these places as 'day trips' or short excursions. Dunagiri's is centrally located with reference to these popular tourist destinations.
Positional Details of Dunagiri: Coordinates: 29°49'23"N 79°26'54"E
Dunagiri Distance Chart:
See
Dunagiri temple - The famous temple of Dunagiri is located 15 kilometers from Dwarahat.
Dwarahat (ancient temples)
Garg Rishi Ashram
Mahavatar Babaji's Cave
Mansadevi
Pandukholi
Sukhadevi
Do
There are several options for treks, village walks, soft adventure, meditation and of course, spiritual practices.

Buy
Organic produce.

Drink
Spring water from pure Himalayan sources, Organic milk.

Sleep
phone: +91-98102 67719

address: Dunagiri, District Almora, Uttarakhand, India