Dunhuang
Dunhuang
(敦煌;
Dūnhuáng
) is a city on the old
Silk Road
. It is in
Gansu
Province in northwest
China
. It is best known for a large group of Buddhist cave temples nearby, with much historic artwork.
Understand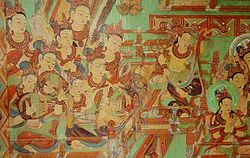 The city was founded by Emperor Wudi of the Han dynasty in 111 BC at the crossroads of two trading routes on the
Silk Road
, and the name 'Dunhuang', meaning to 'to flourish and prosper,' gives some indication of the town's prominence in ancient
China
. It is much less important today.
Buddhism reached China via the
Silk Road
and this is one of the more important Buddhist sites on that route. The Tangut or
Western Xia
ruled a substantial kingdom in the area, with its capital at
Yinchuan
, for centuries until the Mongol conquest in the 1200s. They were the main sponsors of Buddhist construction at Dunhuang.
Get in
By plane
By train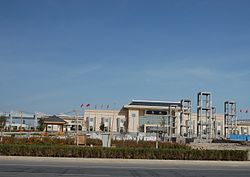 Dunhuang Train Station (敦煌火车站;
Dūnhuáng Huǒchēzhàn
) is about 12km outside the town to the northeast. There is also a ticket agent in town, across the street from Dunhuang Hotel, which sells tickets for most trains. Note that Dunhuang is on a branch line, and many more trains are accessible from the Liuyuan station, a 1-2 hour drive away. In particular, trains heading west to
Xinjiang
do not pass through Dunhuang directly.
Some active departures from Dunhuang:
Some active departures from Liuyuan:
By bus
Dunhuang has two bus stations diagonally across from each other. Most frequent buses leave from the main bus station and not the long distance bus station.
See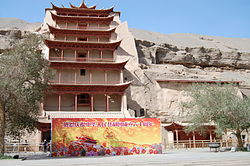 Mogao CavesA UNESCO World Heritage Site filled with exquisite Buddhist art and manuscripts. Although the city had an early connection with Buddhism due to the passage of monks traveling the Silk Road, it was not until a monk had a vision of a thousand Buddhas above the desert at Dunhuang in 4th century that the famous caves were excavated and filled with the manuscripts and treasures. Nearby is the White Horse Pagoda, built by a monk from India in honor of his horse, which died in the process of bringing the monk to China. It is not possible to tour the caves on your own and all visitors are assigned to different guides (included in the ticket price). The tour takes about two hours and about 15 caves will be visited; all the rest are closed. The tours are different from group to group with every group visiting the main caves. You can arrange to visit closed caves; it will cost you ¥200 per person per cave. Note that It can be handy to bring your own flashlight (torch).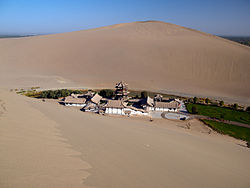 Sand DunesWorth a trip. If you're not interested in seeing the lake from up close and just want to walk among the dunes just follow the fence to the right from Charlie Jongh's Dune Guesthouse. After a couple of minutes you will find an open gate and a path leading up to the dunes. From the top of the one on the left, you can see the lake.

The famous Mingshashan—Yueyaquan National Park with Mingsha (Humming Sand) Hill and Crescent Moon Spring are found south of Dunhuang while to the north there is Jade Gate Pass (Yumen Guan) and Sun Pass (Yangguandao), last Han outposts on the Great Wall of China.

Huyang ForestIt consist of a small forest of rare poplares (Populus Divesifolia). Some are more than 600 years old. Can give an opportunity for a walk far from town.

White Horse PagodaThe construction of this 12-meter stupa was ordered by Kunarajiva, a Buddhist translator, in 384.

Piper bounce statueRebound Pipa statue is the symbol of Dunhuang, is located in the urban circle Flower Island Center, bar, and an even Highway South Road intersection in this. The statue through about 5 meters high, very graceful indeed, plump body, dance a benevolent and kind countenance, focus on the right leg, left leg lift back toward the front, Pipa behind the palm faces on the rebound.

Yadan Land-forms National Park

phone: +86-0937-8841885

The Land-forms are an area in the Gobi Desert where wind erosion has left striking rock formations 10-20 meters high. The area contains named formations resembling fleets of ships, The Sphinx, as well as camels, birds, and many others. The land-forms are an interesting contrast to the sand dunes at Dunhuang in terms of the terrain of the Gobi Desert. Tours of the area will likely also include stops at an ancient section of the Great Wall, a Han Dynasty fortress, and a small set of caves similar to Mogao. If you take any bus in Dunhuang, the conductor will likely be selling daytrips to see the Geopark and 4-6 other sights, for 100-120 RMB (bus only).
Do
Summer of Dunhuang Variety ShowPerformances of singing and dancing in the Silk Road traditions.

Camel Trek, arranged by Charlie Johng's Cafe

phone: +86 13893763029

address: Mingshan Road

Get to know the desert firsthand on a 2 to 7 day camel trek across spectacular sand dunes. A typical trek goes for 3 days and includes a visit to the Mogao Cave. Alternately, just camp out in the desert for a night to experience the Gobi Desert's night sky, sunset and sunrise. If you don't have much time you can have a one day tour with staying in the desert and riding to the Mogao Cave in the morning (400 RMB p.P.).
Buy
Night marketGood dried fruits and nuts (walnuts, dates, raisins, apricots, small tomatoes...). Many souvenirs. Note that some people sell wood stamps, pretending It's made from the rare Huyang tree, but It's not. Huyang Tree is too soft to be carved.
Eat
There's a normal-priced supermarket opposite the long-distance bus station (beside Feitian Binguan) to stock up on water, snacks and other groceries.
Charlie Johng's cafe

address: Mingshan Road

Reasonably priced western meals available. Very helpful staff.

Shirley's cafe

address: Mingshan Road

It's a bit pricy and the portions are pretty small.

Night market skewers stallsLamb, potato, mushroom, bread... skewers; yogurt.

Yunnan Cross Bridge Mixian

address: 7 Baiwei Jie

Own by a lively small lady, eager to introduce you to her home cuisine. Tasty rice noodles with authentic sauces. Chinese speaker handy.

phone: +86 937 - 8858996

address: No. 1, Level 3, B Building, Business Walking Street (敦煌市商业步行街B座三楼1号)

A nice quiet pizza restaurant (only one in town) with good easy to read menu with English and pictures. Free wireless internet and decent relatively cheap coffee. They also do deliveries if you can speak Chinese.

Oasis

phone: +86 150 0937 6021

address: Pedestrian Street

Run by an Oklahoman, this cafe has good coffee, milkshakes, and a small menu with pizza and hamburgers. The wifi is fast.
Sleep
Budget
Feitian Hotel Dunhuang

phone: +86 937 8822726

address: 22 Mingshan Road

Charlie Johng's Dune Guesthouse

phone: +86 13893763029

address: 甘肃省敦煌市月牙泉鸣沙山沙生植物园

The hole place is a bit rundown (except for the nice cottages), but if you like to get out in the nature and want to stay near the dunes, then it is a really nice place. The restaurant is okay but you are better of eating in town. WiFi available. Staff speak only basic English but is helpful. laundry 10 yuan per load.

Charlie Johng's Hostel

phone: +86 13893763029, +86 09378857298

Only Chinese name

Five Rings Hotel

phone: +86 937 -8836574

address: 20 Ming Shan Road.

Zephyr International Youth Hostel

phone: +86 937 8882000

address: Yueya Spring Scenic Spot

Big place made out of many small cabins/huts, like a tiny village, filled with trees, swings and hammocks. Nice, relaxed atmosphere. Hot showers, free internet/wifi, and at least one English speaking staff member.
Mid-range
Grand Sun Hotel Dunhuang

phone: +86 937 8829998

address: 5 North Shazhou Road

Dunhuang Hotel

phone: +86 937 8822538

address: 14 Yangguan East Road
Splurge
phone: +86 937 8882088

address: Dunyue Road

Nice and clean hotel. Chinese/western restaurant. Roof-top cafe with beautiful views on the dunes, breakfast served here too. English speaking staff. Baby cot available.
Go next
Silk Road
- The route between Dunhuang and
Cherchen
(
Qiemo
) is probably the hardest to do in all of the Silk Road travels since public transit is complicated between the two points.
One leg of the trip is often closed due to washouts in the river canyon or landslides in the mountains, and is closed to most traffic in the winter. Be sure to ask, before you leave Dunhuang, whether the road between
Shimiankuang
and
Charklik
(
Ruoqiang
) is open.
Regular buses run daily each morning from Dunhuang,
Gansu Province
, 731 km to
Huatugou
(花土沟), a small oil drilling town in northwest
Qinghai Province
, and daily each morning the other direction. This road, a paved highway the entire way, crosses the
Altun Mountains
over Dangjin Pass (当金山口, 3680 m, 39º19'14"N, 94º16'11"E) at the provincial border between
Qinghai
and
Gansu
which runs along the crest of the Altun Mountains. One source says that the road rises from 1,000 m to the 3,680 m pass in just 20 km. This road is subject to delays or closure in winter due to icy conditions.
The bus station in Dunhuang will not sell you a ticket to Huatugou unless you have an ATP. You cannot get this permit in Dunhuang because its in Gansu province. so you have to go to the PSB in
golmud
, and from there to take the bus to Huatugou.
Twice daily minibuses run the 65 km in 1.5-2 hours for ¥15 between
Huatugou
and
Shimiankuang
(石绵矿 literally: asbestos mine), a tiny worker hamlet north of a large surface-level asbestos mine. It's better to stay overnight in Huatugou than in the very basic lodging at the asbestos mine. Ask the Huatugou taxi driver for the Petroleum Guesthouse -- 石油 shí yóu 宾馆 bīn guǎn. There's also very basic lodging across from the Huatugou bus station -- ask the bus driver to point you in the right direction.
Some maps do not show
Huatugou
(38°08'60"N, 90°52'00"E, 2,859 m) and instead show
Youshashan
, about 5-10 km southwest. If neither town is shown, Huatugou is just northeast of Gaz Hure Hu lake. Some maps do not show
Shimiankuang
(38°15'00"N, 90°52'00"E, 3,200 m) and instead show the small oil refinery village of
Mangnai Zhen
, about 10 km southeast. If neither town is shown,
Shimiankuang
is right where Highway 315 crosses the provincial border. Older maps show Shimiankuang and Mangnai Zhen in Xinjiang Province, but the area was moved administratively some years ago into Qinghai Province.
The 241 km road from
Shimiankuang
, at the border of
Qinghai
and
Xinjiang
, to
Charklik
(
Ruoqiang
),
Xinjiang
, is a rough road, over a 4,000 m pass and through a narrow river valley as well as across the desert. This is the rough leg mentioned above. The road is now paved all the way. A minibus leaves from Shimiankuangs "bus station" to Charklik at 11AM, costs ¥80.
The minibus leaves from in front of the bus station in
Charklik
(
Ruoqiang
) at 08:00 Beijing time (06:00 unofficial local time) and arrives in
Shimiankuang
about 6 hours later, and generally in time to catch the afternoon minibus from
Shimiankuang
to
Huatugou
. The 9AM minibus from Huatugou meets the minibus leaving from Shimiankuang about 11AM.
From
Charklik
(
Ruoqiang
) to
Cherchen
(
Qiemo
), the bus leaves at 10:00, takes 5 hours to cover the 351 km and costs 58Y. In the other direction, a daily bus leaves
Cherchen
(
Qiemo
) for
Charklik
(
Ruoqiang
) at 10AM.
There as buses to Delingha, but be careful, the city is not open to tourists.
Stay safe
Dunhuang is a major tourist destination. Expect to be ripped off if you don't have your wits about you. Bargain hard and remember what you originally bargained for as the bill you receive at the end of the meal may not reflect the negotiated price.