Dunkirk
Dunkirk
(French:
Dunkerque
, Dutch:
Duinkerke
) is a town in the region of
Hauts-de-France
in
France
.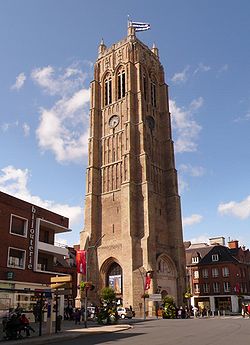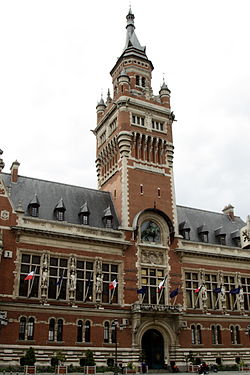 Understand
The name Dunkirk comes from the Dutch language "Church of the Dunes". The town is a historic resort located on the northern region of France, 10 km from the border with
Belgium
. It's a great place to start your journey further into the Continent, but also a great holiday destination on its own, featuring historic beaches, shopping locations, and many places to eat local food, which is an interesting fusion of traditional Flemish cooking and seafood.
In
World War II
, the Allied expeditionary force was surrounded in Dunkirk in 1940. 300,000 soldiers were evacuated from Dunkirk to England in
Operation Dynamo
. The operation has been depicted in several motion pictures, including Christopher Nolan's 2017 film
Dunkirk
. The withdrawal - while technically speaking a defeat - was seen as a miraculous saving of soldiers whom the British public had thought lost to capture or killing and gave a much needed morale boost. Winston Churchill called it "Our finest hour" in a famous speech and to this day British politicians like to invoke the "Dunkirk spirit" in times of national crisis.
Get in
The closest airport in the area is the international
Calais–Dunkerque Airport
(
CQF
), which is located to the west, closer to Calais further down the coast. (OST) is less than east, across the Belgian border near Oostende, however due to the Schengen Agreement there is no passport control when crossing it.
The second closest airport on many maps is Merville/Calonne Airport, built by the German Luftwaffe, has no commercial airline services scheduled.
You can also get into Dunkirk by ferry using the Dover-Dunkirk service run by DFDS Seaways or by train from Paris or Arras. Be warned, the ferry service does not accept passengers on foot (but does accept cyclists).

Get around

The public buses are free of charge since September 2018.

See
phone: +33 3 28 63 33 39

address: 9 Quai de la Citadelle

The Port Museum is housed in a former 19th-century tobacco warehouse. Inside the museum one shall find insights into the nautical world of a large port from both historical and contemporary perspectives.

Saint-Éloi church

phone: +33 3 28 29 07 74

address: 2 Rue Clemenceau

.

Town Hall

Allies Memorial

Memorial and Town Cemetery

Malo-les-Bains beach front

phone: +33 9 75 86 23 03

address: Rue des Chantiers de France

LAAC Museum of Contemporary Art

phone: +33 3 28 29 56 00

address: Avenue des Bordées

This museum is at the heart of a sculpture garden. It presents an exhibition of art from 1950s to today.

address: Place du Général de Gaulle

This museum present a collection of Flemish, Dutch, French, and Italian paintings from the 16th to 19th centuries. The collections also include a collection which includes over 10,000 natural history specimens, numerous decorative crafts and archeological finds.
Do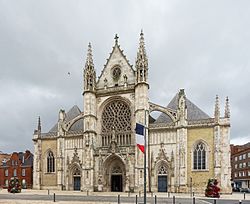 Go next