Durness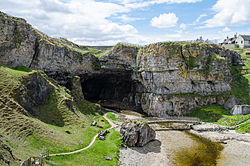 Durness
is a village in
Sutherland
on the north coast of the
Scottish Highlands
. Most of the terrain of this region is impermeable gneiss, carpeted by boggy heathland. Durness itself sits on a patch of limestone, so it's better drained and more fertile. The limestone has been eroded into caves: Smoo Cave at the edge of the village is easily visited, others should be left to trained cavers. To the west, Cape Wrath is the most north-westerly point of the Scottish mainland.
Get in
Slowly
is the key point - the A838 twists and turns along the rugged coast and over the hills and far away. Durness is 100 miles / 165 km from
Inverness
and 65 miles / 110 km from
Thurso
. Much of the road is single-track with passing places, where stray sheep dispute the right of way with mad bats in white vans.
By bus:
a fleet of minibuses is operated by
Durness Bus
. These run year-round, as school buses midweek, with long-distance services only on Saturday.
From Inverness, Bus 805 runs Sat only via Bonar Bridge, Lairg, Laxford Bridge and Kinlochbervie to Durness (3 hrs) and Balnakeil. It runs south from Durness around 08:30 and returns north around 16:00.
Mon-Fri this connection is via Lairg, which has trains between Inverness and Thurso / Wick. Bus 806 runs from Durness at 08:00 to Lairg for 10:30, coming back around 12:20. Friday evenings there's an extra bus to Ardgay railway station.
July-Aug Bus 804 runs M-Sat from Lairg via Ullapool, Lochinver, Kylesku, Laxford Bridge and Kinlochbervie to Durness; 15:50 from Lairg and 10:50 from Durness.
Bikes may be carried between Durness and Lairg, but must be booked at least 24 hours in advance on +44 1971 511223.
From Thurso, Bus 803 runs Sat only via Dounreay, Tongue and Melness to Durness (2 hr 30 min). It runs east from Durness around 09:20 and returns west from Thurso around 14:20. A couple of other buses ply mid-week between Thurso and Tongue.
Get around

Smoo Cave, Balnakeil craft village and Keoldale (for Cape Wrath ferry) are each a mile or so from Durness village, walkable by road.
In summer bikes can be hired at The Hub in the village.

See
Smoo CaveThis 83 m cave is a geological oddity. Enter on the shore via the outer chamber, a sea cave created by wave action along a fault in the rock; it once stretched the 600 m length of the sea gorge and you can still make out fragments of the collapsed roof and walls. (The sea nowadays only reaches the cave on the highest tides.) The inner part has been created by stream water flowing through limestone, and the two caves have combined. From the outer chamber you follow a walkway over the flooded middle chamber, which has a waterfall when in spate. You can come this far free, any day any time. To go further you have to join the tour, which takes a little boat across the pool to access the innermost chamber.

Watch wildlife. Whenever you're outdoors, always keep a lookout for sea birds (including puffins), seals and porpoises; occasionally even whales.
Durness lies within the UNESCO North West Highlands Geopark which also covers Kinlochbervie and Kylesku. Some of the local rocks are over 3 billion years old.
Do
Cape WrathThe most north-westerly point on the Scottish mainland. Not the most northerly, that's Dunnet Head near Thurso, but certainly the most remote. There's no through road, so you take a little ferry from Keoldale (mile & a half south of Durness) across the Kyle of Durness. (£5; the boat can fit one or two bikes, but check ahead.) A minibus (£7) meets the ferry and lurches slowly along 11 miles of rough track, taking an hour to the Cape. There's the small "Ozone Cafe", a Stevenson lighthouse (still in use; you can't go in) and windswept cliffs with whirling seabirds. The minibus goes back after 50 mins. The whole Cape is an SSSI. It's also a military live-fire training range, and public access is closed when the range is in use, normally in spring and autumn M-Sat. To get in by land, leave the main road at Sarsgrum at the head of the Kyles, and walk along the west shore till you pick up the track. It's 18 miles each way, less when the tide is out and you can wade across the river.

Faraid HeadThis is the peninsula north of Durness. Follow the lane to Balnakeil craft village and past the church. The lane continues beside the beach but is often deep in blown sand, so follow it or the beach as conditions allow. Look for seals. It's two miles each way, see description by walkhighlands.co.uk. Viking remains (including bodies) have been uncovered around here as the sands shift and blow.

Durness golf course is just beyond Balnakeil. Nine holes but you play twice off different tees so effectively it's 18 holes, 5555 yards, par 70. Standard fee £20.
The Cape Wrath Trail is a long-distance hiking trail of 200 miles from Fort William. It's unofficial, so it's not way-marked, with few facilities en route or definitive paths. It's often boggy underfoot and pelting with rain, so it's definitely hard-core. The northernmost section, from Sandwood Bay to the Cape, is along the west coast (ie not using the track, but the same military restrictions apply) and will take even a tough walker eight hours to cover the eight miles. Now think about the getting back.
Durness Highland Games are held on Shore Park in late July. The next event is Fri 24 July 2020.
Buy
There is a well stocked local Spar which doubles as the post office.
, a mile west of Durness by Loch Croispol, is a craft village on the site of a Cold War early warning station. Businesses here, usually open May-Oct, include Cocoa Mountain (surely the country's most northerly chocolate makers; they also have a base in Dornoch), Balnakeil Glass, and "The Wee Gallery" of paintings and wood sculpture.
Eat
The restaurants in Sango Sands Oasis and Smoo Cave Hotel cater to non-residents, see "Sleep".
Drink
The only public bars are in Sango Sands Oasis and Smoo Cave Hotel.
Sleep
The village is remote, accommodation is limited and the TIC has closed down, so you really ought to book ahead.
phone: +44 7838 381065

address: IV27 4PZ

Camping & caravan park fully open Apr-Oct, limited facilities Nov-Mar. With restaurant and public bar.

phone: +44 1971 511202

address: IV27 4PN

Open all year, sleeps up to 20 in dorms & 2-person bunkrooms. With kitchen, small lounge/dining room, drying room, veranda tables and benches, free wifi, 50 metres from Spar. No dogs. Run by the Mackay family who also run a nearby B&B (May-Oct only, doubles from £130, no single rooms, dogs by arrangement) and self-catering (Cottage, Cabin, and Croft 103).
There are several other B&Bs in the village.

address: Lairg IV27 4QB

Small hotel with public bar and restaurant.
Several self-catering places in the village, including

address: Durness, IV27 4PN

They run two cottages in Durness village ("Craigmore" and "Cranstackie") and one on the cliff-tops nearby ("Ceannabeinne"). Dog-friendly. Open all year, they let Sat-Sat, shorter breaks may be available.
Cope

There is no longer an ATM but still a 24h petrol station in the village.

Go next