Durrës
Durrës
is an
Albania
Adriatic port city. It has
ferries
to
Bari
in (
Italy
). Alternative spellings of the city's name are
Durazzo
(Italian),
Drač
(Драч, Serbo-Croatian) or
Dyrrhachion
(Δυρράχιον, Greek).
Get in
By boat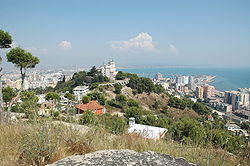 ... and there are more ferry operators such as Anek, GNV, European Ferries and Ventouris.
By bus
Buses and furgons usually arrive and depart at the bus terminal with the "DURRES" logo on the outside near the railway station.
From Skopje, Macedonia, buses run through Durrës on their way to Tirana. A typical Skopje-Tirana ticket costs around €25 return.
From Kumanovo, Macedonia, there is an everyday direct bus line to Durrës. The cost of tickets is around €20.
From Pristina, Kosovo, in the summer season there are several buses a day. You should check the timetables at the Pristina bus station, but in 2013 the timetable was as follows; 04:00, 05:00, 06:00 and 06:30 and then at 14:30, 15:00, 15:30, 16:00 and 23:00. There are at least a couple of buses going back at 16:00 and 17:00. Return ticket costs about €12. The trip takes around 4 to 5½ hours, depending on whether it goes via Prizren. Buses depart and arrive at the northern end of Rruga Pavaresia street running parallel, and very close, to the beach.
By train
Railway Station

address: Rruga Adria

There is no link to Tirana (which has been without a train station for some time), nor international links. Daily trains to Kashdar (a suburb of Tirana, several services), Elbasan (twice), Librazhd, Shkoder and Vlora (all once) through the adventurous Albanian railway system. There is a timetable posted outside of the train station.
By car
There is a road between here and
Tirana
, the SH2, which takes just over half an hour for the journey. You could
fly into
Tirana, then drive or get a taxi to Durrës, with the airport connecting to the SH2 by the SH60.
Get around

The city centre where the archaeological sites are located can be toured by foot. Many taxis are available in Durrës. You can find them parked everywhere on the streets with a taxi symbol on the top of their car. There are also public buses in orange that can drive you around the city although much slower

See
Churches
Shen Lucia Catholic Church

address: Rruga Don Nikoll Kacorri

built in 1907

Shen Gjergji Orthodox ChurchBuilt in the 19th century.

Saint Asti and Saint Paul Orthodox ChurchBuilt in 2001.
Mosques
Fatih Mosque

address: Rruga Xhamia

Built in 1503.

Great Mosque of Durres

New MosqueBuilt in 1937.

Little Mosque
Museums
address: Rruga Taulantia 32

Popular Culture Museum

address: Kavaje village, Rruga Skuraj

Alexander Moissi Museum House

World War II Relics Hall

Koloseo Art GalleryShowcases some of the best work of local painters.
Roman monuments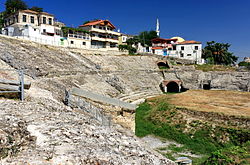 Durres Amphitheater

address: Rruga Kalase

The biggest in the Balkans it also features restored iconography works.

Durres Ancient City Wall

address: Rruga Sotir Noka

Medieval Hammam and the Tophane Well inside and around the wall.

Venetian TowerA circular tower at the city center built in the 16th century.

Shen Mehilli HillOn 18 October 1801, Byzantine Emperor Alexios I Komnenos confronted Norman adventurer Robert Guiscard here. A basilica built in the 6th century AD with a beautiful mosaic is found here.

Byzantine ForumBuilt in the 5th century AD and public baths around and beneath Alexander Moissi Palace of Culture.
Others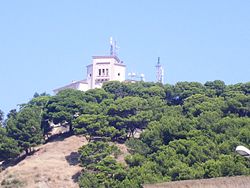 address: Sheshi Liria, 15

King Zog's Villa

address: Rruga Kont Urani

This used to be the most luxurious crib in all of Albania, but it was looted in the 1997 uprising and isn't open to visitors now. Reportedly prince Leka has plans to renovate the villa "in the near future", but this has been reported for quite some time. Endure the steep climb up the hill for one of the most spectacular views over the city.

Kavaja RockA historic landmark in Golem where once caravans used to pass along the ancient Via Egnatia. This is where a battle between Pompey and Julius Caesar is said to have taken place.
Further afield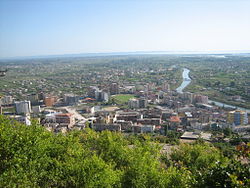 Lalzit Bay AreaVisit Ishem Castle and Rrushkull Nature Reserve (Rezervati Rrushkull)

Rodoni Castle

Scanderbeg Castle

address: Rruga e Sebastes, Laç village

Shen Ndout Church

address: Rruga Kisha e Shna Ndout, Laç
Do
Culture Palace

address: Bulevardi Dyrrah

Events

Evening walkGo for an evening walk along the sea front promenade or along the beach where you can see families walking around or even men with bears on a leash or with snakes entwined around their necks!

Villa Hill

address: Rruga Currila

Panoramic view of Durres seaside at Currilat from top of a newly reclaimed hill.

Seaside Large Steps

address: Intersection between Rruga Currila and Rruga Taulantia

Sit and admire the sea from up close on these large steps descending into the water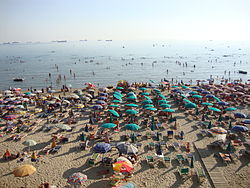 Beaches
Lalzit Bay Beach

address: near Hamallaj village

Popular weekend retreat and exclusive wealthy beach area. A small resort can be found here.

Portez Beach

address: Bishti Palles

Nice beach, bar, and wooden bungalows north of Currilat

Golem beach

address: Golem, Mali Robit, Kavaja Rock (Shkembi i Kavajes)

This is the main seaside resort south of Durres with long sandy beaches popular among Albanians and foreigners alike. Tirana inhabitants have their beach houses and villas in the area for weekend and summer retreats.
Diving
phone: +355 69 378 8696

address: Xixa Resort, Rruga Kompleksit

Take a dip in the Adriatic Sea water in the biggest sea side resort of Golem.
Events
Take a look at interesting films from around the world at the annual Durres International Film Summer Festival in early September.
Visit the yearly Open Port Festival where the Port of Durres opens to the public featuring various exhibits of historic ships and modern inventions coupled with local entertainment.
Buy
Eat
Bar Restorant Kajserit offers a panoramic view of Durres from above.

phone: +355 52 237601

address: Rruga Taulantia 1

Splendid Restaurant

phone: +355 692824222

address: Street Egnatia

Especially known locally for fish. Everything is fresh, tasty and served in the most professional way. Prices are slightly more than average for Albania, but for the whole experience of eating you get there it's worth every cent.

phone: +355694609111

Restaurant in industrial style near the sea.

phone: +355672033224

Pelikan bakery

phone: +355683095270

address: Street Pavaresia

You can eat different sweets.

phone: +355684058103

address: Street Erazmi

This restaurant has a breathtaking view from the 15th/top floor.

Mema House

phone: +355697541068

address: Taulantia Street
Drink
Sleep
Go next
TiranaThe capital. Trees and mountains surround the city. Mt. Dajt is a popular tourist site for a great view of the city.

Lezhe— a small city home to Skanderbeg's Tomb, panoramic Lezhe Castle and several renovated churches

Fier — Lively seaside city, and only about away from the ruins of the ancient Illyrian city of Apollonia. Much of this ancient city still remains buried under the hills.

VelipojeCoastal town near Ada Bojana south of Shkoder known for its curative beach sand. The beach is long and wide, and a lot of hotels offer nice rooms. However, the beaches are crowded in August. If you prefer quieter beaches, you should go to Southern Albania