East Coast (Malaysia)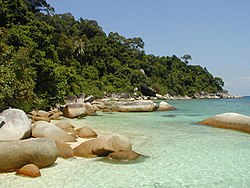 The
East Coast
is a part of Peninsular Malaysia. Largely rural and comparatively poor, the East's prime attractions are some of Malaysia's most unspoiled islands, featuring great
beaches
and excellent
scuba diving
.
Regions
Cities
- capital of Kelantan
- capital of Terengganu
- capital of Pahang
==Other destinations==
- backpacker paradise
- resort and scuba paradise
- slightly more commercialized paradise
==Understand==
The East Coast is the poorest and most culturally conservative part of Malaysia.
The economy is largely based on agriculture, and the people are fairly conservative. Most women wear a headscarf.
Kelantan
and
Terengganu
(but not
Pahang
) implement many aspects of Islamic law (
syariah
) in public. Beaches and supermarket queues are sex-segregated, and the availability of alcohol is limited. Unlike the rest of Malaysia, the weekend in Terengganu and Kelantan runs from Friday to Saturday, with shops and banks closed on Friday but everything open normally on Sunday.
On the resort islands, however, rules are far more relaxed. On these islands there is little gender-segregation and alcohol is readily available. If a backpacker decides to sunbathe topless in these areas, oglers (not imams) are her top concern.
Climate
The East Coast is highly seasonal, with strong monsoon winds and rains lashing the coast between November and February. Most resorts on the islands shut down during this period, transport links to them are very limited, and high waves and poor visibility make most water sports impossible. The "good" season is April to October, with June to August being the busiest months.
Talk
Standard
Malay
is spoken by nearly everybody, but the dialect of
Kelantan
is infamously difficult for outsiders to understand and the version of
Thai
spoken near the northern border may also be unintelligible to speakers of standard Thai.
Get in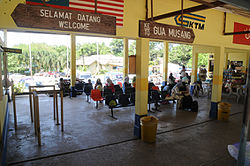 By plane
There are regular mainline flights on Malaysian and Air Asia from
Kuala Lumpur
and
Penang
to
Kota Bharu
,
Kuala Terengganu
, plus turboprop services from both
Kuala Lumpur
and
Singapore
to
Tioman
and
Redang
on Berjaya Air .
By train
The fabled
Jungle Railway
chugs over 500 km through the heart of Malaysia from
Singapore
and
Kuala Lumpur
up to Tumpat near
Kota Bharu
. There is a railway from Thailand, but it has no passenger services, so you'll need to take a bus from the Thai railhead at
Sungai Kolok
across the border to
Rantau Panjang
and onward to Kota Bharu.
By bus
Buses connect all major cities on the East Coast to
Kuala Lumpur
and
Johor Bahru
.
Do
One of the main attractions of East Coast Malaysia is the Scuba Diving and Snorkeling. There are several islands to visit and dive from. The smaller islands which have the least amount of dive centres are generally more rewarding. The coral around Pulau Sibu Island for example is in much better condition than the more famous Pulau Tioman (less bleaching and diver damage) East coast Malaysia offers some of best and closest scuba diving to Singapore and is a good option for Weekend breaks and long weekends.

Eat
The East Coast has several distinctive dishes, which usually fall under the moniker of
Kelantanese cuisine
and are thus covered under
Kelantan
, although they're widely available in Pahang and Terengganu as well.
Drink
In
Kelantan
and
Terengganu
, Malay-owned establishments are by law not allowed to deal in alcohol, and Muslims caught drinking will be caned and fined.
These laws do not apply to non-Muslims, so Chinese and Indian shops may legally stock beer and spirits, but their stocks will often not be on public display and prices tend to be high. On the resort islands in particular, you'll be looking at upwards of RM 10 for a can of beer, so stock up before arrival. One notable exception is
Tioman
which is a duty-free island.