East Coast and Midlands
East Coast and Midlands
is a region of
Ireland
.
Regions
Cities
Cities
(Baile Átha Cliath, Town of the Hurdled Ford) – Dublin is the capital of Ireland and has population of over 1.6m in the Greater Dublin Area
Large towns
(16,888)
(31,901)
(35,090)
(35,085)
(11,069)
(26,938)
(22,050)
(13,085)
Other destinations
Get in
The main access points when it comes to getting into Leinster are by road, sea and air. Traditionally Leinster has both been the most developed area in Ireland and the most populous area in Ireland. As a result the road infrastructure in Leinster is very good as it radiates out from Dublin.
By plane
While there are other airports in Leinster which do cater for international flights, (Baldonnel Casement Aerodrome and Weston Executive Airport ), the only International airport is Dublin Airport (DUB).
By boat
Leinster is served by
Dublin Port
(serving Liverpool and Holyhead), Dun Laoghaire (serving Holyhead) and Rosslare Europort (serving Fishguard and Pembroke).
Get around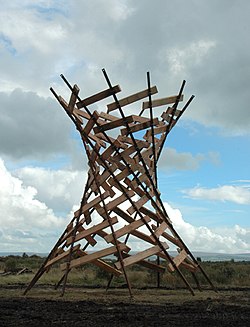 By train
While the rail services in Ireland are not at the level of other European countries, things are improving in terms of station upgrades, investment in rolling stock and the number of trains that run daily. In Leinster there are four main lines operated daily by
Irish Rail
:
By car
Travelling by car around the East Coast and Midlands of Ireland is not the arduous task that it was even five years ago. The road infrastructure is the subject of continuous improvement as many of the main arteries connecting Dublin to the rest of Ireland are upgraded to motorway standard.
The road network in Ireland radiates outwards from Dublin City and the M50 ring road from the N1 to Belfast to the N11 to Wexford.
By rental car
Car rental in the East Coast and Midlands area is mainly confined to
Dublin Airport
and Dublin City although some car rental companies have locations at
Dun Laoghaire
Port and
Rosslare
Europort. While all car rental companies in Ireland have rental desks in the arrivals hall of Dublin Airport, the list of car rental companies with inner city locations is far less. Some of the car rental companies will advertise city centre locations, but these locations are mostly only drop-offs for which an additional charge will added.
See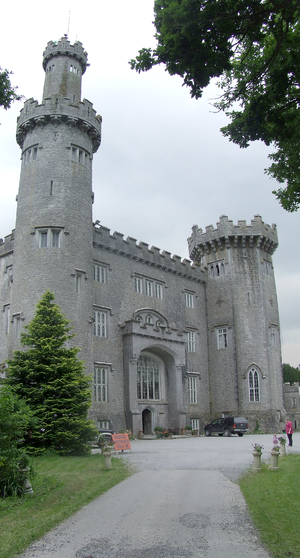 The locations are accessible by the DART which is a regular commuter train service covering most of the coastline north and south of Dublin.
Mulhuddart - don't miss this thrilling outpost of civil society; challenging conversation guaranteed
Howth and Howth Harbour
Dalkey. Dalkey village/town is listed as an Irish heritage town and as such has a rich history, with no less than three castles within the town borders, making it a great day trip from the city.
Killiney. Climb Killiney Hill and see the stunning views out around the bay and to Dalkey Island.
Blackrock. Walk along the strand, visit the famed Blackrock market, a flea market open on weekends and bank holidays, and have a drink at O'Rourke's, the old haunt of the Irish author Flann O'Brien. Serviced by the DART and the 4, 4A, 5, 45, 7, and 8 buses.
Dun Laoghaire
Bray. Climb Bray Head, or walk on its sea front esplanade.
The Japanese Gardens

The Irish National StudThis is a working thoroughbred horse farm.
Rock of Dunamase
Emo Court
Castle Durrow
Stradbally House
Mountmellick Quaker Museum
Ballyfin House
Boyne Valley

Hill of Tara

High Crosses in Kells

King Johns Castle
address: Tullamore

Large gothic castle, said to be haunted.

address: Birr

Castle with a large telescope. Long walks around the demense.

Durrow Abbey

address: Durrow

Durrow Abbey remains a largely undisturbed early historic and medieval monastic site containing a complex of archaeological monuments, ecclesiastical and secular, visible and sub-surface.

Moneygall

address: South Offaly

See the ancestral home of Obama.
The Christian monastic site of Clonmacnoise in Offaly displays large round towers and beautifully decorated high crosses.
Glendalough
Turlough Hill
The Gaps
Loch Dan
Avondale House
Glenmalure
Wicklow Gaol
Bray Head
The Big Sugarloaf
Devil's Glen
Beaches
Do
Temple Bar

address: Dublin

Temple Bar is a bit of a tourist trap but it does have some nice things to see.

address: Kildare

Home to the five Irish Classic Horse Races.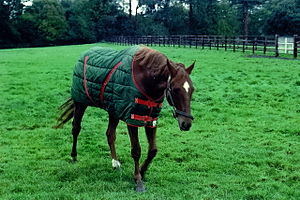 address: Punchestown

A steeplechase race track and home to the four-day Punchestown Festival in late April.
Open to the public for tours during the summer, serves food and is also a concert venue, with organic farmers market at weekends.

GolfThere are some excellent golf courses in the East Coast and Midlands: The K Club (which hosted the 2006 Ryder Cup), Carton House, Castlewarden, and Tullamore Golf Club.

Fairyhouse RacesRatoath Meath - The first meeting held at Fairyhouse was in 1848 when the Ward Union hunt held their point-to-point at this venue. From these small beginnings Fairyhouse quickly established itself as one of Ireland's premier racecourses. In 1870 the Irish Grand National was run for the first time and the winner was 'Sir Robert Peel'. The Grand National quickly became Ireland's most valuable and prestigious steeplechase and each success has its own rich tale, none more amazing than the win in 1929 of a six year old mare 'Alike', owned and ridden by 5'4" Frank Wise who was missing three fingers and who rode with a wooden leg. Fairyhouse has always been one of the finest and fairest racecourses and continues to attract the leading horses both on the flat and over jumps. Arkle, Desert Orchid, Flying Bolt, Captain Christy, Prince Regent, Persian War, L'escargot and more recently Istabraq, Bobbyjo, Florida Pearl and Limestone Lad are just some of the legendary greats that have graced the almost 2-mile circuit.

address: near Kilcormac

Lake with long walks through the boglands. There are sculptures made by many different people scattered around the parkland.

Grand Canal

address: through the county

Go on a boat on the canal.
Hill walking
A list of some of the more interesting and higher peaks to hike are:
Lugnaquilla, Wicklow Mountains (3,018 ft)
Mullaghcleevaun (2,785 ft)
Tonelagee (2,681 ft -estimated from metre figure)
Djouce (2,379 ft)
Arderin, Slieve Bloom Mountains 527 m (1,729 ft)
Table Mountain (701m)
And for those looking for a 2- or 3-day walk.
Walk the Wicklow Way. This extends from foothills of the Wicklow mountain in south County Dublin right through the main mountainous parts of Wicklow on down to the very south of the county.
Walk the Offaly Way and the Westmeath Way through the two counties.
There are many trails up the Slieve Bloom Mountains in Laois and Offaly
Eat
Wicklow
Roundwood Inn

address: Roundwood

Venison and Irish stew.

The Strawberry Tree

address: Aughrim

Delicious & expensive.

The Happy Pear

address: Greystones

Delicious smoothies & healthy, hippy, organic cafe fare.

The Candle

address: Newcastle

Traditional Wicklow food.

Ashford Oriental

address: Ashford

Chinese & Thai.
Kildare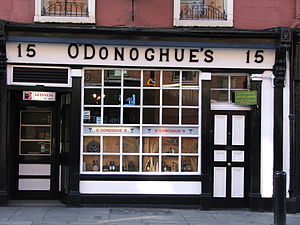 Offaly
Annie Kelly's, one of Tullamore's oldest pubs, is a must see when you visit Tullamore. Known for its "Ceoil, Craic agus Cainte" you are sure to have a good time! Pints of Guinness are legendary here!
The Bridge House Hotel, in the centre of Tullamore and serving breakfast, carvery lunch and evening dinner.

Fast FoodIf you like fast food you can eat in Supermacs, McDonald's, Burger King. There are a few ROMA takeaways also.

Subway

address: Harbour St Tullamore

For footlongs.

CaféThere are many cafés as well.

Walnut Bistro @ Four Sons

phone: +353 46 977-2959

address: Dublin Rd, Edenderry

Restaurant with a la carte menu from 17:00-21:00 M-Sa and Sunday Lunch from 14:00-18:00.

Galileo's Italian restaurant

address: Edenderry

Italian food.

The Phoenix and Lily Garden Chinese restaurants

address: Edenderry

The Phoenix is the tastiest in Edenderry.
Drink
Kildare
Offaly
Four Sons

phone: +353 46 977-2959

address: Dublin Rd, Edenderry

Bar food and restaurant with live music every Friday and Saturday night.

Annie Kelly's

address: Tullamore

Pints of Guinness are legendary here!

Thomas C. DolanLounge and off licence.
Go next