East Frisia
East Frisia
(
German
:
Ostfriesland
) is a region of
Lower Saxony
in
Germany
.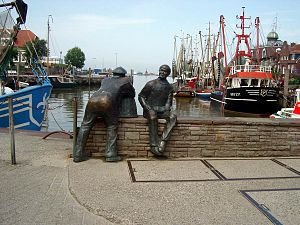 Cities
- ferry to Norderney and Juist
Other destinations
- the large national park area stretches along the North Sea coast of East Frisia and Elbe-Weser Triangle between Ems and Elbe river estuaries.
Understand
East Frisia has a very large per-capita average consumption of
tea
: 300L/person/year, according to
the New York Times
. East Frisia is part of the historical homeland of the Frisians, which continues West into the Netherlands and North into Schleswig Holstein, where it is called North Frisia. While Frisian culture - especially their consumption of tea which is traditionally sweetened with rock sugar - is still alive and well in parts of East Frisia, it and especially the Frisian language has come under threat of assimilation since the late 19th century. East Frisia is largely a rural area and apart from the coastal destinations there is little of interest to most visitors, however the beaches and islands do draw millions of tourists (mostly Germans) every summer. East Frisia is also notable within Germany for
Ostfriesenwitze
ethnic jokes about East Frisians who are supposedly dimwitted and hillbilly-like.
Get in
By train
There is direct Intercity service from Central and even Southern Germany to Norddeich Mole during the summer with connections to the boats to the Juist and Norderney. Emden is also a stop for direct Intercity trains. The other ports and major cities are not as well connected and sometimes a short stretch by bus (integrated with the railway ticket) may be needed to get you to the boat.
By plane
Some of the East Frisian islands as well as some of the cities in the region have small airfields with domestic flights as well as general aviation. Unless you are in Germany already, they will be of little use to you and you might instead fly into Bremen or Hamburg and take the train from there.
By car
By bus
Flixbus
serves a few points in this region
Get around
By boat
Most of the
East Frisian islands
are only reachable by "their" port by regularly scheduled public boats. As the waters are rather shallow, they can only leave at high tide, so check in advance when the boats leave to avoid sitting at the harbor for hours.
On foot
By bike
See
East Frisian Tea Museum Norden Norddeich provides seminars and tastings in addition to exhibits.
Do
address: Bismarckplatz - 26384 Wilhelmshaven

One of the best tea shops in the region.
Drink

While coffee dominates the surrounding regions, East Frisia has a strong tea culture with some of the highest tea consumption rates in the world. Tea here is drunk with rock candies and with cream on top. Tea is an important part of the region's identity. There are annual tea festivals, and even a tea museum in Norden.

Go next
Oldambt — the region just across the Dutch border, including 'windmill city' Winschoten