East Greenwich
East Greenwich
is centrally located in the state of
Rhode Island
on the western shore of the Narragansett Bay. Established in the 1600s, East Greenwich is the eighth oldest town in Rhode Island. Rich with history, the land was originally owned by the Pequot Indians. In 1644, the land was acquired by King Charles II. In 1677, the General Assembly legally established East Greenwich and the town was named after Greenwich County of Kent, England. Today, with numerous historical landmarks, East Greenwich continues to be proud of its history.
Get in
By plane
T.F. Green Airport located in Warwick, though listed as being in Providence, is a 10 minute drive to East Greenwich. Follow US-1 S into East Greenwich.

By car
For those driving from the northern part of Rhode Island, Boston, or New York, take I-95 South toward Providence, a slight left at RI-4 S (sign will read North Kingstown /RI-4 S) and take Exit 8 for East Greenwich. Keep right after exit and enter East Greenwich.
For those driving from Connecticut, take I-95 N, and then take Exit 8A for East Greenwich. For those coming from the southern part of Rhode Island, take US-1 N, a slight left at RI-4 N, and then Exit 8A to reach East Greenwich.

Get around
Walk down Main Street on a nice day. Parking is hard to find at times. M-Sa 9AM-7PM limited 2 hour parking on Main Street and on the side streets. If you plan on spending more than 2 hours, park at Swift Gym or by the Police Station, both located off of Pierce Street.

See
Bernet Marvel House

address: 3 Crop St

Built in 1800, the Bernet Marvel House is one of the oldest, least altered and well preserved houses in the district.

address: 57 Pierce St

Built in 1773, the James Mitchell Varnum Mansion is now a museum furnished with 18th century furniture and features various historical artifacts from the time period.

Kent County Courthouse/ East Greenwich Town Hall

address: 125 Main St

Kent County Courthouse is one of many great historical sites located in East Greenwich. Built in 1804 by Oliver Wickes, the Kent County Courthouse was where legislature took place. In 1775 the first United States Navy was commissioned on this site and in 1776, the Declaration of Independence was read to the town's residents from this location. Until 1854 the Kent County Courthouse served as one of five original state houses in Rhode Island. Today the historic courthouse located in the center of town is home to the East Greenwich Town Offices.

address: 1774 Armory St

Visit the Armory's website for more contact information. Built in 1843, the Kentish Guard Armory is an excellent example of Greek Revival architecture. Today, the armory is listed on the National Register of Historic Places.

Miller-Congdon House

address: 20 Division St

Built in 1711, this gambrel style house, is the oldest building in town and the only remaining structure from it's time period.

Post Office, 11 Main St., +1 401 885-4444, Tu-Su 4:30PM-Midnight. Established in 1789, the first East Greenwich Post Office was one of the first in the nation. It now operates as a successful restaurant that maintains the original postal theme.

Second Kent County Jail

address: 110 King St

Approximately built in 1795, this always yellow building served as the town jail for 150 years. The Second Kent County Jail replaced the first jail located on Marlborough St.

phone: +1 401 884-4110

address: 6 Main St

Visits and tours by appointment only. Built in 1913, the Varnum Armory is a medieval architectural structure that contains an extensive military and naval museum.

New England Car and Van WashFull-service car wash shop just outside on the NK/EG border that is open year round. Many different cleaning options and packages are offered to consider. The automobile is vacuumed and prewashed before being locked on a track of the cleaning system which completes the full service wash to the designated areas the customer chooses to have cleaned. Following the wash, employees come out and try off/touch up the final cleaning necessities to the car.

Beachwood Beach

address: Beachwood Road

A very small, state owned beach used mostly for dog walking and relaxing in the summer. Benches and picnic tables available.
Do
phone: +1 401 884-2010

address: 1095 Ives Rd

Goddard Park is Rhode Island's most popular Metropolitan Park. The beautiful park offers an environment filled with spacious picnic areas, green fields and forested areas displaying over 80 species of tress from all over the world. The park has its own beach with bathhouses, concession stands, fireplaces and tables. Visitors can make use of various playing fields, equestrian trails, fishing and boating facilities, a nine-hole golf course and a new performing arts center available for special events.

phone: +1 401 885-9119

address: 59 Main St

Greenwich Odeum is a center for performing arts run completely by volunteers. The center features theater, comedy, music and dance shows.

The Fire & Drum Corps

address: 1774 Armory St

Visitors are welcome to stop by and watch the Armory rehearsals. The Kentish Guards is one of 5 fife drum corps in America that are military organizations. For more information visit the Kentish Guard Armory's website .

address: 6 King Street

They offer classes for all ages starting at the age of 5 in painting, drawing and sculpture.
Golf
East Greenwich Country Club

address: 1646 Division Road

This 9-Hole Public course offers rates which are affordable by golfers at any level. Not far from the highway, this course will enable you to get away for a little while on the course. Green Fees: 9 holes weekday: $18.00, 9 holes weekends: $22.00, Back 9 $10.00, with cart- 9 holes: $15.00, with cart- back 9: $12.00, Twilight rate (after 5PM): $13.00.

Potowomut Golf Club

address: 439 Ives Road

This Private 18-Hole golf course will provide golfers with a challenging round of golf. Depending on which of the three tee boxes you play from, the course can become quite difficult. Lined with an extensive amount of trees and bunkers, you may find the enjoyable scenery to become a threat to your score. Wide fairways but many hazards, so make sure you keep the ball in play.
Buy
address: 99 Main Street

Specialty toy store that carries, Kathe Kruse, Plan Toys, ECO Friendly toys, puzzles, books and board games.

address: 500 Main St

It is the state's largest locally owned grocery store that offers gluten free, wheat free, and dairy free foods. All produce products are organic. They also have a body care section that features Dr. Hauschka and Aubrey Organics as well as "green" cleaning solutions. A number of hemp products are offered as well as alternative herbal remedies and non-animal based proteins.

Bags By Iris

address: 111 Main Street

A fashion boutique that carries a wide selection of Vera Bradley handbags, casual women's wear, and Life is Good clothing. Also has a wide variety of intricate hand-made and custom jewelry at affordable prices.

Bernadette Livingston Furniture

address: 39 Main St.

Unique furnishings, accessories, original art, and custom kitchen cabinetry.

address: 93 Main Street

A florist shop offering an assortment of flower arrangements designed by award wining designers. Arrangements can include silk and/or dried flowers. Known to specialize in simple but elegant floral designs.

address: 102 Main St

An eco-friendly dog store. It is known as being the biggest little dog store in Rhode Island. Dog food products are hand made and decorated, organic, and all natural. There is also a selection of healthy, all natural cat food and treats.

address: 175 Main Street

Known for their extensive and retail Italian charm bracelets- available in gold, steel, and silver.

address: 88 Main Street

Into snowboarding and skateboarding? This urban men and women's store offers a variety of street-ware and foot-ware brands ranging from Volcom, Burton, and Nike SB. They also carry all of your alternative sporting gear.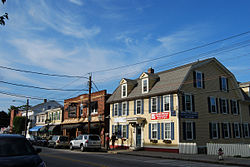 address: 164 Main St

A jewelry store offering jewelry by local designers as well as brand names such as Diana Heimann, Timeless Designs, NUNU, The echo of the dreamer, D.Snyder, Henri Bar, Lieberfarb and Monica Kosann. Services include repairs, hand engraving, pearl stringing, and diamond remounts.

Eloquence Jewelers

address: 5849 Post Rd

It is a high end jewelry store offering gold and silver pieces, along with jewelry from local designers. The owner, Dan, is beyond helpful and knowledgeable about the different products. Accepts American Express, Discover Card, MasterCard, VISA, and Debit Cards.

Mancini Lighting

address: 640 Main Street

It is a small shop that offers a large selection of different kinds of lamps and lamp shades. The owners David and Marie Mancini also work with and help homeowners design house lighting.

Repeté

address: 110 Main Street

A specialized boutique known for its original, complete bridal wear. Carries high-fashion dresses perfect for any cocktail party, prom, or pageant. Has luxurious jewelry, to top off your look for a glamorous evening. The store is pricey, but is worth it to be the belle of any ball.

address: 137 Main St

A small boutique specializing in dresses, handbags, and shoes.

address: 102 Main St

Carries upscale men's clothing. Perfect for finding a tux for the big wedding day or that business suit that makes you feel like a million bucks, without having to spend it. Has a large inventory of shirts, pants and shoes as well. Also has gentlemen's accessories to complete your look.

Stevens Oriental Rugs

address: 86 Main Street

Owned by a third generation rug merchant, the store offers hundreds of traditional Oriental rugs as well as new contemporary Oriental rug designs. Services also include cleaning and repairs.

The Bridal Garden

address: 110 Main St

A dress shop specializing in wedding and wedding party dresses. The dresses in the store are arranged by color and there are hundreds of different dress selections and designs. Dresses can also be ordered from catalogues and delivered to the store. During the season, the shop also has a selection of prom dresses.

address: 130 Main St

It is the place to find gifts and home accessories. To name a few, the shop carries porcelain figurines and china, Orla soy candles, Company C Rugs, floral wreaths, baskets and arrangements. The owner Susan Swanson also offers interior design services.

Thorpe's Gift Shop

address: 517 Main Street

East Greenwich's very own personalized gift shop. Great place to find souvenirs. Carries anything from greeting cards, to custom gifts, to collectables.

address: 165 Main St

A contemporary dress boutique that carries dresses appropriate for many different occasions. Usually has a short dress selection, not gowns. Featured designers are Nicole Miller, BCBG, Shoshanna, Milly and Bianca Nero, to name a few. Dresses usually range from $100-$400.

Peafunk Designs

address: 442 Main Street

At Peafunk, elegance meets funk. Open since 2006, the small and cozy boutique sells handmade and original crafts, designs and accessories. The shop has become known for fine custom jewelry, especially for wedding parties. Peafunk also offers jewelry-making classes.
Eat
The Grille on Main- The Grille on Main is a Pinelli Marra restaurant located at 50 Main Street in East Greenwich. It was one of the first restaurants that the duo opened up together and it has maintained it's casual atmosphere and original location. It is located directly across the street from the Post Office Café, another Pinelli Marra restaurant. It's a much more casual dining experience than the Post Office. The food is great and reasonably priced. The menu contains a balance of different types of food, but all equally delicious. The Grille on Main is also a great place on the weekends to get a drink. It can get somewhat crowded, however, there are multiple areas of the restaurant so seating is normally not an issue. Kids are welcome and the attire is somewhat casual. Reservations are not necessary unless it's a weekend or a large party.
Bistro 9- Bistro 9 is not only a restaurant and function site, but it is also one of East Greenwich's finest golf courses. It's fairly new and therefore quite popular, especially in the summer when outdoor seating is available. It's located right on Division Street in East Greenwich. The food is great and a little more expensive. Kids are fine, but this is mostly an adult restaurant. They have an excellent array of wines to accompany their menu and the staff is very knowledgeable on the pairing of main courses with their wines. It's a great function facility because it has a view of the golf course in the back yard. Regardless of the popularity, the parking lot is quite large so parking is normally not an issue. This restaurant would be a great "special occasion" place to have dinner.
Scrambler's III Inc- Is located at 564 Main Street East Greenwich, RI. The restaurant is located right on Main Street, across from the Starbucks. It's very casual and known for its breakfast selections. It's seat yourself seating and has a small bar counter that you can also eat at. Kids are welcome and casual dress is appropriate. Everything is reasonably priced and made to order. They have a full menu (besides breakfast) and have a 'Specials' white board that they update daily. It's great if you're looking for a fast sit-down meal.

Pickles Deli & Café

phone: +1 401 884-1828

address: 135 Frenchtown Rd.

This upscale deli offers customers a wide selection of sandwiches made with fresh ingredients. The "home of the stuffed pickle" has over 32 specialty sandwiches on their gourmet menu. Most popular sandwiches include the "Christopher Columbus," "19th Hole" and "Mad Russian".

Island Pizza

phone: +1 401 885-4200

address: 2554 South County Trail

Island Pizza is a family owned local pizza place. Serving its signature Greek style pizza, this pizzeria has been serving up its unique cuisine for over a decade. Other than the pizza, the antipasto is a frequently ordered item off of the menu.

Cucina Mista

phone: +1 401 398-2900

address: 455 Main St.

Cucina Mista is a fairly new establishment on the East Greenwich culinary scene. This traditional Italian eatery has been serving up healthy Mediterranean cuisine and has gained much popularity in just its first year open for business. The menu includes a wide range of appetizers, salads, grilled pizzas, pastas and fresh seafood.

Fillipou's Pizza

phone: +1 401 885-5652

address: 450 Main St.

The Fillipou's have been serving their Greek style "twisted pizza" in Rhode Island for years. Their new location, right in the heart of Main St., offers customers with the option for take out or delivery. The popular menu items include the "twisted" pizza and their wide selection of subs. Dine inside with the luxury of plasma televisions and full bar.

Natale's Deli

phone: +1 401 884-0558

address: 2708 South County Trail

Natale's Deli is an upscale Italian eatery. Their sandwiches are made with high quality Boar's Head meat and have handmade entrees made from the freshest ingredients. With a newly acquired liquor license, this East Greenwich establishment has grown in popularity as a local favorite.

KON Asian Bistro & Club

phone: +1 401 886-9200

address: 553 Main St.

KON is the only place for authentic Japanese Cuisine in East Greenwich. Located downtown, this establishment is equip with a sushi bar and hibachi grilles. The sushi's and sashimi's are among the favorites on the menu. Sushi rolls start at just $5 and go all the way up to $15.

Audra's Café

phone: +1 401 884-4441

address: 315 Main St.

This café located downtown right in the epicenter of Main St. serves up breakfast and lunch to hungry customers everyday of the week. Although the café is always packed full of people, the fast service moves the line quickly and customers tend to find the food quality to be well worth the wait. Entrees start at $2.25 and reach $7.25.

Ed's Roost

phone: +1 401 885-3358

address: 357 Main St.

This old fashioned breakfast diner has been serving happy customers in East Greenwich for decades. The décor takes you back in time as it is littered with antiques and relics of the past. The most popular food item is the breakfast sandwich dubbed the "Ed-McMuffin". This breakfast sandwich is a fried egg on an English muffin with your choice of bacon, sausage or ham. This crowd favorite is perfect for staying within a budget at only $1.25.

address: 43 Division St

Established in 1993 and serves classic Italian dishes along with the classic seafood dishes and American dishes. It is a small restaurant that has fast service and is good for families.

address: 431 Main Street

Angelina's serves fresh homemade Italian food. If there is a sub that you want that don't see on the menu ask and they will make it. They have fast service and nice portions that are big enough for two people. It is a great place to stop and get a bit to eat when you are strolling around Main Street. And has an affordable price.

phone: +1 401 398-7877

address: 5600 Post Rd

T's is relatively newer upscale breakfast and lunch venue in East Greenwich with the original site in Cranston, RI. The portions are quite large and the quality of everything is of impeccable standards. The prices are a little high especially for sides but the food is well worth it. The atmosphere is nice with many of the walls sporting paintings by one of the owners Anthony Tomaselli. With daily specials this is a must visit.

Cruiser's

phone: +1 401 398-2040

address: 5647 Post Rd

Cruiser's is a retro themed restaurant with many images of older cars and the drive in theme of the 50s with menu names to match. They serve pizza, calzones, burgers and many other American staples. The quality is alright and the service has greatly improved since a recent change in ownership.

Giuseppe's Take & Bake Pizza

phone: +1 401 886-4429

address: 333 Main St.

Offers cooked or take and bake pizzas. Vegan and gluten-free options available. Tasty wraps and friendly service. All major credit cards accepted.

Ritrovo Italian Pub and Grille

phone: +1 401 398-7600

address: 1050 Main St.

Great Italian food in the traditional style on a somewhat short and simple menu with added inventive specials. Relaxed yet refined atmosphere. Attentive and delightful staff.

phone: +1 401 885-8580

address: 149 Main St.

An upscale martini bar and restaurant based with a very modern look outfitted with LED lights. Limited parking. Plenty of specials available especially for drinks.

Mozzarella's Italian Grille & Bar

phone: +1 401 884-1009

address: 5702 Post Rd

A largely Italian-based menu. A fine bar area is separated from a more laid back dining room. Plenty of staples and local favorites on tap. Very family friendly and community-connected. Fair prices with good quality. Very friendly and genuine staff. Plenty of parking. Right beside Hilltop Creamery.

phone: +1 401 884-0668

address: 1000 Division Rd.

Musical and happy staff. Not quite custard but a far thicker and richer ice cream than anything else in the area. Dishes mixed and made right in front of you on a on an actual cold stone slate. Plenty of pre-made and prepackaged ice cream, ice cream cupcakes and ice cream cakes are available. Take out and special orders available by phone order.

Taste of China II

phone: +1 401 884-4660

address: 148 Main St.

Typical Chinese food restaurant. Very bare inside and is ill-frequented as if it were ghost town. Does tons of take out business and is one of the only Chinese restaurants in the area that delivers. Features all staples of Chinese food. Fairly inexpensive with good sized portions.

Cathay Garden

phone: +1 401 884-7776

address: 363 Main St

Chinese cuisine at a great value. A bevy of typical Chinese dishes are offered with a buffet option available in restaurant. Take out is offered and the restaurant is highly frequented. It is a family operation and the staff are all amazingly friendly and dedicated. They do their very best to make sure you are happy with your experience.

End Zone Pub & GrillLocated just on off the North Kingstown border, The End Zone Pub is a popular bar hangout spot. Live music every week makes the pub a great nighttime attraction. Sports fans will enjoy the bar more so than anyone else, as games are always on multiple televisions throughout the day. The pub offers many choices of great tasting beer and appetizers, especially their famous hot buffalo wings.
Budget
address: 50 Cliff St

Specialty sandwiches, salads, soups, gourmet coffee, and freshly baked desserts are available at this gourmet to go bistro. Accepts Visa and Mastercard. Meals range from $5-$10.

Tio Mateo's Mexican Grille

address: 537 Main St

Mexcian food ranging from steak tacos to chicken burritos to the dessert smores quesadilla. Popular for its takeout. Accepts Visa and Mastercard. Meals range from $5-$10.
Mid-range
Chianti's Italian Cuisine

address: 195 Old Forge Rd

Italian cuisine as well as seafood and steaks served in a family friendly atmosphere. There is also a banquet facility available. Accepts all major credit cards. Meals range from $10-$20.

Frank and John from Italy

address: 186 Main St

Known for their thin and crispy crust pizza and various Italian dishes. Closes for one week in the summer. Arrive early Friday and Saturday nights to avoid a wait. Cash only. Meals range from $8-$16.

The Grille on Main

address: 50 Main St

Offers steaks, salads, seafood, and grilled fare in a sophisticated, yet family friendly atmosphere. Accepts all major credit cards. Meals range from $8-$22.

Jiggers

address: 145 Main St

Offers traditional breakfast and lunch diner fare from omelets to meatloaf. Serves dinner on Fridays only. Arrive early to avoid sitting at the counter. Cash only. Meals range from $5-$24.
Splurge
address: 1149 Division St

Offers pasta, seafood, steaks, salads in an upscale atmosphere with valet parking. Accepts all major credit cards. Menu items range from $10-$39.

address: 5454 Post Rd

Serves eclectic American cuisine including sushi, fire-grilled pizzas, and steak. Bar is open until 1AM. Accepts all major credit cards. Meals range from $5-$30.

Post Office Café

address: 11 Main St

Upscale Italian dining in a former post office turned restaurant. Accepts all major credit cards. Meals range from $16- $30.

address: 5600 Post Rd

Serves Tuscan cuisine including, steak, veal, and sauteed specialty dishes. Also offers 20 wines by the glass. Enjoy the lively atmosphere Siena offers. Accepts all major credit cards. Meals range from $13-$30.

address: 20 Water St

Upscale seafood dining on the water in the East Greenwich Cove. Accepts all major credit cards. Meals range from $9-$26.

Trattoria del Corso

address: 223 Main St

Upscale Italian dining in a romantic atmosphere with items ranging from calamari to pork loin. Also has a long wine list. Accepts all major credit cards. Meals range from $10-$30.
Dessert
address: 219 Main St

Known for their handmade truffles, Chocolate Delicacy also offers chocolate dipped seasonal fruit and a variety of handmade chocolates. Accepts Visa, MC & Amex.

Hill-Top Creamery

address: 5720 Post Road

A staple ice cream location, limited outdoor seating, great family atmosphere. Cash only.

address: 5600 Post Rd

Nationally known for their wedding cakes, Scrumptions also offers butter cookies, pastries, and chocolates. Accepts all major credit cards.

Searle's Old Tyme Ice Cream

address: 253 Main St

Limited seating indoors and outdoors. Offers traditional flavors. Cash only.

address: 5707 Post Rd

Voted Best Candy Store in RI by RI Monthly Magazine. Sweet Twist offers signature handmade chocolates, fine confections, and unique gifts. Their signature product is their chocolate and caramel dipped apples. Accepts all major credit cards.
Drink
Bars
The Grille on Main

address: 50 Main Street

Inviting neighborhood grille serves daily specials and a well rounded menu with grilled pizzas, pasta, grilled steaks and seafood items, bar stays open until 1AM.

Mulberry Street Tavern & Sports Bar

address: 5702 Post Road

Tavern and sports bar featuring Italian and Greek cuisine pizza, hot oven grinders, fresh chicken wings, ribs, pasta and more. The bar features seventeen satellite televisions.
Richard's Pub, 3347 South County Trail, +1 401 884-2880, Tavern and sports bar, serving wings, pizza, and entrees. Come on down with friends and watch your favorite sports teams in action. Mon-Thu 11:00-11:30, Fri-Sat 11:00-midnight, Sun Noon-10:00

End Zone Pub

address: 5835 Post Road

The place to be for sports and a good time. Grab a drink and a plate of wings and watch the game. Serves daily specials as well.

Greenwich Tavern

address: 195 Forge Road

Friendly atmosphere serving full menu, nice place to come and have a drink with friends, great for watching sports.

Fat Belly's Irish Pub & Grille

phone: +1 401 884-3434

address: 241 Main St.

Named "Best Neighborhood Restaurant" and "Best Neighborhood Bar" in 2008 by Rhode Island's Best. This downtown eatery provides customers with quality pub-style food and wide varieties of beer and wine. Watch the game on plasma televisions or enjoy live music every Saturday night.

Parkside Bar and Grill

address: 195 Old Forge Road

The upstairs bar section of Chianti's restaurant. Affordable prices and deals. Casual pub atmosphere with pool, darts, and many wide-screen TVs.
Coffee
address: 5757 Post Rd

Large and comfortable coffee house that serves muffins, cakes, pastries, and gourmet coffees. Occasionally offers live entertainment on the weekends. Accepts Visa and Mastercard.

Main Street Coffee

address: 137 Main St

Upscale coffee house with wonderful ambiance serves decadent cakes and desserts, various European coffee drinks including espresso, and the attached Toscana Lounge serves a range of alcoholic beverages. Accepts all major credit cards.

Simon Says Cafe

address: 96 Main St

Quaint coffee house and sandwich shop offers a variety of flavored coffees, teas, pastries, and deli sandwiches. Cash only.

Dunkin Donuts

phone: +1 401 884-9677

address: 720 Main St

also 1239 Division Rd., +1 401 885-3462, 2611 South County Trail, +1 401 884-7065 Open 5AM-midnight daily. A popular doughnut chain in the Northeast, Dunkin' Donuts serves pastries, bagels, coffee, and sandwiches at very affordable prices. Accepts all major credit cards.

address: 1000 Division St

Spacious coffee house, bakery, and restaurant that serves salads, sandwiches, and pastries. There are also free refills on select coffees. Accepts all major credit cards.

address: 555 Main St

Has seasonal tables outside of store. Accepts all major credit cards.
Sleep
1873 House Bed and Breakfast

address: 162 Pierce Street

A charming guest house with turn-of-the-century atmosphere inviting you to relax and enjoy your stay. Located in the heart of the Hill and Harbor Historic District with its many landmarks dating from its founding in 1677. Just steps to Main Street with restaurants, fashionable boutiques, as well as gift and antique shops. Waterfront dining and entertainment on Greenwich Cove are just a few blocks away.

Greenwich Hotel

address: 162 Main St

The only hotel in downtown East Greenwich, the Greenwich Hotel offers about 25 rooms for rent. The price to rent a room ranges from $50-$70 a night.
Go next
Visit the museums, experience the nightlife, or taste the Italian cuisine of Providence, located 25 minutes north of East Greenwich. Take I-95 N and take any of the Downtown Providence exits starting with exit 20.
Enjoy the historic town of Newport with the mansions, unique shops, and various beaches. A 35 minute ride south of East Greenwich. Follow RI-4 S and then stay on US-1 S. Merge onto RI- 138 E and cross Jamestown and Newport bridges (there is a $2 toll each way for the Newport Bridge).
Find many bargains at the Wrentham Village Premium Outlets in Wrentham, Massachusetts. A 45 minute ride north, take I-95 N and then merge onto I-495 N by taking exit 6B. Take the RT-1A S exit, known as exit 15.
Neighboring North Kingstown has a Fast Ferry service to Martha's Vineyard.