East Jutland
East Jutland
is the mid-eastern portion of
Jutland
, the mainland part of
Denmark
.
Cities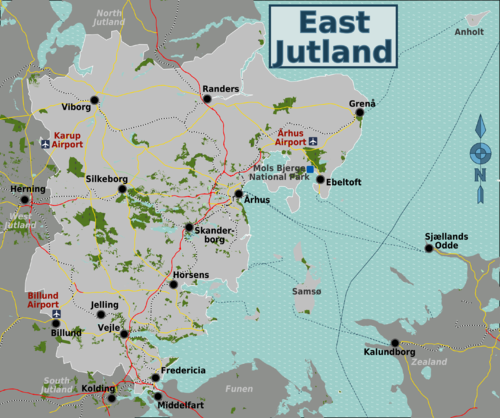 – harbour city and the largest city in Jutland
– coastal town in Djursland (Jutland's "nose") with terminal for car ferries from Zealand
– coastal town in Djursland
Other destinations
– unique nature on Djursland
– large beautiful island that gets all its energy from renewable sources
Understand
More than 60% of Denmark is cultivated land, making it the most intensely cultivated country in the world, and the East Jutland region is the largest agricultural producing area in the country. Apart from the obvious agricultural activities and legacy nearly everywhere in this region, including many large historic manors and estates, East Jutland surprisingly also presents sizable natural sites of both national and international importance.
Søhøjlandet (the lake-highlands) around Silkeborg is home to the largest single forest in Denmark (Silkeborgskovene) as well as the largest woodland area, the highest density of lakes and the highest hills in the country. With the maximum natural height above sealevel being just 176 metres, this doesn't say much really, but when the rest of the land is so flat, the hills do tend to present some magnificent vistas. The source of the two largest river systems in Denmark, Gudenå and Skjern Å is located in the heart of this region and the lakes associated with the Gudenå, dominates the landscape.
Djursland is the "nose" of the Jutland peninsula in the north-east. This is a rural area where the scarce population has made a living as farmers and fishermen for centuries, if not millenia. The region is rich with pre-historic tumuli, including many round barrows and several passage graves from the earliest of Stone Age. Djursland has a large diversity of habitats, with many rare or endangered species and most of the southern part has been designated as a national park since 2006, known as Mols Bjerge National Park.

See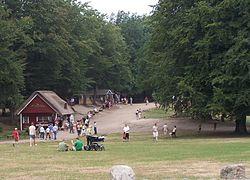 Legoland in Billund - Famous amusement park, and one of countrys most popular attractions.
Jelling national monument - Historic ruins from Denmark's prehistory.
Djurs Sommerland - Large amusement park for the whole family. The largest roller coaster in Denmark.
Ree Park - outdoor safari park with animals from all around the world. Take a round-trip in a steam locomotive or a landrover.
Do

GudenåenGo on a canoe trip on the Gudenå river. See more on Silkeborg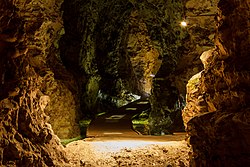 phone: +45 97548333

address: Dybdalsvej, Daugbjerg, Viborg

Old limestone mines, museum of fossils. Explore the maze of tunnels where the infamous Jens Longknife lived 300 years ago

phone: +45 86646011

Explore the largest limestone mine in the world
Eat
Æbleflæsk (Apple-pork). Thick slices of fried pork belly with stewed apples. Traditional dish of the region.
Drink
Denmark has around 125 micro-breweries and the region of East Jutland is home to several:
Aarhus Bryghus
Wintercoat, near Aarhus.
Bryghuset Kragelund, in Silkeborg.
Ebeltoft Gårdbryggeri