East Kalimantan
East Kalimantan
covers the northeastern part of
Kalimantan
(Borneo) in
Indonesia
. Administratively it consists of the provinces of East Kalimantan (
Kalimantan Timur, Kaltim
) and North Kalimantan (
Kalimantan Utara, Kaltara
). Best known for the beautiful beaches along its east coast, it stretches from the Celebes Sea near
Malaysia
into the
Makassar Strait
.
Understand
Geography
East Kalimantan is on
Borneo
, a large island shared with
Malaysia
and
Brunei
. In the east, it is separated from
West Sulawesi
and
North Sulawesi
by the wide Sulawesi/Makassar Strait.
People
East Kalimantan is one of Borneo's most sparsely populated regions. With a population of only 3 million people and a land area of , the population density is only 17 inhabitants per km 2 . Most of the population are Javanese. The indigenous Kutai people traditionally inhabit the southern part of East Kalimantan. Another recognized minority is the Dayak people. There has been a lot of immigration, in particular from the other Indonesian provinces.
East Kalimantan is formally an Islamic province.
Economy
East Kalimantan is the centre of Indonesia's timber, oil and gas industries. As you might guess, the stripped coastal areas are not a pretty sight, but the province's more interesting sights lie far upriver in areas untouched by the voracious logging machines.
Cities
– the capital city of East Kalimantan
– the industrial, transportational, commercial, and financial center of Kalimantan (Indonesian Borneo)
– an energy industrials city near Kutai National Park
– an offshore island with diving and marine attractions
– an inshore island and town in the far north of the region
– an inshore island and city in the northern part of the region
Other destinations
- remote highland plateau inhabited by Dayak tribes
- with layer of fresh water on top and salt water beneath.
and Tanjung Issui - these two villages are inhabited by Dayak Banuaq living in a long-house. Most visitors take a house boat on Mahakam River beginning from Loajanan, the area just before Samarinda City from Balikpapan.
Village - further up Mahakam River, Tering Village where Dayak Tunjung and Kenyah with long ear woman are worth to visit. Next to Tering is Melak Village, the location of Black Orchid garden.
Get in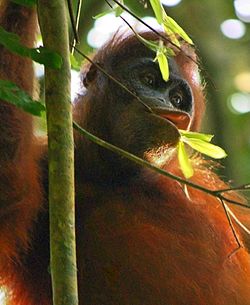 By plane
Balikpapan's Sepinggan International Airport (BPN) has frequent flights from Jakarta, as well as commercial services from Surabaya, Banjarmasin, Tarakan, Palu, Makassar, Yogyakarta, Semarang and Denpasar, as well as numerous smaller airports in Kalimantan. There are also international flights from Singapore operated by SilkAir 6 times a week and from Kuala Lumpur operated by Air Asia 3 times a week.
Aji Pangeran Tumenggung Pranoto International Airport (AAP

)

Kalimarau Airport
By boat
You can access East Kalimantan province from
Tawau
in Malaysia. From Tawau there is a boat to
Tarakan
. From there another one to
Nunukan
in Berau district. You need a visa to enter Indonesia at that port (visa on arrival is not available) but there is an consulate in Tawau which seems to do visas quite quick.
See
Visiting Mahakam River hinterland and orangutan or exploring Kutai National Park are the best attractions.

Do
Diving
There is quite good diving on the east coast.