East Kootenays
The
East Kootenays
is a region in south-eastern
British Columbia
, generally taken to include the valley of the Columbia and Kootenay Rivers south of
Golden
to the USA border
Canada
. The valley is bordered to the east by the Rocky Mountains and to the west by the Purcell Mountains.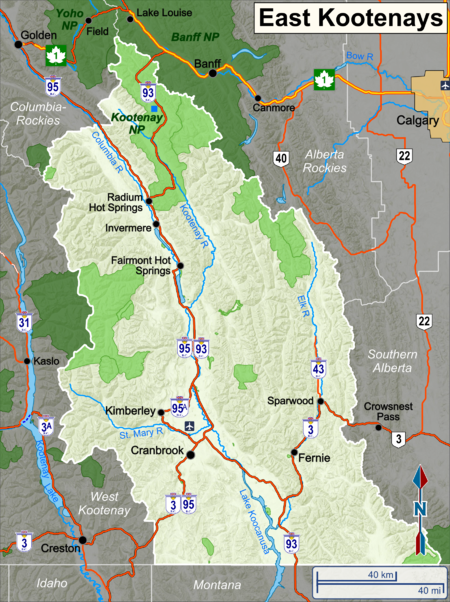 Cities and towns
- anchoring the south end of the East Kootenays and the largest city in this region with all the facilities travelers could need.
- renowned for great skiing and close enough to Calgary to be a weekend destination.
- a small community on the north end of Lake Windermere, popular as a summer and weekend destination when its population may increase dramatically with visitors from neighbouring Alberta.
- the Barvarian-styled town just north of Cranbrook, a former mining town and excellent ski destination.
Understand
The East Kootenay valley is generally wider, drier and has greater extremes of temperatures than the
West Kootenays
, with which it is often compared. The valley is only a few hours drive from
Calgary
and other points in southern
Alberta
, and many people from those areas own property and/or visit during the summer for boating, fishing and golf and in the winter for skiing.
From Canal Flats, about 30 minutes north of
Cranbrook
, the Kootenay River enters the valley from the Rockies and flows south; the Columbia River starts its journey north from its headwaters in Columbia Lake.
Early in the 1900s, there was a plan to join the Columbia and Kootenay Rivers at Canal Flats, how that community got its name. Perhaps fortunately, that project did not succeed. Traces of the attempted canal are still visible.
Get in
The most common and convenient way into this area is by private vehicle. There is little in the way of scheduled public transportation.
Tour buses are numerous, bringing visitors to places like Radium Hot Springs.
Cranbrook
has an airport with a limited number of scheduled airline connections, mainly Jazz Air and Pacific Coastal.
The smaller communities have landing strips for private airplanes.
The valley is accessed from the north at
Golden
from the Trans Canada Highway Rte 1, from the east through Kootenay National Park to Radium Hot Springs or, in the south, from southern
Alberta
on Rte 3 via
Fernie
. Highway 3 is the only east/west route in the south and links this valley to the
West Kootenays
starting at
Creston
, an hour west of Cranbrook.