East Providence
East Providence
is a city in Providence County,
Rhode Island
, it is known as the
Gateway to the East Bay
.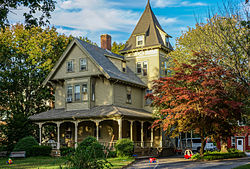 Understand
East Providence is
not
the eastern portion of the city of
Providence
. The eastern portion of Providence is known as "The East Side."
This city began as community of settlers comprised of Puritans from Boston and Pilgrims from Plymouth as part of Rehoboth, Massachusetts. The western portion became the town of Seekonk on February 26, 1812. In 1862, part of Seekonk was annexed to Rhode Island and the residents renamed the town East Providence. Several houses built before the Revolution are still standing today.
East Providence is located between the urban center of Rhode Island and rural southern Massachusetts. The area is predominantly residential, with elegant waterfront property and numerous apartment complexes. Demographically, there is a high percentage of Portuguese heritage. This community is still growing because of its central location on an available waterway, its modern highway and railroad routes, and the suburban outgrowth from the city of Providence.
East Providence is made up of three parts: Rumford, Riverside, and East Providence. Riverside was known as "the Coney Island of New England" because of a major amusement park called Crescent Park. Crescent park was built in 1886 by Charles Boyden. The park contained ballrooms, a carousel, many amusement rides, hotels, and restaurants. There was a steamship that traveled to many other parks in the area. In 1979 Crescent Park was torn down. The only thing that was left was the Carousel. Now Riverside is a suburban area, located on the Narragansett Bay.
Get in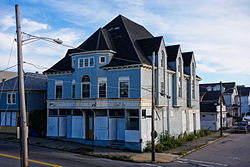 By plane
T.F. Green AirportIt offers many low cost and regular flights to cities across the United States and in Canada. This smaller airport is not overly crowded, it is easier to maneuver than Logan Airport in Boston, and offered as an alternative to those who would like to avoid New England's primary airport. T.F. Green's services are completed efficiently and in a friendly manner without the overbearing feeling of a larger airport such as Logan.
By car
From points south and T.F. Green Airport, take I-95 North to I-195 East (exit 19) and from points north take 1-95 South to I-195 East (exit 20). In both cases, cross over Washington Bridge and take exit 4. At the end of the exit ramp you have the option to bear left or right. The left exit leads to Taunton Avenue where many shops and eateries are located. The right exit leads to Riverside with many more options for things to see and do. It is easy to travel between both areas of East Providence. There is also the Henderson Bridge which connects East Providence to the historic East Side of Providence.
By bus
RIPTA
provides transit across all of Rhode Island with the central hub located in Kennedy Plaza in downtown Providence. The contact number for RIPTA is +1 401-781-9400.
The RIPTA fleet is almost entirely comprised of charter buses; they are on time, reliable, and fairly new with some newer models utilizing hybrid technology. Most riders keep to themselves - many read, listen to media players, or do homework (RIPTA makes stops at many college campuses). The base fare is $2.00, transfers are only $0.50, senior citizens/disabled individuals ride for $1.00 with ID (unless off peak: no fare), and children under 5 ride free when accompanied by an adult. RIPTA also provides free transportation on "Air Quality Alert" days during the warmer, hazy weather.
By train
By bicycle
The East Bay Bike Path can be accessed by taking exit 4 off 195 east, known as Veteran's Memorial Parkway. The path travels for approximately 4 miles until it reaches Riverside Square, then it continues into Barrington.
By boat
The town of East Providence is surrounded by a body of water which allows boaters to travel in and out and around the town. The main boat lunching point can be found in John Lewis Park across from India Point and parallel to the East Providence Yacht Club. Another common loading area can be found in Sabin Point Park in Riverside.
Get around
East Providence is easily accessed by car or bus transportation. Because the city is mostly residential, RIPTA's public transport network provides an extensive alternative to driving. The area is conducive to walking.
Car rental options include:
Enterprise Rent-A-Car - 365 Waterman Ave, +1 401-438-8550
Thrifty Car Rental - 2312 Pawtucket Ave, +1-800-847-4389
Taxi services in East Providence including:
East Providence Cab Service - 2723 Pawtucket Ave, +1 401-434-2000
Lions Taxi - 86 Lyon Ave, +1 401-434-9600
Fox Point Cab / Wayland Square Cab - 71 Dey St, +1 401-434-8181
Hillside Cab Incorporated - 35 North Spruce St, +1 401-944-200
See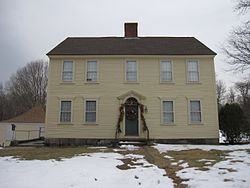 phone: +1 401 253-7482

address: Route 103

Haines Memorial State Park was established in 1911 and is a 101.7-acre park in the towns of Barrington and Riverside. There are benches, 33 picnic sites, and grills available for use in the summer. There are also boat ramps which lead to the Narragansett Bay. The park overlooks the bay. There are ball fields in the park, and the East Bay Bike Path goes through the park. Although the picnic season is only from Memorial Day to Labor Day, the park is open year round from sunrise to sunset. The boat launch is to the right of the main park sign and additional parking is to the left. Drive your boat to the water's edge or pay to have it docked at the adjacent marina. The East Bay Bike Path passes through the park and pets are gladly permitted. Alcoholic beverages are prohibited and there is no fee for on-site parking.

Rose Larisa Memorial Park

phone: +1 401 435-7511

address: Bullocks Point Ave

After riding the carousel and purchasing some of the tastiest clam cakes around, take a walk across the street to this 10-acre park, located along the beachfront of Narragansett Bay. It includes walking pathways, picnic tables, and benches with a scenic outlook. There is a welcoming gazebo and music amphitheater for live concerts and local entertainment. Explore the paths and wooden staircases that lead to the shoreline of Narragansett Bay. This area is great for the adventurous at heart (swim at your own risk), especially kids in search of sea shells and sand crabs. Take advantage of the romantic atmosphere - it's perfect for date nights.

Riverside Square

address: 273 Bullocks Point Ave

In the 1800s this area served as a summer resort for travelers, which later prospered into a residential community. The railroad had connecting lines through the center of Riverside Square which is now the foundation of the East Bay Bike Path. You can still see the old railroad tracks as you pass through town. There are shops and eateries within walking distance of Town Square. Across from the Riverside Square commemorative sign is a World War II memorial built in tribute to the men and women of Riverside who served in the war.

phone: +1 401 438-1750

address: 65 Hunts' Mill Rd

Built for Lt. John Hunt Jr. circa 1750, the Hunt House serves as a historic museum, which displays furniture, documents, and memorabilia. The house and gardens have been nearly restored to its original appearance.

Pomham Rocks LighthouseEstablished and built in 1871. It was deactivated and then relit again in 2006. It is not open to the public. The tower reaches 40 ft high and the lighthouse can be seen from the East Bay Bike Path.

Pierce Memorial Stadium

address: 201 Mercer St

Pierce Memorial Stadium is home of the East Providence Townies. This stadium is most prestigious for its memorable football games between rivals. It also stages soccer, track, lacrosse and field hockey sports. Outside of the football stadium is a playground and open area of grass to recreational activities. Next to the playground are two basketball courts. The rest of the area is completed with 2 softball fields and 2 baseball fields, both different sizes.

Sabin Point Park

address: 125 Shore Rd

Sabin Point is a waterfront park that has a loading ramp for boats, a dick, lighted basketball courts, a playground and plenty of picnic tables. It is a perfect place to stop in the summer and enjoy a family picnic or to just relax and enjoy a nice view. Also, a lot of natives enjoy the area by fishing along seashore wall in the park.

Willett Pond

address: Willett Ave

Located in the middle of Riverside, many people fish in the pond during the spring/summertime. There is a bridge at the end of this man-made pond that people use to cross the pond, and a trail that goes around the entire pond. During the wintertime, the pond is used for skating.
Do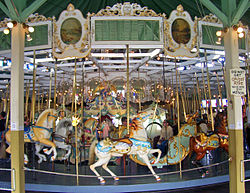 Crescent Park Carousel

phone: +1 401 435-7518

address: 700 Bullocks Point Ave

Built in 1895 by Charles I.D. Looff, the foremost carousel designer of his time, the Crescent Park Carousel is a true masterpiece of wood sculpture. It was saved in the 1970s by a handful of residents, and later declared a historic monument. The historic nature of this building is further amplified by the grandeur of the architecture. This gazebo-esque structure is illuminated by windows, which are accented by stained glass, and surround the building on all sides. The 62 hand crafted horses and 4 chariots circle the elaborate embellishments of decorative panels, glass jewels, and bright lights. It moves to the original band organ music giving the rider a traditional carnival experience. To highlight the experience more, Looff's Crescent Park Carousel offers additional entertainment for young children. The outside horses become the prime seating location for those interested in possibly winning a free carousel ride. During each rotation a mechanical arm extends dispensing many silver rings and one prized gold ring. The person to collect the golden ring wins a free ride. For those with the dull silver rings fear not, you still have the chance to throw them in the open mouth of the cloth clown. Along the inside of the building there is a souvenir shop with figurine horses and T-shirts to commemorate your trip to East Providence. Before the main entrance to the Crescent Park Carousel is the Blount Clam Shack, which serves steaming hot clam cakes and Del's Lemonade to cool you down. Occasionally, there are antique car shows with local beauties in the carousel parking lot and lawn. Get the opportunity to take photos of some classics, pretend to joy ride while lounging in the front seat, and learn about each cars' history. It also hosts birthday parties.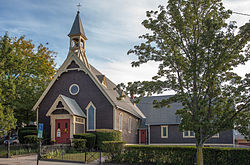 East Bay Bike PathA 14.5-mile paved, car-free bike path along the shore of Narragansett Bay, the bike path has many scenic outlooks with a view of the industrial cityscape of Providence and Interstate 95 (breathtaking at sunset). It is easily accessible from Veteran's Memorial Parkway where you can turn off into parking areas to unload and load any personal belongings. Some highlights of the trail include traveling over Narragansett Bay via manmade bridge, observing the native wildlife, experiencing the rich history of the city, and viewing the Pomham Rocks Lighthouse built in 1871. The path has a turnoff for the Carousel, passes several shops and ends in Colt State Park, Bristol, Rhode Island. As it passes through Riverside Square cool down with some ice cream at the local Dari Bee. This seasonal walk-up stand with benches and a parking area provides a view of downtown East Providence. The trail is best attempted in warm summer weather.

Silver Spring Golf Course

phone: +1 401 434-9697

address: 3301 Pawtucket Ave

A 6-hole, semi-private golf course with rental carts and clubs available. The season runs from April 1st to December 1st. Call for more information on cost of rentals and course reservation.

phone: +1 401-438-1100

address: Route 1A, Rumford

Stormy weather? Bummed that you didn't catch that latest flick before it left theaters? Check out Patriot Cinemas for $1.99 showings. Every Tuesday get your seats for only $1.

Bowling Academy

phone: +1 401-434-5839

address: 354 Taunton Ave

Duckpin bowling for all ages. Prices are reasonable and on Sunday nights from 7PM-11PM it is dollar mania at: $2 bowling games and a dollar for everything else. Extreme Rock n Bowl at nights, with loud music and neon lights. Good place for birthday parties, bowling leagues, or families looking to have fun.

East Providence Lanes

phone: +1 401-438-2300

address: 80 Newport Ave

East Providence Lanes offers a bowling experience that is accessible to individuals, families, and competitive bowlers. They have adult, junior, and senior bowling leagues so all ages are welcome. Also on Friday and Saturday nights you can bring all your family and friends to experience Cosmic Bowling. This includes runway lighting, backlighting on the pins, and disco lights while blasting the best party music. For the adults, you can enter Striker's Sports Pub in the complex. There you can enjoy a drink at the bar or shoot some stick with 6 regulation size pool tables. For families, when the kids get hungry take them to the snack bar to get a hot dog and fries or some popcorn to eat. Also for kids there is an arcade area at the entrance where you can find fun and exhilarating games.

Comedy Connection

address: 39 Warren Ave

Enjoy comedy from Dennis Miller, Jeff Dunham and Bobby Collins at the leading comedy club on the East Coast.

address: 100 Francis St

Held in the river through Providence June through November on various weekends throughout the months. Waterfire is an event where the lamps in the middle of the river are lit while people walk through the city experiencing different events. Under the bridge is usually magic shows and jugglers, there is a dance festival set up in a different section of the city and there are food vendors everywhere. You can pay for a gondola ride on the river for a group of friends or a significant other. Waterfire is an event for all ages, types of people, groups of friends, and couples looking for a simple but romantic date.
Buy
American Rare Coin

phone: +1 401 434-1440

address: 311 Newport Ave

Hobby store, owned by Steve Inarelli, who used to be a national coin appraiser. Home to some of the world's smallest and most valuable artifacts in nickel, gold, and copper. Authentic sport memorabilia (baseball cards, autographed gloves, hats, and jerseys) can also be found here for purchase or trade-ins. But don't think it's all business all the time - Steve enjoys and even encourages collectors and browsers to stay and chitchat about life and the love one has for coins.

Ana's Bridal Boutique

phone: +1 401 438-5932

address: 456 Warren Ave

This boutique offers designer collections and styles similar to those in stock at retail venues such as David's Bridal or Macy's, but the atmosphere promises to be exceptionally personal and inviting – something mainstream stores cannot compete with. However, this type of ambiance can be a bit overwhelming at times. Fitting rooms are nothing more than a curtain rod and fabric, providing more room for changing and less room for privacy - everyone in the store is able to view your dress and make comments and suggestions about its style and appearance on you, which does help in the decision making process.

Ashley's Jewelers

phone: +1 401 435-4488

address: 414 Warren Ave

This fine jewelry store has been successfully in business for twenty years. The sales people are helpful and ready to provide their best sales pitch to customers looking for jewelry. Even if you aren't considering a purchase, it is a great location to window shop and seek out some unique pieces. They also provide jewelry and watch repair. The store is closed on Sundays.

East Providence Cycle

phone: +1 401 434-3838

address: 325 Waterman Ave

East Providence Cycle has been in the cycling business since 1951. They have a knowledgeable staff and stock the best in cycling gear and accessories as well as a wide selection of bicycles. They offer test drives, give an initial tune-up at no charge, and professionally assemble bicycles. East Providence Cycle also offers service and repairs.

phone: +1 401 433-3180

address: 1050 Willett Ave

Shaws is a supermarket located in the Shaws Plaza in Riverside. It is a part of a chain marketplace that sells produce, meat, and other foods. The prices are reasonable and there are also Shaws Rewards Deals in which you use your Shaws card and get money off of your purchase.

Your Ski Shop

phone: +1 401 433-5887

address: 459 Willet Avenue, Riverside

Family-owned and -operated, the staff prides itself on remembering the names, habits, and preferences of frequent customers. Even more astounding is their knowledge about equipment maintenance, their ability to answer general skiing and snowboarding questions with ease, and their suggestions as to which mountains and trails are the best in New England and out west – oh the stories they can tell... all you have to do is ask. When in need of custom tuning or repairs, be sure to ask for Kevin or Tim. If you're renting equipment every sales associate will ensure that all of the equipment not only fits, but is comfortable too. Be sure to ask for the seasonal lease so you can enjoy the equipment for longer, without having to return it. Plus it's cheaper.
Eat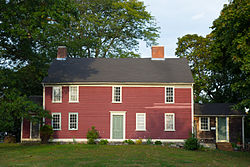 Davenport's Restaurant

phone: +1 401 438-3381

address: 1925 Pawtucket Ave

Voted best chowder in New England at the Newport Chowder Cook-off. Their menu includes everything from sandwiches and wraps to a taste of Italy, seafood and create your own pizza. They provide a variety of wines and beers as well as specials to sample. Davenport's is certainly rated a family restaurant with child friendly menus and portions. Need to get on the Internet? Feel free to bring your laptop, as the restaurant is WiFi capable. This restaurant is a sure place to visit, eat and get your work done but you may want to call ahead as the wait can get pretty lengthy.

Farnsworth Café

phone: +1 401 433-3426

address: 302 Willett Ave

This small family owned café is just the place to cozy up with the family. The interior, adorned with a bar and four flat screen TVs, is quaint and comfortable for all customers. The laid back, local atmosphere is evident from the seat yourself sign and idle chatter between tables. Farnsworth Café has an array of food choices but it is usually visited for its poutine (french fries with melted cheese and gravy). So if you are looking for a local experience visit Farnsworth and try some of their as-close-to-home-as-you-can-get cooked meals. For breakfast, they serve everything from french toast, pancakes, eggs, muffins, and omelets. For dinner, they serve various Italian and homestyle foods such as pizza, pastas, and seafood dishes. They also have different daily features. Everything is cooked fresh to order and the prices are affordable.

Gregg's Restaurants and Pub

phone: +1 401 438-5700

address: 1940 Pawtucket Ave

Extensive menu, plus they provide healthy alternatives for those who are health conscious or watching their figure. But be careful not to overindulge because the best part of your Gregg's meal comes after the main course. They are notorious for their heaping desserts of tremendous proportions. Many customers visit just to sample a piece of their delicious cakes.

phone: +1 401-434-9592

address: 361 Waterman Ave

A diner that serves breakfast at any time of day along with lunch and dinner meals. Like most New York Systems, M&M's specialty is hot wieners... get a couple all the way with cheese and you won't regret it! Local East Providence delivery offered. It is a small, friendly atmosphere decorated with M&M paraphernalia. Cheap prices for good quality food and service.

Madeira Restaurant

phone: +1 401 431-1322

address: 288 Warren Ave

This restaurant delivers Portuguese and international cuisine in an architecturally authentic setting. The outdoor patio with boat tables surrounded by fountains adds to the décor – order the sangria and the littleneck clams in red chorizo sauce or a garlic wine sauce and your European coastal experience will be complete. The dishes are hearty, so even after the meal you will still have enough to take home. Be sure to try one of the house specialties: kebobs of well proportioned meats or fish seasoned with Portuguese spices on skewers served over rice. It's worth the trip.

Miller's Roast Beef

phone: +1 401-434-6678

address: 628 Warren Ave

This is a small restaurant, family owned and operated since 1968. Not much has changed over the years in Miller's Roast Beef, with their wagon-wheel light fixtures, bar stool seating along the front windows, wood-paneled walls, and the orange and green counters and tables that scream the 1970s. Not even the way they prepare the delicious roast beef sandwiches has changed and it still remains the most ordered item on the menu. It features sandwiches such as: roast beef, pastrami, ham, turkey, BBQ pulled pork, and more. The crew that works at Miller's is made up of family and friends and very friendly. There is virtually no wait, depending on what you order, and the price of a meal averages around $10.

Red Bridge Tavern

phone: +1 401 438-3899

address: 22 Waterman Ave

This restaurant is a neighborhood joint, full of local and friendly residents, and everyone is very welcoming of a new face and an interesting story – it's the type of place that will pick you up from a mid-week slump. Every meal begins with a basket of crispy Italian bread and warm, homemade corn bread. Once your basket is empty and you're ready for something substantial, Manny will take care of you in the kitchen and Lucy will keep the drinks coming to help wash down those delicious daily specials. A must have: a juicy 5- or 8-ounce burger with caramelized onions, gorgonzola, spinach, and barbecue sauce with sweet potato fries on the side. The menu will satisfy any craving – that's a guarantee.

Sunshine Creamery

phone: +1 401-431-2828

address: 305 N Broadway, Rumford

Open only during the summers, Sunshine Creamery is a place to stop on a hot day or muggy night when you're craving something sweet. Service is friendly with a great outdoor atmosphere, decorated with flags of many different colors that draw visitors to its parking lot. Sunshine Creamery specializes in its massive banana split sundae with three scoops of ice cream and a variety of toppings. Although they don't have any soft serve ice cream, they have a long list of flavors and good-sized portions.

Town Pizza and Family Restaurant

phone: +1 401-433-0300

address: 949 Willet Ave

Owned and run by Socrates and Vasilios Zafiriades for more than 30 years. Offers Greek and American fare, generous portions, and a varied menu, including grinders, gyros, complete dinners, salads, pizzas and Greek and Italian wines. Notable is its popularity with the Riverside Little League baseball team – Town Pizza often sponsors them and gives the team discounts. Therefore, it's not surprising that this is a common dinner spot for the team after their games. Open late Friday nights.

phone: +1 401 437-1610

address: 204 Willet Ave

Established in 1945, Schroder's Deli and Catering in Riverside is a full-service New York Deli. Offers hot and cold items, including full dinners and deli sandwiches. A full line of groceries is also conveniently available for patrons. Guests can take their orders to go, or sit in the eating area to enjoy their lunch or dinner. Pick-up and drop-off catering is also available. Along with made-to-order deli sandwiches, Italian grinders, full dinners, and deli meats, Schroder's also offers fruit and specialty baskets and homemade desserts. Rhode Island Monthly's "Best of Rhode Island" winner.

address: 1060 Hope Street, Providence phone=

As soon as you enter India restaurant you are going to feel like you are entering that part of the world. Its menu differs from regular American, Mediterranean, and Chinese restaurants menus. It is full if spicy recipes with unique flavors such as ginger, curry, and other aromatic spices. If you like hot spicy food this is definitely the place you want to be. Beside the regular bread, salads, desserts, and beverages, the India restaurant's menu has the spicy steamed mussels from the rockers at low tide. It also has special vegetarian healthy snack platters with freshly baked tasty sambosas beside Papi Frizze salad with ginger balsamic vinaigrette. In the India Restaurant, you will be introduced to new concepts in eating.
1-Robust curries- this concept represents all food that is cooked with curry, it has different range of taste from mild to very hot; all curries are served with Indian Basmati rice.
2-Biryanie- this food concept represents all sorts of Indian food, it is prepared by steaming rice and meat with vegetable together in addition to pineapple, raisin and aromatic spices. The final touch Is almonds, cashews, fresh cilantro or topped with delicious pistachios over cream.
Two Jerks Pub & Grill

phone: +1 401 434-4111

address: 466 Waterman Ave

If the name doesn't draw you in, the food certainly will. Full of that delicious drinking comfort food for cheap with plenty of beer on tap, Two Jerks Pub and Grill will fulfill any hankering. There's more than enough seating at the bar, so bring your friends to watch the game on one of their big screen televisions or to hang out and play some pool after work or to come listen to live entertainment on Wednesday, Friday, and Saturday nights.
phone: +1 401 433-4312

address: 376 Bullocks Point Ave

Lee's Restaurant is a family-run, family-oriented business. It was established in 1995 and serves Chinese cuisine. It has a relaxed, casual atmosphere serving lunch and dinner. They have a full service lounge with an abundant selection of wines and spirits. All of their dishes are prepared with the freshest quality meats, fish and produce. Chef Specials are offered daily. Take-out and in-house dining is served daily.
Campinos Restaurant

phone: +1 401-438-5800

address: 218 Warren Ave

A small, affordable option for excellent Portuguese cuisine.
Sax's Steak and Pizza

phone: +1 401-434-3523

address: 324 Waterman Ave

If your looking for quick service, good prices, and something delicious to eat, then Sax's Steak and Pizza should be one of your next meals. They make the juiciest tasting steak and cheese sandwiches and whip up a soft, smooth dough to create a warm and cheesy pizza. Not to mention the prices are reasonable. Sax's is mainly made for take-out orders which makes it a unique food establishment.
Ichigo Ichie

phone: +1 401-435-8989

address: 5 Catamore Blvd

Hibachi and sushi. Ichigo Ichie contains 16 grills in the hibachi section and each grill can sit up to 9 people. At the grill you can enjoy watching and talking to a hibachi chef who will prepare your food right in front of you. If you prefer the traditional dining experience there is a dining room where your food will be prepared and then brought to you. If neither of these are of your interests then take a seat at the bar in the lounge area or treat yourself to the sushi bar.
Horton's Seafood

phone: +1 401-434-3116

address: 809 Broadway

Horton's Seafood began a fish market in 1945. It wasn't until the 1980s when the market turned into a restaurant serving Rhode Island's best fried clams and fish. Horton's is family owned and operated to this day.
phone: +1 401-434-5770

address: 2792 Pawtucket Ave

A small pizza place, very inexpensive with a very big home-style feel. Pizza Amore offers very diverse menu from appetizers to seafood, to burgers and calzones. Definitely the place you want to go if you want a laidback feel while enjoying your lunch or dinner.
Houlihan's Tavern on the River

phone: +1 401-435-4044

address: 28 Water St

Houlihan's has a view of the Providence River and the boats docked in the water. There is a deck for drinking cocktails and lunch. The tavern offers international food, seafood, and hamburgers. A function room is available for renting upstairs.
Drink
Bars
Bovi's Tavern

phone: +1 401-434-9670

address: 287 Taunton Ave

A meeting place for many people over the years. Playing pool, playing Keno, hanging out with friends, or listening to live music are the main aspects that draw guests to Bovi's Tavern. For years, Bovi's has been a place to visit and listen to jazz. Every Monday night they feature the John Allmark 16-piece jazz band. Besides drinks, they also serve food and you can hear live bands playing every Friday and Saturday nights.
Others
Del's Lemonade

phone: +1 401-434-8024

address: 400 Waterman Ave

Open only during the summer, Del's is known for its refreshing frozen lemonade throughout New England. Good variety of flavors and prices are very reasonable.

phone: +1 401 433-3219

address: 652 Bullocks Point Ave

Honey Dew Donuts offers a variety of different beverage and breakfast choices. They sell coffees, iced coffees, and frozen beverages. They also sell an array of donuts, breakfast sandwiches, muffins, pastries, and bagels. The prices are comparable to Dunkin Donuts.
Sleep
There are other hotel options less than 3 miles away in nearby
Seekonk
.
phone: +1 401 272-1661

address: 1000 Warren Ave

Designed for longer stays, although short visits are welcomed, this hotel offers many conveniences uncommon to others. They include: kitchen with refrigerator, microwave, stovetop and dining utensils, workspace with computer dataport and internet connection for a one time $4.99 fee, free local phone calls, personalized voice mail, iron and full size ironing board, on site guest laundry, and pet friendly rooms.
Go next