East Rochester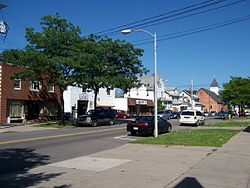 East Rochester
is a village in suburban
Rochester
, in the
Finger Lakes
region of
New York
. While it's often overshadowed by the more picturesque villages around Rochester, it's a tight-knit community with few big chains and a lot of little gems waiting to be discovered.
Get in
Despite the prominent presence of the train tracks through the village, no train stops here any more. You'll need a car if you're going to visit East Rochester.
The most convenient access from the southeast and northwest is
Interstate 490
. Eastbound, take exit 24 for Commercial Street. Westbound there is no exit 24; take exit 25 and cross 31F to get to Commercial Street. Either way, you'll find yourself on East Rochester's main commercial strip.
From the southwest,
State Route 153
comes from
Pittsford
, going through the western portion of East Rochester toward western
Penfield
. From the east,
State Route 31F
is the best option; it forms the southern border of the village. From the northeast, Five Mile Line Road (perhaps via State Route 441) intersects with Linden Avenue, which runs through the northernmost part of the village.
Get around

East Rochester can be very difficult to get around by car. The CSX train tracks divide the village, resulting in a lot of dead ends as only two roads actually cross the tracks: Washington Street (State Route 153) and Lincoln Road. You'll need to make your way to one or the other if you need to get across. Just to make things more interesting, the main drag, Commercial Street, is discontinuous; West Commercial ends at Main Street, only to pick up again as East Commercial on the other side of a business complex.
In short, navigation is a pain if you don't have a route mapped out in advance. Make sure you have a good map.

Buy
Piano Works Mall

address: 349 W Commercial St

This is a strip mall without much to recommend it above any other strip mall, except that its location is rather unique. It is actually a former piano factory that was converted into retail and office space.
Bell Racquet SportsOne of the East Coast's largest racquet specialty shops. Racquets, shoes, apparel and racquet services (including stringing, customizations, etc.). Over 1000 racquets for tennis, squash, racquetball, paddle sports, badminton.
Eat
East Rochester is sometimes considered the Rochester area's "Little Italy", with over half the residents having some Italian ancestry. As such, there are a couple of very good Italian restaurants in town.
Lemoncello Italian Restaurant & Bar

phone: +1 585 385-8565

address: 137 W Commercial St

Lemoncello combines the Italian food for which East Rochester is famous with the unexpected atmosphere of a jazz lounge. The popularity of the place tells you how good the food is; this is no corner pizza joint. Gluten-free pizza and pasta is available.

phone: +1 585 248-3470

address: 311 N Washington St

Simple but very good Italian entrees in a classy but not too formal atmosphere. Don't expect innovative dishes here, but rather old favorites carefully and deliciously prepared. Seating is closely packed but well isolated for an intimate feeling.

phone: +1 585 248-5060

address: 202 N Washington St
Drink
While East Rochester isn't necessarily known as a destination for nightlife, West Commercial can get a little lively during the evenings, thanks to
Lemoncello
's jazz lounge. It's still one of the very few suburban places you can find live music every night. There's also a new game in town:
phone: +1 585 310-7721

address: 135 W Commercial St

At the site of the former Bistro 135 and Tavern 135 comes The Silverball Saloon. Primarily, it's a bar, but the name comes from the array of pinball machines available for play.
Sleep
There are no hotels, as such, in East Rochester, although there is one just north of the village and several others in surrounding areas.
phone: +1 585 385-1000

address: 1000 Linden Pk

Like all Courtyards, this hotel was designed to provide a scenic and comfortable stop for business travelers, but it has plenty of amenities for leisure travelers, too. A mini-bistro in the lobby is outstanding both for breakfast and whenever you need a bite to eat; its pizza, sandwiches, soups, and salads are both innovative and tasty. Free wireless Internet, large work desks, indoor pool.
Go next