Eastern Karadeniz
Splendid forest scenery, stunning river gorges, misty alpine meadows, lush tea plantations, magnificent hillside monasteries, colossal cathedral ruins, forgotten mountain hamlets, lonely fishermen villages, ancient harbour towns, and fairy-tale castles all abound in
Eastern Karadeniz
(
Turkish
:
Doğu Karadeniz
), home to a local culture as rich as its biodiversity. Forming the easternmost third of the
Turkish Black Sea coast
, the region may feel remote, but is in fact efficiently accessible.
Cities
Understand
A humid and verdant region as a consequence of the high precipitation levels distributed evenly throughout the year, the biodiversity of Eastern Karadeniz reaches the levels of tropical rainforests in some areas. Most of the higher parts of the mountains which dominate the region and usually ascending right from the coastline and giving way for little land for development are covered with lush forests, while yet highest parts are covered with alpine meadows and glacier lakes with the lower foothills are mostly tea plantations—a subtropical plant which can grow abundantly in the region thanks to the shielding effect of Caucasus Mountains from the cold northern winds in addition to the generous rainfall. Other important crops include hazelnuts and citrus.
Eastern Karadeniz is
the
part of the
region
which Turks mostly think of when they hear
Karadeniz
, i.e. Black Sea. It includes the Artvin, Giresun, Gümüşhane, Rize, and Trabzon provinces.
People
Although all locals are colloquially, incorrectly, and somewhat derogatorily called "Laz" collectively by the Turks from elsewhere, Eastern Karadeniz, though overwhelmingly ethnically Turkish, has indeed a rich blend of ethnic make-up despite its relatively small size, like a microcosm of much larger multi-national former Ottoman Empire. In addition to the majority Turks, a number of towns east, west, and south of
Trabzon
are inhabited by Muslim Turks with a Pontic Greek background, though calling them "Greeks" outright may offend some of them (Muslim Greeks use the terms
Rum
or
Romioi
, meaning "Roman" or "Byzantine", to indicate their identity. Recent research has shown they are, however, very proud of their language and are happy to use it to converse with (Greek) tourists. Pontic Greek speakers live mostly in the districts of Çaykara, Sürmene,
Tonya
and İkizdere. The Hemşin people, Muslimized brethren of
Armenia
, are present in the region, too, living in inland valleys south of
Rize
(however, at present most of the Hemshin people in Rize do not speak Armenian and do not regard themselves as Armenians). Around Hopa there is also a community of Hemşin who do speak Armenian and who, in recent times, have started teaching the Armenian alphabet to their children. Then there are the actual Laz people, distant cousins of Georgians, living in coastal towns east of Rize up to the
Georgian
border. A number of inland villages in the east corner of the region, just south of Turkish-Georgian border (mainly in
Macahel
valley) are inhabited by Muslim Georgians, who chose to stay within borders of predominantly-Muslim Turkey rather than then-Soviet Georgia in a referandum in early 1920s. Most ethnic Turks in the central and eastern Karadeniz region belong to the Çepni boyu (clan), which is a distinct group from Anatolian Turks. The Çepni initially had their own states, which they established in the western Karadeniz region in former Pontic Greek cities after the battle of Manzikert, but eventually became part of the Ottoman Empire. Çepni culture thus has more influences by Pontic Greek, Caucasian and Persian culture, somewhat like that of the Azeri Turks.
Talk
As aforementioned, there are very few pockets of people speaking
Pontic Greek
(locally known as
Romeika
, and which is not completely mutually intelligible with
modern Greek
as Pontic variant retains more of medieval/Byzantine Greek characteristics), Hemşin dialect of
Armenian
,
Laz
which is distantly related to
Georgian
spoken in the neighbouring country, and Georgian proper, although
Turkish
is sufficient to communicate whomever you are speaking to in the region. Locals speak Turkish in an accent that non-local Turks usually find "funny" and like to chaff at—indeed Eastern Karadeniz Turkish is a major theme in Turkish jokes folklore, but the local Turks dislike this stereotyping and find it offensive. Foreign languages spoken by minorities in the area are German, Russian, Dutch and Italian by elderly men, and English by the youth (English language courses are extremely popular in the coastal cities of the Eastern Black Sea region).
Get in
Trabzon
is the main hub of transportation into the region.
Trabzon is the site of the most important regional airport with numerous daily domestic connections, although few flights are available from airports other than those of Istanbul and Ankara. Or-gi, built on an artificial island roughly mid-way between Ordu and Giresun (and bearing the name of those two cities) is another regional airport. Batumi Airport in neighbouring Georgia is also listed by Turkish Airlines as a domestic destination for the towns on the Turkish side of the border—travellers ticketed for the Turkish border towns are then taken by a bus across the border back into Turkey, without going through the customs and passport control.
Trabzon, and Rize to a lesser degree, are served by frequent buses from rest of the country, especially big cities such as Istanbul and Ankara, as well as from Batumi. However, as the region lies at the far northeastern corner of the country, distances are huge and bus ride from, for example, Istanbul can easily take a full day and night.
There are also some ferries from the Russian Black Sea Coast to Trabzon.
Get around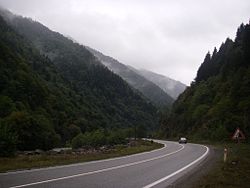 The highway
D010
, which was recently upgraded to motorway standards, closely follows the coastline—sometimes too closely that it
replaces
the coastline as the motorway was built at cost of almost all of region's beaches, and forms the main backbone of transportation in the region from one end to another.
See
The hills and valleys of the eastern section of the region, around the valley of Çoruh, is dotted with ruins of
Georgian churches
and
citadels
, as the region was southern part of the medieval
Georgian
kingdom. Some of these churches and citadels are mostly intact while some others are almost totally ruined, and most lie on sites that are fairly off the beaten path.
Trabzon Province
Kuştul Monastery

address: Trabzon Province

Kaymaklı Monastery

address: Hizmet Cd., Trabzon suburb?

Vazelon Monastery

address: Maçka district, Trabzon Province

Founded in 270 AD. Now, ruined and abandoned

Kızlar Monastery

address: Desen Sokak and Mht. Coşkun Karaağaçlı Cd. corner, Boztepe Mh., Trabzon

Founded in 1360's. There is a rock church

Pontic Mountains

address: Trabzon Province

Many trekking, hiking, possibility. Zil Castle, Palovit Waterfall

address: Trabzon Province

— stunning monastery hanging on a cliff in the lush Altındere Valley, this ancient Orthodox monastery is well worth a trip to the region only by itself
Rize Province
Zilkale

address: Zilkale Village Way (Zilkale Köyü Yolu)

— a beautiful ruined Byzantine-era castle, lost in the dense woods of a mountain valley.
Do
Trekking in Kaçkar Mountains National Parkbetween the hamlets and summer meadows (yayla) of the misty and lush Kaçkar Mountains is a popular activity.

Caucasian Bullfighting Festival AreaThe traditional bullfighting festival is known as Kafkasör and takes place on the third week of June every year.
Eat
The local people are known to be great lovers of local anchovy, hamsi, and experiment with incorporating it into just about anything, including delicious hamsi böreği, in which rice surrounded by anchovies all over is baked in the oven, and fairly unique hamsi tatlısı, which is a cake filled with anchovies, and topped by a concoction of fruits and sweet syrup.
Unlike the rest of the country, the main grain of local cuisine is corn, as wheat cannot stand to grow in the damp climate and rugged territory of the region. Corn flour is cooked into great breads, and muhlama, another local taste which basically consists of corn flour, butter, cheese, and salt.

Go next
Central Karadeniz to west is the extension of the Black Sea coast, yet with fewer mountains and more plains.
Eastern Anatolia to the south, just over the Pontic Mountains, is high territory with cold weather—even in summer—and is almost a world apart from the coast.
Travellers heading further east enters Georgia's Black Sea coast via Sarpi border gate.