Easton (Pennsylvania)
Easton
a town in the
Lehigh Valley
of
Pennsylvania
in the
Mid-Atlantic
region of the
United States of America
.
It is right on the Delaware River, across the bridge from
Phillipsburg
in the
Skylands
region of
New Jersey
.
Understand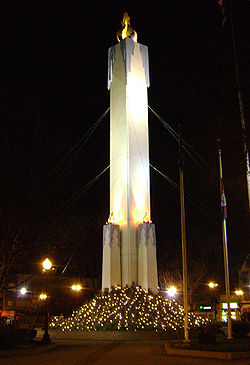 In 1736, Thomas Penn (William Penn's son) surveyed the area and Easton was officially born in 1752. Prior to that, Easton had been known as "Lechawitauk", meaning "The Place at the Forks." On July 8, 1776 the Declaration of Independence was read in Easton's Centre Square, one of three public readings of the document. Every year, Easton celebrates this historic event with its Heritage Day celebration, held in July.
Easton became a primary commercial location during the canals and railroads era of the 1800s. The Delaware, Morris and Lehigh canals were vital for transportation of goods. The railroads replaced the canals for transportation and five railroads served Easton. The city had a strong German heritage. During Prohibition, it was known for nightlife and had plenty of liquor and a large number of brothels.
The population in Easton continues to diversify. Between the 1990 and 2000 censuses, the Hispanic and Black populations increased significantly. However, the primiary ethnicity in the city remains White/non-Hispanic.
Geography
Easton sits at the confluence of the Delaware and Lehigh rivers; Native Americans originally called Easton
Lechawitau
, "the place at the Forks".
Climate
Easton has a highly variable four-season temperate climate.
Summertime highs average in the low 80s F, but with occasional short heat waves with temps over 95 F, with considerable humidity and occasionally intense thunderstorms.
Winters are somewhat cold with average highs in the mid to upper 30s F, but with occasional short thaws when temperatures can suddenly rise over 65 F for a few days. Severe cold snaps are common, with highs dropping into the twenties. Heavy snowfalls rarely occur more than once or twice each winter, but a wintry mix of ice, sleet, and light snow is possible from mid-November through early April. The combination of above freezing daytime temps and below freezing nights makes black ice a constant wintertime driving hazard even when there has not been precipitation recently.
Late spring and early summer (from mid-April to late June), and autumn are the most pleasant times of the year, with very mild temperatures and generally low humidity. Autumn leaf season usually arrives in the last two weeks of October.
Tourist Information
Lehigh Valley Visitor Center - Easton, 30 Centre Square, 484-546-0594. Hours: 9AM - 5PM Tuesday - Saturday, 9:30AM - 2:30PM Sunday, closed Monday.
Discover Lehigh Valley (Formerly Lehigh Valley Convention and Visitors Bureau).
Get in
By plane
The primary and most convenient point of airline entry to Easton and
Lehigh Valley
is Lehigh Valley International Airport (
ABE
), which is less than 15 minutes away from most parts of the city. Various airlines operate out of this airport. Philadelphia International Airport (PHL) is a major international airport that is about 70 miles away. Since it is a hub for several national airlines, it's easy to obtain non-stop flights to Philadelphia International compared to ABE and usually cheaper.

By car
US Highway 22 is a main thoroughfare, being a 4-lane limited-access highway with a speed limit of 55 miles per hour through all of Lehigh Valley except in Easton.
Drivers coming from points east will want to note that all of the major bridges across the Delaware River (from New Jersey) are free eastbound, but require tolls westbound. Locating the free bridge in Phillipsburg is possible but not recommended to those unfamiliar with the area. It is called Northampton Street for the adventurous and adds only about half a mile to the trip (unless yu easily get lost).
From the southeast and northwest, PA Route 309 provides fairly quick access and is a good road to travel.
Interstate 78 and Interstate 476 (PA Turnpike; tolled) intersect very close to the city of Easton, going in all directions north, south, east, and west.
PA Route 33 is the best approach for travelers from I-80 in the Poconos and points east.
By bus
Get around
By bus
Extensive bus services are provided by Lehigh and Northampton Transportation Authority (
LANTA
).
By cab
Several cab companies also operate throughout Easton and
Lehigh Valley
. These are:
Easton Taxi, +1 610-258-2888.
Lehigh Valley Taxi, +1 610-867-6000.
Quick Service Taxi, +1 610-434-8132.
By limo
See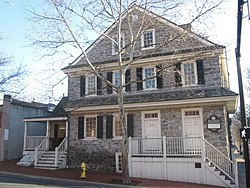 phone: +1 610-515-8000

address: 18 Centre Square

Fun, indoor theme park type place, where kids can enjoy lots of activities and learn how real crayola crayons, markers, and colored pencils are made. It's NOT the actual Crayola factory, but you can see how they make Crayola crayons and other Crayola products. Very kid friendly. Has its dedicated store. There is a municipal parking garage, behind the facility between Pine St. and Ferry St. for a fee of around $2 per hour. There is also on street meter parking for $1 per hour, with a 2 hour limit.

Delaware & Lehigh National Heritage Corridor

phone: +1 610-923-3548

address: 2750 Hugh Moore Park Rd

Outdoor activities, hiking areas, arts events, historical sites all along the Delaware and Lehigh rivers.
Home to one of the oldest rivalries in American high school football history, the border warthe Easton vs. Phillipsburg high school football game--is held each Thanksgiving Day and routinely draws in excess of 15,000 spectators. Easton High School is also known for their often nationally-ranked wrestling team.

phone: +1 610-258-0473

address: Braden Airpark, 3800 Sullivan Trail

Private plane tours.

phone: +1 610-559-6613

address: 30 Centre Square

The only museum in the country dedicated to telling the story of America's historic towpath canals. Features four galleries filled with hands-on exhibits that educate and entertain parents and children alike. Mule-drawn canal boat rides available.

Northampton County Historical & Genealogical Society

address: 101-107 S 4th St.

The State Theatre Center for the Arts

phone: +1 610-252-3132

address: 453 Northampton St.

Located in the downtown Easton, it is home to many traveling artists, ballet groups, broadway shows, national music and comedy acts, and more. Most famous for the Freddy Awards, an Emmy award-winning awards show put on by local high schools for drama productions during the school year; named for the famous ghost who resides in the State Theater, Freddy, the first owner of the theater.

phone: +1 610-253-1222

address: 342 Northampton Street

Museum of local history, including pre-colonial artifacts and colonial furniture.
For more things to do in the area, check out the
Allentown
or
Bethlehem (Pennsylvania)
pages.
Do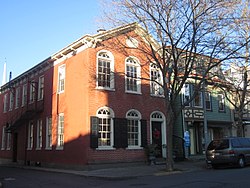 The Club at Morgan Hill18-hole public golf course. Named 2009's "Best Places to Play in North America" by Golf Digest. Full-service clubhouse.

Riverview Country ClubPlayer-friendly layout, panoramic views. Two miles north of PA-22 on PA-611.

Skiing. This is a popular activity in nearby mountains. Most skiing areas are closed seasonally, since snow can usually only be manufactured from about November to April. Bear Creek Mountain Resort and Blue Mountain Ski Area are a short drive away in Macungie and Palmerton, respectively. Larger, world-famous ski resorts, including Jack Frost & Big Boulder, are in the Poconos, about 1 hour drive north on Interstate 476.
Learn
Buy
phone: +1 610-330-9942

address: Centre Square

The oldest continuous open-air farmers' market in the country occupies all of Easton's Centre Square, and has over 30 vendors, offering fresh produce, baked goods, meats, cheeses, wine, crafts, sweets, and even pet food.

phone: +1 610-258-6017

address: 123 Palmer Park Mall

It is the premier shopping site for the Easton, Glendon, Palmer, Forks Township and Wilson communities. It features 50+ unique stores and weekly events dedicated to arts and crafts, collectibles, and different artists.

address: 230 Northampton St

Cool, eclectic gifts and party supplies.
Eat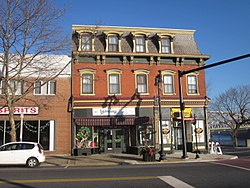 Angelo's Restaurant

address: 14 N 4th St

address: 136 Spring Garden St

address: 1210 Knox Ave

address: 518 March Street

An independently run fast food burrito and taco joint right next to Lafayette College. Open late on the weekends.

Gino's Pizza

address: 349 Northampton St

Good pizza and cheesesteaks, friendly service.

address: 140-B Northampton St

Joe's Market Deli

address: 235 Northampton St

Josie's New York Deli

address: 14 Centre Square

Larry Holmes' Ringside Restaurant & Lounge

address: 91 Larry Holmes Dr

Marblehead Grille & Chowder House

address: 4101 William Penn Highway

MeGs and MaDs Casual Dining

address: 325 Cattell Street

BYOB.

address: 42 S 3rd St

Morici's Pizza and Sub Shop

address: 218 Cattell Street

Cozy pizza place with comfortable indoor dining available. The subs and pizza are excellent for takeout, but they offer many Italian pasta dishes as well.

address: 235 Ferry St

Upscale modern tapas restaurant. Reservations recommended.

address: 11 Centre Square

address: 159-161 Northampton St

Tasty, reasonably priced thai cuisine. The lunch special is the best deal.

Pizza D'Oro Italian Restaurant

address: 208 Cattell Street

phone: +1 610-250-6561

address: 700 Northampton St

This quaint local Irish pub offers a wide selection of local craft beers and a seasonal selection of handmade mixed drinks. They boast a menu full of delicious meals as well as pub fare made from scratch in-house and often from local ingredients. They serve a creative selection of options, including vegan and vegetarian choices. There is often live music on weekends.

address: 243 Northampton St

address: 219 Ferry St

Delicious upscale Italian food in a warm atmosphere. Amazing pizza.

address: 237 Northampton St

Steve's Pizzeria

address: 1005 S Greenwood Ave directions=

3rd & Ferry Restaurant and Bar

address: 56 S 3rd St

address: 117 N 3rd St

Tic Toc Family Restaurant

address: 2510 Northampton St

A diner that attracts mostly local regulars.

address: 100 Cluhouse Drive (located at The Club at Morgan Hill)

Touch of Thai

address: 123 N 2nd St Apt 110

phone: +1 610 829-1131

address: 542 Northampton St. 18042

Two Rivers boasts an intricately creative farm-to-table menu for lunch and dinner. They recently began brewing their own craft beers and also offer a range of specialty mixed drinks.
There are also many chain restaurants around the area.
Drink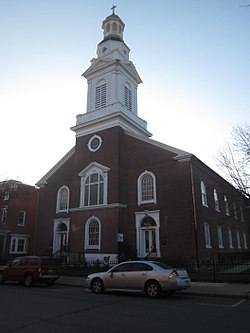 phone: +1 610 438-3604

address: 683 Walnut St.

Black and Blue offers a dimly-lit, eccentric atmosphere with a fantastic craft beer selection and a unique menu with vegan and vegetarian choices.

address: 420 Cattell St.

The preferred hangout of Lafayette students, it can change dramatically depending on the night. When college is not in session, this becomes a chilled out spot, but when it is, it can be loud music and a noisy college atmosphere. Non-smoking.

Eddie G's

address: 1 Lehns Ct (Centre Square)

Definitely a dive bar, and can attract an interesting crowd. Friendly service, smoking permitted indoors.

address: 2722 Freemansburg Ave.

address: 15 N 4th St/

Original home of Jazz in Easton.

address: 90 Mort Drive

5-star cuisine, prepared from scratch. The finest spirits, wine, and craft beers. Over 2,000 square feet of cigars. Smoke-friendly indoor and outdoor seating. State-of-the-art ventilation.

Milo's Place

address: 217 Cattell St.

Average bar, smoking permitted inside.

Mothers Bar & Grill

address: 3 Lehns Ct (Centre Square)

Typical bar scene, with quoits in the back.

address: 11 Centre Square

Good selection of beers on tap, with a more sophisticated atmosphere. Excellent food.

address: 700 Northampton Street

Friendly pub atmosphere, with a great beer selection and frequent live music.
Sleep
Go next