Ebeltoft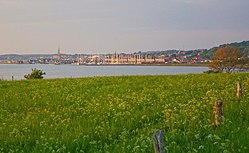 Ebeltoft
is a city in
Djursland
in
Denmark
.
Ebeltoft city, the "Piece de Resistance" of Djursland, Jylland, Denmark, restored the 1860 Battle Frigate "Jylland", a world class maritime showpiece.
This 675 year old city was not always a touristy destination, except for a few hundred people who came from
Copenhagen
and
Aarhus
in the summer season, staying in summer houses along the coast. They found the quaint ways of the "Molbos" (Danish equivalent of hayseeds or bumpkins) and the half-timbered houses embellished by hollyhock roses along cobblestoned streets, to their liking. Indeed, it is within living memory, that a Town crier went around, bellowing the news of the day. Now people come from afar to see the frigate and the tiny perfect city hall from 1789, now a museum complete with the original dungeon, reached through a trap door in the floor of the reception hall.
Ebeltoft is not only steeped in history, but now also the location of The European Film College, which opened here in 1993 and is housed in the hills just on the outskirts of town. Unique restaurants abound in town, as well as outside, in the hills of "Molboland", now part of the
Mols Bjerge National Park
since 2008.
Get in
Fast Car Ferry from
Zealand
or with bus connection from Copenhagen. Total travel time is 3 hours.
Air from Copenhagen to Tirstrup airport near Århus city.
Reached by car with a short detour (about 40 km) from main highway between Århus and
Ålborg
.
Get around
All attractions in the old part of town can be reached on foot from city hotels or campsites.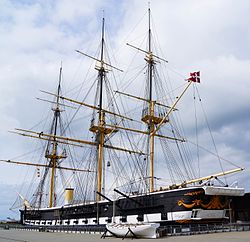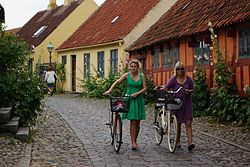 See
address: S.A. Jensens vej 4

The restored battle frigate is the largest wooden ship in the world. Located in a large marine centre, renovating and displaying historic vessels. The world's longest wooden ship is resting its enormous keel solidly on concrete, within meters of the sea, where it once fought a battle against the Austro-Prussian fleet, on behalf of King Fredrik the 7th in 1864. Otherwise, its 25 year active life as a commissioned battle frigate of the Royal Danish Navy, the "Jylland" was mostly used to ferry royal parties throughout the Kingdom, including Greenland, and European capitals. In 1886 it made its last of 5 cruises across the Atlantic to the Danish West Indian islands of St. Thomas, St. Croix and St. John, at which time it had been rebuilt to become a Royal Vessel and the 15 ton cannon in the royal dining room was removed, having been part of the total complement of 30 cannons on board. From 1925, the once mighty pride of Denmark, had a varied life, serving variously as accommodation for students and barracks for soldiers. By 1974 it had gone through no less then five preservation committee's, the last of which, had it towed across Kattegat to Ebeltoft, where it sat rotting further until 1984. After a nationwide fund-raising campaign and a five year rebuilding, the result is a unique monument to a proud seafaring nation. The multi-million-dollar job practically hand built all woodwork, including righting the warped keel with a technically challenging method. The Jylland now stands in all its 3-masted glory as a part of a major marine complex along the waterfront which is part of Ebeltoft city center, and includes other vessels of historic value. Also historic ship restoration workshops.

Town centreThe town centre comprise a romantic fairy-tale like milieu of cobblestoned streets and stuccoed half timbered houses.

The Old City HallMany come year round to get married in the historic city hall and have pictures taken with the uniformed night watch men, who commence their evening walk-around at sundown, with lanterns and cat'o'nine tails, from the old stone steps, flanked by canons. Until the frigate's resurrection ceremony in 1995, the spired city hall was the City hallmark. The city hall now houses a museum

Farvergårdenthe old dye-works in the preserved original courtyard buildings including all the historic implements for dying cloth and yarn. Lovely garden attached.

address: Strandvejen 8

Modern glass art in the old custom house Several glass artists have set up studio's across town and have their own individual exhibitions as well. The Glass Museum is part of the marine complex also holding the frigate of Jylland.

Mols BjergeThe area was designated a national park by the Danish government in January 2008.

phone: +45 8633 6150

a big zoological park with beautiful nature near Ebeltoft. The newest exhibit is a 1 hectare lion enclosure. Near the lions is the enormous African savanna with giraffes, zebras, ostriches and antelopes, and one can drive through the savanna with a Land Rover. At the entrance is a row of islands with monkeys, and the guests can walk amongst the lemurs. There is also a North American section with black bears and wolves. One time a day, you can see a falconry show.
Do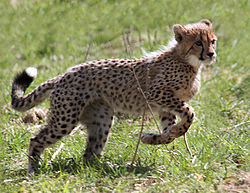 Beaches within walking distance of your hotel.
Biking and hiking in the hills of Mols, now a designated as
Mols Bjerge National Park
. Most of the hilly park area is captivating and has for a long time worked as an environmental experiment in natural rejuvenation.
Many unique shops around town offer locally produced arts and crafts. Apple schnapps.
Bolsjer
(homemade candies). Quality souvenirs at the Frigate shop.
While there, drive/bike/hike into the hills of Mols to the Natural Laboratory operated by University of Aarhus and the Ministry of the Environment and used as a field laboratory by scientists and students from universities and institutes of higher learning. There is an ongoing research program in natural land rejuvenation, with interaction of animals, fauna, insects, birds, promoting natural fertilization. There are also long-haired Icelandic sheep and small dark brown Galloway cattle used in grazing research year round, by the Mols Laboratory. Also in this area is
Trehøje
(lit.: Three-hills) comprising three large Bronze Age burial mounds of which there are 14 in the area.
phone: +45 86 34 66 54

address: Nedergade 11

A historic drop-boiler, where former times craftsmanship is celebrated and kept alive. Watch how the professionals cook drops and make colorful lollipops or engage yourself. Good variety of drops, known as bolsjer in Danish. Particularly great with kids, but the drop-boiler also has an adults' special: bottles with drops to be filled with vodka so you can make your own hot shots of various flavours.
Eat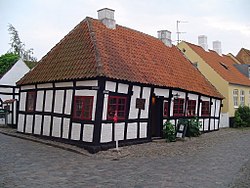 There are good hotel restaurants, with outstanding dining opportunities at Molskroen in the village of Femmøller in particular, as well as a couple of unique restaurants in restored houses. Two fresh fish specialty restaurants operate in the small harbour area and cafeterias.
Sleep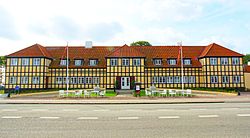 phone: +45 8634 2053

address: Egedalsvej 5

About 10 min walk up the hill. Architectural striking. A sight in its own, but with high prices as an hostel-to-be.
Excellent
camping facilities
on a good beach, within walking distance (15-20min. of town center).
Several fine B&Bs in town and just outside.
Two good hotels in town, in the 3+ Star category:
phone: +45 8634 3300

address: Nordre Strandvej 3

On beach next to marina with restored Frigate Jylland.

phone: +45 8634 3222

address: Vibæk Strandvej 4

phone: +45 4586362200

address: Hovedgaden 16, Femmøller Strand

A large high-end hotel and much appraised restaurant near the village of Femmøller, a 10 minute drive west of Ebeltoft center along the coast.
Go next
phone: +45 31 90 00 65

address: Skovgårde Bygade 4

This local micro-brewery is situated about 10 km north-east of Ebeltoft in an old farm near the coastal hill of Jernhatten in the national park area. Visit the summer café here in June-August every day of the week, except Sundays, and enjoy their great beer. EG also produces soda pops and lemonade. Their brews can be purchased across Denmark in well-assorted shops and select bars but on-line sales are also possible. Not far from Ree Safari Park.