Echmiadzin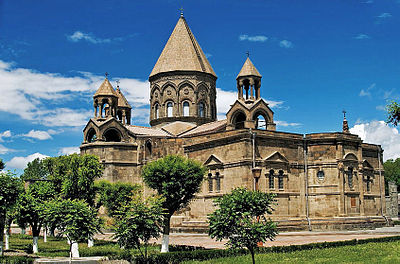 Echmiadzin
(renamed
Vagharshapat
in 1992), in
Central Armenia
, is
Armenia's
fourth-largest city.
Understand
Echmiadzin is the seat of the Armenian Catholicos, head of the Armenian Apostolic Church, and a
UNESCO World Heritage Site
. It's usually visited as a day-trip from Yerevan, along with nearby
Zvartnots
.
Get in

Marshrutkas to Echmiadzin (line 203) start from the central (Kilikiya) bus station in Yerevan, at least every 30 mins, more often in busy periods, and take 20-30 mins. It is a fare of 250-300 dram, even if you get off early at the Zvartnots ruins. The end of the line in Echmiadzin is on the corner of Movses Khorenatsi street and Baghramyan street, near the Cathedral complex.

Get around
The tourist sights of Echmiadzin are easily accessible by foot. Zvartnots is 5 km east, back towards Yerevan: take a marshrutka (several alternatives to the 203 for this short hop) or taxi.

See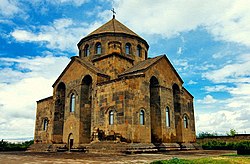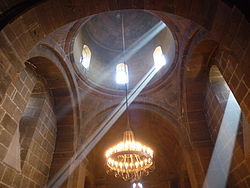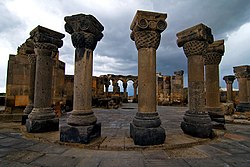 The following 5 monuments are listed as World Heritage Sights by UNESCO.
Cathedral of EchmiadzinFounded in 301 by St. Gregory the Illuminator and rebuilt and added to for over 1,700 years, Echmiadzin now is the heart of the Armenian Church, and seat of the Catholicos of all Armenians. The altar is built over an ancient pagan fire worshiping pit (accessible from the museum behind the altar), the inside has interesting frescoes, altar, lamps, and thrones. The intricate bell tower entrance is an addition from the 1800s, and the surrounding grounds have gardens with examples of khachkars from throughout Armenia and further. Near the new entrance gates are a few exquisite khachkar examples from Jugha (now in Azerbaijan) - which had by far the largest khachkar collection in the world. The thousands of khachkars which remained there were destroyed during this decade by the Azeri government. In autumn 2018 the cathedral interior is a building site, though services continue - this work will probably drag on into 2019. The Treasury is unaffected and well-worth seeing, though the star exhibit, the Roman Geghard or "Spear used at the Cross", is on loan to NY Met Museum until mid-Feb 2019.

St. Hripsime CathedralAn outstanding example of earlier Christian architecture, this 7th century cathedral with soaring ceilings and vast interior space was an example for future architects.

St. Gayane ChurchBuilt in honor of one of the Christian virgins killed by the Armenian King, along with Hripsime, this smaller church with an arcade in front is a few blocks south of the Echmiadzin compound.

Shoghakat ChurchAt the site of the present day church of Shoghakat, there stood an earlier church of the 6th or 7th century which has not survived. Current building was erected in 1694 by Prince Aghamal Sorotetsi. The name of the church comes from Armenian (Շողակաթ եկեղեցի) meaning "drop of light" because of the ray of light that came down from heaven upon Hripsimé's martyrs.

Zvartnots CathedralRuins of cathedral built 643-652 by the order of Catholicos Nerses. It's a 3-tiered rotunda on a platform (ramp on right) with a small museum.
Museums
Khrimian MuseumBuilt and opened in 1896. It has been renovated to become a museum of art.

Alex and Marie Manoogian Treasury HouseConstructed in 1982. The museum is home to treasures of the Armenian Church throughout the history.

Catholicosal MuseumThe old pontifical residence built in 1738–1741 and served as residence until 1962. Since 1968 the building has served as Catholicosal Museum.
Buy
The Echmiadzin compound and also the Hripsime cathedral area has a bookstore/souvenir store inside, with a collection of religious gifts, icons, books, dvds, crosses, jewelry, art, crafts, shirts, and other things. Worth popping in for a look.

Eat
Echmiadzin Kufte is beef ground to a fine paste, rolled into a big ball, and boiled; then it's soaked in melting butter. The town market ("shuka") is one of several places serving it.

Sleep
B&B Artson

address: Petrozavodsk Street 55

Wi-Fi, large living room, HD TV, washing machine, garden. Can meet guests at the airport free of charge, also organize a tour in Echmiadzin free of charge as well.

Machanents Guest House

address: Shahumyan Street 36

Very simple rooms with shared bathrooms. Budget double one is a really tiny room with bunk bed, regular double is a bit better. Guest house also has an Armenian bakery and tavern. WiFi.

phone: +374 91 475353, +374-31 4 80 24

2-star motel offering 6 suites with private entrances off the main dining area and 2 lux suites upstairs. Although it can get crowded and loud in the evenings. They also rent a few flats nearby.

Zvartnots hotel and casino

phone: +374 09 402631, +374 1 282423, +374 03 152024

2-3-star hotel complex which has restaurant-bar (with live music), tennis, billiard, swimming pools, gym.
Go next

You'll probably need to back-track to Yerevan to reach anywhere else.