Edinburgh/Old Town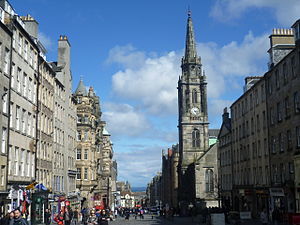 The
Old Town
of
Edinburgh
represents the historic core of the Scottish capital, built eastwards of the Castle Crag, along the Royal Mile to Holyrood. This article also covers the areas to the immediate south and west of the Old Town -
Southside
and
Tollcross
.
Along with the
New Town
, the Old Town was listed as a
World Heritage Site
by UNESCO in 1995.
Get in
Walk, bus or taxi from other parts of the city; train or tram doesn't help you.
By foot
Most travellers are happy to explore the Old Town on foot, as there are lots of things to see on the way. Several streets in the Old Town are bridges, and so you may find the streets are not connected as you might expect from a glance at the map, and there are some steep slope and staircases between streets. The main layout of the Old Town is designed like a fish skeleton, so there are plenty of sidestreets and alleys (closes). Most streets are very small and steep, so be prepared for tough terrain.
By bus
North Bridge and South Bridge are very well served by buses, and you are unlikely to have to wait more than 5 minutes during a weekday daytime. The Mound and George IV Bridge has a reasonable service.
East-West bus services are less frequent, except along Lauriston Place. The
Lothian Buses
service 6 runs twice per hour from Hanover Street to Holyrood. The 2 runs four times per hour (weekday daytime) via the Grassmarket and Chambers Street. The Lothian Buses Skylink 300 runs 5 times per hour from the airport via Chambers Street and Canongate.
See
phone: +44 131 225-9846

address: Castlehill

Edinburgh Castle is a magnificently situated royal fortress located on one of the highest points in the city. The castle has been continuously in use for 1000 years and is in excellent condition. Highlights include the Honours of Scotland (the Scottish Crown Jewels) and the ancient St Margaret's Chapel. The audio tour, which costs £3.50 per headset, is extremely detailed and worth hiring, providing both location based and chronologically based commentary on the castle. The Esplanade is the parade square in front of the castle, normally free to access in daylight hours, with good views of the city. The Edinburgh Tattoo and concerts are staged here, so access is restricted then, and views are cramped by the temporary banks of seating.

Abbey and Palace of Holyroodhouse

phone: +44 131 556-5100

The Palace is a royal residence, and hosts the Queen's Gallery containing a collection of art from the Royal Collection. The Palace is best known as the home of Mary Queen of Scots and as the site of the murder of Mary's secretary Rizzio, allegedly by her husband, Lord Darnley.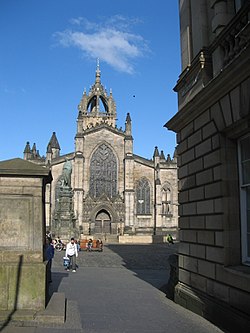 address: The Royal Mile

The historic City Church of Edinburgh is also known as the High Kirk of Edinburgh and takes its name from the city's patron saint. St Giles' is Presbyterianism's Mother Church and contains the Chapel of the Order of the Thistle (Scotland's chivalric company of knights headed by the Queen). The building bears a distinctive crowned spire and was first officially dedicated in 1243, although a church probably existed on the site since before the 9th century.

Old Parliament HallThis 1639 Old Parliament Hall is within the Parliament House which is home of the Scottish Supreme Courts. The hall is the location where the earlier meetings of the Scots Estates, or Parliament, took place, prior to the enactment of the 1707 Act of Union (of the Parliaments of Scotland and England).

North BridgeOffers spectacular views of the city skyline. It connects Old Town and New Town with Waverley Station just below.

address: Lawnmarket

It is a 17th-century Old Town tenement (known as a 'Land') decorated with period furniture. It has an impressive painted ceiling.

Greyfriars KirkyardA very old graveyard that contains some impressive, ancient grave markers and fantastic views of the surrounding Old Town. Many folk, of course, will be drawn here by its links to , that loyal little dog brought to worldwide fame by Walt Disney. The grave of Thomas Riddell is said to be the inspiration of "Tom Riddle" from J.K. Rowling's Harry Potter.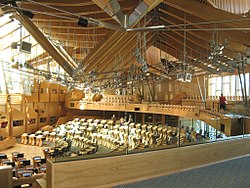 phone: +44 131 348-5200

A unique building, designed by the Spanish (Catalan) architect Enric Miralles, with a £431 million price tag which is much higher than the original back-of-an-envelope estimate. Highly controversial among Scots, who consider it either a daring showpiece of postmodern architecture or a national embarrassment. The Parliament generally meets Tue-Thu and you can watch debates from the Public Gallery. Ask for tickets at the reception. The First Minister's Question Time is normally on Thursdays 12:00-12:30. You need to reserve tickets in advance (up to 7 days). If you did not get a ticket, you are put on a waiting list if you arrive in person from 10AM on the day and might get access if other people did not show up. You can follow the question time from the Overspill Room while waiting. On non-business days (M F Sa) you can view the debating chamber from the Public Gallery without tickets. In the lobby area there are often exhibitions.

address: Castle Hill

Over 150 years old, the Camera Obscura focuses light from the top of the tower onto a large dish in a dark room below, allowing a 360-degree view of all of Edinburgh! The tower is also host to a fun and quirky gallery of optical illusions. Great views of the city from the top of the tower.

phone: +44 131 550 7800

address: Holyrood Road, EH8 8AS

A visitor experience with interactive exhibits about the natural aspect (volcanoes, polar ice, rainforest) of our planet.

GrassmarketThis is the area beneath and just south of the castle, a pleasant cobbled stretch of shops, pubs and eating places. Some are tourist-trappy - see "Buy" & "Drink" for specific reviews, but overall the place is a tribute to gentrification of what had been a depressing quarter of town. In the 1820s Burke & Hare lived here, preying on its denizens to supply fresh corpses to the anatomists. Until the 1970s it was the abode of derelicts and rough sleepers - then property values soared. Grassmarket is close to Usher Hall & Lyceum to the west; the 3 streets leaving it to the east lead up the Royal Mile, down into Cowgate and up to Greyfriars Bobby.
Museum and galleries
Do
Walk down the Royal Mile from Edinburgh Castle to the Palace of Holyroodhouse. The Royal Mile is the backbone of the sixteenth century Old Town] and most of the buildings date from this period. Take the time to divert from the main route down some of the many small "closes" that run off the Royal Mile to each side. There are plenty of bars along the length of the Royal Mile, where you can relax over a pint of Edinburgh Ale and/or a classic single malt.

Holyrood ParkWalk around in the park which is just east of the Old Town. Created by King James the VI in the 16th century, it is like a Scottish landscape in miniature, containing Arthur's Seat, three lochs: St Margaret's Loch with nearby remains of an old chapel, Dunsapie Loch along Queen's Drive with great views of the sea in the background, and Duddingston Loch (see East), and the stunning Salisbury Crags.
Arthur's SeatThe extinct volcano to the east of the city centre offers fantastic views from its summit - and at only 251 m high the ascent isn't too strenuous.

Salisbury CragsIf a lighter stroll - compared to Arthur's Seat - is in order, a traverse along the Salisbury Crags on the Radical Road offers similar panoramas of the city.
Shows and tours
Mary King's CloseWarriston's Close (opposite St Giles' Cathedral), open daily except Christmas Day. A slice of Edinburgh's medieval history, preserved since being closed over in the 18th century - watch out for the haunting.

address: 31 Market Street

The scariest attraction in Edinburgh featuring 11 shows and 2 rides about Scotland's horrible history: William Wallace, Mary King's Ghost, the cave of Sawney Bean, Burke and Hare and more.

address: 354 Castlehill

Offers an interactive "tour" of the history and practise of Whisky distilling, complete with a rather sedate barrel ride. This is a good place to go if you want to sample whisky, as they have a very large selection (200+?) at a fairly reasonable price. Older whiskys tend to cost more and the rarest on offer can cost up to £50.00 per measure! The atmosphere is less pub-like than some might like as it tends to be fairly quiet.
Follow a ghost walk around the back streets surrounding The Royal Mile and learn about the sinister goings on of Edinburgh's past. These tours are generally excellent and are highly recommended.
Take a tour through the South Bridge Vaults which date back to 1788.

Free Tour of EdinburghThere are free walking tours that set off periodically from the High Street Starbucks. They are in a variety of languages and take about 2-2½ hours, with a stop for lunch. Tickets are free, but the tour guides appreciate tips. Even with a generous tip for the guide, these are still a far cheaper way to see the city than most bus tours, and they give you a much more personal experience.
Music and theatre
The
Usher Hall
, the
Royal Lyceum Theatre Edinburgh
and the
Traverse Theatre
are all located next to each other.
phone: +44 131 228-1155 (Box office)

address: Lothian Road

The main concert hall in Edinburgh which regularly features The Royal Scottish National Orchestra (RSNO). It was completed in 1914 and funded by a donation from Andrew Usher, a Scottish whisky distiller and blender. The concert hall can seat up to about 2,200 people.

Royal Lyceum Theatre Edinburgh

phone: +44 131 248-4848 (Box office)

address: 30b Grindlay Street

One of Scotland's largest producing theatre company. The theatre building dates back to 1883.

phone: +44 131 228-1404 (Box office)

address: 10 Cambridge Street

The Traverse theatre company is dedicated to new works.

phone: +44 131 529-6000 (Box office)

address: 2 Leven Street

Mostly hosts major touring drama.

phone: +44 131 529-6000 (Box office)

address: 13/29 Nicolson Street

Home of the Scottish Ballet and Scottish Opera. It also hosts contemporary dance and ballet events and musicals.

Reid Concert Hall

phone: +44 131 650-2422

address: Bristo Square

The Reid School of Music (University of Edinburgh) offers free lunchtime concerts (usually starting at 1:10PM and lasting for about one hour and taking place at the Reid Concert Hall) at irregular intervals. Check the calendar for details on these events and additional concerts.
Cinema
phone: +44 871 902 5723

address: 38 Home Street

Mainstream & alternative films, in remarkable surroundings. A much-loved venue that's well worth a visit.

phone: +44 131 228-2688

address: 88 Lothian Road

Edinburgh's (and Scotland's) largest venue for arthouse and foreign language films. Great café and bar, and hub of the annual International Film Festival.

phone: +44 870 505 0007

address: 118 Lothian Road

Mostly mainstream movies.
Buy

You don't need to go to the faceless chain stores and multinationals that line the main shopping streets in the New Town. Support local Edinburgh businesses and take home a fantastic and unique memento of your trip.
Victoria Street and the east end of the Grassmarket is where the Old Town's best shopping experience can be found. A clutch of independent business can be found here, and it is highly recommended that you avoid overpriced tourist traps on the Royal Mile and make a beeline for here.
Cockburn Street (pronounced "co-burn") has many small alternative shops.
The Royal Mile especially the higher end near the castle, has many tourist-oriented shops selling Scottish souvenirs from postcards to whisky and kilts. These shops help reinforce stereotypes that a modern Scotland is trying to shake off. However there are also good exceptions:
Other great shopping opportunities are the following ones:
The Pubic Triangle is usually best avoided, due to its proliferation of lap-dancing establishments, but during the day you can find a number of great shops here. It can be found at the intersection of Lady Lawson Street and West Port, near the western end of the Grassmarket. A gaggle of second-hand bookstores adorn this area.

Eat
You can find plenty of nice and affordable food options along and around the one long street called
South Bridge
,
Nicolson Street
and (further south)
(South) Clerk Street
.
Budget
address: 7 Nicolson Street

Smarter than your average kebab shop - and an Edinburgh institution. "Diner" type establishment which serves kebabs as well as curries. Take-away or (limited) eat-in. Run by Muslims so there are lots of vegetarian options but no alcohol license. Popular with students as it's close to George Square.

Tempting Tattie

address: 18 Jeffrey Street

Baked potatoes (tatties) are also a Scottish staple. Some say the best in town can be found here. A tattie stuffed with enough fillings for a family of 4 can be had for under £5.

The Baked Potato Shop

address: 56 Cockburn Street

Baked potatoes with a range of vegetarian and vegan fillings, as well as vegan cakes.

address: 34 Victoria Street (and also 82 Cannongate)

This small eatery does one thing, the pulled pork sandwich, and it does it extremely well. No chips, no crisps, no sides, just pork, sauces and a roll. It's quite cheap, with £5 getting you a sandwich and a drink.

address: 50 Potterrow

In the building directly adjacent to the Edinburgh Central Mosque. A classic student hangout, with meat and vegetable curry available for around £5.

Kampong Ah Lee - Malaysian Delight

address: 28 Clerk Street

Tasty Malaysian dishes such as Roti Canai, Satay, Nasi Lemak, Laksa, Rendang, etc.

phone: +44 131 558-1728

address: 38 South Bridge

Has a wide range of delicious pies and pastries (mostly savoury).
Mid-range
address: 52 Home Street

This restaurant offers very good Nepalese and Indian food at moderate prices around £7 mains (excluding rice or bread).

Petit Paris

address: 38-40 Grassmarket

Traditional French restaurant complete with chequered tablecloths and whitewashed walls.

David Bann's Vegetarian Restaurant

address: 56-58 St Mary's Street

Imaginative and tasty vegetarian food. Some courses are suitable for vegans. Main courses cost about £11-13.

address: 14 Brougham Street

A South Indian restaurant and a rare treat because it serves Indian "street food" dishes such as dosas. There also can't be very many restaurants in the world serving (vegetarian) haggis pakoras. And they are as tasty as they are rare!

address: 5a Johnston Terrace

Thai food, with vegetarian options.

The Bombay Bicycle Club

address: 6 Brougham Street

Average Indian restaurant offering the usual array of Indian and curry dishes. Attentive staff.

address: 21 George IV Bridge EH1 1EN

Consistently good coffee and light bites, cafe is full of university and creative types - JK Rowling wrote much of the first Harry Potter book here. And that alas is the problem: it's become part of the Potter circus, every half hour sees another coachload of tourists all craning for selfies and trying to nick the cutlery and scrawling graffiti in the loo. Prices, service and ambience have suffered accordingly, and Rowling has fled to a castle in the Highlands.

Tanjore South Indian Restaurant

phone: +44 131 478 6518

address: 6-8 Clerk Street, EH8 9HX

One of the few Indian restaurants in Edinburgh serving South Indian food such as Dosas, Uttapams, Sambar, and other Tamil specialities.
Splurge
The Witchery RestaurantJust beside Edinburgh Castle, The Witchery is a small, beautiful candle-lit restaurant with fantastic food, excellent service and a wonderful wine list. Even their bread basket is a standout.
Drink
Pubs
There are many famous "traditional"
pubs
on the
Grassmarket
. Beware, however, many of these pubs are tourist traps and tend to be very popular with visiting stag and hen parties. Real Edinburghers tend to keep clear most of the time. The
Royal Mile
is another tourist trap, with many pubs here just not worth the bother. However, make time to visit
The Jolly Judge
on James Court, just off the Lawnmarket, and
Albanach
, which is on the corner of Cockburn Street and the High Street.
phone: +44 131 225-2669

address: 7 James Court

Very small pub with a good selection of beer and whisky. One of the few pubs on Royal Mile worth visiting. Has free Wi-Fi.

address: 32 Forest Road

Offers good ales and pub food in a relaxed atmosphere.

address: 25 Forest Road

Has live folk music every night.

The Pear TreeOffers a great beer garden for summer months, and a mix of university students and residents all year round. Or check out The Blind Poet next door.

Bennets Bar

phone: +44 131 229-5143

address: 8 Leven St

A good old-fashioned pub that satisfies with cold beer on tap and tasty cheap food. Bennets also has a good range of real ale and the selection changes weekly.

address: 32b West Nicolson Street

Large changing selection of keg ales. Beer prices are more on the expensive side. They occasionally brew their own beer on site.

phone: +44 131 556-2101

address: 67 Canongate, EH8 8BT

On Mondays they offer very good £1 pizza if ordered with a drink (one pizza per person only) from 5PM until stock lasts. They have a changing selection of four cask ales and a good range of whiskies (including some from the independent bottler Cadenhead's).

phone: +44 131 2267667

address: 80 West Bow

An unpretentious traditional pub with a large selection of whiskies, and a good choice of changing guest ales.
Cowgate
General debauchery can be found on the
Cowgate
which runs under the South and George IV bridges. Numerous clubs and bars line this street, which gets very, very crowded at weekends.
address: 66 Cowgate

Also well worth a mention for travellers. A short hike down Holyrood Road towards the new Scottish Parliament, this is a great cafe style bar cum live music venue, with excellent club nights, especially the popular "Fast Punk Club".

address: 36-38 Blair Street

One of the city's most respected clubs, and also hosts regular gigs. Club nights are eclectic and cater to all tastes.

address: 71 Cowgate

Opium is one of the staples of the Cowgate and a haven for those of a more alternative persuasion. The music is rock, with a jukebox downstairs and a DJ upstairs. It runs a popular rock karaoke night on Mondays. Opium has very cheap drinks details and gets very busy on the weekends.
Other venues
Sleep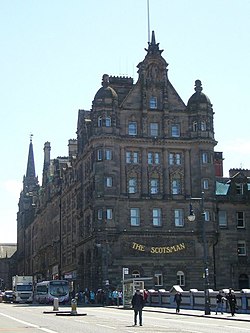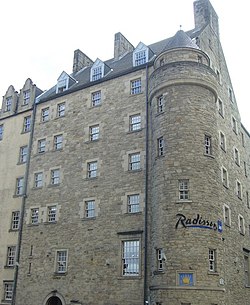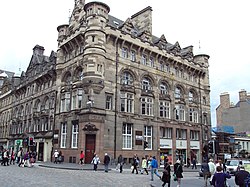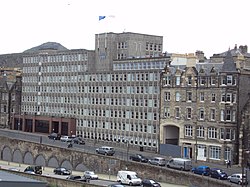 Budget
Mid-range
Splurge
Connect
Internet
phone: +44 131 242-8137

address: George IV Bridge

The Learning Centre at the Central Library has 16 computers with free internet access, also MS Office applications. If there is no PC free when you visit it's possible to reserve a slot later that day.