Eidsvoll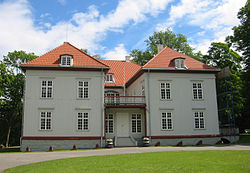 Eidsvoll
is a town in
Norway
. In every Norwegian patriot's heart for being the site of the signing of the modern Norwegian constitution in 1814, an important step towards full independence from the country's neighbours.
Get in
12 minutes by train from Norway's largest airport, Gardermoen.
The world's oldest paddle steamer in scheduled traffic (summer only), Skibladner, calls here.
See
phone: +47 63 92 22 10

address: Carsten Ankers veg 19, 2074 Eidsvoll Verk

The building where the 1814 constitution was signed, and a democracy museum.

Tingvoll

address: Eidsvollbakken

The monument marks the location of the medieval Eidsivating, where leading men from southern Norway would hold their annual assembly, to settle disputes and pass laws.

GullverketHistoric gold mine area

address: Spetalsveien 60, 2080 Eidsvoll

Collection of buildings from the area, mostly from the 19th century

Lake MjøsaNorway's largest lake, one of the deepest. Norway's first railway was the Oslo-Eidsvoll-line, simply called the "main line" (1854), station at Vorma river in Eidsvoll from where boats could sail to Lillehammer. Three bridges cross the mouth of Mjøsa at Minnesund, one motorway, one local road and one railway.

Svanfoss locks & damAllows boats to sail the Vorma river. The dam controls the outflow from Mjøsa lake.
Sleep
phone: +47 63 95 91 00

address: Koloniveien, Dal

Hotel and conference facilities.

phone: +47 90 91 00 48

address: Nesveien 17, 2080 Eidsvoll