Eifel
The
Eifel
is a region that lies in two German states:
Rhineland-Palatinate
and
North Rhine-Westphalia
. Smaller parts also lie in
Belgium
(Hohes Venn and West Eifel) and
Luxembourg
.
Cities and towns
Understand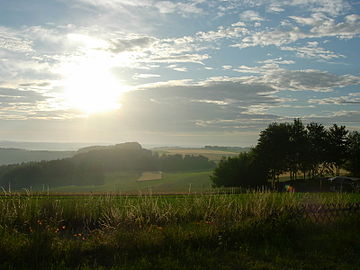 The Eifel is a low mountain range bordered by the
Rhine
to the east and the
Mosel
to the south. The scenery includes some interesting formations caused by volcanic activity such as circular hills formed from vents and circular lakes in old craters.
Seasons
Traveling through the Eifel is possible all year long.
The peak season is from Easter until fall.
In winter one can go skiing in some small ski resorts.
There is a famous Christmas market in Monschau, but going there by car might be problematic (not enough parking slots) so one should take the bus from Aachen for example.
The Nürburgring is a Formula one racing track and once there is race upcoming then it's always crowded in all the area surrounding it.
Talk
People living there speak German and you might find some speaking French, Dutch and a lot of the younger generation will speak a bit of English.

Get in
By train or you might take buses leaving from bigger cities (e.g., Aachen) or leaving from the train stations.

Get around
Best by buses or you take a cab.

See
Do
Many marked hiking routes, circular and long distance through the area.
Eifelsteig − 313 km walk from Kornelimünster near Aachen to Trier. Split in 15 stages with description
Römerkanal-Wanderweg (Roman canal hiking trail) - 100 km walk that follows the route of the Roman Eifel Aqueduct from Nettersheim to Cologne.
Cycling. Many signposted bike routes through the region.
Go next