Eilat
Eilat
(אילת, aka
Elat
) is the only
Israel
city on the
Red Sea
. Eilat (pop 85,000) is the southernmost town in Israel, isolated from the rest of the country by the
Negev
desert.
Understand
Eilat is at the southernmost tip of the country, with its "window on the Red Sea". It is first and foremost a resort town devoted to sun, fun, diving, partying and desert-based activities. Sprawled along 7 km of Red Sea coastline, between the borders of Egypt and Jordan, it offers spectacular views of the Gulf of Eilat (Aqaba).
It began as a strategic military outpost, and a port town used to export potash and copper and import goods from Asia and Africa, such as oil and vehicles. The military importance of Israel's access to the Red Sea was valued so highly that Nasser's blockade of said access in 1967 was deemed a
casus belli
.
In the 1970s charter flights increased the flow of foreign tourists to Eilat. They were attracted by the coral reefs, breathtaking location, and the dry and sunny desert climate.
Due to the somewhat remote location of Eilat, the Israeli government has tried to encourage business and tourism by cutting taxes on many things and even giving subsidies for airlines serving the area, which can give travelers surprisingly good deals at times.
Climate
Some from the hustle and bustle of
Tel Aviv
and
Jerusalem
, Eilat's climate-induced relaxed atmosphere has always provided a convenient year-round escape for Israelis, and during the mild winter months also attracts thousands of European sun-seekers. Red Sea water temperatures range only between 20 °C in the winter to 26.2 °C in the summer, providing warmth in the winter, and much appreciated chilliness in the summer's heat.
Orientation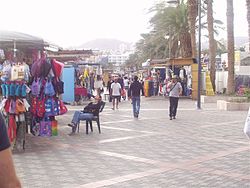 Today, the 2-km (1.2-mi)
North Beach
area is full of hotels with opulent names like Herod's Palace and Queen of Sheba. The
Tayelet
promenade extends the length of the beach front and hosts numerous stalls, street artists, restaurants, and fashionable shops. The promenade has great views of the bay, and each evening is full of strolling tourists.
The southern or
Coral Beach
, which has coral reefs, is protected by the
Israel Nature Reserve Authority
. It has many public beaches and excellent scuba diving centers as well as several hotels and hostels.
Whereas the North Beach is within easy walking distance of the city center, Coral Beach is some 7 km south of it, beyond comfortable walking distance. The Navy and commercial ports lie between the two main beach areas.
Shabbat and Kashrut
As in most of Israel, many businesses and transport companies do not operate on the Shabbat (
Sabbath
) which begins Friday afternoon and ends Saturday night; many places do not reopen/renew service until Sunday morning. The same holds true for major Jewish or national holidays, so plan your itinerary accordingly.
Kashrut
is the body of Jewish dietary laws which many Israelis and tourists observe, and which many restaurants and almost all hotels adhere to. Among other things
Kashrut
requires complete segregation of meat and dairy foods, dishes and utensils; select types of fish are kosher but most 'sea foods' are not; and all foods must be prepared under controlled and monitored conditions. Kosher restaurants and hotels display a valid, dated certificate issued by local rabbinical authorities. Kosher restaurants close for the Shabbat.
Get in
While Eilat is - for a country as small as Israel at least - far away from the rest of the country, the government is subsidizing international flights and the border crossings to/from Jordan and Egypt are a lot less hassle than one might expect, making Eilat surprisingly easy to reach - if not necessarily from the rest of Israel.
By plane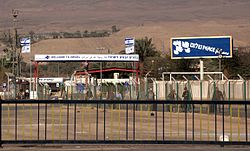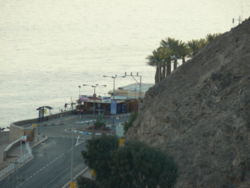 Ramon International Airport Eilat

address: Hwy 90, Be'er Ora

This airport opened in Jan 2019 and handles all flights into Eilat that had used Ovda and the City Airport. There are flights from Ben Gurion Airport and Haifa. During the winter season when many planes in Europe aren't otherwise occupied, airlines including Wizz Air and Ryanair offer flights directly from Europe to Eilat. A shuttle bus runs 06:00-20:00 every 30 min (except on the Sabbath) between the airport and downtown Eilat (₪4.20); a taxi costs ₪100. There's a security screen to enter the check-in area. Currency exchange kiosks and ATMs are in Arrivals and Departures. Airside is a shopping area, your goods are handed to you at the gate. The lounge is by Gate 1, with a synagogue area. Wi-Fi is free throughout the airport. There's an ATM in Arrivals by Gates 33 / 34.
Ovda Airport and Eilat City Airport are closed to commercial flights. Ovda will probably remain in use as a military airfield. Beware of out-of-date maps and road signs that direct you to the demolition site at Eilat airport.
Aqaba airport in Jordan is close by and has domestic flights from Amman and a few international flights e.g. Turkish Airlines from Istanbul. So you could easily take a taxi to the Israeli border at Arava then another taxi to Eilat; or Aqaba/Jordan might be your primary destination. This route puts Jordanian entry/exit stamps into your passport, so even if Israel doesn't stamp, border officials of nations hostile to Israel will know where you've been.
Taba airport in Egypt serves only a few weekly or every-two-weeks international flights from Bratislava and Warsaw.
By bus
Eilat has no rail service so the bus is your only public transport option for the time being. A rail link to other parts of Israel has been discussed for years, but officially "put on hold" indefinitely in 2019. You can take the train as far south as
Beersheba
or
Dimona
and then a bus from there.
All inter-city buses to and from Eilat arrive and leave from the on HaTemarim Boulevard. There is some talk of relocating all or most of the functions of the Eilat Central Bus Station to the extended grounds of Ramon Airport, but when the airport opened, no bus station capable of handling the load of traffic was in place.
You should reserve your ticket for your bus to Eilat a few days in advance at least as they all have assigned seating and may sell out
From Tel Aviv
From
Tel Aviv
there are four bus lines to Eilat.
Line 390: An express bus from Tel Aviv to Eilat. The southern portion the line also does local service between towns on highway 90.
Line 393: An bus line from Tel Aviv to Eilat. This bus also picks up at Rishon LeZion, Rehovot, Gedera, Kiryat Malakhi and Dimona. The southern portion the line also does local service between towns on highway 90.
Line 394: An express bus from Tel Aviv to Eilat. The southern portion the line also does local service between towns on highway 90. The only difference between this line to line 390 is that line 394 also picks up at Be'er Sheva Central Bus Station.
Line 790: A direct bus from Tel Aviv to Eilat without intermediate stops.
The lines operate on a regular schedule. The trip takes around 5-5½ hr and costs ₪70. It's advisable to buy tickets in advance as seating is assigned.
From Jerusalem
From
Jerusalem
there are two bus lines to Eilat.
Line 444: An express bus to from Jerusalem to Eilat via Dead Sea and Highway 90. The line also does local service between towns on highway 90 in the section of the line between Arava Junction to Eilot Kibbutz.
Line 445: A direct bus from Jerusalem to Eilat without intermediate stops.
The lines operate on a regular schedule. The trip takes around 5-5½ hr and costs ₪70. It's advisable to buy tickets in advance as seating is assigned.
From Be'er Sheva
From Be'er Sheva there are 3 bus lines.
Line 392: This is a local bus from Be'er Sheva to Eilat via Mitzpe Ramon and Highway 12. A full ride from Be'er Sheva to Eilat on this line is not so recommended as the bus makes multiple intermediate stops. This bus is crowded on different hours of the day.
Line 397: This is an express bus from Be'er Sheva via Dimona and Highway 90. The line also does local service between towns on highway 90 in the section of the line between Arava Junction to Eilot Kibbutz.
Line 797: A direct bus from Be'er Sheva to Eilat without intermediate stops.
The trip takes 3-3½ hr and costs ₪51.5, with a bus at least every hour.
It's advisable to buy tickets in advance as seating is assigned.
From Taba Border Crossing
From the
Taba
(
Egypt
) border crossing, local buses 16 and 30 go to the Central Bus Station, costing ₪4.20.
From Ramon Airport
From Ramon Airport there are four bus routes which only 2 of them are frequent and relevant to tourists.
Line 30: From the airport via the Central Bus Station (no hotels section) to the southern beach and Taba Border Crossing.
Line 50: From the airport via the hotels section to the Central Bus Station. Line 50א does line 50 in reverse.
Lines 31 and 32 serve the residential neighborhoods of Eilat.
From other destinations around Israel
Egged:
From Mitzpe Ramon: Line 392, 395.
From Ashdod and Ashkelon: 383(Seasonal line), 391.
From Ra'anana: Line 396(Seasonal line).
From Hadera and Netanya: Lines 399, 991.
From Northern Israel:
Haifa: 893(Seasonal line), 990, 991, 993.
Afula: 992(Seasonal line).
Karmiel: 994(Seasonal line).
Metropoline:
From Mitzpe Ramon: Line 340.
Check with the
Ministry of Transport
for additional
routes, rates and updated schedules, or call
*8787
from any phone in Israel.
By car or taxi
There are a couple of ways to drive from
Tel Aviv
to Eilat. One is via
Mitzpe Ramon
. Another nice alternative is from Tel Aviv to the
Dead Sea
via
Arad
, stay a couple of days there or just make a short stop and then continue to Eilat. It takes 5-5½ hr from Tel Aviv, and a similar duration from
Jerusalem
.
Taxi from the
Aqaba
, Jordan border crossing is around ₪35 (Feb 2014). A taxi from Aqaba to the Crossing is around 5
JD
(Dec 2011).
A taxi from
Nuweiba
, Egypt to the Taba Border Crossing takes 50 min and costs around
LE
110 (Dec 2011).
Border crossings
There is no fee to enter Israel.
Rabin (Arava) border crossing (to Jordan)5 km north of the Eilat Central Bus Station. Nearest Jordanian city is Aqaba. From the border, you can walk to Eilot and take a bus from there, take a taxi, or walk all the way to Eilat (4 km, nice tourist trail following the border seen on OpenStreetMap).

Taba border crossing (to Egypt)9 km south of the Eilat Central Bus Station.
Entering from Taba
From the bus station, people will try to get you into a taxi to take you to the border, but don't bother unless you have great difficulty walking, as it is literally less than 500 m down the road.
At the border, you have to buy an exit stamp from the Egyptian border guards; they don't always have change if you arrive early in the day. You then walk to the next building, the air conditioned departure hall, where your bags are scanned, then there's a little food, drink and cigarette kiosk, and then the passport control desk, where you give the card with the departure stamp to the border guard. They then stamp your passport, and you are out of
Egypt
. If you plan to reenter Egypt at Taba later, you cannot do so unless you already have a multiple entry visa or you get a LE51.25 reentry visa (just a stamp in your passport) before you leave. Egypt does not issue visas valid for travel outside the Sinai Peninsula upon entry at Taba.
A few yards further on you get to a duty free shop, then the Israeli building, with cool water mist spray coming from the ceiling of the path shade outside. On entry, again your stuff is scanned, then you queue for immigration. Unlike arriving in Israel by air, here you shouldn't be delayed for more than five minutes of questions.
Once you leave the building you are in Israel proper. To change money, there is a bank at the Israeli departure side (where you have to pay a departure tax for leaving Israel, should you exit via this crossing). There are hourly buses to the town (Lines 16 and 30, ₪4.20), but the last leaves Su-Th 20:45, F 18:15, and Sa 21:45. Taxis will be waiting, charging about ₪40 to go to town.
Get around
On foot
Central Eilat, that is the Promenade Area and city center - Central Bus Station, Main Post Office, banks, etc. - are within easy walking distance, although during summer months the scorching temperatures make walking around unpleasant. Only the closest public beaches are a sweaty stroll from the center; dive sites require transportation.
By bus
Local bus services usually begin 07:00-08:00 and end 20:00-21:00. Ask the driver for exact times. All routes cost ₪4.20. You may also load a day pass for Eilat area for ₪6.70 (
Rav-Kav
required), which is a better option if you need transfers. You can get an anonymous Rav-Kav from the driver, or on Central Bus Station (where you may as well issue a personal one).
Bus
Numbers 1
and
2
do a complete circuit of the city, both passing through the city center before their routes diverge. Both buses leave every 20 min from Tarshish st. nearby Dan Panorama and Ceaser Premier hotels at the North Beach area.
Bus Number 1 leaves every 20 min on the hour, passing through the city center before following a clockwise route through most of the city's neighborhoods, returning to North Beach via the city center.
Bus Number 2 leaves every 20 min at 10 min past and to the hour, passing through the city center before following a counter-clockwise route through most of the city's neighborhoods, returning to North Beach via the city center.
Bus Number 5 from Shachamon to the new industrial area leaves every 30 min on the hour. The bus passing through some of the city's neighborhoods, the city center, the North Beach hotels, and terminates at the new industrial area near Big Eilat Shopping Center.
Bus Number 6 runs the Number 5 in reverse, leaving the new industrial area every 30 min on the hour.
Bus Number 15 to Coral Beach, terminating at Taba Border Crossing, leaves every half an hour from Platform 7 at the Central Bus Station. It passes through the city center and does a circuit of North Beach hotels as far as Kings City before turning south towards Coral Beach and its terminus at the Taba Border Crossing (to Egypt).
Bus Number 16 runs the Number 15 in reverse, leaving Taba Border Crossing between 30 and 40 min after the hour.
Bus Number 30 from Ramon Airport via Central Bus Station to Coral Beach, terminating at Taba Border Crossing, passes at Platform 7 at the Central Bus Station.
Bus Number 50 from Ramon Airport to Central Bus Station. It passes through the city center and does a circuit of North Beach hotels as far as Kings City before turning south towards Central Bus station.
Bus Number 50א runs the Number 50 in reverse.
Night Buses
Numbers 10
and
11
do a complete circuit of the city. Both buses leave every hour from the new industrial area near Big Eilat Shopping Center. These buses are only operated on weekends including Friday nights.
Bus Number 10 leaves every hour on the hour, The bus does a counterclockwise route through most of the city's neighborhoods, The city center, the North Beach hotels and returning to the new industrial area.
Bus Number 11 leaves every hour on the hour, The bus does a clockwise route through the North Beach hotels, the city center, most of the city's neighborhoods and returning to the new industrial area.
Check with the
Egged Bus Company
for additional routes, rates and updated schedules.
By taxi
Taxis prowl the streets day and night looking for fares. Insist on the meter, or agree on the fare in advance (Eilat's taxis are famously mercenary).
The meter rate goes up between 21:00 and 06:00, and on Saturdays and holidays. Also, by law taxis may charge extra if ordered by phone, for a third passenger and for each piece of baggage/luggage transported.
See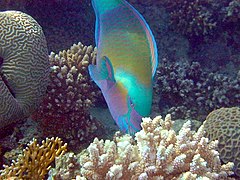 The (+972 8-6309111) can be found at 8 Beit HaGesher St. in the Bridge House near the pedestrian bridge from the yacht harbor.
The main swimming area is the North Beach and many major and minor hotels are situated there. The South or
Coral Beach
area is protected by the Israel Nature Reserve Authority, but there has been a decline in the marine life and reef quality. Since the removal of the controversial fish cages from the Gulf waters in 2008, corals have steadily recovered at all dive sites. While many divers head south to the
Egypt
Sinai coast to
Dahab
or
Sharm el-Sheikh
, to experience better diving conditions, many divers still prefer Eilat, with far smaller crowds, interesting macro-life and easy, unpressured surface entries.
Eilat Coral Beach Nature ReserveThe best place for scuba diving and located here are some of the best dive clubs in Israel, offering technical diving courses, rebreather, nitrox, tri-mix, etc. The whole coastal area is protected by the nature reserve authority and divers are expected to follow regulations. It is also a great place for snorkeling, windsurfing and kite-surfing plus it has fantastic views of the bay.

phone: +92-8-6364200

One of Eilat's most popular attractions, this is a good way to view the Red Sea marine life without getting wet. Its white tower (Eilat's most famous landmark) offers great views above water and goes below the surface to view the marine life. The park's aquariums contain sharks, sting rays and turtles, plus lots of multicolored Red Sea fish, and the huge glass windows allow visitors to get a clear view the tanks' occupants. The Oceanarium simulator is also a lot of fun for kids - though it may be a little scary for the smaller ones. All in all it's a nice family morning out.

phone: +972-8-637-1846

South Beach (3 km south of town towards the Egyptian border). Entry fee: ₪42/28 adults/children. Not just a tourist trap, the staff actually work to rehabilitate dolphins for life in the open sea - from whence they came. However, in the past the release of dolphins into the bay has on occasion resulted in the consumption of many of the nearby coral reef's inhabitants, so that the dolphin release project is on hold. Various paid options are available for interacting with the dolphins, starting with snorkeling with the dolphins at ₪227. It's a very nice beach with lots of small pools and rich shrubbery. It has a fantastic spa (relaxation pools) and is well worth a visit. For those who want to get up-close to a dolphin book your swim or dive as early in the morning as you can. The dolphins get weary of visitors as the day goes on. Piers leading out onto the water allow everyone to get as near to the dolphins - as the dolphins want.
Nearby
The
Negev
surrounds Eilat, with many popular sights. The closest ones are
Timna Park
,
The Red Canyon
and
Yotvata Hai-Bar Nature Reserve
, easily reachable from Eilat for a day trip – see
there
.
Do
In the city
Every summer, the Red City music festival is held in Eilat (sponsored by 99 ESC radio station.) This beach festival is held on the beach and consists of consecutive days of all night performances (Hip-Hop, rock and especially trance).

Red Sea Jazz FestivalAnnual event takes place in the last week of August and Jazz musicians from all over the world come to Eilat, for a week of fun, sun and lots of Jazz.

Ice Mall EilatA shopping mall with an ice skating rink. There is free skating as well as lessons. Once a day you can watch a professional ice show.
In the Red Sea
phone: +972 8-6373123

address: Club Med Beach

Eilat is one of the best locations in the world for learning how to kitesurf. The weather and sea conditions are perfect for beginners with steady northern winds and a calm sea. KiteXEilat offers various beginners classes.

Scuba Diving

phone: +972 8-6323466

address: Simtat Tsukim 5

No license and no experience necessary scuba diving. As is legal in Eilat, an experienced dive master will accompany you on what could be your first ever scuba experience. They provide a short tutorial of the basics, and worry about all the technical details leaving you able to concerning yourself solely with breathing, and of course observing the magnificent neon subaquatic landscape.

Snorkeling

address: Along the southern beach

If you don't want to splurge on scuba diving you can still see a nice variety of Red Sea fish by snorkeling along the south beach. You can rent the equipment usually from a Kiosk nearby. Flippers or suitable footwear recommended as the coral is sharp.
In the desert
The scenic Eilat Mountains Nature Reserve has some of the most spectacular desert routes in Israel. Trails include ancient trading routes and the Great Rift Valley. Desert Hiking, 4x4 jeep tours and camel treks are major attractions in this area of the Negev desert.
phone: +972 8 632 6468

address: opposite Coral Nature Reserve

The Hiking Division of the SPNI (Society for the Protection of Nature in Israel) gives information and advice on desert hiking and trails in the Eilat region.

Dromit Desert Tours

phone: +972 8 637 4773, +972 54 548 7332

Offers half- and full-day desert tours, desert/snorkeling tours, bike and jeep tours. Operated by Colin Porter, Licensed Desert Guide and marine biologist.

"What's Up" The Observatory in EilatAn interactive stargazing experience in the nighttime desert outside Eilat. Using a special camera, you can see the deep sky as well as the moon and planets on a computer screen, rather than through the eyepiece of the telescope. Watch the image build as light is collected, and hear tales about the personalities of the heavens as well as scientific explanation of what is going on up there. "What's Up" is suitable for all ages and is handicapped-accessible, although there are no toilet facilities at the site.
Learn
Ben-Gurion University of the Negev, Eilat Campus

address: HaTemarim 162

The Ginsburg-Ingerman Overseas Student Program offers short-term academic programs at the Eilat campus. Programs focus on Hebrew language, marine biology, and gastronomy.
Buy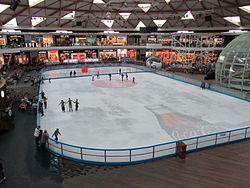 As an incentive for businesses and travelers to come here, there is
no value-added tax
in Eilat. Therefore many
duty free shops
line the boardwalk culminating in duty free shopping centers. Top brands can be found, and it is joked that the first thing an Israeli does before leaving Eilat is to fill up their petrol tank to the brim.
address: Palmach 1

A mall located on the promenade and beach-line, closest to the airport.

address: Kaufman Street

Ice rink and many international brands.
Eat
The main promenade is packed with stylish tourist restaurants offering some of Israel's finest cuisine prepared by master chefs. The variety of restaurants understandably comes at a price, though not as expensive as many restaurants in Tel Aviv or Jerusalem.
As a rule prices are lower the further away from the tourist areas one goes. For those wishing to eat simply and well there are a number of options in addition to shopping the local supermarkets. There are several good restaurants on or near Eilat's main street,
Shderot HaTmarim
(The Dates Blvd.).
On the Beach RestaurantFalafel, shawarma and pizza.

Ginger Asian Kitchen and BarChinese restaurant and bar. Not nearly as expensive as it is exclusive, it's a good spot for dining if you don't mind seeing your picture in the local Eilat gossip pages.

Bar Beach on Coral Beach overlooking the Gulf of Eilat. Built on a deck at the water's edge, have a beer, take a dip and come out for lunch; enjoy a light meal after a dive and take in the magnificent sunset.

BarbisAmerican foods restaurant, a great burger place in the middle of the tourist center. Prices are cheap and the burgers are tasty and huge.

Eilat University Campus Cafeteria

address: North end of HaTmarim Blvd

Price includes choice of entree with vegetables, soup and salad bar (+ desert, if any). Food prepared by Hotel School student chefs; tasty and good quality. Takeaway.
HaLev Harachav on HaTmarim Blvd. is a sidewalk restaurant with indoor seating: serves falafel and shuarma (turkey meat grilled on a rotating spit basted with lamb fat) with your choice of salads and relish (Israel's fast foods to eat on the spot, sit-down or take-away) as well as an à la carte grill. (The name means "the wide (open) heart", i.e. generous.) Kosher; closed on Shabbat. New branch: opposite Mall-Hayam shopping center.

Il Pentolino

phone: +972 8-634 3430

address: HaTamrim Blvd.

It's an Italian-style dairy restaurant serving an assortment of pastas, bagels and salads. Open air dining and smoking areas. Kosher, closed on Shabbat.

address: Mor Center

Favorite eatery of Eilat's no-nonsense business community. Takeaway.

Pago Pago floating restaurantAn attraction in itself, it is strictly non-kosher it serves sushi, sea-food and steaks. Anchored on the waters of the Marina. A little pricey, but no more than other restaurants and you definitely get far more for your money.

Pedro's Restaurant for excellent steak, the hang-out of Eilat diving instructors. You'll have to get a cab because it's nowhere near the tourist haunts. Well worth the effort if you are a steak lover... or if you consider yourself an honorary local, either way, it's hard to tell what's tastier, the restaurant's meat or the punters.

RachelDairy. Homemade quiches and baked goods. Breakfast served all day includes 2 eggs any style, salad, assortment of side dishes and spreads, with breads, jam and choice of hot and cold beverages. It's near the hospital. Very crowded at brunch time.
Drink
For a Holiday resort the expected assortment of Pubs and Bars exist on the Promenade and are also densely packed in the main square.
UnpluggedThe bar is a good option. If you're looking for a place with stuck-up people, barbie doll bartenders, or tough-looking bouncers, look somewhere else, because Unplugged is nothing like it. The drink selection is somewhat limited, but still fairly good. The music ranges from American pop to Israeli trance, and they play songs in both Hebrew and English. You have the option of either sitting at the bar, chilling on a big couch, or dancing with the friendly locals. This place is often crowded, even on a Monday night.

While evil isn't heard, seen, or spoken at Three Monkeys Pub live bands and an all-ages dance floor crowd is. Located towards the end of the promenade at the Isrotel "Royal Beach".
Bears pub is central fixture in the main square. With a laidback feel and hookahs available Bears lends itself to chatting to the soundtrack of Israeli tunes.
Sleep
The hillside around the Central Bus Station contains motels and small private hostels which usually have a room designated as a dorm. You can find some real gems hidden among them but be prepared to take some time checking them out.
Homestay
If you reach Eilat having a backpack, you may be accosted by people offering their houses or parts of them for your accommodation. These are really a gamble, because you never know what to expect and people tend to exaggerate their descriptions. Usually, it would be a nice air-conditioned room with a double bed, shower, TV, sometimes Wi-Fi and some kitchen stuff. Price per day: ₪100-200 and higher, however negotiable, depending on how long you are staying and what standard you want. Start the negotiation as you see the apartment.
Outdoors
Extreme but cheap. Possible at the North Beach, next to the Jordan border, and also at the South Beach—aka Coral Beach—preferably to the south of the bar called "Migdalor". Pros: stay close to the sea for free. Cons: temperatures can get extremely hot, even at night; you have to search for water/shower/etc.
North Beach: past the main hotels, close to Aqaba.
South Beach: bus route 15 to Migdalor bar. Then just walk along the shore and find yourself a place to camp. The SPNI Field School also operates a Camp Ground (see below under Hosteling for contact information).
When staying outdoors, keep all your garbage with you, and there is an ₪500 fine for lighting a bonfire. Beaches are protected by the Israel Nature Authority.
Budget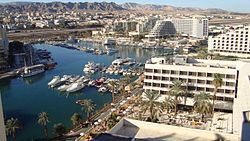 The Shelter HostelChristian run, this hostel is a nice and welcoming place with peaceful staff and surrounding. Every Friday they have a community/bible session with free food afterwards. It is a great opportunity to get a free New Testament and to save some shekels.

phone: +972 8 6374687

address: Almogim St 106

This motel has a homey feel, there are many tables and grills outside to allow relaxation away from the crowds. Mostly the rooms are private but they do offer dormitory accommodations for a cheap price. Member of ILH.

phone: +972 8 637 2021

address: Coral Beach opposite Coral Nature Reserve

All rooms have bunk-beds, private shower/toilet, A/C, mini-fridge and electric kettle (free coffee/tea). No dorms. Outdoor barbecue, picnic tables in Camp Ground. Parking for hostel' guests. Ecologically friendly hostel has a relaxed kibbutz-style atmosphere and often hosts youth groups during the school year as well as hikers, divers and surfers all year round. Free WiFi.

phone: +972 8-6370088

address: Derech Ha'arava 7

Not at all expensive yet very clean and nice place to stay. One can book entire room or bed basis as per the need. The cafeteria serves very good breakfast as well in the morning.

phone: +972 8-6371472

address: Retamim 1

David's homestay

phone: +972-54-573-1920

Offers you private rooms for ₪100 per person per night, food included. David has worked as an Eilat hotel chef his whole life and serves you the most amazing food. He has two kinds of rooms: double bed room and twin bed room. He meets you on arrival and brings you to the apartment. 5-10 min from the bus station, 20 min from the beach (walking).
Mid-range
Splurge
Eilat's
North Beach
is positively packed with luxury hotels, but in season rates can be as high as US$200 per night.
phone: +972-8-6383333

address: Egypt Road 9

Aria offers a wide range of suites featuring various luxury levels. The hotel features 245 luxurious suites designed and built to unusually high standards.

phone: +972-8-6367777

address: North Beach

Family-friendly hotel on the Promenade, featuring the Freckles Club for kids.

phone: +972-3-5202552

address: North Beach

Central beach front hotel with a great pool area.

Herods Palace Hotel

address: North Beach

No longer run by Sheraton, Herods offers a "near Las Vegas" experience, with staff in togas wandering around a pompously decorated palace. Service isn't quite up to scratch though, although the (separately charged) Vitalis spa is excellent by any standard. Like many Las Vegas hotels, this hotel is built (or overbuilt) to resemble historic buildings, in this case domed Middle Eastern architecture.
Stay safe
Eilat is relatively close to Egypt's Sinai Peninsula, which has become a terrorist hotbed. There have also been terrorist incidents in Eilat. To prevent terrorist infiltrations, Israel has built a steel barrier backed by cameras, radar and motion detectors on the Israel-Egypt border.
The serves the southern Negev.

Go next
A number of Kibbutzim (Heb. plural of Kibbutz) in the Arava also offer accommodations. Kibbutz Yotvata specializes in fruit cultivation and dairy farming. It supplies much of the milk and several varieties of fresh fruit and packaged goods to the Negev / Eilat region under its logo of a setting sun with two linked palm trees. They also take in traveling volunteers and have a Hebrew school for foreigners.
Mitzpe Ramon – about 150 km north, offers great views and hikes from the edge of a giant crater.
Israel – Jerusalem, Masada and the Dead Sea are a few hours away by bus, and can be easily visited in a day or two on organized tours.
Jordan – A short drive away is the Eilat/Aqaba border crossing to the adjacent Jordanian town of Aqaba – find information, on how to get in, there – Jordan's largest port and tourist resort. A few dozen kilometres north of Aqaba is the impressive Wadi Rum desert, and further into the country the ancient and popular Petra.
Egypt – South of Eilat is the border crossing to Taba (Egypt), where the Taba Hilton and nearby Taba Heights beach resorts are situated. Here begins the Egyptian Sinai peninsula where St. Catherine's Monastery and Mount Sinai are located.
To get to the Egyptian border take a taxi (₪35) from Eilat to the border, or take bus line 15 (₪6) and walk across. On the Egyptian side there is a minibus station as well as further along a full bus station. Note, the border can take between 20 min to 2 hr. You will need to pay an exit fee when leaving Israel of ₪103 (Feb 2012) and if travelling further south than Taba another fee at the checkpoint south of the border. If you plan to continue further than the Sinai, deeper into Egypt (
Cairo
) then you need to apply for a visa in the Egyptian consul in Eilat. The embassy is open from 09:30-14:00 Su-Th. It takes approx. 20 min for European and American tourists, and costs ₪100. Remember to bring a passport photo with you to the embassy - it is required for the visa, and the embassy has no photo-taking facilities. If you don't have a passport photo handy, you can take one on the 2nd floor of the shopping mall right at the corner of the Eilat beach. If you are on an organized tour, some tour companies can arrange the visa on the day of the tour at the border.