Eisenhüttenstadt
Eisenhüttenstadt
is in
Brandenburg
.
Understand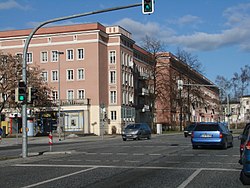 Eisenhüttenstadt was originally founded as Stalinstadt in the 1950s in the east of the then-GDR, to house the employees of an iron works (
Eisenhütte
) nearby. As Stalin or rather the personal cult geared towards him fell out of favor after Khrushchev took over in Moscow, Stalinstadt was united with the pre-existing city of Fürstenberg to form a new municipality under the de-Stalinized name of "Eisenhüttenstadt". While the town has had the same problems after 1990 as most towns of its size in the former east (unemployment, young people moving out, low birth rates, to name a few), its rather unique history and architecture make it a somewhat "undiscovered" destination for tourism. While the name may be somewhat confusing if you don't speak German, it simply means Iron Hut City and locals often shorten it to "Hütte" in daily conversation.
Get in
By plane
The closest international airports are in
Berlin
: Tegel
TXL
and Schönefeld SXF. They will at some point be replaced by a new international airport at the site where Schönefeld now is BER (also valid for the whole city of Berlin).

By train
Eisenhüttenstadt is served by regional trains only. If you are already in Brandenburg, a Länder-Ticket may be a good idea. There are direct trains from Berlin, Frankfurt an der Oder and Cottbus.

By car
From the A12 about 28 km south of Frankfurt an der Oder.

See
The Stalinist architecture is a major draw for travelers and in fact many buildings are protected due to their historic and architectural value.
Jesu Christi Der Heiligen der letzten Tage

phone: +49 3364 769192

address: Lindenplatz 1

Church.

Soviet memorial

address: Platz des Gedenkens

For 4109 prisoners of war.

Memorial stone in Jewish cemetery

address: Kirchhofweg

For a murdered Jewish family from Fürstenberg.

Memorial plaque

address: Königstraße 61

For shot Jewish couple.

Gasometer des EKO-Stahlwerks

phone: +49 3364 417355

address: Erich-Weinert-Allee 3

phone: +49 3364 2146

address: Löwenstraße 4

phone: +49 336 28243

address: Heinrich-Pritzsche-Straße 26
Eat
phone: +49 3364 7 705 705

address: Bahnhofstraße 81
Sleep
phone: +49 3364 75440

address: Gubener Str. 12
Go next